First adventure in Hive after 6 months🐝// Primera aventura en Hive después de 6 meses🐝 [ESP/ENG]🌷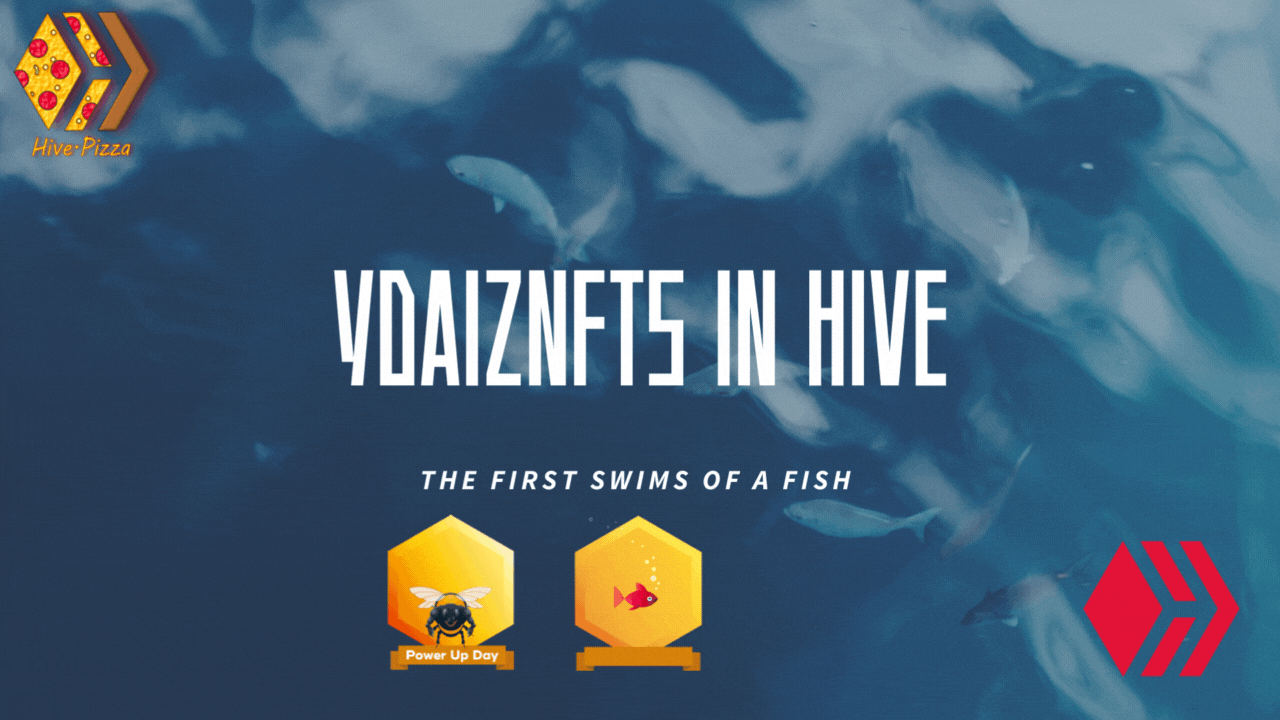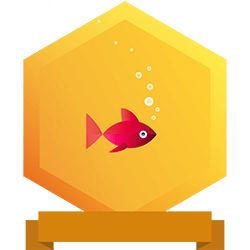 El 7 de enero del 2022 arranque en Hive, gracias a @yoselin5h entre a @risingstargame y empezó la magia.
Un ecosistema completamente desconocido, con muchas funciones, staking, juegos, interacciones, una nueva forma de ver a la red social como meramente la conocía antes.
Desde que inicie en este mundo blockchain me pasaron muchas cosas, personalmente creo que avance bastante no en lo material sino en el conocimiento, aunque me falten muchas cosas mas por aprender me gustaría mostrar un pantallazo de lo que hoy es mi cuenta de Hive, empezando por los logros que en la pagina de https://hivebuzz.me/@ydaiznfts pueden verlo por ustedes mismos, soy un simple pequeño pez en este inmenso océano.
On January 7th 2022 I started Hive, thanks to @yoselin5h I entered @risingstargame and the magic began.
A completely unknown ecosystem, with many functions, staking, games, interactions, a new way of seeing the social network as I merely knew it before.
Since I started in this blockchain world a lot of things happened to me, personally I think I advanced a lot not in the material but in the knowledge, although I still have a lot more things to learn I would like to show a snapshot of what today is my Hive account, starting with the achievements that on the page https://hivebuzz.me/@ydaiznfts you can see for yourselves, I am a simple little fish in this immense ocean.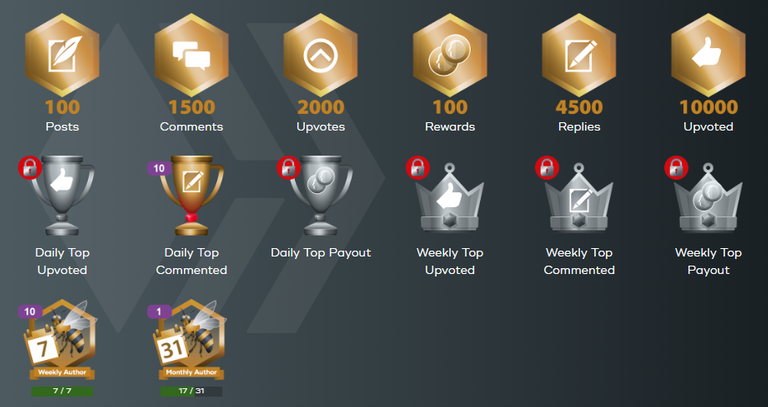 Estos logros son gracias a la continuidad de mis post sorteando tokens starbits en la comunidad de risingstar, el cual la propia interactúa con mis post, vota y comenta, así que se los agradezco de corazón.
Pero también hay mas insignias, mas formas de interacción con Hive, hablo del "Power Up Day".
These achievements are thanks to the continuity of my posts raffling starbits tokens in the risingstar community, which the community itself interacts with my posts, votes and comments, so I thank you from the bottom of my heart.
But there are also more badges, more ways to interact with Hive, I'm talking about the "Power Up Day".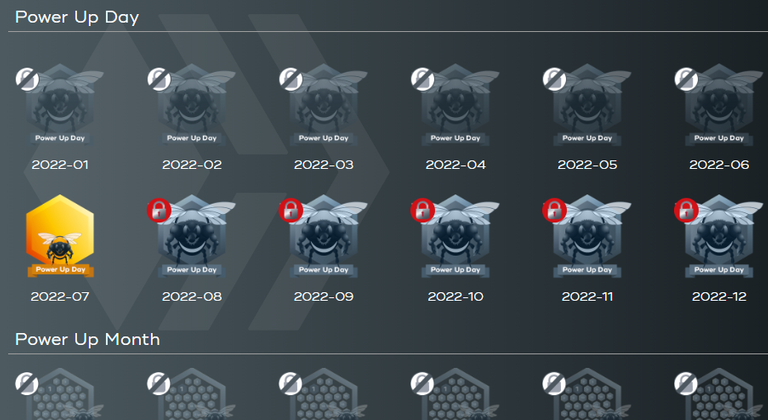 La abeja es de mas tamaño dependiendo de la cantidad de hive que le hagas un "Power Up" Los días 1 de cada mes, así recibirás esta insignia mostrando tu compromiso con la red, para saber mas, les dejo el propio link del post de @hivebuzz : https://peakd.com/hivebuzz/@hivebuzz/pud-202207
Para algo mas simplificado, el hacer "Power Up" es poner tu hive a estaquear, haciendo asi que tu cuenta tenga:
1- Mas poder de voto
2- Menos consumo de "Recurso de Red" (RC) para interactuar mas
The bee is bigger depending on the amount of hive you "Power Up" on the 1st of each month, so you will receive this badge showing your commitment to the network, to know more, I leave you the link to @hivebuzz's own post : https://peakd.com/hivebuzz/@hivebuzz/pud-202207
For something more simplified, to "Power Up" is to set your hive to Stake, thus making your account have:
1- More voting power
2- Less consumption of "Network Resource" (NR) to interact more
Con este Hive puesto a estaquear podremos interactuar mucho mas en la red, generando así un flujo constante de interacciones con otros usuarios, también podremos delegar hp para muchas cuestiones, una de ellas es ayudar a quien le delegamos hp a que su comunidad, usuario o cualquier intención que tenga ese otro lo pueda hacer ya que contara con el "recurso de red".
La delegación puede servirte si no cuentas con mucho tiempo para el uso de esta red social, el subir post, comentar, el estar activo a veces no se puede, ya que la vida cotidiana no te da respiro, ayudas al otro, y obtienes algo a cambio, ese algo, en los casos que mostrare a continuación, obtienes una cantidad de Hive por pertenecer a sus delegados:
With this Hive set to stake we can interact much more in the network, thus generating a constant flow of interactions with other users, we can also delegate hp for many issues, one of them is to help who we delegate hp to your community, user or any intention that has that other can do since it will have the "network resource".
The delegation can be useful if you do not have much time to use this social network, uploading posts, commenting, being active sometimes you can not, because everyday life does not give you respite, you help the other, and you get something in return, that something, in the cases that I will show below, you get an amount of Hive for belonging to their delegates:
Lista de mis delegaciones hasta el momento, y su recompensa por ello.
List of my delegations so far, and their reward for it
---
Tanto como @thealliance del cual recibo todos los post que subo su curación de voto, a @hivenftgamela decirles gracias por la relación bonita que terminamos teniendo con su comunidad, es con gusto mi pequeña delegación, @leo.voter que por el momento no eh recibido su recompensa, pero de a poco vamos utilizando las muchas funciones que tiene Hive. Sin olvidarme de @lolz.thg que por la misma delegación me envía tokens de LOLZ.
As much as @thealliance from whom I receive every post I upload his vote healing, to @hivenftgamela say thank you for the nice relationship we end up having with your community, it is with pleasure my small delegation, @leo.voter that for the moment I have not received his reward, but little by little we are using the many functions that Hive has. Without forgetting @lolz.thg who sends me LOLZ tokens for the same delegation.
Esta lista se alarga mas:
Cuento con muchas delegación para @oneup-cartel y otros tokens que no delego por desconocimiento, como el PGM ; LUV❤️ ; PIZZA🍕, el ultimo muy trascendente dentro de la red, les dejare el link de su discord así se adentran en la investigacion para saber mucho mas: https://discord.com/invite/hivepizza
This list gets longer:
I count with many delegation for @oneup-cartel and other tokens that I don't delegate for lack of knowledge, like PGM ; LUV❤️ ; PIZZA🍕, the last one very transcendent inside the network, I will leave you the link of his discord so you can go into the investigation to know much more: https://discord.com/invite/hivepizza
Algunas de estas comunidades por cumplir requisitos te entregan una insignia para tu perfil, en ecency no lo lograremos ver, pero si en peakD:
Se ve un perfil muy bonito, en cada una de las comunidades se encuentra la informacion para obtener estos "badgeds", lo que hacen es distinguir a alguien que pertenece a una comunidad, así saben si tienen algo en común.
También distingan la foto de perfil, a la derecha abajo dice "NFT", es el primer punk que compre, al comprarlo puedo colocarlo en mi perfil con esa distincion, me daba ilusión tenerlo y poder mostrárselo a los demás, dejo el link de su pagina para que vean los punks que hay disponibles y adquieran uno para su perfil: https://punks.usehive.com/
Some of these communities give you a badge for your profile, in ecency we won't be able to see it, but in peakD:
You see a very nice profile, in each of the communities you will find the information to get these "badgeds", what they do is to distinguish someone who belongs to a community, so you know if you have something in common.
Also distinguish the profile picture, at the bottom right it says "NFT", it's the first punk I bought, when I buy it I can put it in my profile with that distinction, I was excited to have it and show it to others, I leave the link to your page to see the punks that are available and buy one for your profile: https://punks.usehive.com/


Por ahora, soy un pez chiquito, de a poco iremos aprendiendo mas sobre este ecosistema Hive. Empecé usando https://peakd.com/, luego por https://leofinance.io/ y por ahora estoy usando https://ecency.com/, ¿Por que prefiero usar ecency?, dentro de lo cotidiano en mi caso, que es contestar a los usuarios que quieren participar en mis sorteos, y ecency es el que me brinda un formato mas amigable para ver los comentarios, véase un ejemplo entre ecency y peakD:
For now, I am a small fish, but little by little we will learn more about this Hive ecosystem. I started using https://peakd.com/, then https://leofinance.io/ and now I'm using https://ecency.com/, why do I prefer to use ecency, in my daily case, which is to answer users who want to participate in my sweepstakes, and ecency is the one that gives me a more friendly format to see the comments, see an example between ecency and peakD:
| Ecency | | PeakD |
| --- | --- | --- |
| | | |
Con peakd debes ir comentario por comentario, sin poder saber lo seleccionaste antes o no si no es acordándose , en cambio ecency desaparece el resaltado en la interacción, por eso y por unos cuantas "ventajas" uso mas que nada ecency, por la facilidad en la cual yo me adapte, los invito a que me cuenten cual de ellos prefieren, también pueden contar a leofinance.
With peakd you have to go comment by comment, without being able to know what you selected before or not if you don't remember, on the other hand ecency disappears the highlighting in the interaction, for that and for a few "advantages" I use ecency more than anything, for the ease in which I adapted, I invite you to tell me which of them you prefer, you can also count on leofinance.

Este ecosistema también cuenta con una plataforma que, podríamos compararla con YouTube, la cual es: https://3speak.tv/
Por acá podremos subir los videos y publicarlo en nuestros post, encontraran mucha variedad de contenido, música, juegos, blogs y mas.
Todo dentro del mismo ecosistema Hive, la descubrí hace poco y aun no entiendo mucho de sus funciones, eh probado subiendo una partida de ajedrez, no cuento con un equipo adecuado tampoco para aprovechar mis capacidades de querer interactuar como me gustaría pero se hace lo que se puede, los invito a que se adentren en este hermoso ecosistema.
This ecosystem also has a platform that could be compared to YouTube, which is: https://3speak.tv/.
Here we can upload videos and publish them in our posts, you will find a variety of content, music, games, blogs and more.
All within the same ecosystem Hive, I discovered it recently and still do not understand much of its functions, I have tried uploading a game of chess, I do not have adequate equipment to take advantage of my ability to want to interact as I would like but it does what it can, I invite you to get into this beautiful ecosystem.
Espero que les guste mi post, quiero agregar de que todo lo dicho viene de mi ignorancia sobre muchos aspectos y no soy quien para con quien se asesoren, siempre es con mi humilde opinion, muchas gracias por leer ❤️
I hope you like my post, I want to add that everything said comes from my ignorance about many aspects and I am not the one to advise you, it is always with my humble opinion, thank you very much for reading ❤️
🐤https://twitter.com/yDaizNiico
🐝https://ecency.com/@ydaiznfts/posts
🔔https://t.me/elclubderisingstar


---
---