Hey, hey, it's Friday! More than that, it's my last working day of 2019! Where did the time go? Just a few days to Christmas with a bit of time to be with the family. No doubt I will eat too much, but I will try to keep running to compensate. I will try to do a run-down of the year at the end of the month. Meanwhile, Steem is up again. It is hovering around 14c with good volume whilst other coins are down or flatlining.
For some reason the term Steem-hole came to mind this week. I am sure it has been used by others, but for me it means someone who goes against what is good for the Steem platform. None of us is perfect (me especially), but you see behaviours here that may be selfish, bullying, or just plain anti-social. Steem is a 'social blockchain'. Here are some things that may make you a Steem-hole. I will not name names, but these things are not hard to find.
Buying votes. This used to be a lot more common, but hardfork 21/22 incentivised people to vote more organically as they could earn better from it. There are still a few vote sellers around, but posts using them are much more likely to get downvoted. You can argue that buying votes is a form of promotion, like buying an ad on Google, but in that case you do not directly profit from the ad. If you want to do this then decline rewards and earn when people support your other posts. In any case many of the posts (and comments) with paid votes get little interaction, so it is not working as promotion.
Big self-votes. This may be controversial, but I think your post rewards should be determined by other Steemians. You can still earn by voting for others and spreading the rewards. The worst cases give themselves a dollar or more when they could make more than most of us do without it. You can find smaller cases where they upvote all their own comments and may leave it late to try and avoid being found out. That is especially cynical when they give the original post a smaller vote.
'Circle jerks'. What counts as this can be subjective. Many of us will support those we know, but there are some who just do that and ignore anyone else. You get ten full votes each day and that should be enough to spread around.
Spam. This can be posts or comments or even wallet spam. If you are making the same comment everywhere you will just annoy people. That can be marketing some product or just writing 'Nice post'. If you are upvoting those then you deserve any downvotes you get.
Rage quitting. I have seen a lot of this lately where someone gets caught out doing some of the above and then does lots of posts saying they are powering down and leaving. That may include slagging off whoever downvoted them. Downvoting is not 'violence', 'manslaughter' or the act of 'nazis'. It is generally curation and only affects your reward and possibly reputation. If this is happening then you may want to conside why others consider your actions bad.
Not interacting. This may be considered a lesser 'crime', but if you rarely comment on the posts of others or respond to those who comment on your posts you will not build your following. Remember I said it was social.
Downvoting everyone who ever upset you or who supports things you do not like. There are lots of accounts with little SP doing this, but I ignore them. It may put off new users who do not realise it has little effect on them.
Bullying. If you are using your Steem power to actively drive people away from Steem you are doing us no favours. When I downvote it is only to remove unearned rewards or sometimes to discourage spam. I do not relatiate or downvote posts which do not fall into those categories. It is fairly easy to be anonymous on Steem and bullies will often try to hide who they really are.
Pissing people off. I may be guilty of this through my efforts to deal with mis-use of the platform. Some people take it very personally. Generally I try to get along with people and point them in a positive direction, but comments can be taken the wrong way, especially with language and cultural differences. If someone does not respond well then it may be best to stay away from them.
Feel free to disagree with these. I have been discussing Steem with someone who has given up on it on reddit. I do not know their Steem name. They said I could be considered to be circle jerking as I get lots of automatic votes, but I never ask for those and have no reciprocal agreements with anyone to do so. Okay, so I do get SBI votes because I bought or was bought shares, but that is a minor part of my rewards. I very rarely self-vote. I did a couple of times this year after some downvote attacks, but even that felt wrong.
You can see here I am spreading my votes around. I do upvote most comments on my posts, but not always those from bots. I want human interaction.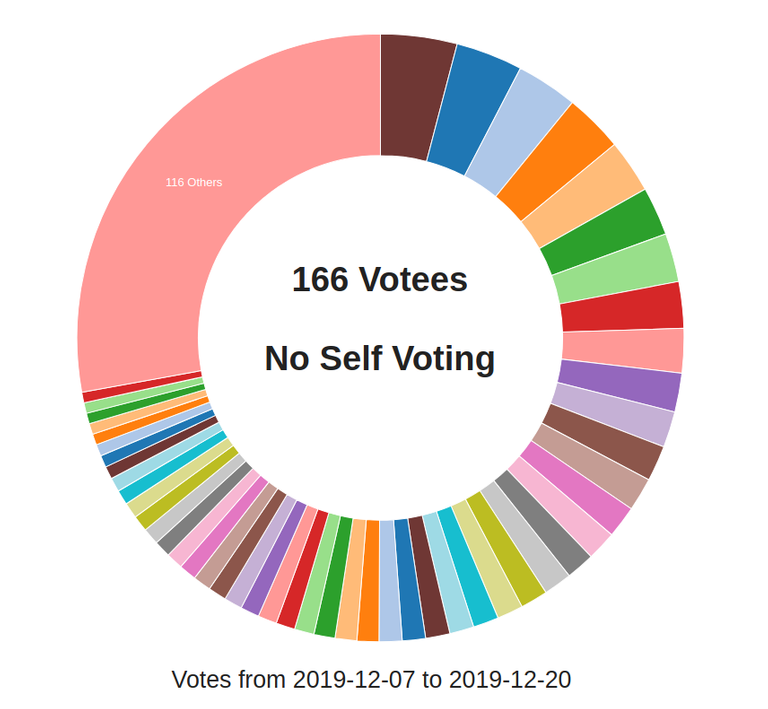 Of course this is a #FollowFriday post, so here are some people I do not consider to be Steem-holes.
Feel free to make your own suggestions in the comments or a #FollowFriday post of your own. I may be the only one using this tag, but I will keep doing these anyway.
Steem on!
The geeky guitarist and facilitator of the 10K Minnows Project.