---
Before the report about all-in producing ...
A struck of luck with the latest brew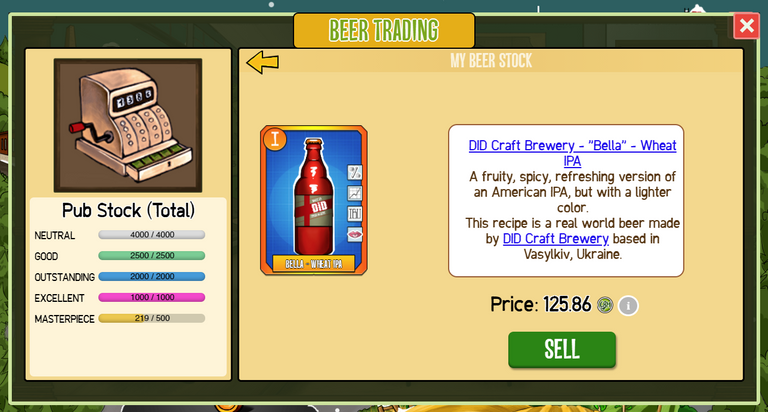 ---
You may remember that two weeks ago I rented all production facilities. Some of you were curious about how will I fare and doubtful that the voyage will be snooth.
You were right because it's not a fruitful affair. Getting mostly the blue ingredients makes medium beer and not much profit if any. Without a lot of luck, like with the beer above, I would be already underwater.
At the moment, 12 days before all the leases except the water tower expire I have 126.12 CBM which represents 11% of the initial amount. Not good. I even broke the promise and bought some energy and sold some not needed ingredients to survive.
The verdict so far is that preparing all ingredients on your own and brewing your own (blue) beer to cover the expenses doesn't add up.
---
14.01.2021 - Cryptobrewmaster - What Makes Bella DID Wheat IPA?
05.12.2021 - Cryptobrewmaster - Renting All Production Facilities
18.12.2020 - Cryptobrewmaster - Buying Terra Resource Pack
17.12.2020 - Cryptobrewmaster - Economics Of Ingredients Production
05.12.2020 - The Fields Of Cryptobrewmaster
17.11.2020 - Cryptobrewmaster - Brewing First IPA While Digging A Hole
14.11.2020 - Cryptobrewmaster - Casual Brewer's Diary - Saturday, November 14th, 2020
11.11.2020 - Cryptobrewmaster - Casual Brewer's Diary - Wednesday, November 11th, 2020
10.11.2020 - Cryptobrewmaster - Casual Brewer's Diary - Tuesday, November 10th, 2020
09.11.2020 - Cryptobrewmaster - Casual Brewer's Diary - Monday, November 9th, 2020
09.11.2020 - Cryptobrewmaster - After A Week I have 100 CBM Less
07.11.2020 - Cryptobrewmaster - Net Loss After Five Working Week Days
02.11.2020 - Cryptobrewmaster - New Week Starts, How Will It End?
31.10.2020 - Cryptobrewmaster - Picking Weekly Awards And Accumulating Ingredients
24.10.2020 - Cryptobrewmaster - Claiming Weekly Rewards, Stocking Up Ingredients
18.10.2020 - Cryptobrewmaster - To Brew Or Not To Brew?
17.10.2020 - Cryptobrewmaster - Picking the rewards again
10.10.2020 - Cryptobrewmaster - Picking Up The Rewards For Busy Bee And Top Manufacturer
08.10.2020 - Cryptobrewmaster - Swapping CBM to Hive To Buy Brewing Supplies
07.10.2020 - Cryptobrewmaster - Events, Awards, Lack of Malt
25.09.2020 - Cryptobrewmaster - Blue Beer Brewed, Nothing Special
24.09.2020 - Cryptobrewmaster - Brewing Again With Blue Beer In Making
23.08.2020 - Cryptobrewmaster - Red Beer Brewed On #beersaturday
20.08.2020 - Cryptobrewmaster - Referral Level 3 Reached
17.08.2020 - Cryptobrewmaster - Referral Rewards To Be Picked
14.08.2020 - Playing Games On Hive
06.08.2020 - Cryptobrewmaster - Fancy Some European Lager
29.07.2020 - Cryptobrewmaster - Buying Goods And Brewing With Three Green
20.07.2020 - Cryptobrewmaster - Brewing good beer
18.07.2020 - Cryptobrewmaster - Purchasing brewing supplies
11.07.2020 - Cryptobrewmaster - Brewing the beer
09.07.2020 - Cryptobrewmaster - Claiming and selling the beer
---
Better and better
Posted Using LeoFinance Beta