---
This beer ...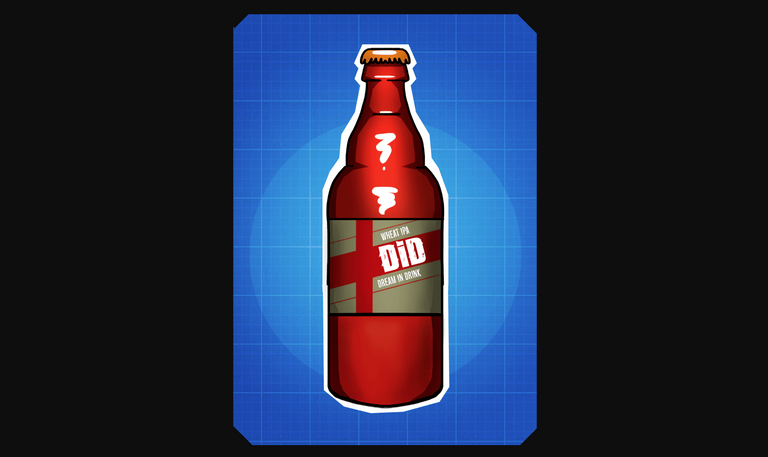 ... is brewed from these six ingredients.
Brewing Water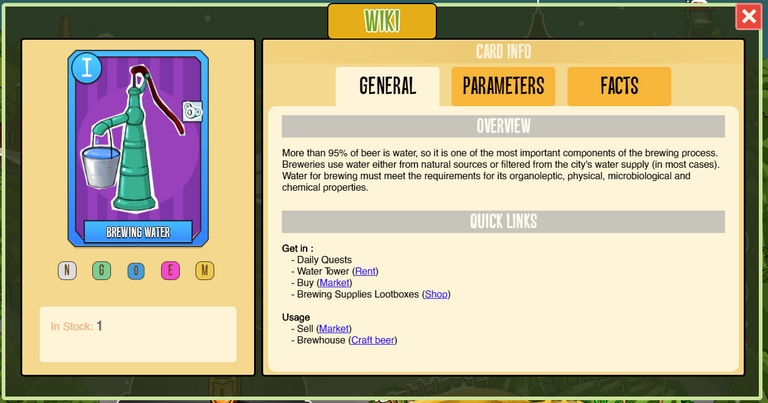 2 Row Barley Malt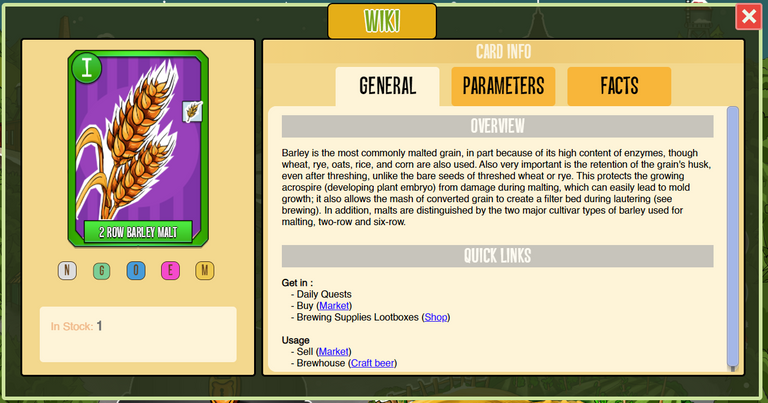 Local Bittering Hops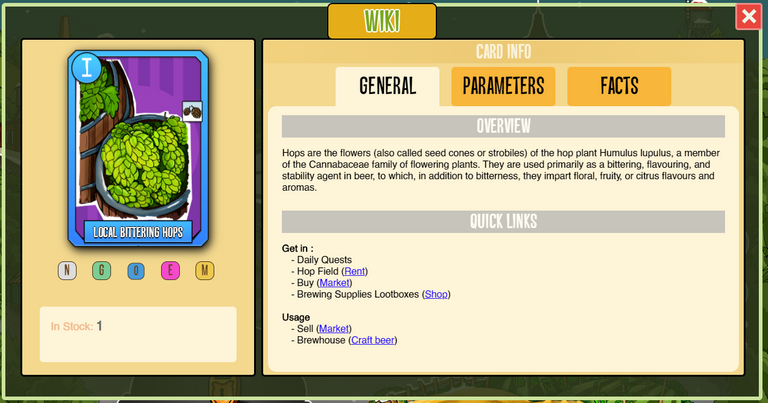 Local Aroma Hops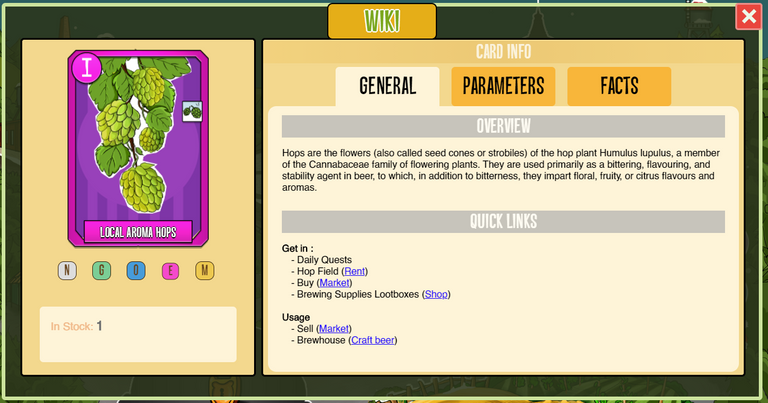 Wheat Malt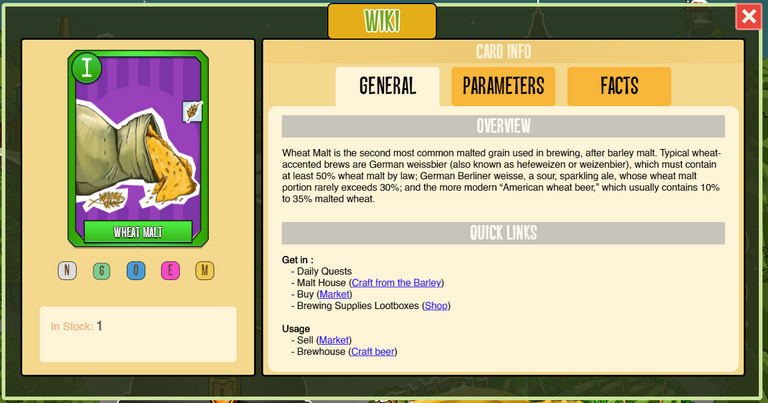 Ale Yeast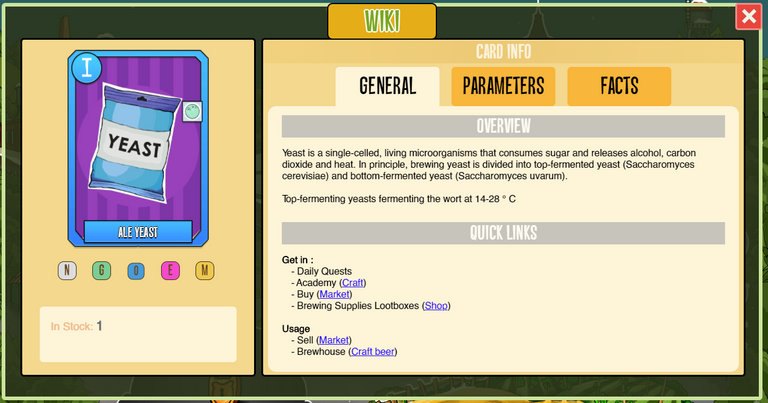 You can produce yourself every ingredient except Wheat Malt. This will come too in the future upgrades, I guess.
---
Ready To Brew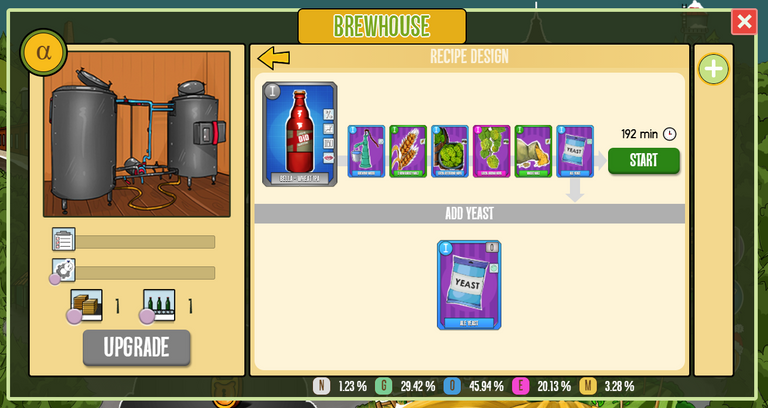 Ps: I needed to write the list down because I couldn't remember the ingredients at all. It looks that six things are too much information for my leaky memory :)
Ps2: my brew your own ingredients experiment is not progressing very well. The financial part of the equation doesn't add up. More in the next days ...
---
Proudly published with @ecency web app
---
05.12.2021 - Cryptobrewmaster - Renting All Production Facilities
18.12.2020 - Cryptobrewmaster - Buying Terra Resource Pack
17.12.2020 - Cryptobrewmaster - Economics Of Ingredients Production
05.12.2020 - The Fields Of Cryptobrewmaster
17.11.2020 - Cryptobrewmaster - Brewing First IPA While Digging A Hole
14.11.2020 - Cryptobrewmaster - Casual Brewer's Diary - Saturday, November 14th, 2020
11.11.2020 - Cryptobrewmaster - Casual Brewer's Diary - Wednesday, November 11th, 2020
10.11.2020 - Cryptobrewmaster - Casual Brewer's Diary - Tuesday, November 10th, 2020
09.11.2020 - Cryptobrewmaster - Casual Brewer's Diary - Monday, November 9th, 2020
09.11.2020 - Cryptobrewmaster - After A Week I have 100 CBM Less
07.11.2020 - Cryptobrewmaster - Net Loss After Five Working Week Days
02.11.2020 - Cryptobrewmaster - New Week Starts, How Will It End?
31.10.2020 - Cryptobrewmaster - Picking Weekly Awards And Accumulating Ingredients
24.10.2020 - Cryptobrewmaster - Claiming Weekly Rewards, Stocking Up Ingredients
18.10.2020 - Cryptobrewmaster - To Brew Or Not To Brew?
17.10.2020 - Cryptobrewmaster - Picking the rewards again
10.10.2020 - Cryptobrewmaster - Picking Up The Rewards For Busy Bee And Top Manufacturer
08.10.2020 - Cryptobrewmaster - Swapping CBM to Hive To Buy Brewing Supplies
07.10.2020 - Cryptobrewmaster - Events, Awards, Lack of Malt
25.09.2020 - Cryptobrewmaster - Blue Beer Brewed, Nothing Special
24.09.2020 - Cryptobrewmaster - Brewing Again With Blue Beer In Making
23.08.2020 - Cryptobrewmaster - Red Beer Brewed On #beersaturday
20.08.2020 - Cryptobrewmaster - Referral Level 3 Reached
17.08.2020 - Cryptobrewmaster - Referral Rewards To Be Picked
14.08.2020 - Playing Games On Hive
06.08.2020 - Cryptobrewmaster - Fancy Some European Lager
29.07.2020 - Cryptobrewmaster - Buying Goods And Brewing With Three Green
20.07.2020 - Cryptobrewmaster - Brewing good beer
18.07.2020 - Cryptobrewmaster - Purchasing brewing supplies
11.07.2020 - Cryptobrewmaster - Brewing the beer
09.07.2020 - Cryptobrewmaster - Claiming and selling the beer
---
Better and better