My Wartime Diary. Twelve days of war.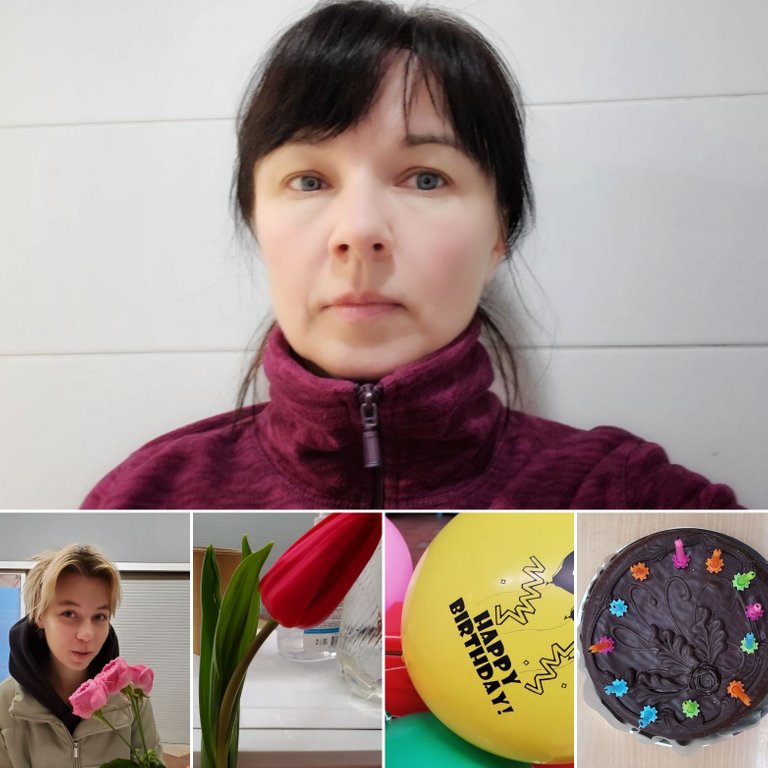 Hello, my dearest! Sorry for keep you waiting.
I returned home, took shower and washed my cloth, and do all housework I had to do, because if I'd have a sit I think I wasn't able to move.
It is a birthday of a girl from my volunteers team today. Someone grabbed a cake and flowers, and baloons, and we all sang Happy birthday. 🎂 Today our common wish is this war to stop soon, and victory to Ukraine. 💛💙
I entered another emotional phase. I start to miss my life before war, small pieces that made my life. To wash my face and brush my teeth with warm water EVERY DAY. To have meetings with my colleagues and do my job that I really like. To walk along rows of food in a supermarket... To watch movies with Nick. I can't watch movies even when I'm home. Just can't focus of the story, comedies are not funny, action movies are scary to watch, thrillers are annoying.
My psychological state is like waves. After more than 24 hours of volunteering, I feel like I can no longer do it. I'm tired, I want to go home, where it's warm and cozy. And then I take a shower, rest, and think about my girls again. How will they manage without me? There are enough new people who want to help, they keep coming every day, but a beginner need a lot of information to make clear to her. Not all beginners are good for this job. You need to keep a lot of information in your head, do everything as quickly as possible. Obey when necessary and take the initiative. Be responsible and brave.
When I'm there with them, I'm not scared. Although I realize that at any moment a shell or bomb can fall on us. And when I'm home alone, I'm very worried. I used to hear the noise of the street, but now it's very quiet outside the window. Especially at night. I listen to every sound. Maybe it's because I was at home and saw the bombs falling through the window. It was very loud and scary.
I'm learning to distinguish sounds. This is how a car passes, and this is the sound of a truck. And this is a tank. This is how an airplane sounds, and this is how air defense works. Obviously, I will never forget what a falling bomb sounds like.
---
Friends, thank you for the donations from all of us. 🙏🙏🙏🙏🙏 We bought thermal underwear and army boots for our guys (and for my Nick 💓), and two thermal imagers. We were supposed to buy 5 in Poland, but today there are only two left, and the seller raised the price by 2 times compared to the previous day.
I never thought about how expensive it is to wage war. How lucky was I.
---
Nick has called. Now I know where he was relocated to. It's closer to the hot borders of Kyiv. Other volunteers take care of him there while we take care of his brothers in arms. I try not to think about the bad things.
You have no idea what kind of team we have. I never cease to be amazed. Who do you think these people worked before the war, and did not run away, but abandoned their business, their lives, their pets and children and parents, and now they are doing everything for our victory?
IT people, restaurateurs, bartenders. Film industry workers, theater actress, photo model. Lots of photographers, men and women. A stylist, an active member of the LGBT community of Kyiv and just an amazing, brave and hothead guy who, together with the woman who owns a coffee business (also hothead), drive around all Kyiv and neighboring cities (sometimes under bullets), collecting everything necessary for our fighters. Two of our volunteers, on their way to work on Feb 24th (the first day of the war), went to the volunteer center to offer help, and stayed there for 4 days, without the opportunity to go home.
I haven't watched TV for several days now. I can not hear the anxious voices of TV presenters, despair, pain, crying of civilians, videos of cities that were simply destroyed to the ground. Instead, I subscribed to the official pages of the most important resources, and read them. The voice in my head that tells them is not so disturbing.
A guy was accompanying me on my driving around the city yesterday. He lived with his family in Irpin, near Kyiv, but they evacuated. Now the city where he lived is almost destroyed. It was so beautiful! You've seen these creepy footage from it now. Bombers take revenge on the Ukrainians for effective resistance, and destroy the city's life support systems, bomb substations, water conduits, and thermal power plants.
He said his house is gone. And the school his son went to no longer exists either. He has nothing to return to. And I understand that at any moment I can be in his place. 😨
Due to the fact that the Russians are breaking the agreement, the blocked Mariupol has been waiting for the humanitarian corridor for the third day. Here is what the mayor said: "We are gathering people at locations, and at this moment the shelling begins. The worst thing is that at this time the tactical regrouping of Russian troops begins so that they can take more advantageous positions. For example, yesterday, when our heroes who are defending city, opened the corridor, opened the actual entrance to the city - the Russians began a tank invasion of Mariupol. Because of this, the battle began and the evacuation was canceled." 😰
19:50 The third round of talks began. At the same time the shelling of Kyiv began. For half an hour outside the window all the time like thundering. I found the safest place in my apartments and stay here so far. No air raid though.

20:50 I just wrote previous update when air raid started, and I ran to the basement. Battle in the air goes on. 🤞

21:13 Air raid was cancelled, and I come back home. I went out to the balcony for smoke, and saw an unfamiliar car quickly drove into the yard and stopped. It just stood there with its headlights off and engine on. They seemed to be waiting for someone. It was very strange. There's a strict curfew in effect right now, and I'm sorry I didn't notice the plate number. Then a police with flashing light drove down the street. After that, the parked car drove back and left in a hurry. Damn, what was that?? 😳

I have just read in the news that as a result of an air battle over Kyiv, ours shot down two enemy planes . The first at 20:30 and the second at 21:10. And the 3M-54 Kalibr as well. That's what I heard.
March 8
9 am. It's snowing! The world around looks pure and innocent. I had a call from Nick, he is okay. And I found my forgotten things in safe in the basement - my warm Alpha, a charging cord for my phone and a cup in which I brought water for a neighbor. Life goes on.

Another my neighbors seem to be leaving. I know that all this time they were very afraid. A young married couple packs things in a car with Crimean license plates. So, in 2014, they fled here from the occupied Crimea. And now they have to flee again.

I have often heard the phrase "Thank you for a peaceful sky" in my life. This was in the context of World War II. To me, it sometimes sounded like a figure of speech or such. And only now I understand it literally.

4 pm. I tried to have a nap, but could not turn off my brain. At least my eyes were closed. I feel that my vision get worse. Then I recall that before the war I was going to bake cookies and made a mix of floor. But then just put it away. Baking always help me to calm down, and I decided to finish it, a sweet gift for my friends. Made a dough, put in a cold place, and started to boil dumplings for myself. And just like last time, air alarm began. Shut off the gas supply. Well, al dente. I eat them sitting on my sleeping bag in the corridor by the exit door. But what's wrong with my dumplings?? 🤔
I had an online meeting with my colleagues. My manager lived in the small town of Gostomel near Kyiv. His story made my heart skip a beat. On the second day of the war there were already occupiers in his town. They blackout their homes, and without electricity they had no heat and water too. They also have no bomb shelters, there were several basements, not large. Only women and children were accommodated there, they practically stood there. A few days later ours came, and they had heat and water again. And the next day, Russian bombs began to fall on them.

He and his son and daughter were evacuated, he was shell-shocked and it was great luck. He said he saw the bodies and shot cars of neighbors trying to leave on the way. One family was not evacuated because there was no contact with them. They are sitting in the basement with the body of a dead grandmother.
With every story like this, I feel like a part of my soul is dying. Who will I be after the war?
It was quiet today. Calm before the storm. Hope to see you tomorrow. Cheers.


Will update when possible.
Dear friends!! From all Ukraine, THANK YOU for your support and donations, for pressuring your government, for going to meetings all around the world, for not being afraid to spread information and tell the truth.
Every single day costs MANY LIVES! Everything matters!
Only together, we can stop it. And we will.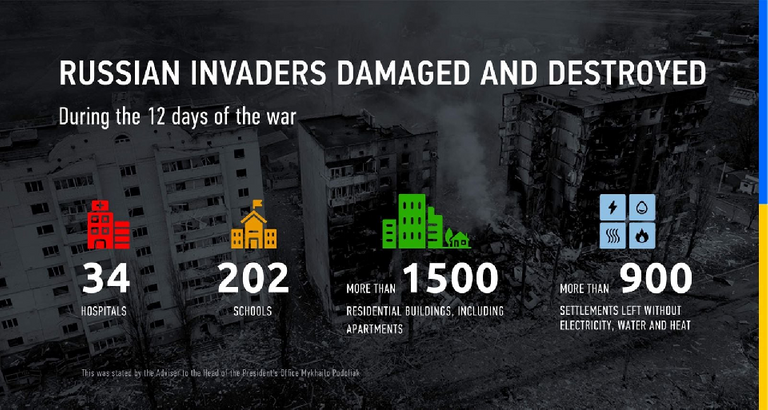 ---
---