Follow Friday: One more sleep
The News
It is Christmas tomorrow, so I am going to wish the Hive community all the best regardless of how or if you celebrate this day. It is a time to be thinking about how the year has gone. With COVID still dominating things it has been a strange time, but Hive has been growing and evolving with lots more exciting projects. 2022 promises to be exciting on this blockchain.
I have been generating these charts from @coingecko data and have expanded it to cover the year this time as well as including other coins that might be of interest. Obviously $HIVE is ending the year much better than it started. We shall have to see where it goes, but it is partly up to us in how we promote it and the people we recruit.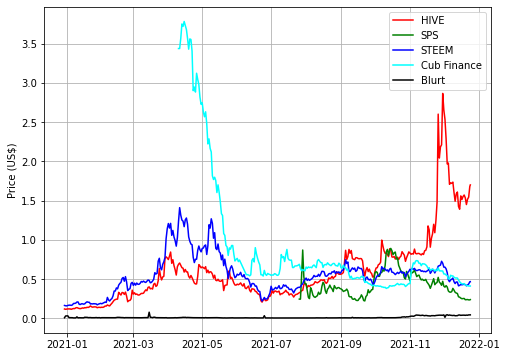 If you had a St--m account then you will also have on on Blurt. If you have not powered those down then you could still have some funds there. You might want to look into extracting those and perhaps consider investing in more $HIVE. I know there is potential to milk the other platforms for extra profit, but I am just focused on this one.
Friday Followings
This time I shall do something different for #FollowFriday. I wanted to list people who have commented the most on my posts. I tried to do this in @hivesql, but I do not think it is quite right. I needed to find comments on my posts, but there does not seem to be a direct link to do that. I settled for checking where the URL implies a reply to me.
select '@'+author, count(*)
from comments cc
where cc.url like '%@steevc%'
and cc.depth=1
and cc.created >= '2021-01-01' 
and author != 'steevc'
group by author
having count(*)>10
order by 2 desc

I value comments and they should be encouraged as Hive is supposed to be social and not purely about rewards. People do appreciate getting responses, so engage! I always tell new people to have fun.
@bozz
@slobberchops
@stefano.massari
@mayorkeys
@tfranzini
@stickupboys
@gtown
@revisesociology
@bhoa
@meesterboom
@the-bitcoin-dood
@theguruasia
@ervin-lemark
@tdctunes
@blockchainyouth
@epodcaster
@dickturpin
@ashtv
@wwwiebe
@stav
@adetorrent
@livinguktaiwan
@nathanmars
@risingstargame
@toofasteddie
@mimismartypants
@leaky20
@trezzahn
@sketch.and.jam
@bashadow
@gillianpearce
@basilmarples
@sanjeevm
@andrewmusic
@cmmemes
@run.vince.run
@normie.fitness
@stickupmusic
@molometer
@maxwellmarcusart
@aiovo
@karinxxl
@davidbolu34
The Doghouse
As it is Christmas I will not expose anyone this time, but defending Hive is something we can all be part of. You can report abuse to get it dealt with even if you do not want to downvote. As it grows we will see more of that, so stay vigilant.
The End
I am off to wrap presents and prepare for the festivities. No doubt I will eat and drink too much, but I think we have all earned it this year. I hope 2022 brings great things for you all.
Ho ho ho!
---
---