WHERE CONTENT CREATORS GET IT WRONG: CHASING REWARDS OVER QUALITY || A NEWBIE GUIDE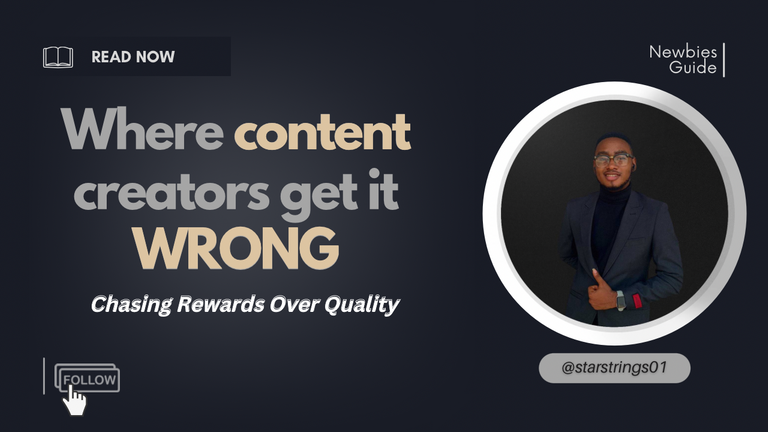 ---
Not only is this geared at newbies, but it is also popular among the oldies, and this is because it is very simple to lose sight of what is important, which is always placing quality in their content. While navigating through various contents on the chain, you will see that, in comparison to the large number of articles published, just a few people are truly putting in attempts to do their best regardless of the rewards attached.
I completely understand that the primary reason we are on Hive today is for the rewards, and I am no exception, but it is always good to look at the greater picture above obtaining rewards and focusing on the quality your content has to provide to your audience. This is why I am never a proponent of rushing to publish articles or trying to make a deadline in order to obtain a curator's vote. If I'm not proud with my article, I'm never going to publish it till I'm finished with it.
Whatever is worth doing at all is worth doing well.

Simply put your passion into your piece, and you will find yourself standing out and unique among the others on the chain. This will not only bring you rewards, but it will also set you on a long-term path. Your efforts will undoubtedly be noticed if you put up your best effort, and the rewards will undoubtedly be greater than you realize.
Yes, I write my articles in order to earn money from them. Yes, I live off the money I make from Hive, but that wouldn't make me want to spam articles or post in communities that have little to do with my material just so I could get a higher upvote. Why? Instead of pursuing my selfish impulses, I am looking at the big picture and doing my best to do what is right.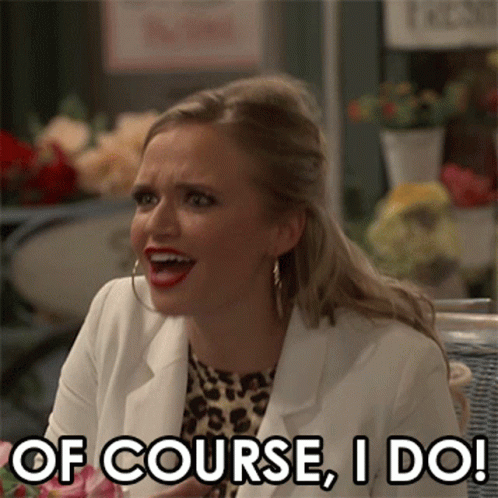 I've been watching some of the people I've onboarded and mentored on Hive from afar, and I always make sure to pass on every message of quality over quantity to newbies because trying to meet up with daily blogging deteriorates your quality over time, causes burnout, and even interferes with balancing your personal life. I recommend that you post frequently only when it does not put you under pressure.
What makes writing pleasurable is writing without pressure, clearly from your thoughts and mind. It is the source of the pleasure of communicating in thoughts. At this stage, you're creating content for fulfillment rather than enrichment. When both substances are consumed, there is always a variation in taste.
Posting in the right community is vital based on its niche. It increases the visibility of your posts and connects you with the relevant audience. I read a lovely article today by @erikah on Why it is important to publish in the appropriate communities, which goes into great detail about selecting the proper community for your posts. You should absolutely look into it!
As I previously stated, I have been observing newbies that I have onboarded and mentored from afar, and I have gotten to know those who are doing well and those who aren't. The significant difference is that those who followed this advise are doing well, despite both groups receiving roughly the same quality of mentorship from me.
Some have become completely diverted by the rewards and are now writing for the purpose of getting rewards rather than for the fulfillment of writing. They constantly wondering how I obtain my incentives, which I can't really explain but believe stem from the fact that I devote my time into following the advise I give to others. It's practically no secret.
So next time before hitting the publish button after writing each article, it is advised to ask yourself: "Am I proud of this content I am about to Publish?".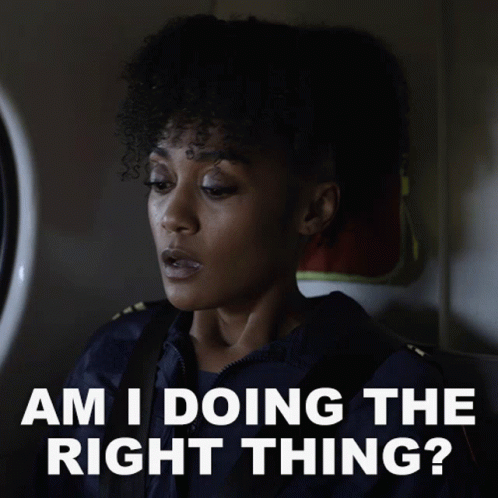 The truth is that doing what is right is one of the most difficult things to do, especially when the people around you are not doing the same but appear to be doing well. I strongly advocate remaining unique and pursuing what you feel is appropriate without first considering the incentives because doing so powerfully pulls you away from seeing the whole truth.
---
𝘼 𝙇𝙀𝙎𝙎𝙊𝙉 𝙏𝙊 𝙇𝙀𝘼𝙍𝙉 𝙁𝙍𝙊𝙈 𝙃𝙀𝙍𝙀...
𝘐 𝘨𝘰𝘵 𝘴𝘵𝘳𝘰𝘯𝘨𝘭𝘺 𝘩𝘪𝘵 𝘣𝘺 𝘸𝘰𝘳𝘥𝘴 𝘴𝘢𝘪𝘥 𝘣𝘺 𝘰𝘯𝘦 𝘰𝘧 𝘮𝘺 𝘰𝘯𝘣𝘰𝘢𝘳𝘥𝘦𝘦𝘴, @olujay 𝘪𝘯 𝘱𝘢𝘳𝘵𝘪𝘤𝘶𝘭𝘢𝘳, 𝘸𝘩𝘰 𝘪𝘴 𝘵𝘩𝘦 𝘴𝘰𝘶𝘳𝘤𝘦 𝘰𝘧 𝘪𝘯𝘴𝘱𝘪𝘳𝘢𝘵𝘪𝘰𝘯 𝘧𝘰𝘳 𝘵𝘩𝘪𝘴 𝘤𝘰𝘯𝘵𝘦𝘯𝘵. 𝘞𝘩𝘪𝘭𝘦 𝘵𝘳𝘺𝘪𝘯𝘨 𝘵𝘰 𝘮𝘢𝘬𝘦 𝘩𝘪𝘴 𝘮𝘶𝘴𝘪𝘤𝘢𝘭 𝘤𝘰𝘯𝘵𝘦𝘯𝘵, 𝘸𝘪𝘵𝘩 𝘴𝘰 𝘮𝘶𝘤𝘩 𝘵𝘳𝘪𝘢𝘭 𝘢𝘯𝘥 𝘦𝘳𝘳𝘰𝘳, 𝘩𝘢𝘷𝘪𝘯𝘨 𝘮𝘢𝘥𝘦 𝘰𝘷𝘦𝘳 150 𝘢𝘵𝘵𝘦𝘮𝘱𝘵𝘴 𝘢𝘯𝘥 𝘴𝘱𝘦𝘯𝘵 𝘢𝘭𝘮𝘰𝘴𝘵 𝘢 𝘥𝘢𝘺 𝘰𝘯 𝘤𝘳𝘦𝘢𝘵𝘪𝘯𝘨 𝘵𝘩𝘢𝘵 𝘴𝘢𝘮𝘦 𝘮𝘶𝘴𝘪𝘤𝘢𝘭 𝘤𝘰𝘯𝘵𝘦𝘯𝘵. 𝘏𝘦 𝘸𝘢𝘴 𝘴𝘵𝘪𝘭𝘭 𝘳𝘦𝘢𝘥𝘺 𝘵𝘰 𝘮𝘢𝘬𝘦 𝘤𝘰𝘳𝘳𝘦𝘤𝘵𝘪𝘰𝘯𝘴 𝘵𝘰 𝘩𝘪𝘴 𝘤𝘰𝘯𝘵𝘦𝘯𝘵 𝘢𝘧𝘵𝘦𝘳 𝘐 𝘱𝘰𝘪𝘯𝘵𝘦𝘥 𝘰𝘶𝘵 𝘴𝘰𝘮𝘦𝘵𝘩𝘪𝘯𝘨 𝘐 𝘥𝘪𝘥𝘯'𝘵 𝘭𝘪𝘬𝘦 𝘢𝘯𝘥 𝘧𝘦𝘭𝘵 𝘴𝘩𝘰𝘶𝘭𝘥 𝘣𝘦 𝘪𝘯𝘤𝘭𝘶𝘥𝘦𝘥.
𝘐 𝘮𝘢𝘥𝘦 𝘢 𝘴𝘶𝘨𝘨𝘦𝘴𝘵𝘪𝘰𝘯 𝘵𝘩𝘢𝘵 𝘩𝘦 𝘴𝘩𝘰𝘶𝘭𝘥 𝘱𝘶𝘣𝘭𝘪𝘴𝘩 𝘵𝘩𝘦 𝘮𝘶𝘴𝘪𝘤𝘢𝘭 𝘤𝘰𝘯𝘵𝘦𝘯𝘵 𝘭𝘪𝘬𝘦 𝘵𝘩𝘢𝘵 𝘴𝘪𝘯𝘤𝘦 𝘵𝘩𝘦 𝘭𝘪𝘵𝘵𝘭𝘦 𝘤𝘩𝘢𝘯𝘨𝘦𝘴 𝘥𝘰 𝘯𝘰𝘵 𝘨𝘶𝘢𝘳𝘢𝘯𝘵𝘦𝘦 𝘩𝘪𝘮 𝘮𝘰𝘳𝘦 𝘳𝘦𝘸𝘢𝘳𝘥𝘴, 𝘥𝘶𝘦 𝘵𝘰 𝘵𝘩𝘦 𝘧𝘢𝘤𝘵 𝘐 𝘴𝘢𝘸 𝘩𝘪𝘮 𝘴𝘵𝘳𝘦𝘴𝘴𝘦𝘥 𝘰𝘷𝘦𝘳 𝘵𝘩𝘦 𝘤𝘰𝘯𝘵𝘦𝘯𝘵 𝘧𝘳𝘰𝘮 𝘵𝘩𝘦 𝘷𝘦𝘳𝘺 𝘣𝘦𝘨𝘪𝘯𝘯𝘪𝘯𝘨. 𝘈𝘯𝘥 𝘩𝘦 𝘳𝘦𝘱𝘭𝘪𝘦𝘥 𝘣𝘢𝘤𝘬 𝘵𝘰 𝘮𝘦: 𝘪𝘧 𝘐 𝘸𝘢𝘴 𝘥𝘰𝘪𝘯𝘨 𝘵𝘩𝘪𝘴 𝘤𝘰𝘯𝘵𝘦𝘯𝘵 𝘧𝘰𝘳 𝘵𝘩𝘦 𝘳𝘦𝘸𝘢𝘳𝘥𝘴, 𝘐 𝘸𝘰𝘶𝘭𝘥 𝘩𝘢𝘷𝘦 𝘱𝘰𝘴𝘵𝘦𝘥 𝘪𝘵 𝘭𝘰𝘯𝘨 𝘣𝘦𝘧𝘰𝘳𝘦 𝘯𝘰𝘸. 𝘐'𝘮 𝘮𝘰𝘳𝘦 𝘪𝘯𝘵𝘦𝘳𝘦𝘴𝘵𝘦𝘥 𝘪𝘯 𝘬𝘯𝘰𝘸𝘪𝘯𝘨 𝘵𝘩𝘢𝘵 𝘐 𝘢𝘤𝘩𝘪𝘦𝘷𝘦𝘥 𝘴𝘰𝘮𝘦𝘵𝘩𝘪𝘯𝘨 𝘸𝘰𝘳𝘵𝘩𝘸𝘩𝘪𝘭𝘦 𝘵𝘩𝘢𝘯 𝘪𝘯 𝘳𝘦𝘤𝘦𝘪𝘷𝘪𝘯𝘨 𝘳𝘦𝘸𝘢𝘳𝘥𝘴..
𝘛𝘩𝘦𝘯 𝘪𝘵 𝘩𝘪𝘵 𝘮𝘦 𝘵𝘩𝘢𝘵, 𝘵𝘩𝘪𝘴 𝘪𝘴 𝘴𝘰𝘮𝘦𝘰𝘯𝘦 𝘸𝘩𝘰 𝘩𝘢𝘴 𝘤𝘰𝘮𝘱𝘭𝘦𝘵𝘦𝘭𝘺 𝘶𝘯𝘥𝘦𝘳𝘴𝘵𝘰𝘰𝘥 𝘵𝘩𝘦 𝘸𝘩𝘰𝘭𝘦 𝘴𝘺𝘴𝘵𝘦𝘮 𝘢𝘯𝘥 𝘪𝘴 𝘭𝘰𝘯𝘨-𝘵𝘦𝘳𝘮 𝘢𝘣𝘰𝘶𝘵 𝘩𝘪𝘴 𝘨𝘳𝘰𝘸𝘵𝘩 𝘵𝘩𝘢𝘯 𝘫𝘶𝘴𝘵 𝘤𝘳𝘦𝘢𝘵𝘪𝘯𝘨 𝘤𝘰𝘯𝘵𝘦𝘯𝘵 𝘰𝘯𝘭𝘺 𝘧𝘰𝘳 𝘵𝘩𝘦 𝘳𝘦𝘸𝘢𝘳𝘥𝘴.
---
CLOSING NOTE...
If you're on Hive for the long haul as a content creator, quality should always take precedence over rewards. Otherwise, you will find yourself making mistakes and even plagiarizing in order to accomplish your goal of earning more and more incentives.
If you stick to quality, you will find that the rewards will arrive over time and will be much greater than having to prioritize rewards above quality at initially. Remember this: Creating quality content leads to growth, which leads to far more rewards...
---
---
WHO IS STARSTRINGS01
---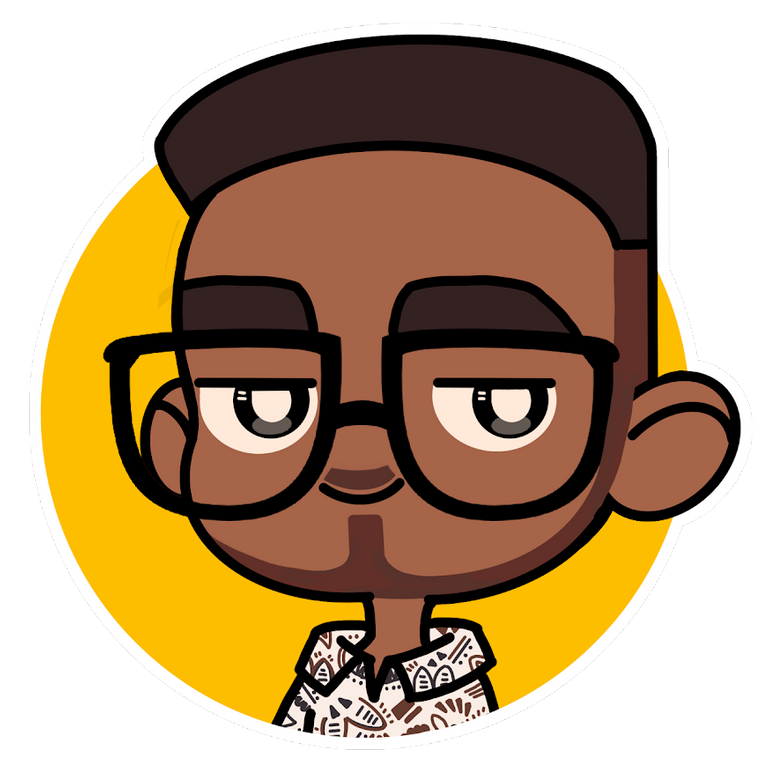 Designed by @ grisvisa
Starstrings01, also known as Giftedhands, attends the Federal University of Agriculture in Abeokuta to study Mechatronics Engineering. He is a lover of the hive, a guitarist from Nigeria, and a student.
His ambition on Hive is to be more than just an ordinary blogger; he wants to be someone with a purpose. That's why he started the newbies initiative @newbies-hive to help guide and support newbies. Please follow the @newbies-hive curation trail by clicking here.
He tries to juggle education with being active on the chain, but his love and passion for Hive keep him on track..
---
All images are mine except indicated otherwise
All gifs are powered by Tenor
---

IF YOU LOVE THIS POST, YOU CAN KINDLY SUPPORT IT WITH YOUR COMMENTS, REBLOG AND UPVOTE. IT WOULD BE MUCH APPRECIATED

THANKS FOR VISITING MY BLOG 😇💕
---
---