Tales of the Urban Explorer: Oakwood Nursing Home
"I was here a few days ago; it's quite bare, stinks like shit upstairs, and houses the most fierce pigeons I have ever seen"
Stinks like shit? How could I possibly not visit 'Oakwood Nursing Home', if only to breathe in some reeking fumes?
It was June 2022, the Manchester Urbex scene was getting dire, and we were all feeding off scraps. Later in the year, we would tread further afield. It was either that or suffer from explorers' famine and malnutrition.
@anidiotexplores was priming me with information… "There could be Karen's, it depends on how lucky we are as it's next to a small housing complex".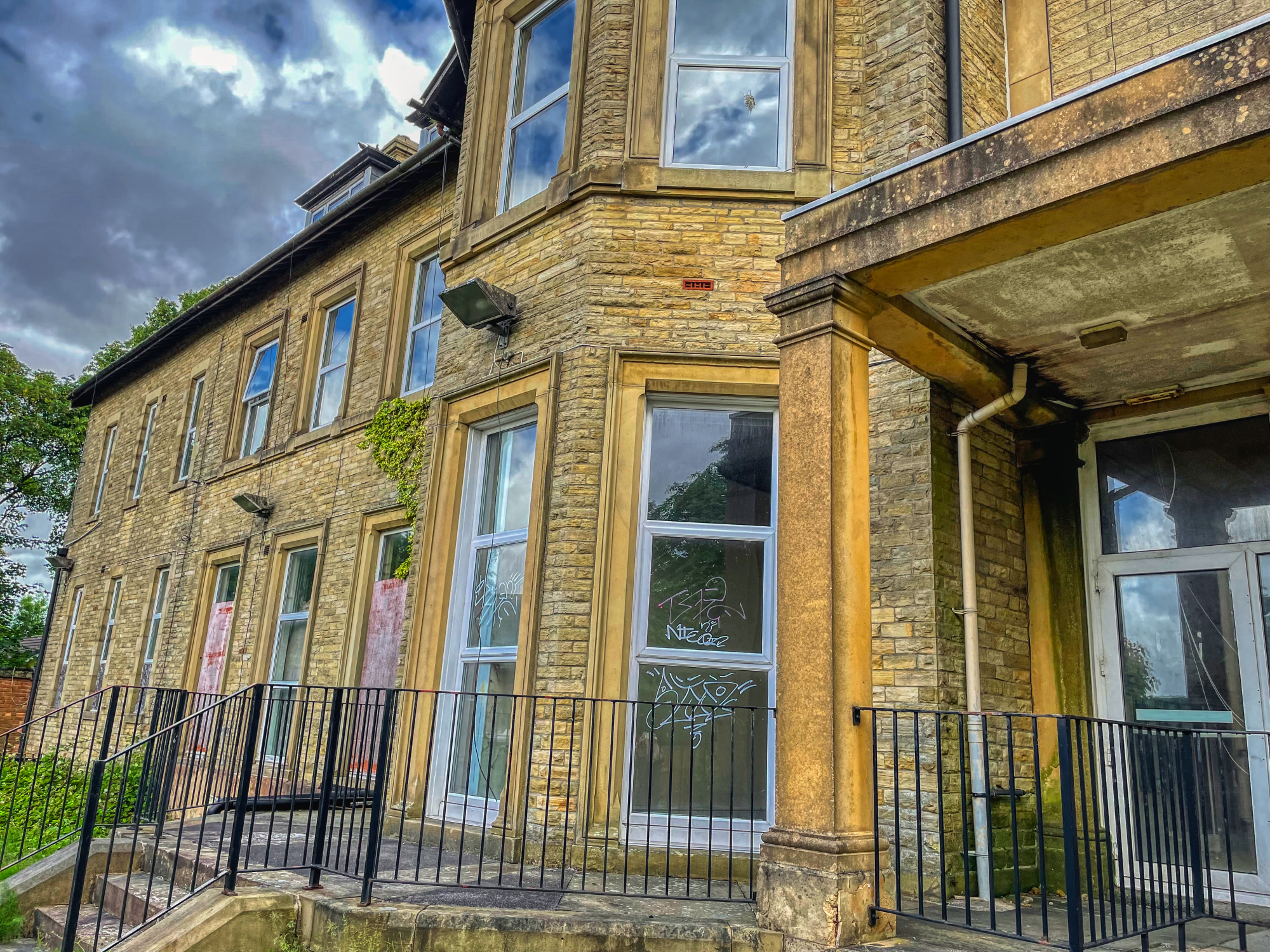 Arriving early could have been the deciding factor as we climbed over a medium-sized fence in eyeshot of said houses, rounded a corner, and quickly scarpered out of sight and through what looked like a tradesman's entrance.
"Someone's been here", exclaimed @anidiotexplores as though other explorers didn't exist in North-West England. It was hardly a surprise to me I hustled him through the door which was left slightly ajar.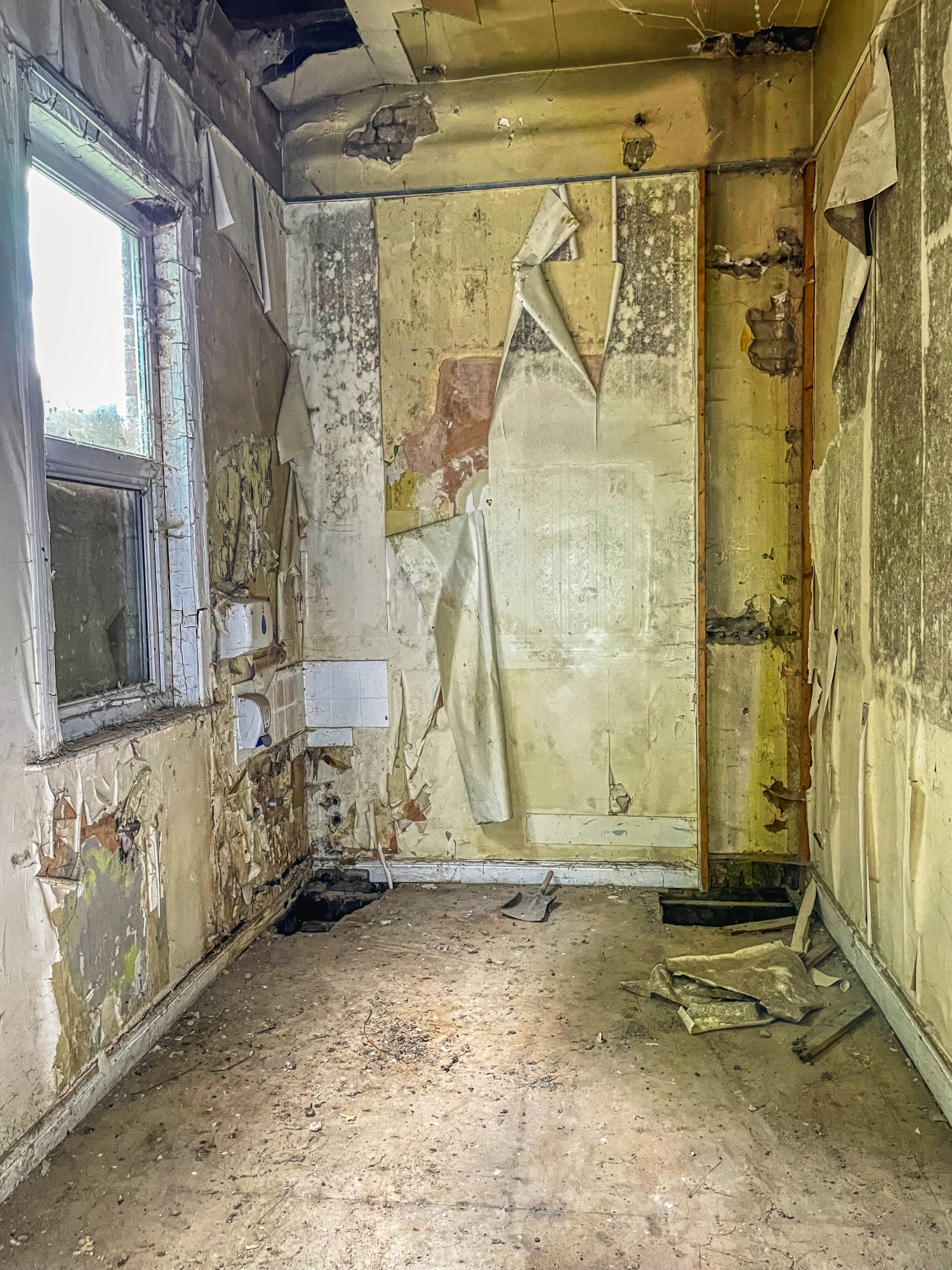 While 'Oakwood Nursing Home' may look regal and elegant from the outside, the interior was dirty, dusty, damp, and very neglected.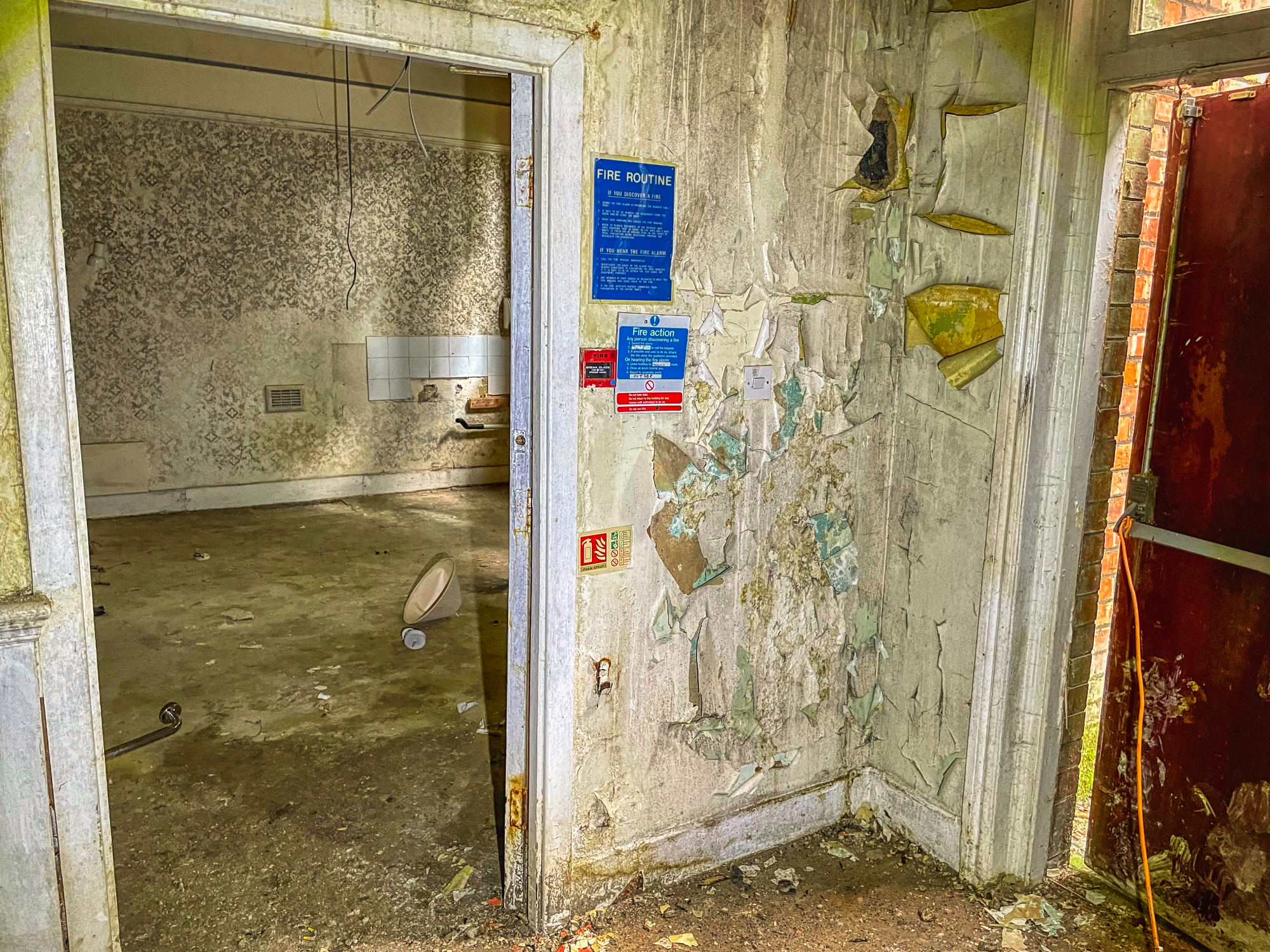 The paint was peeling off the walls along with wallpaper if it existed to start with.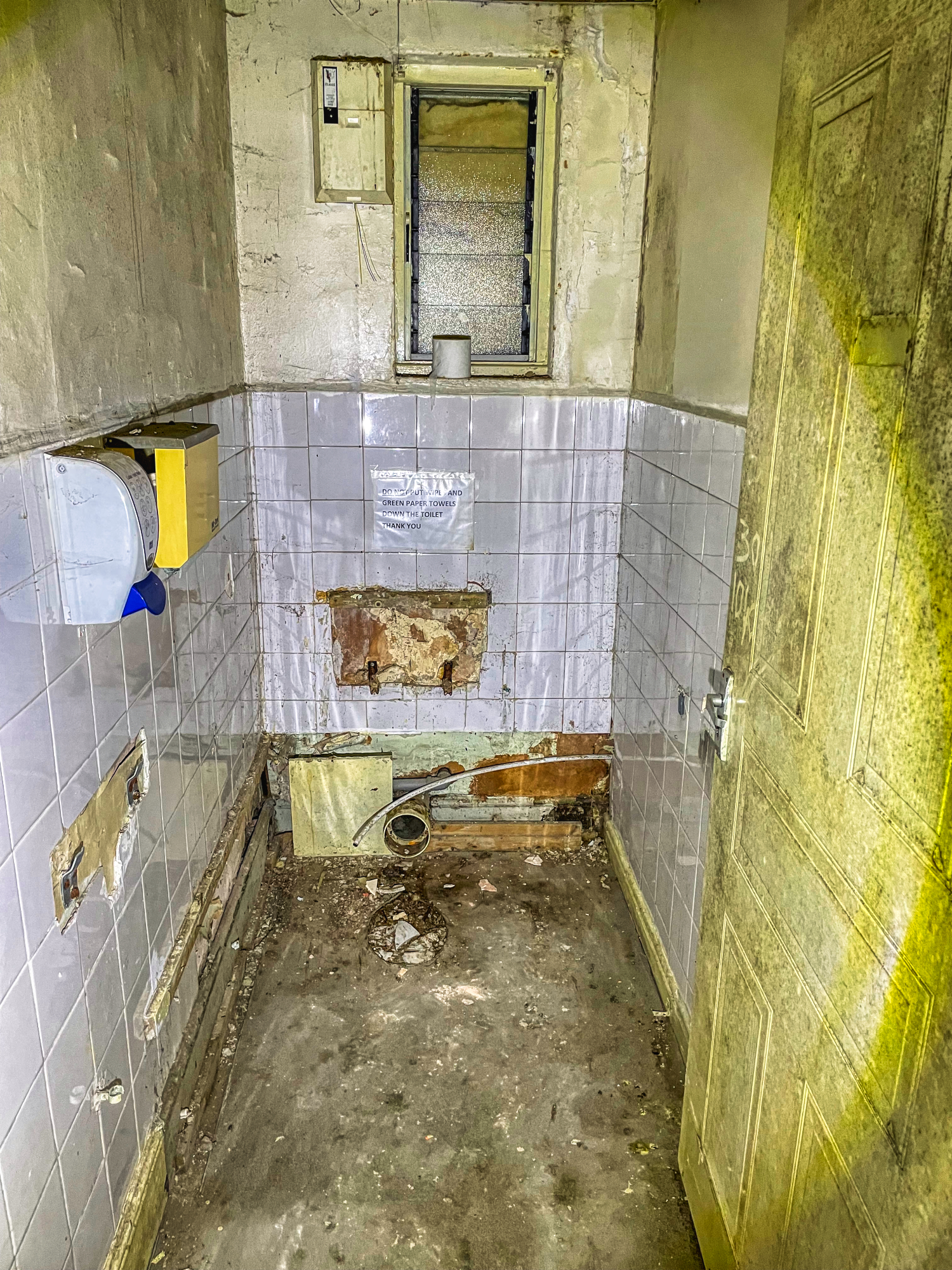 I have seen some bad crappers, but in this case, the entire lot had gone walkabout. There might be bog paper, hand cleanser, and a non-working hand dryer but the expectation of crouching down whilst expecting solid porcelain under your arse would end in tears.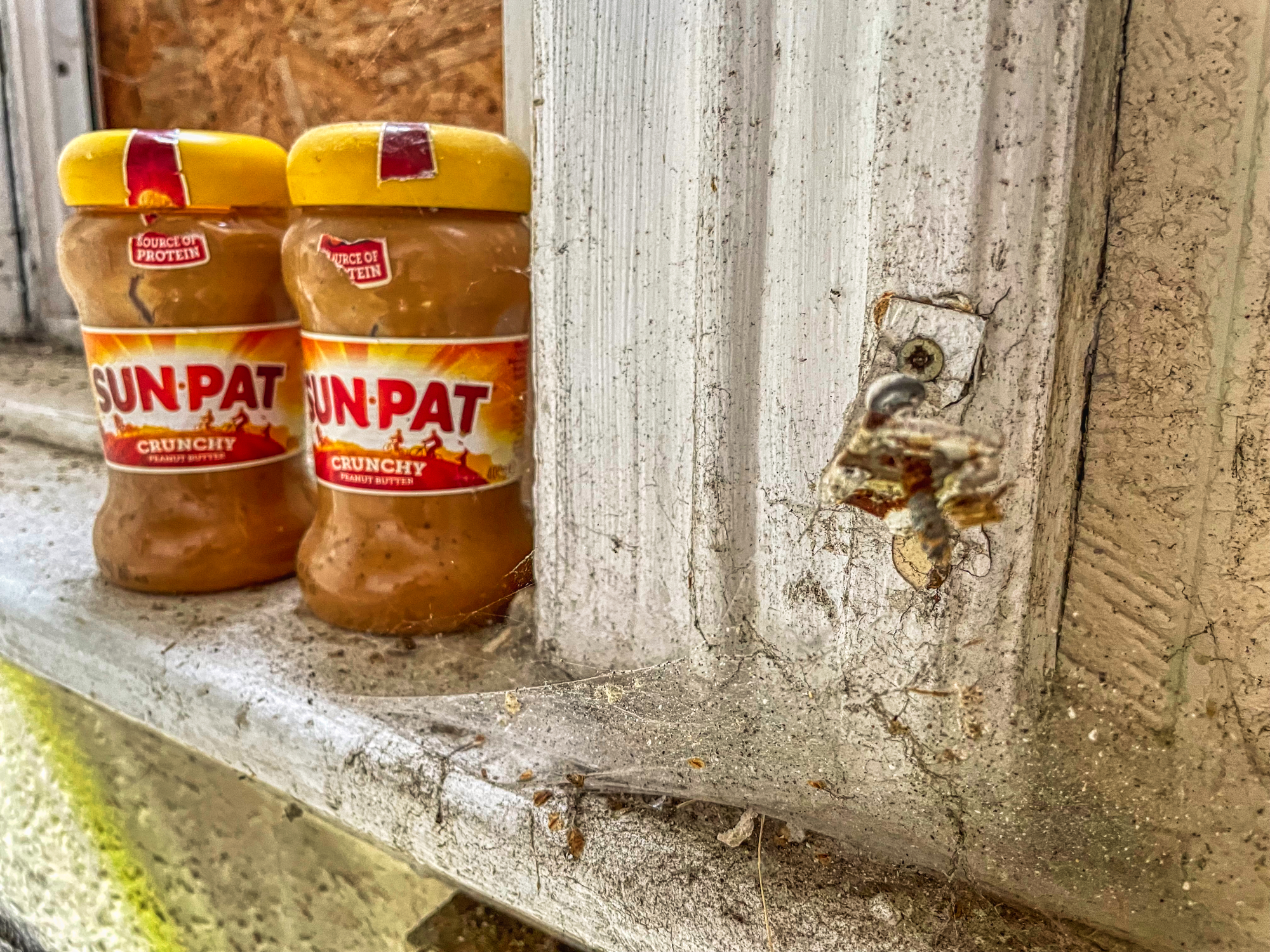 Add a little spider-web to the 'Sun-Pat Crunchy' and you have a tasty winning delicacy.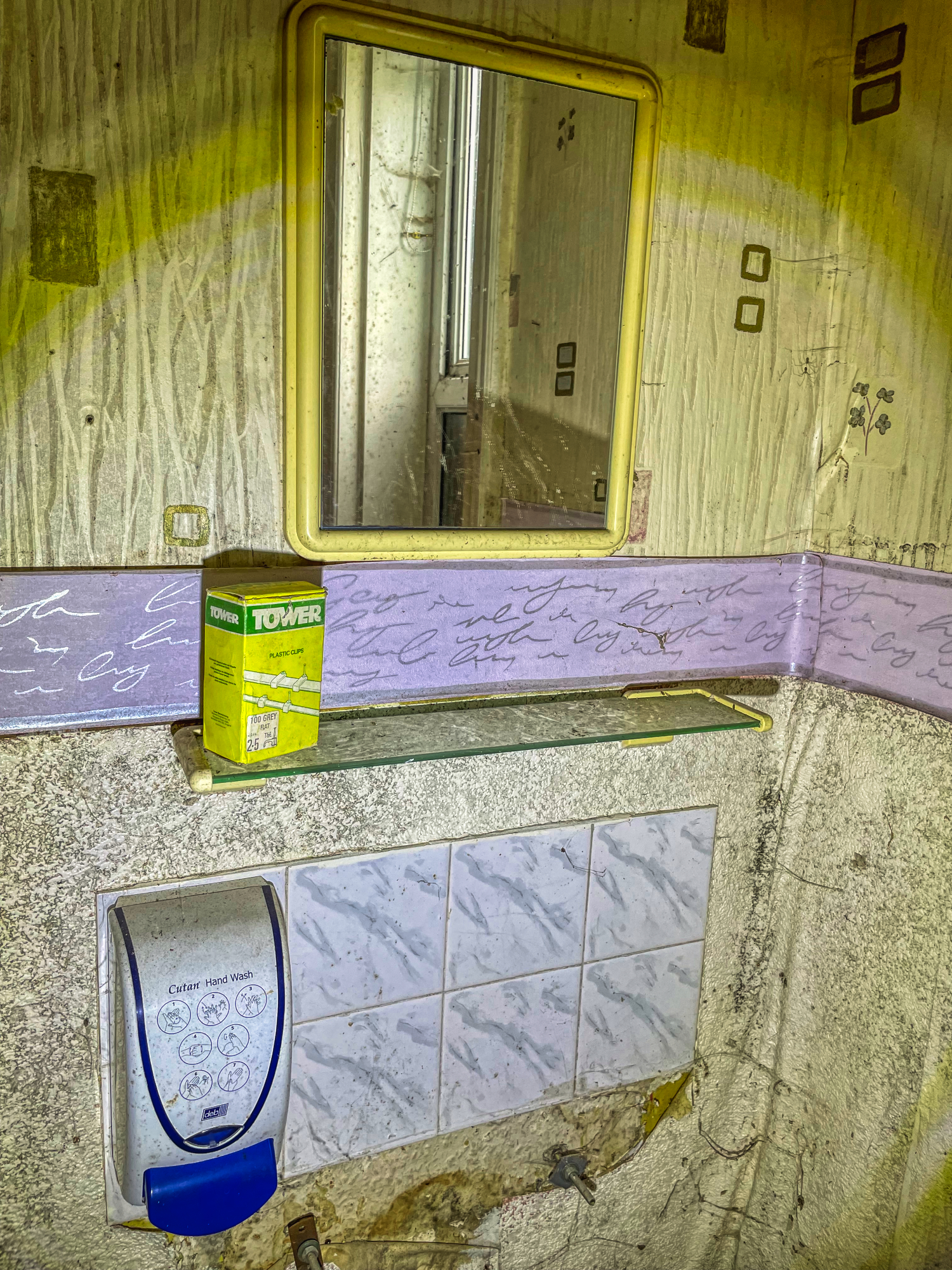 There's no shortage of loos in 'Oakwood Nursing Home'.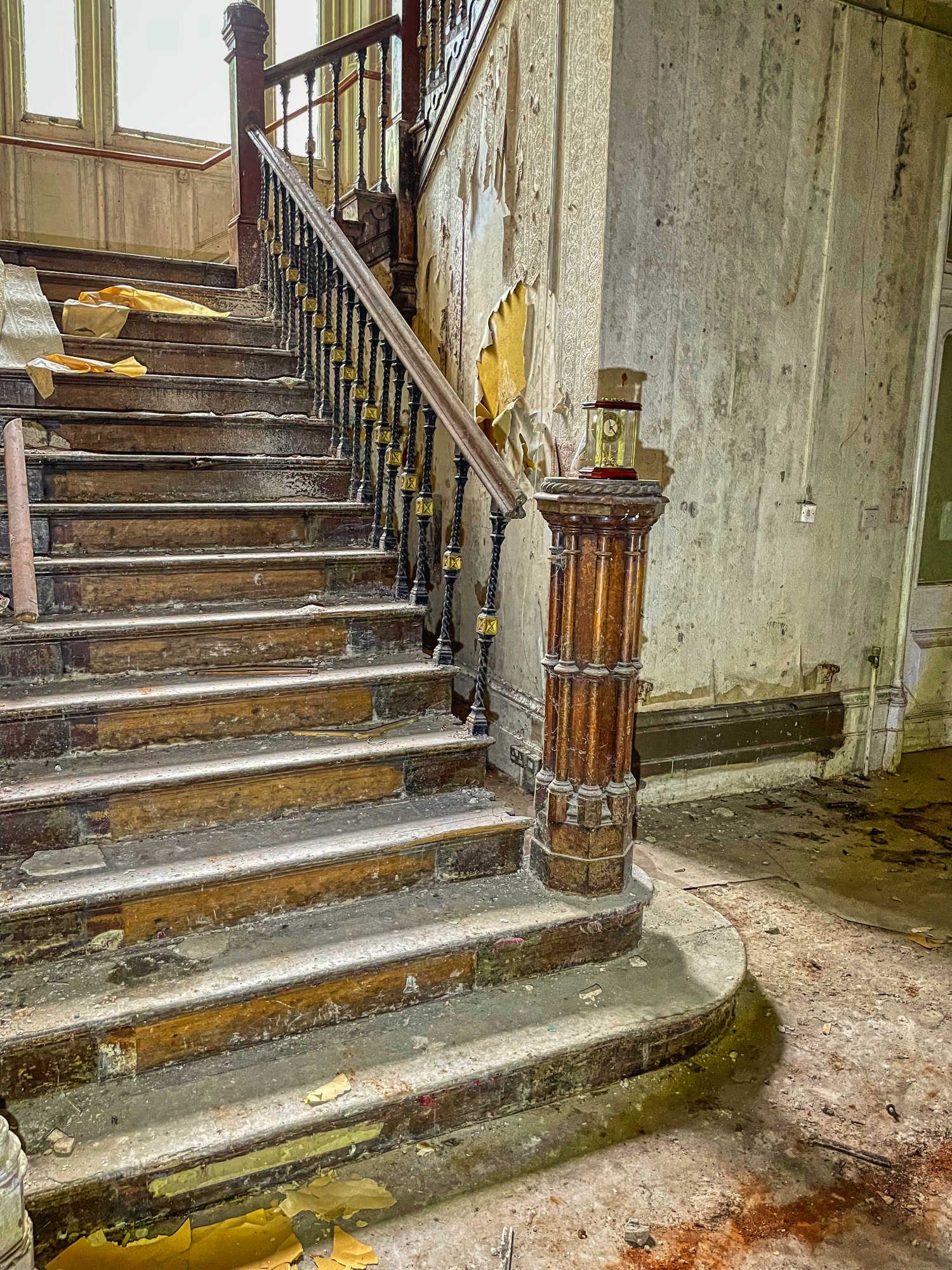 The grand staircase with a priceless clock perched at the foot of the banister?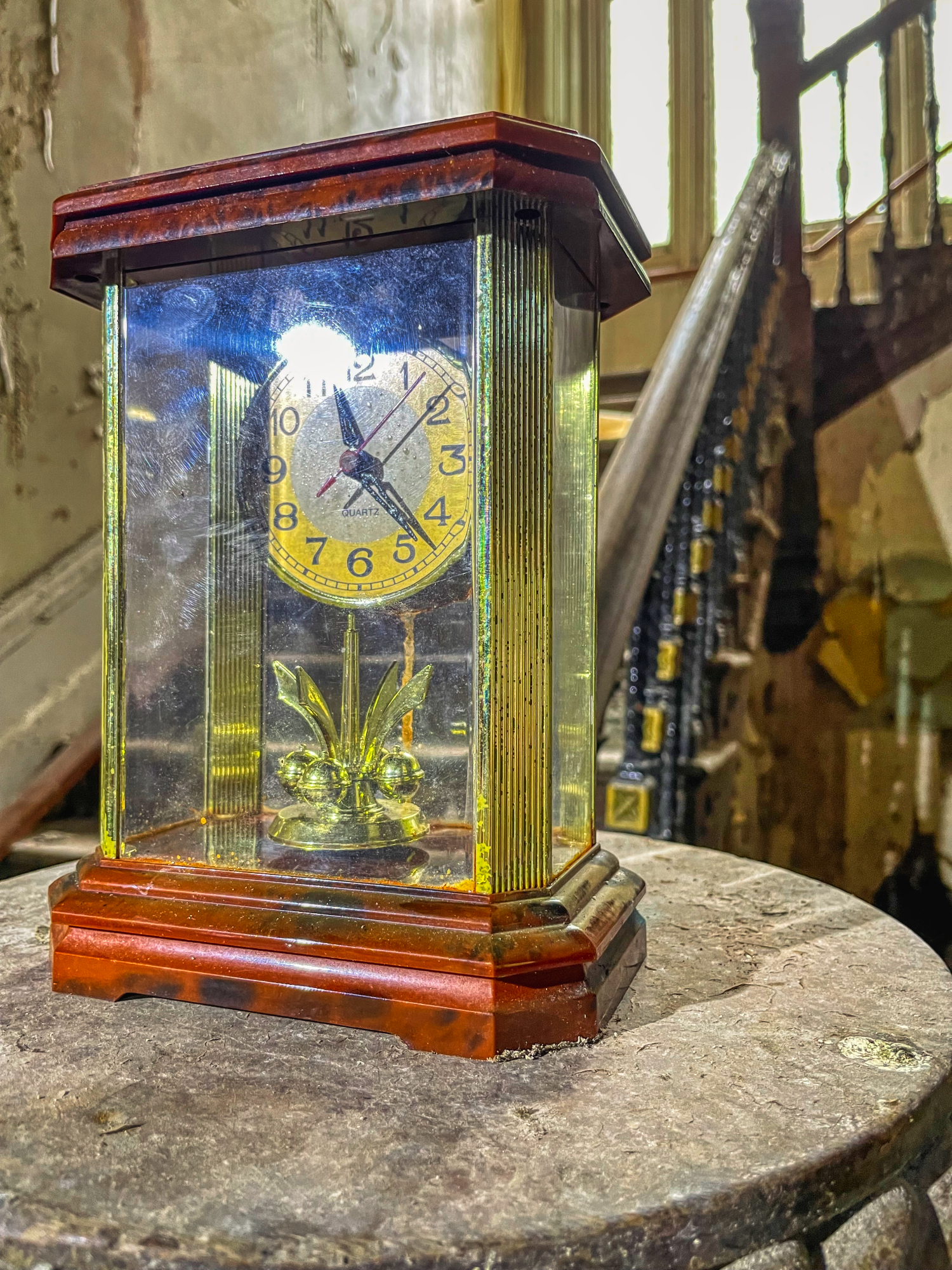 It's a step up from Poundland and wasn't working.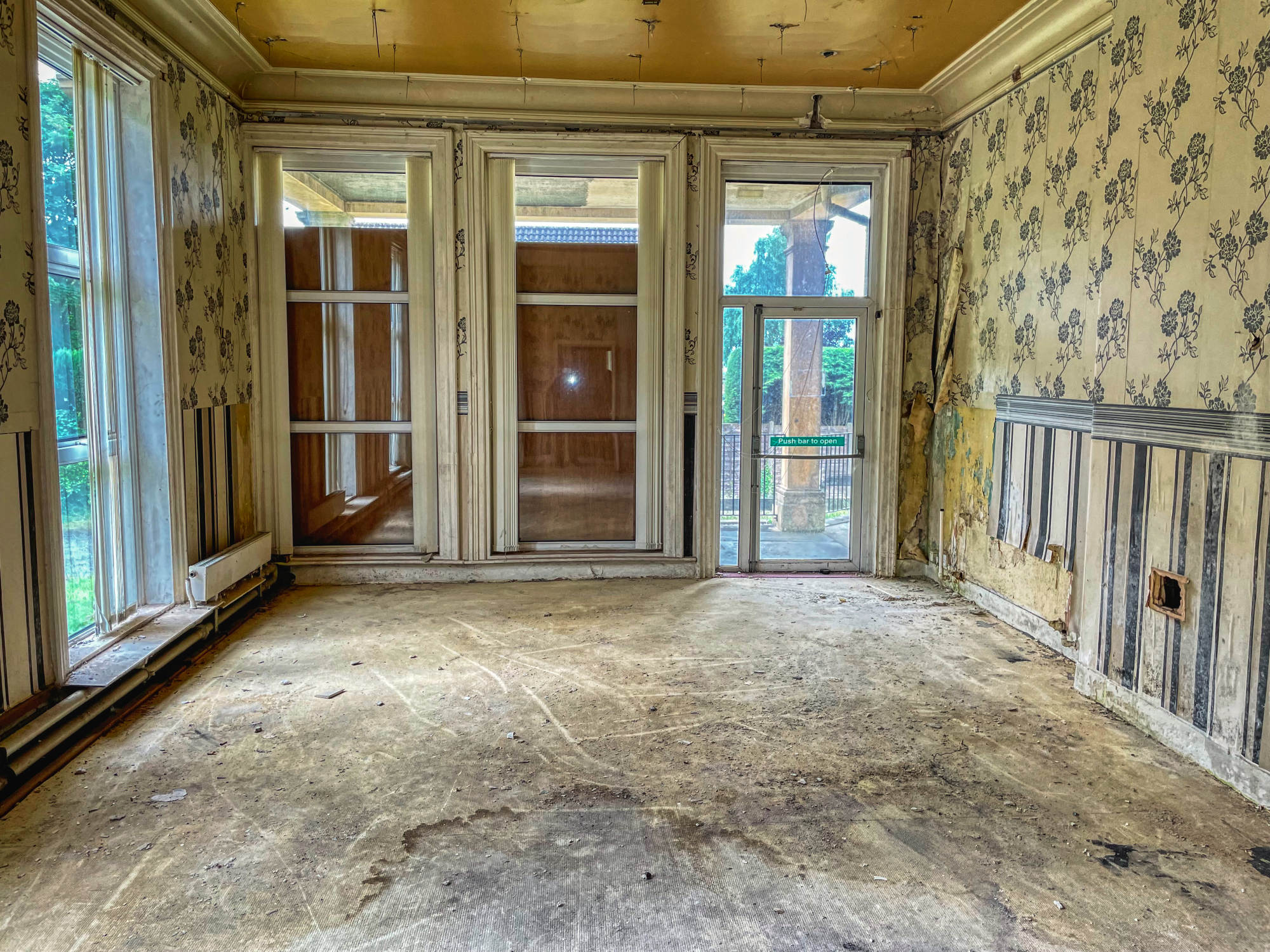 This used to be the front door, it's looking a little tired in today's world.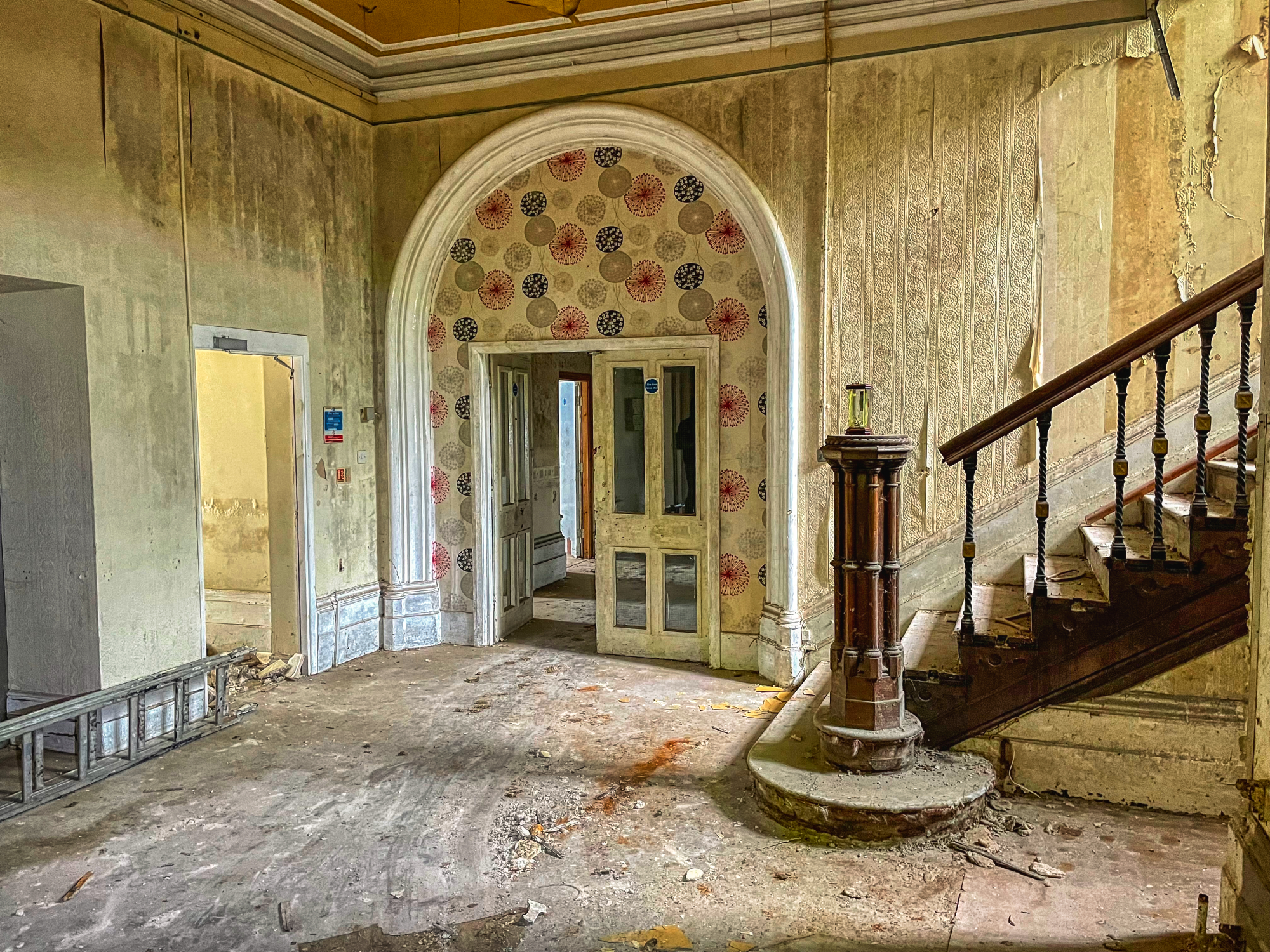 When @anidiotexlores told me it was 'quite bare', he was hardly exaggerating.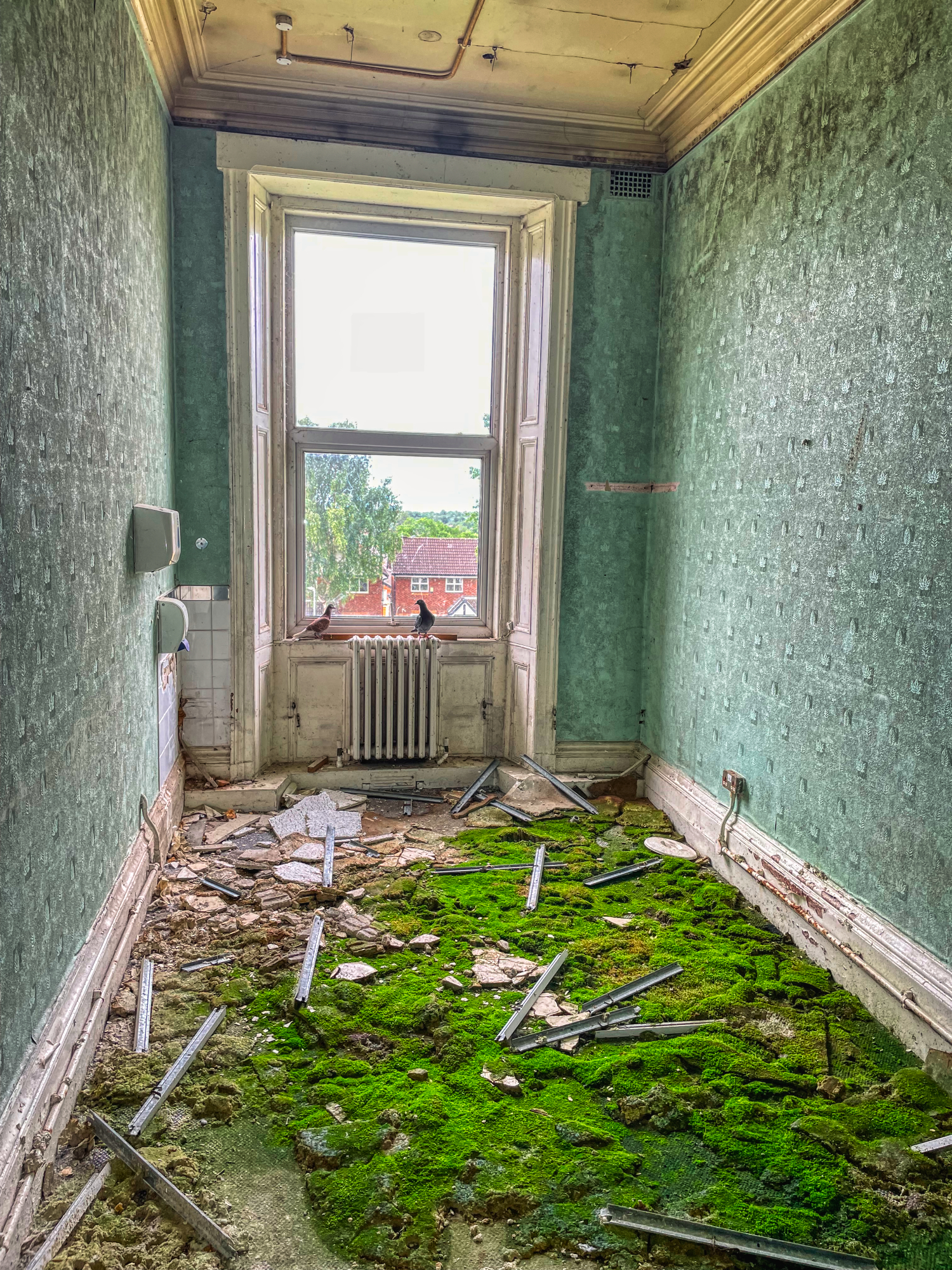 We climbed up the master stairway and found the second floor to be in much worse condition. Walk across to those pigeons and you are likely going to feel the touch of death.
That floor was completely destroyed underfoot. Much like all the other rooms, you can sanitise your hands.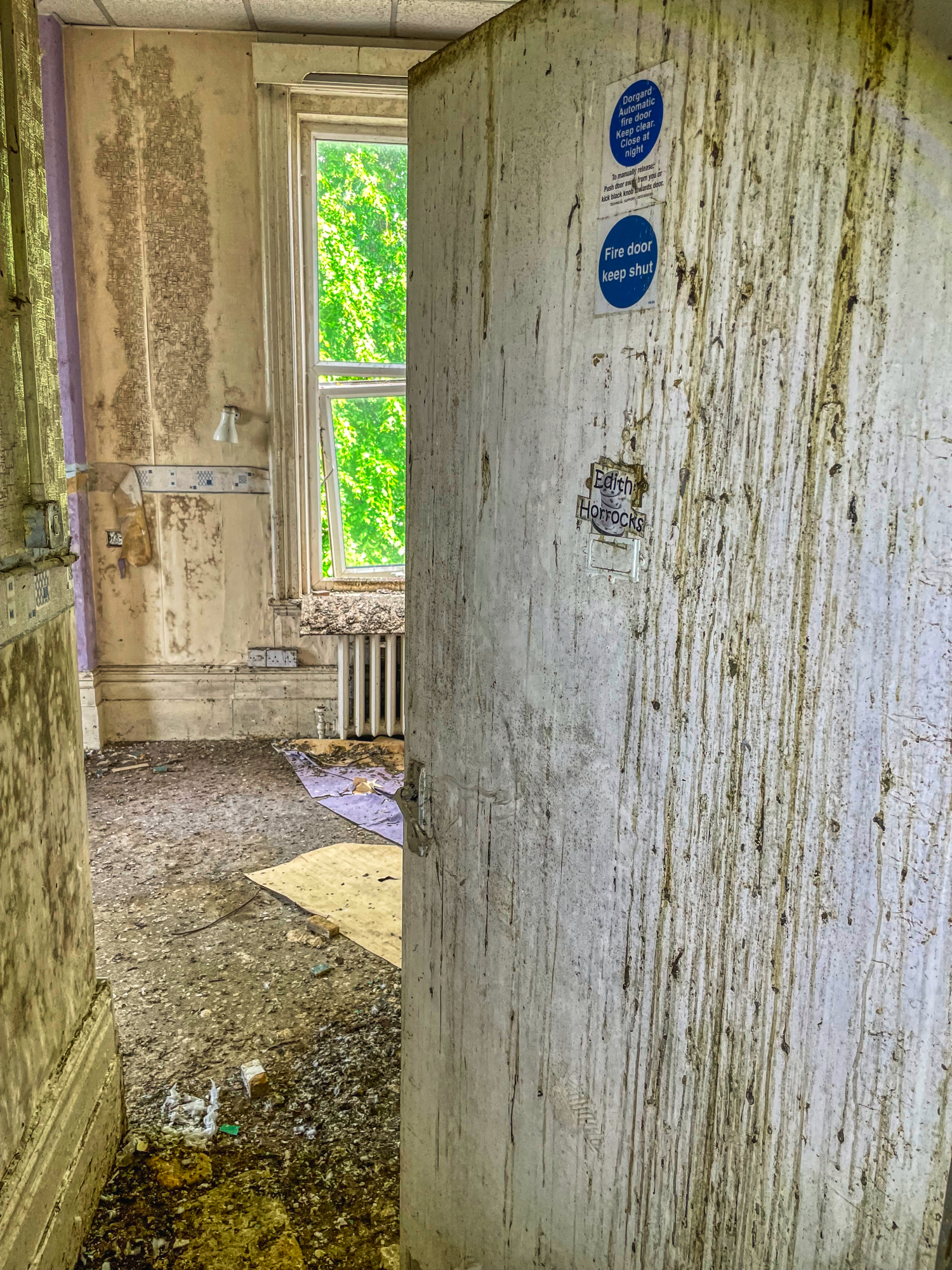 Edith Horrocks, your room is disgraceful! I didn't want to touch her door; I mean… you don't know where that faeces originated?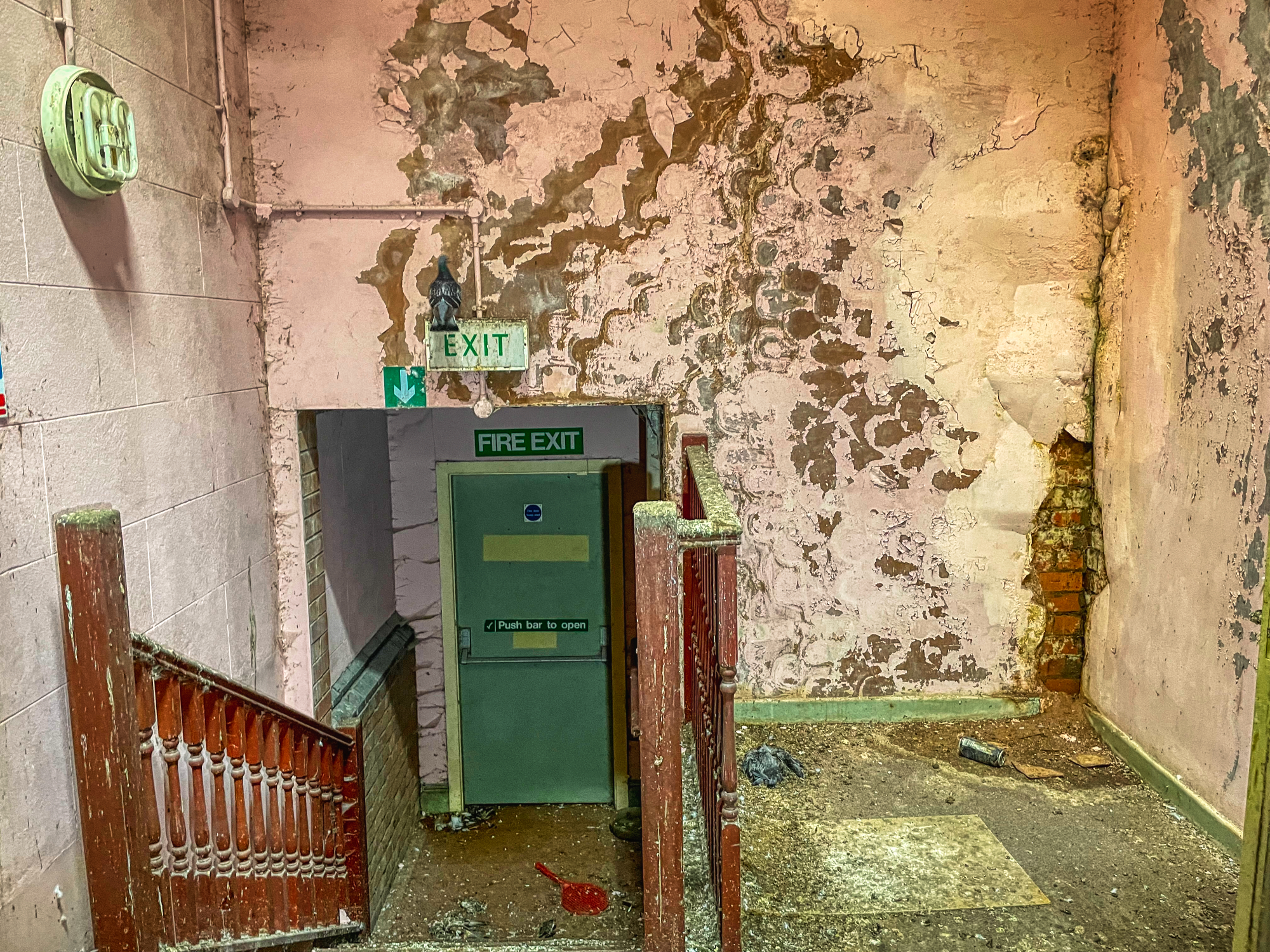 I was seeing many more pigeons the further I ascended within 'Oakwood Nursing Home' but had suffered no attacks so far.
'Just wait…', warned @andiotexplorers with a knowing smile.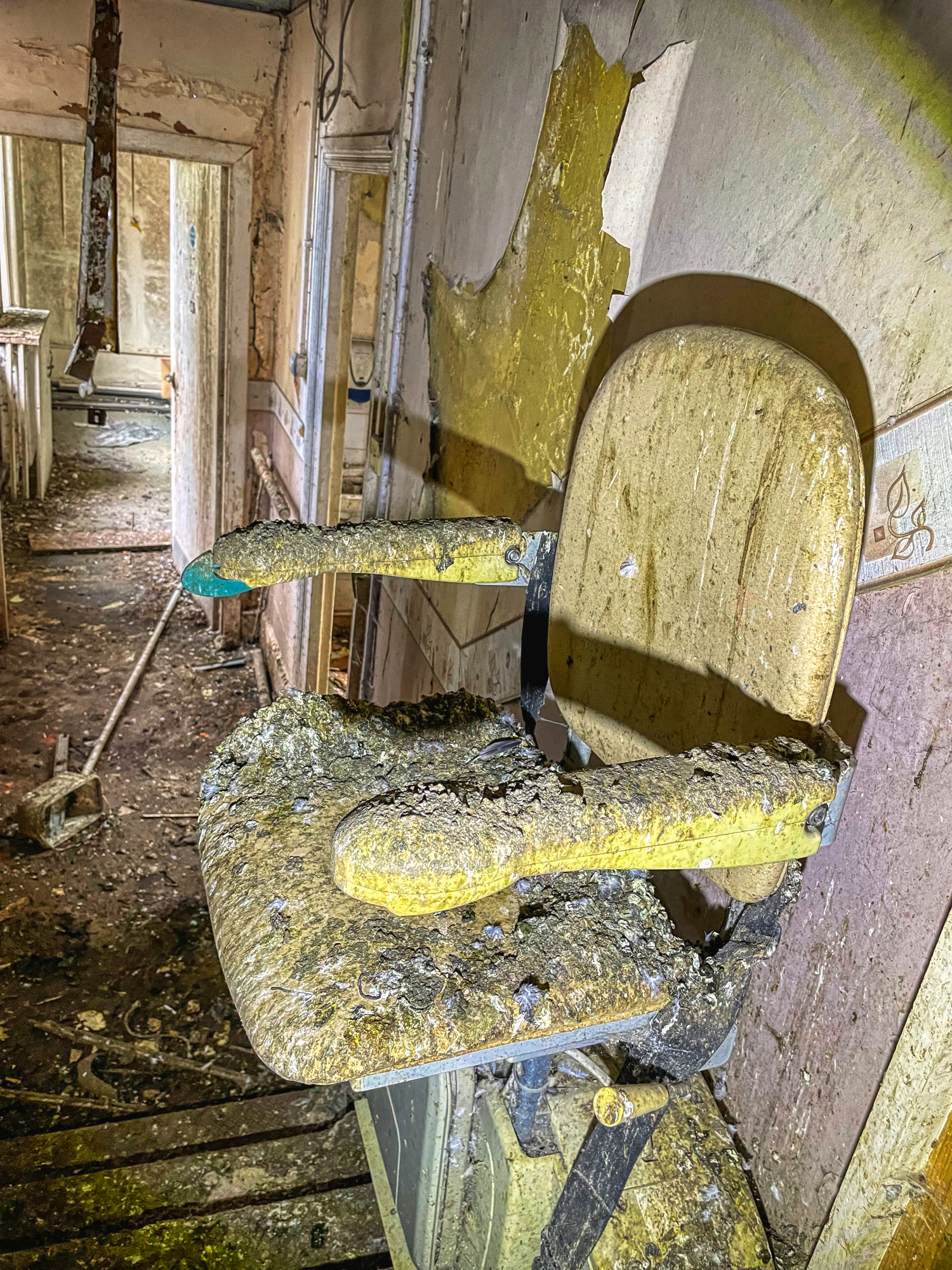 The corridor past this shit-covered chair was starting to reek badly. I have been in many pigeon-infested dens, but they didn't stink as badly as this.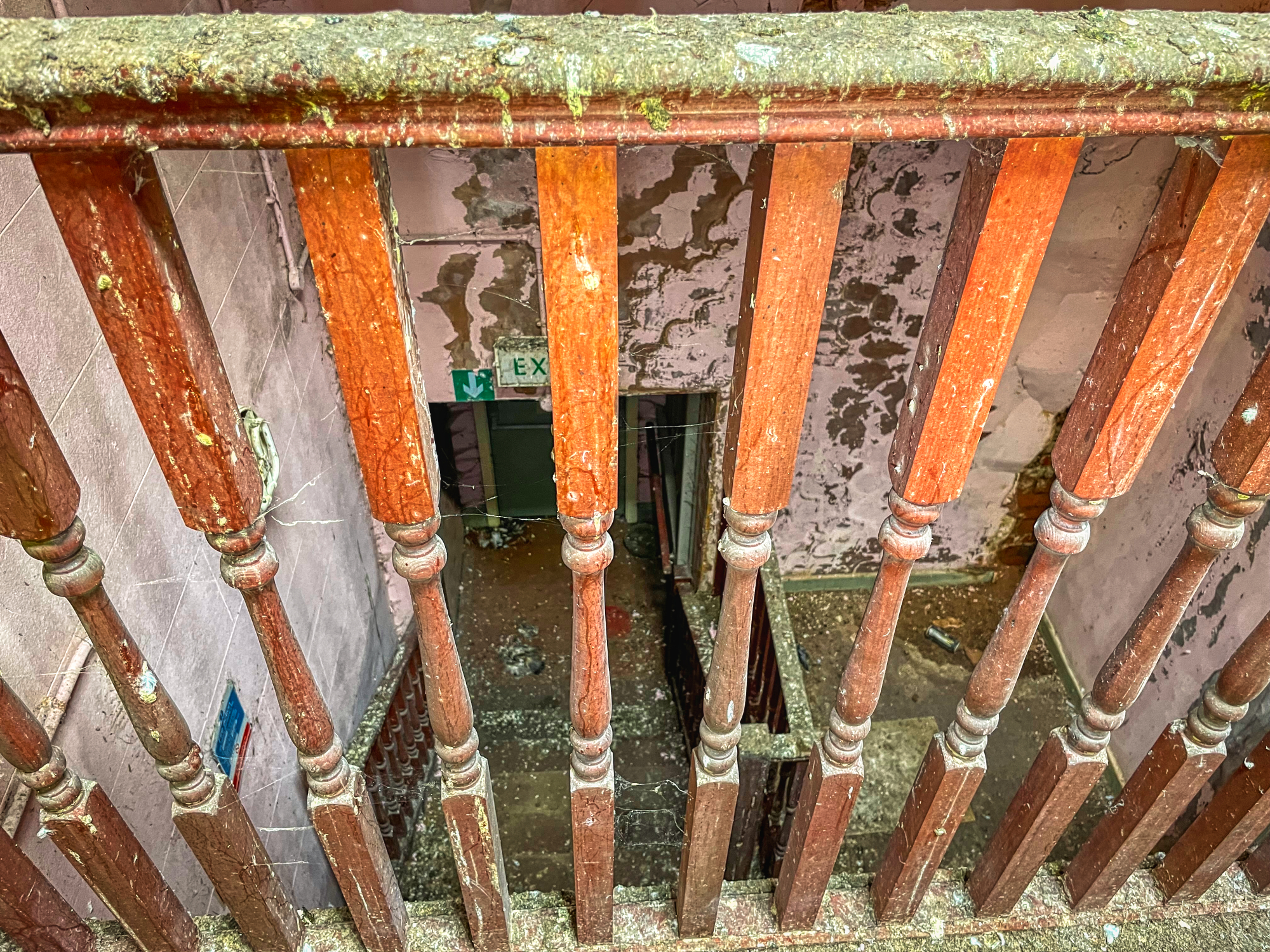 Climbing to the top floor, and peering through the banister slits.
'Go up there if you want to be attacked', said @andiotexplorers with a dare. 'I'll wait down here'.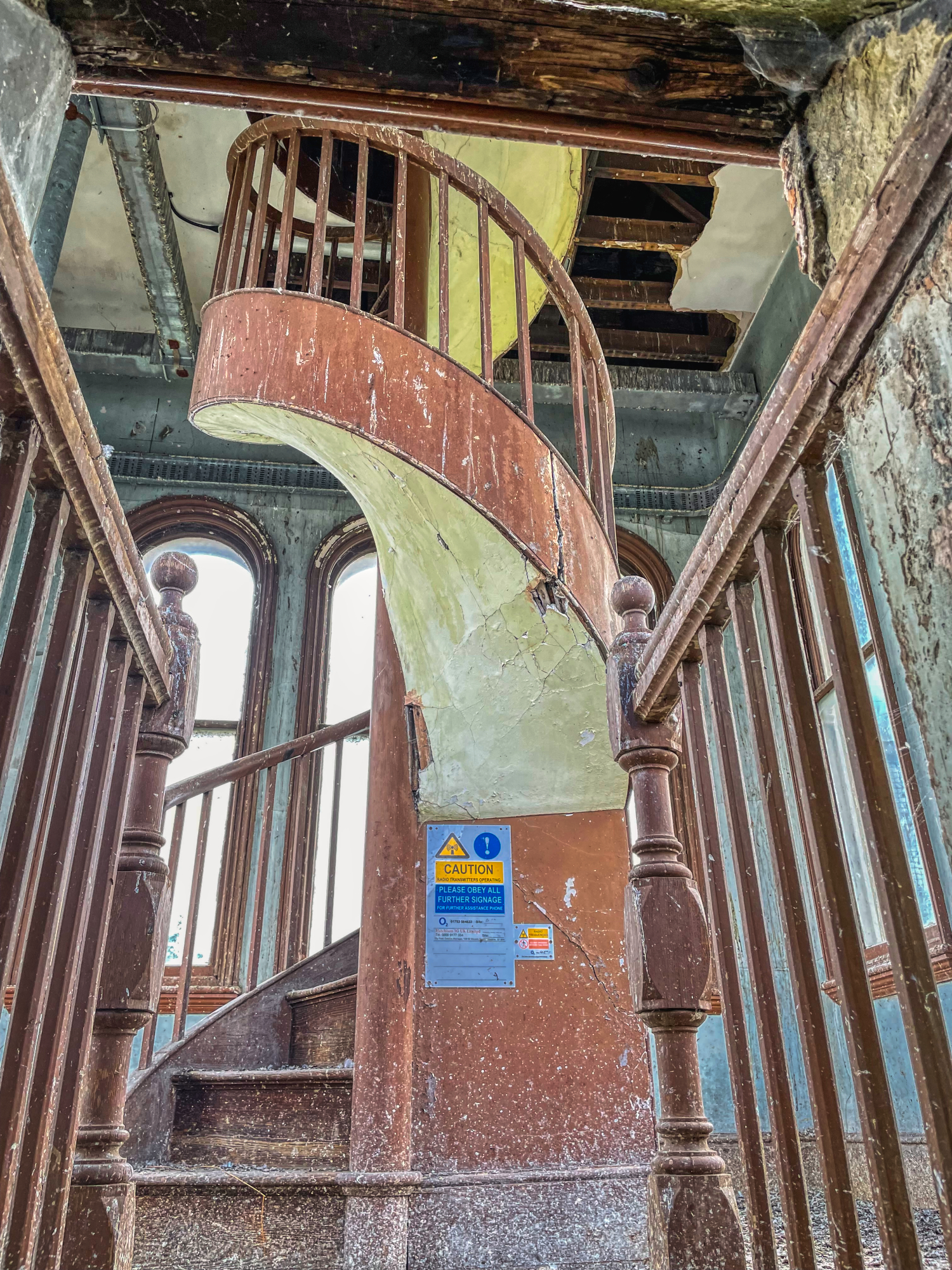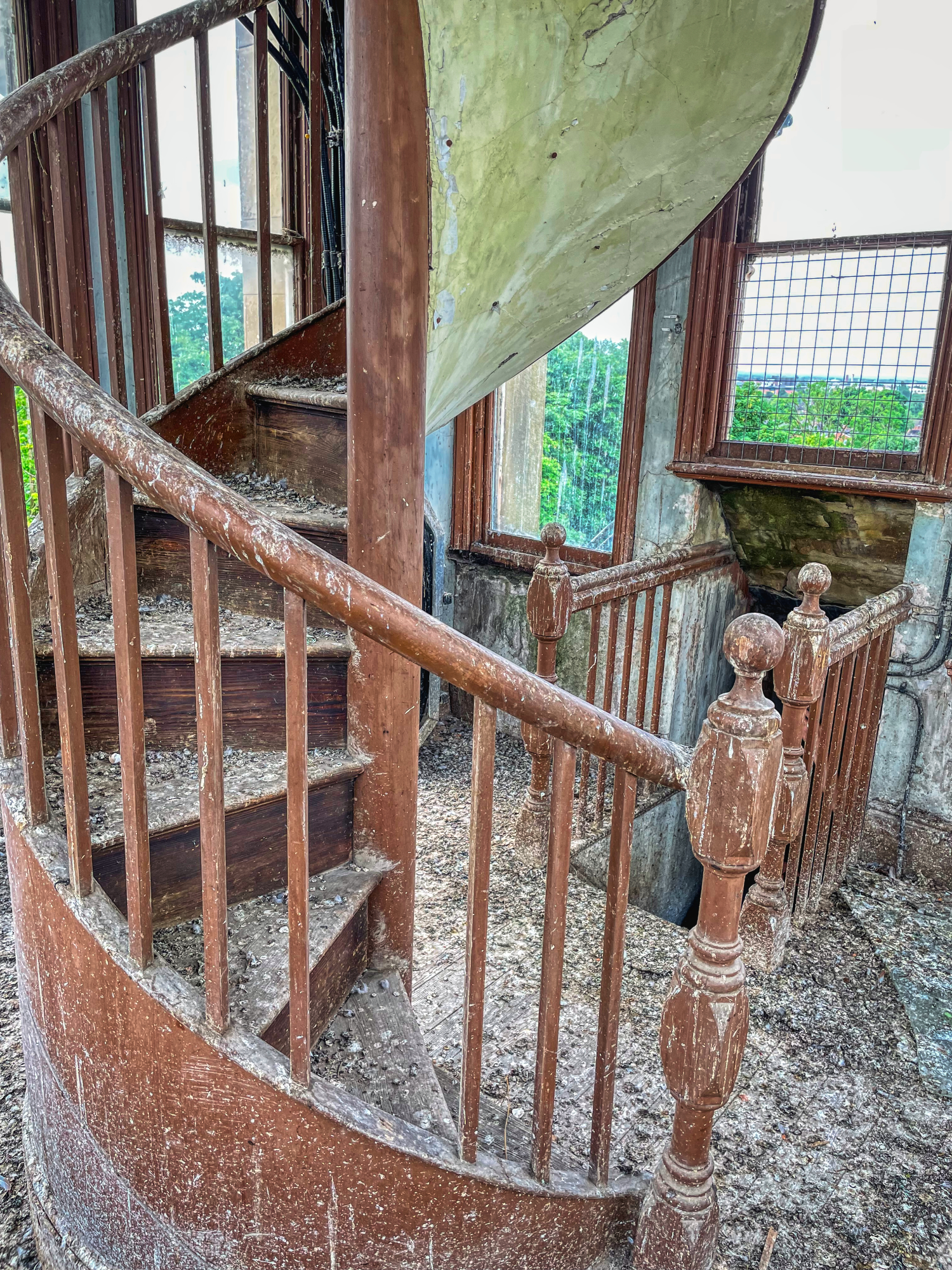 Spiral staircases are always cool and generally made of metal. This one was pure wood, covered in shit, but I had to ascend and take a look. We are not named 'explorers' without reason.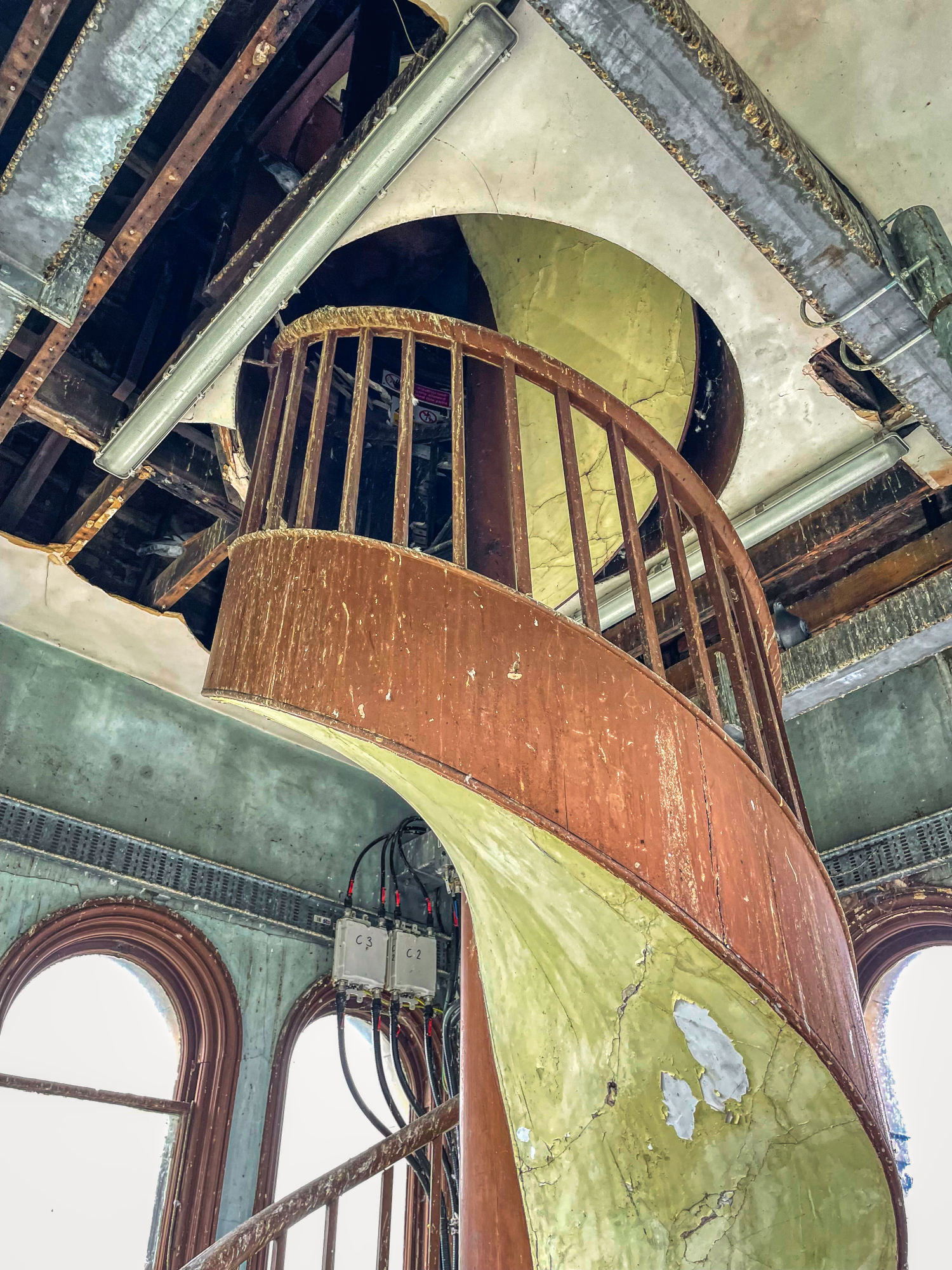 So the floor is a little cracked, what about it?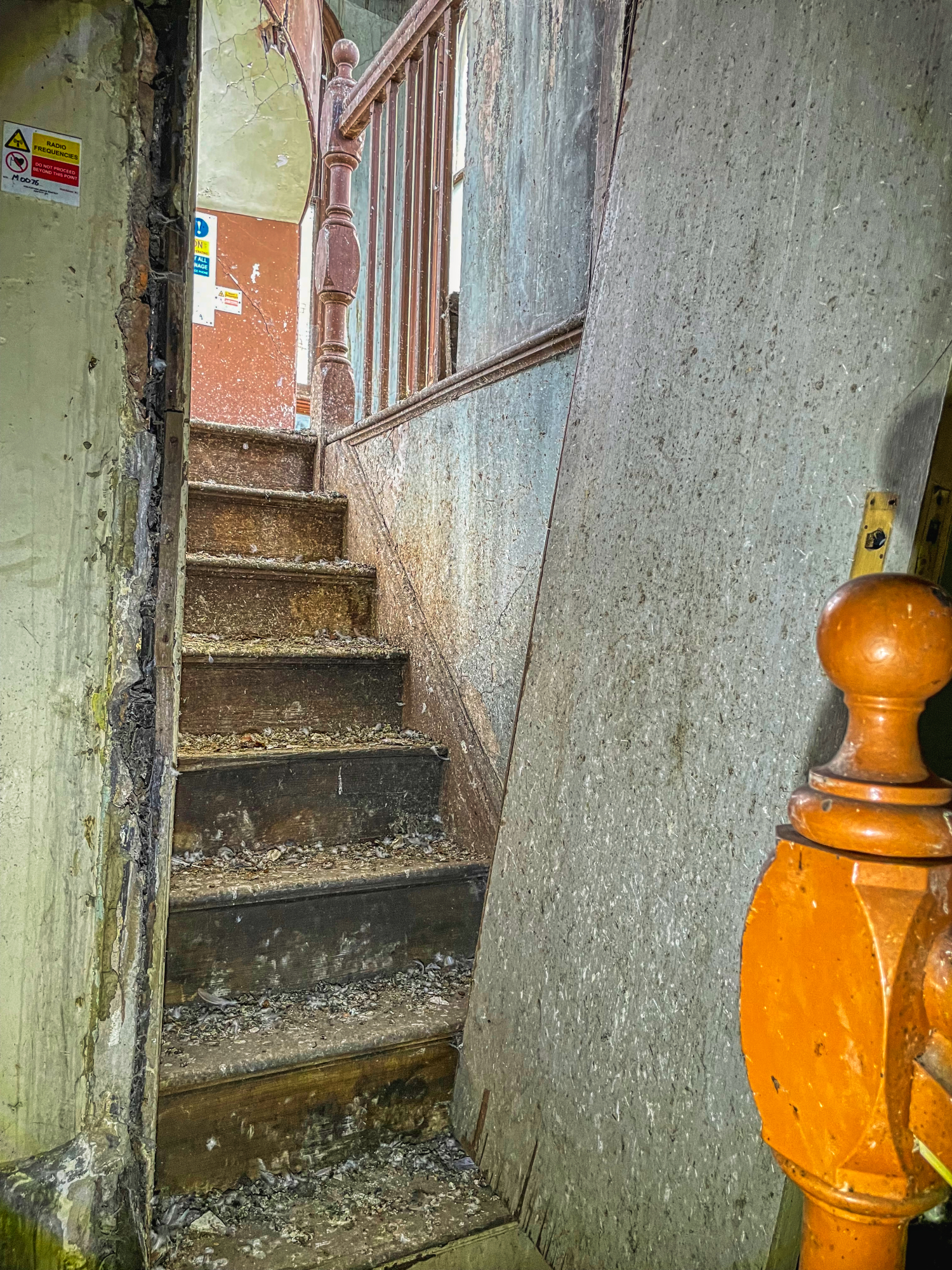 This final room was the 'Room of the Dreaded Killer Birds' and I poked my head up to see them all perched atop and waiting like dive-bombers in an ordered line. One more step and they would swoop down, emitting lethal toxic shit-droppings as their choice of weapon.
I dared to step forward and sure enough, they started their deadly descent in a steep arc. Fucking hell, I backed off quickly making a shit load of noise, and ran away terrified.
These pigeons were some kind of deadly new breed that hunted in packs. Maybe they had been trained by wolves?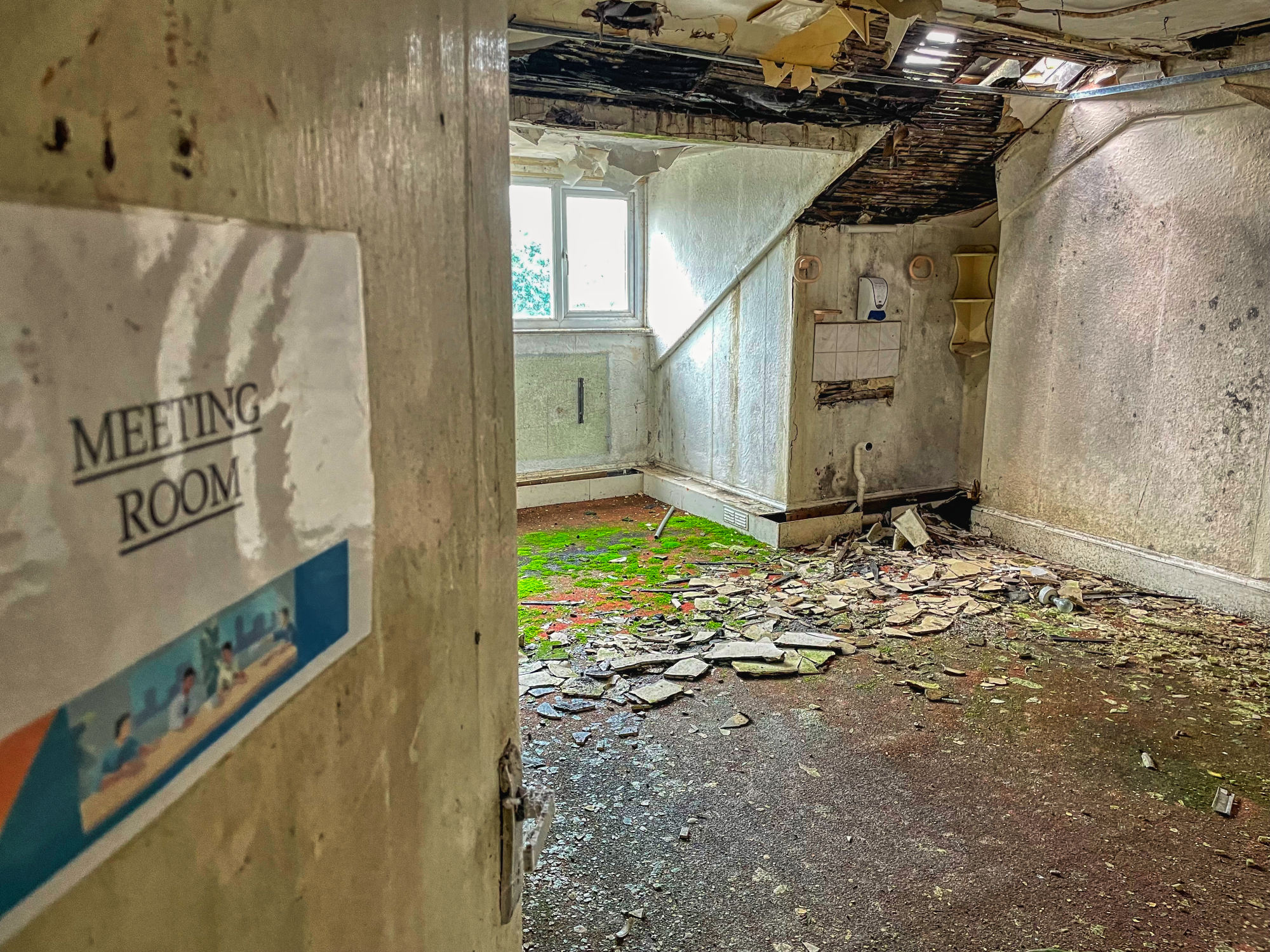 Wiping the sweat away from my brow, we resumed the exploration and entered the 'Meeting Room'. It was extremely well-ventilated and of course, catered for those clean freak types.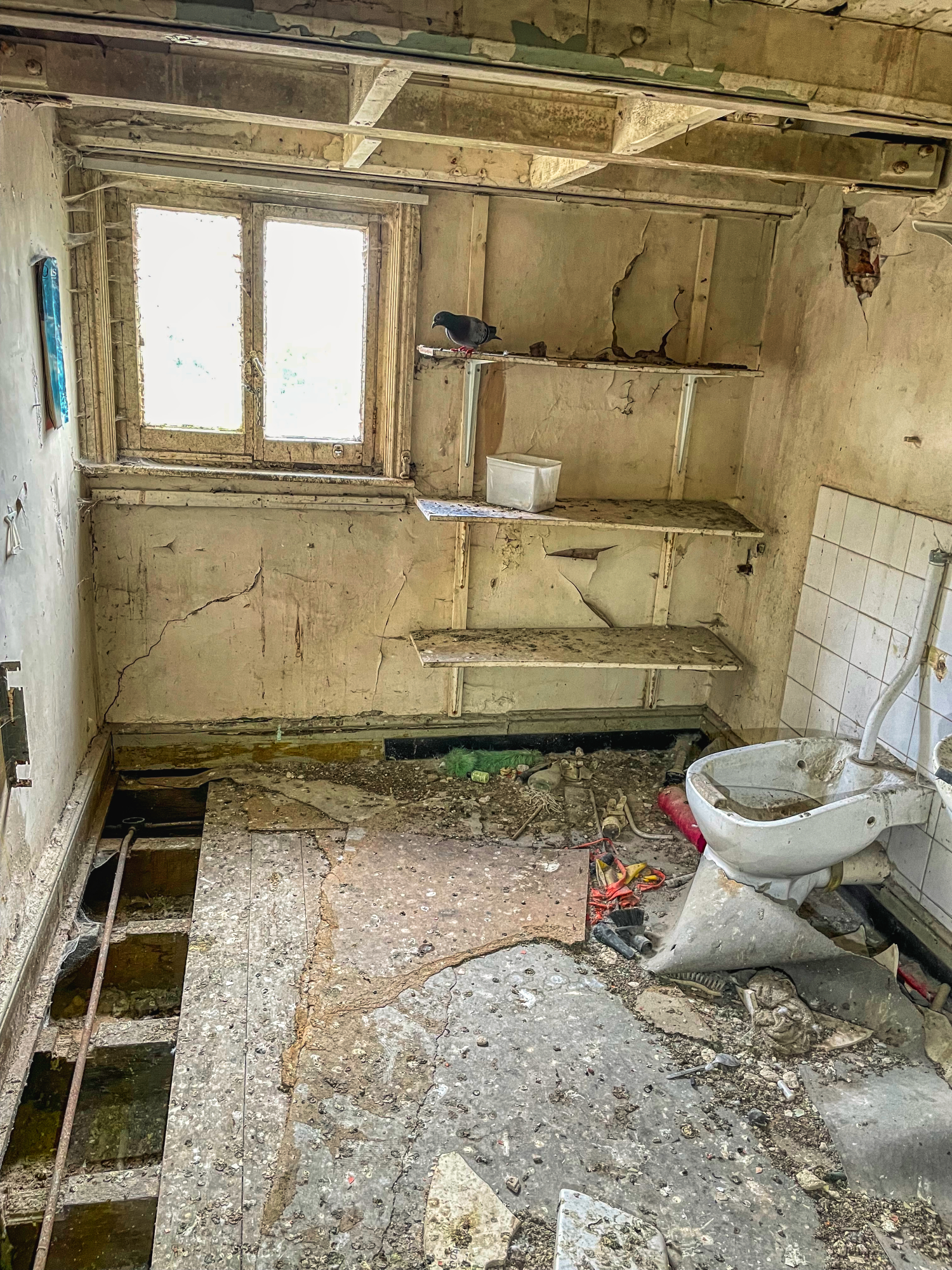 A solitary pigeon will likely freak out if I approach it, but I wasn't going over there for a piss lest the floor collapse, and jeez... what a fucking odour.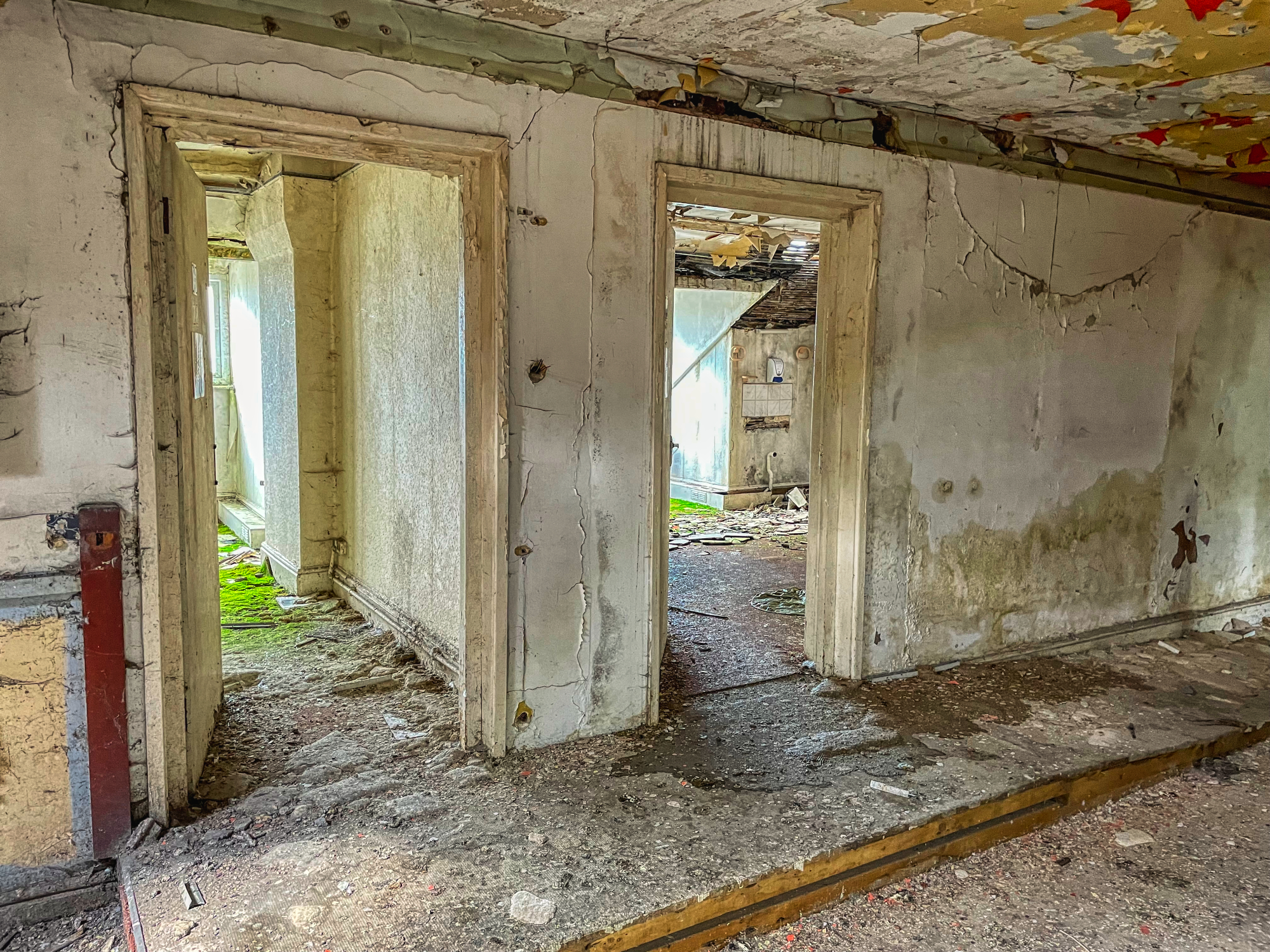 I generally am quite immune from extreme pungency in derelict places, but this one sticks out in my head. Other than the ground floor it was the selling point.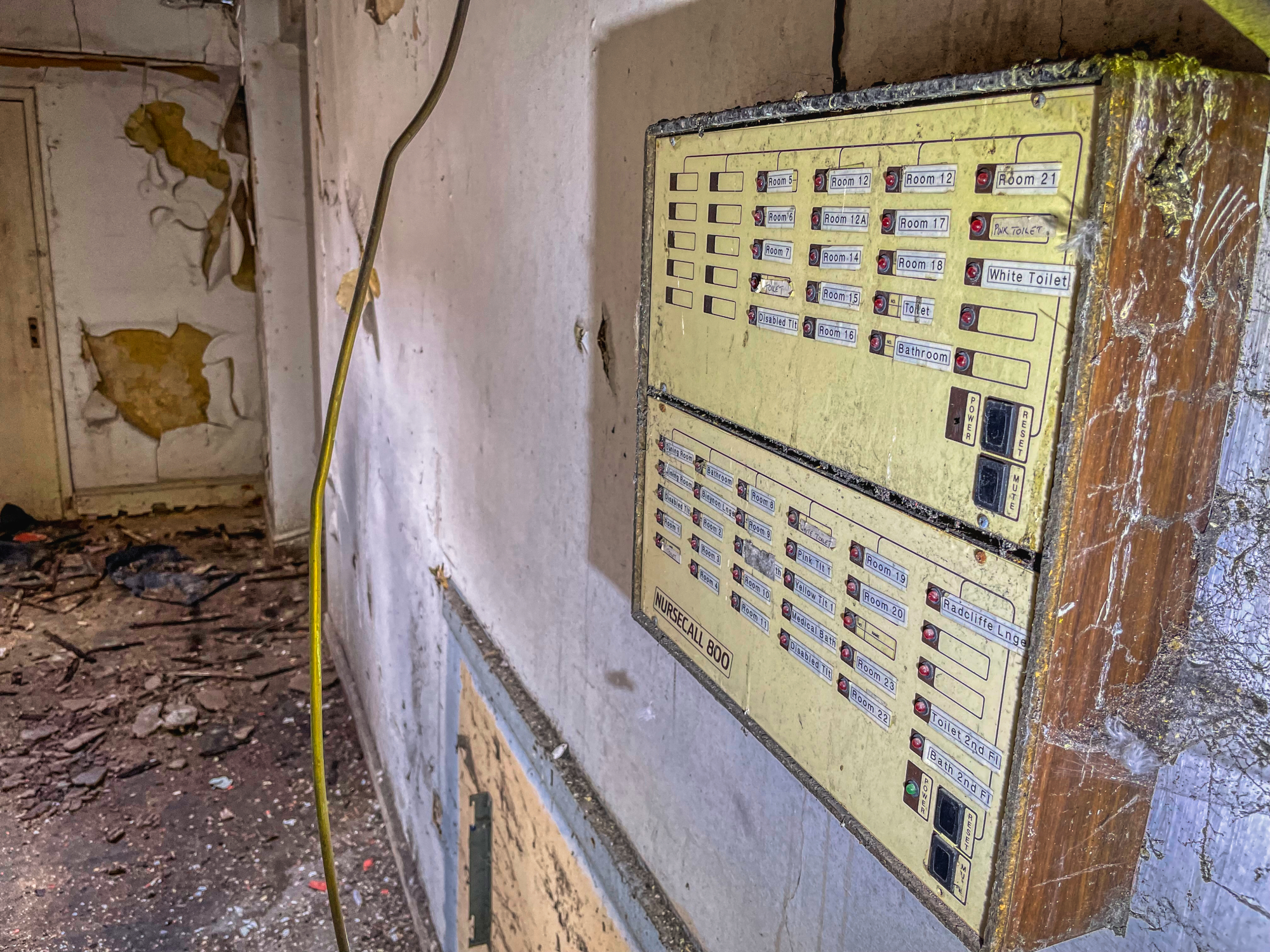 'Nursecall 800' units are expensive, several hundred quid for one such as this.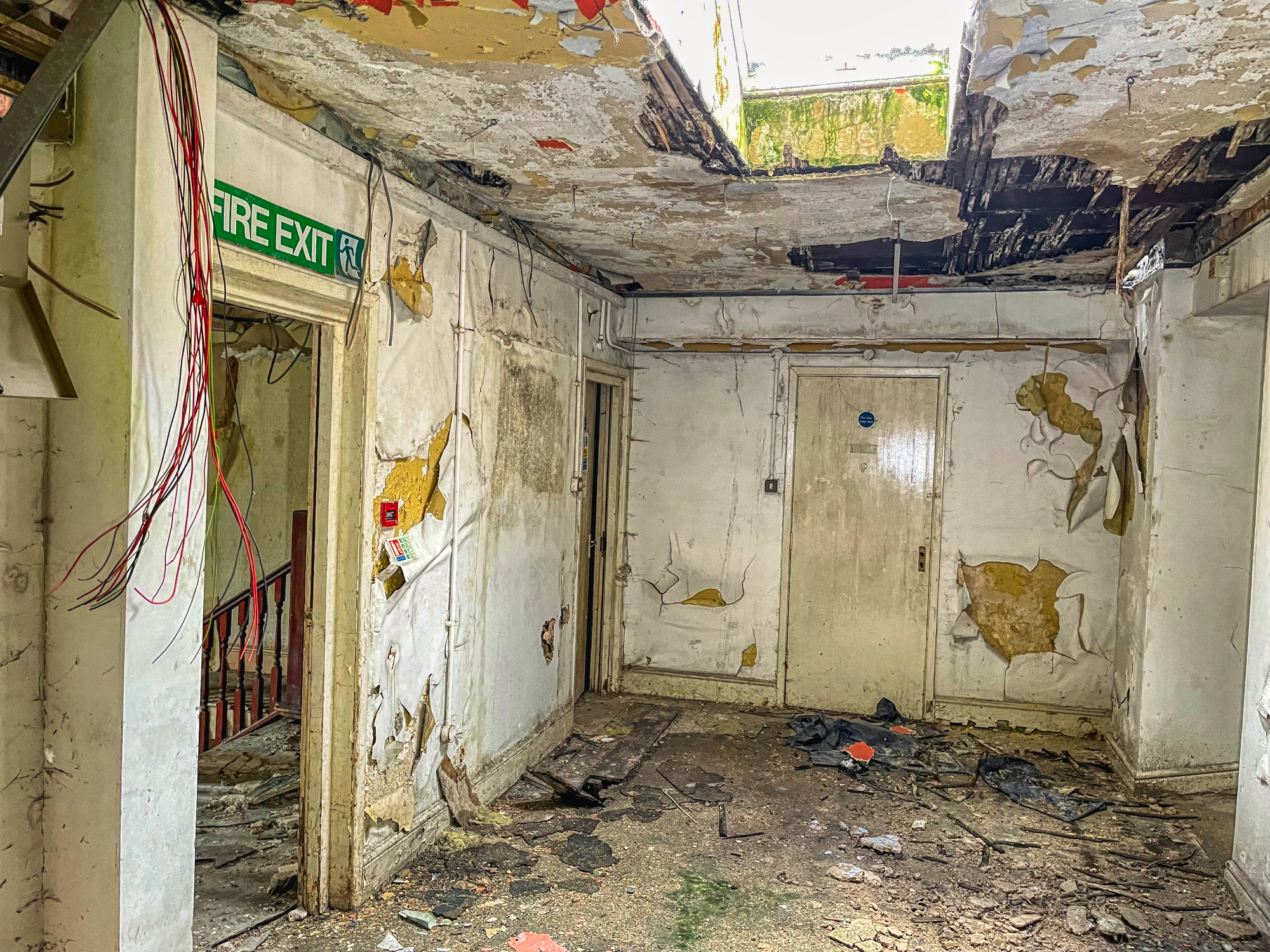 'Fuck this man, let's descend', I said after gagging a little more.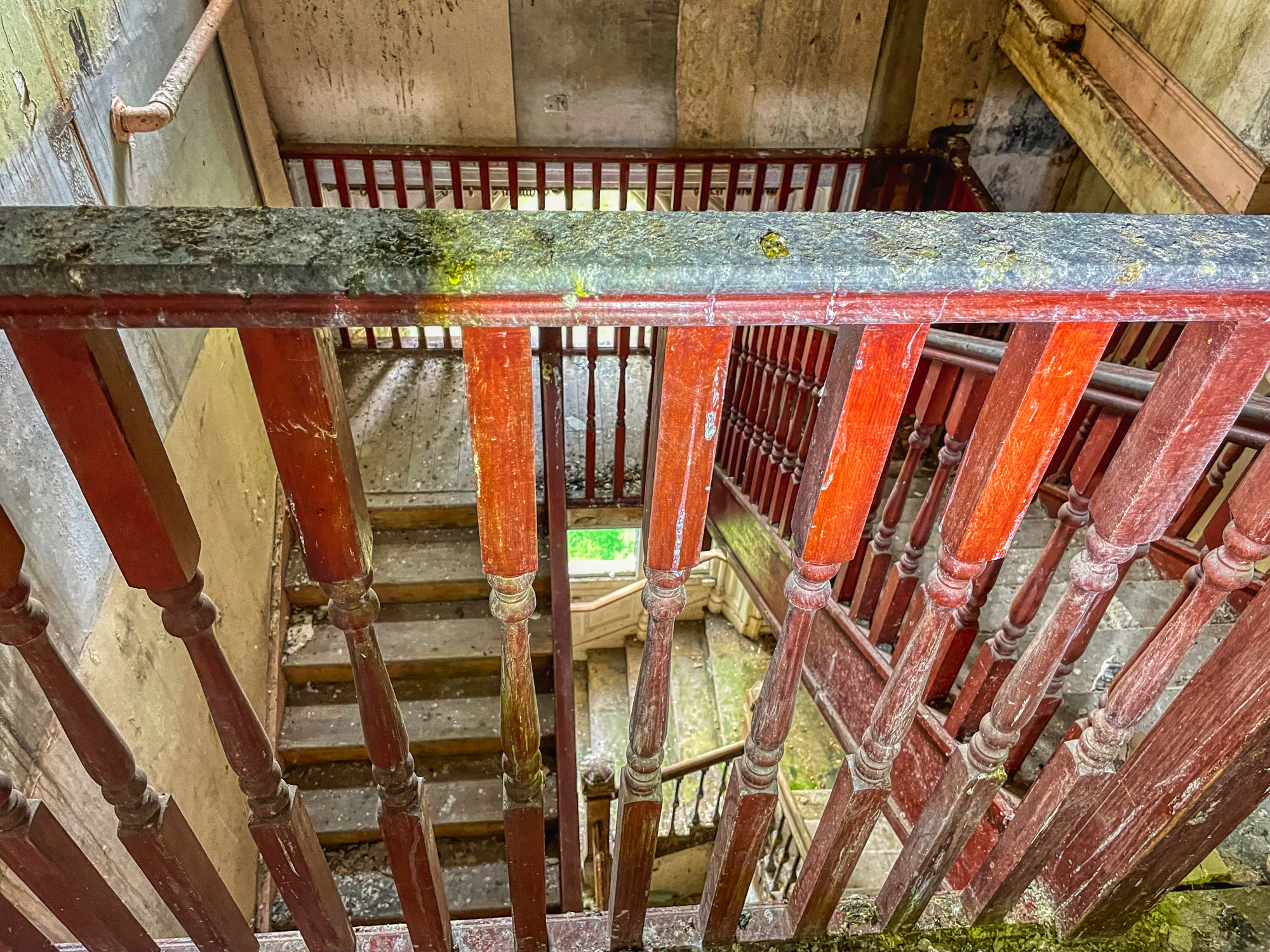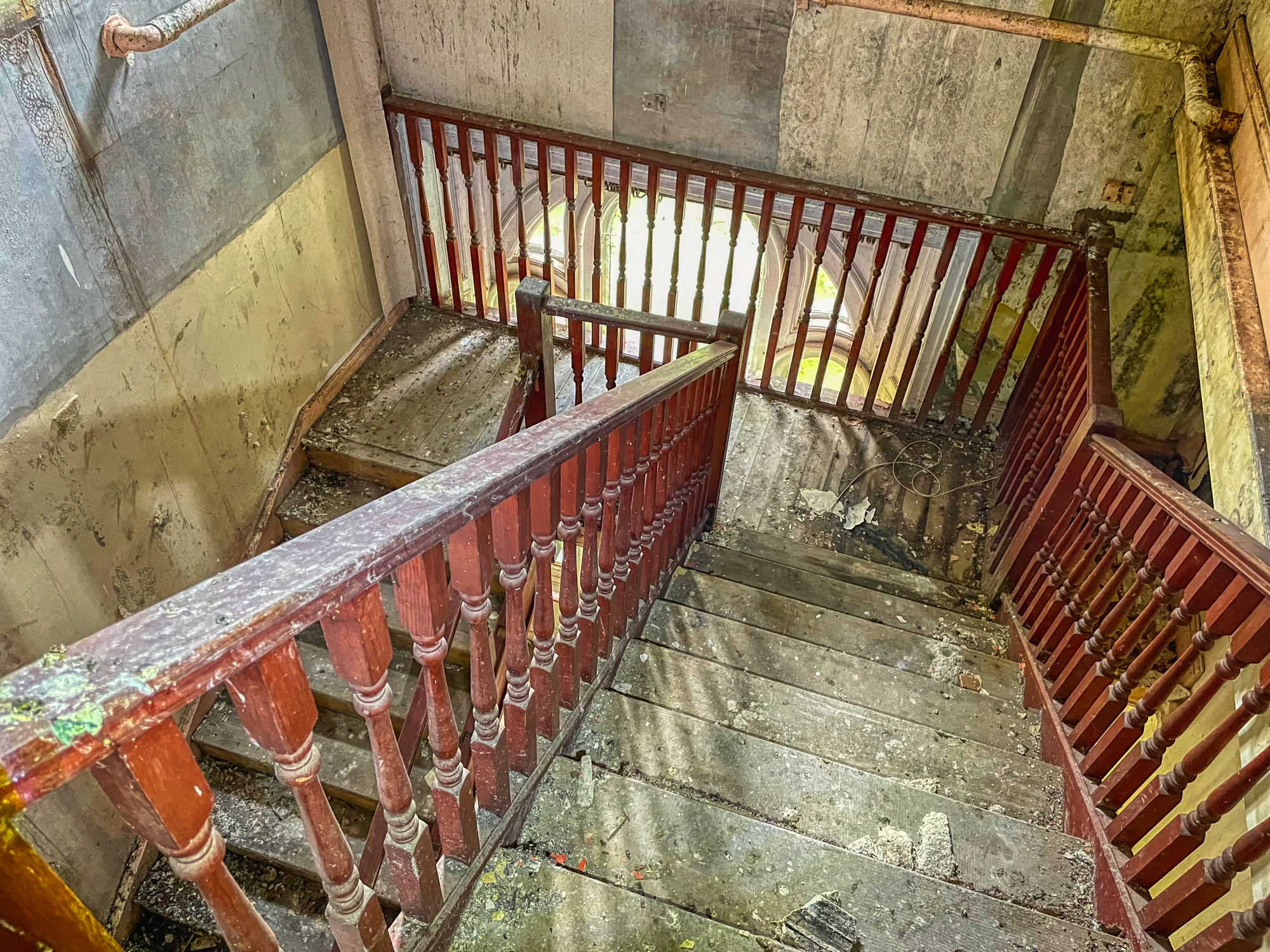 Don't touch the banister unless you want to inherit some lovely pigeon disease.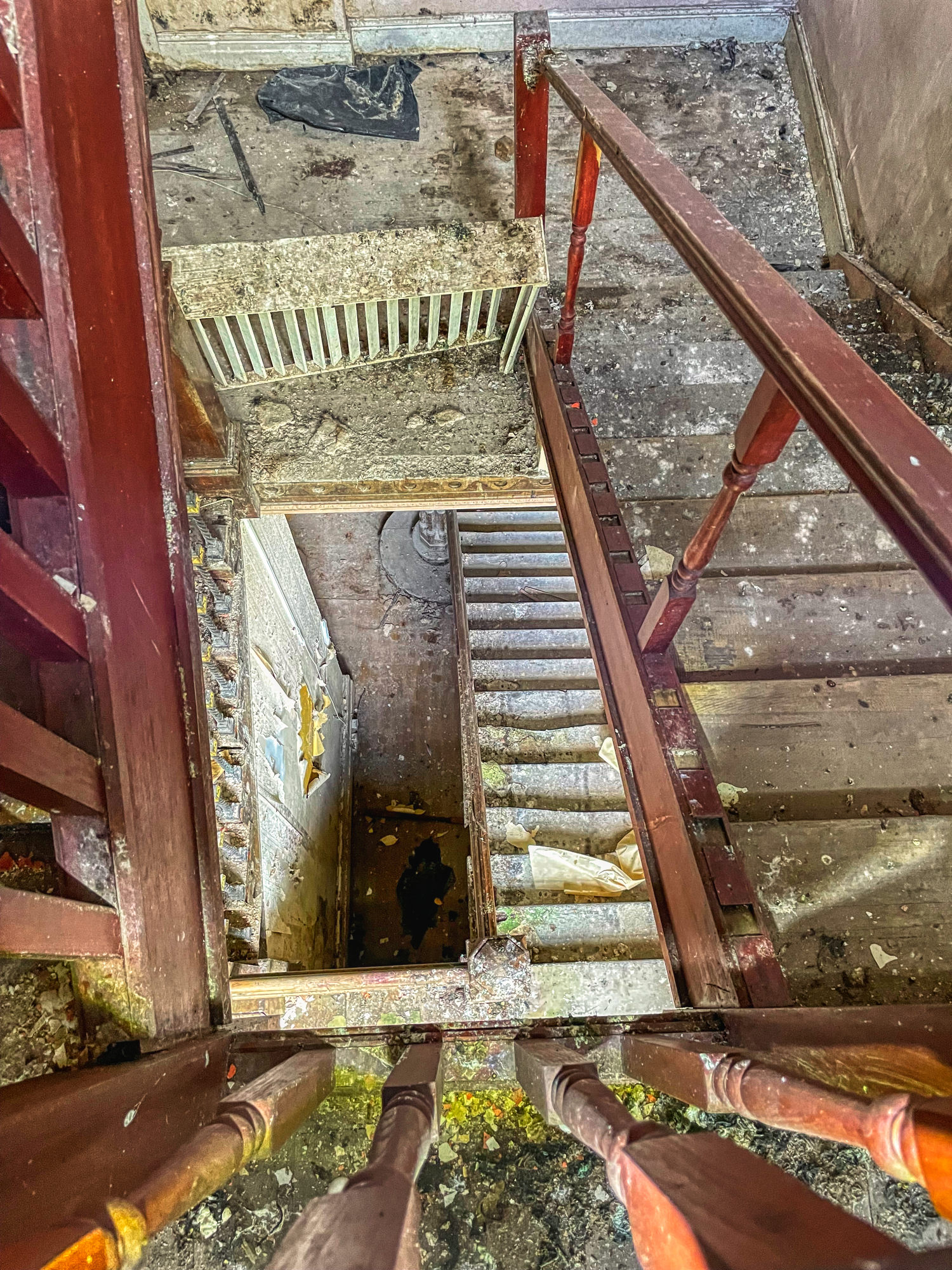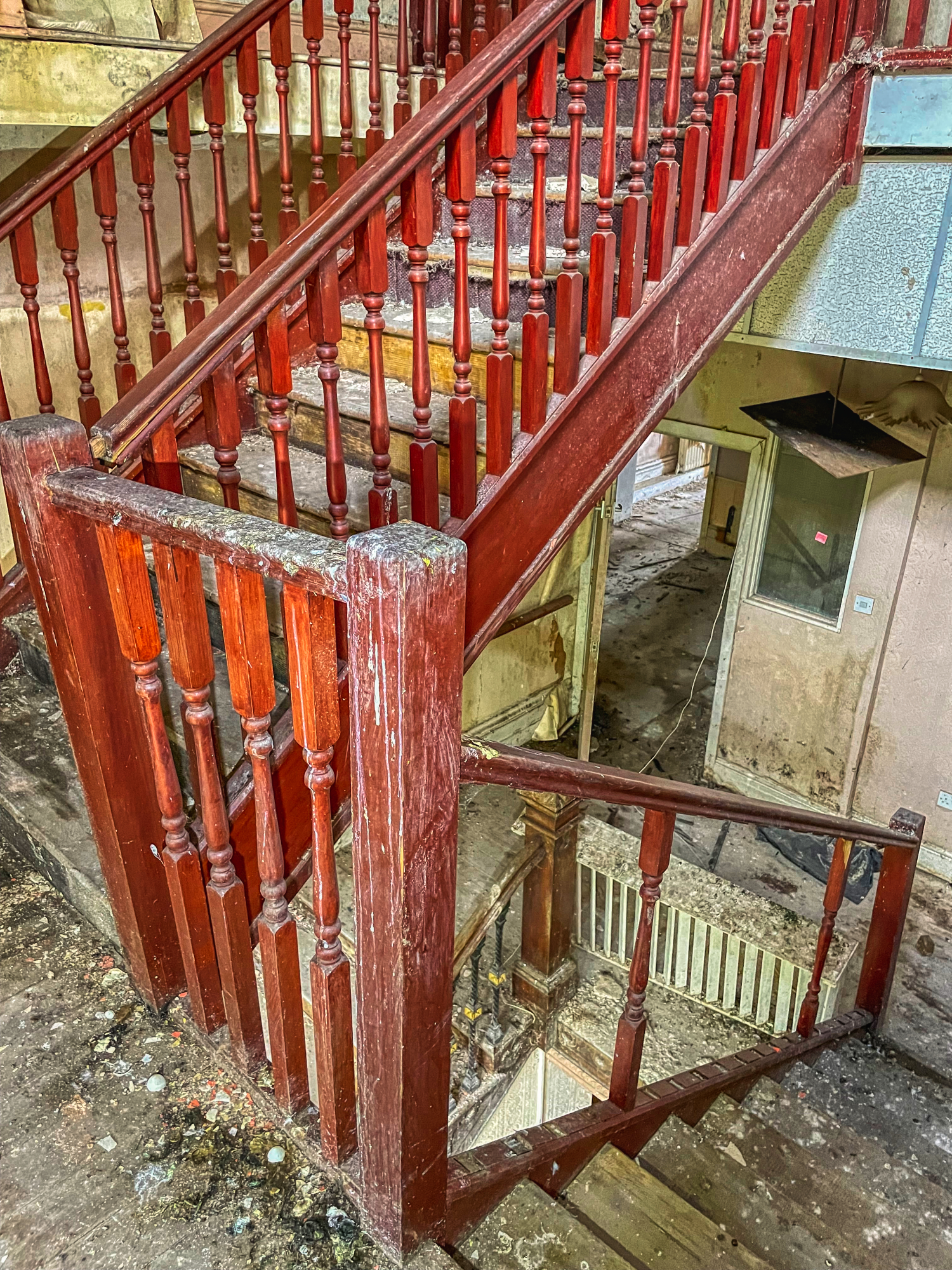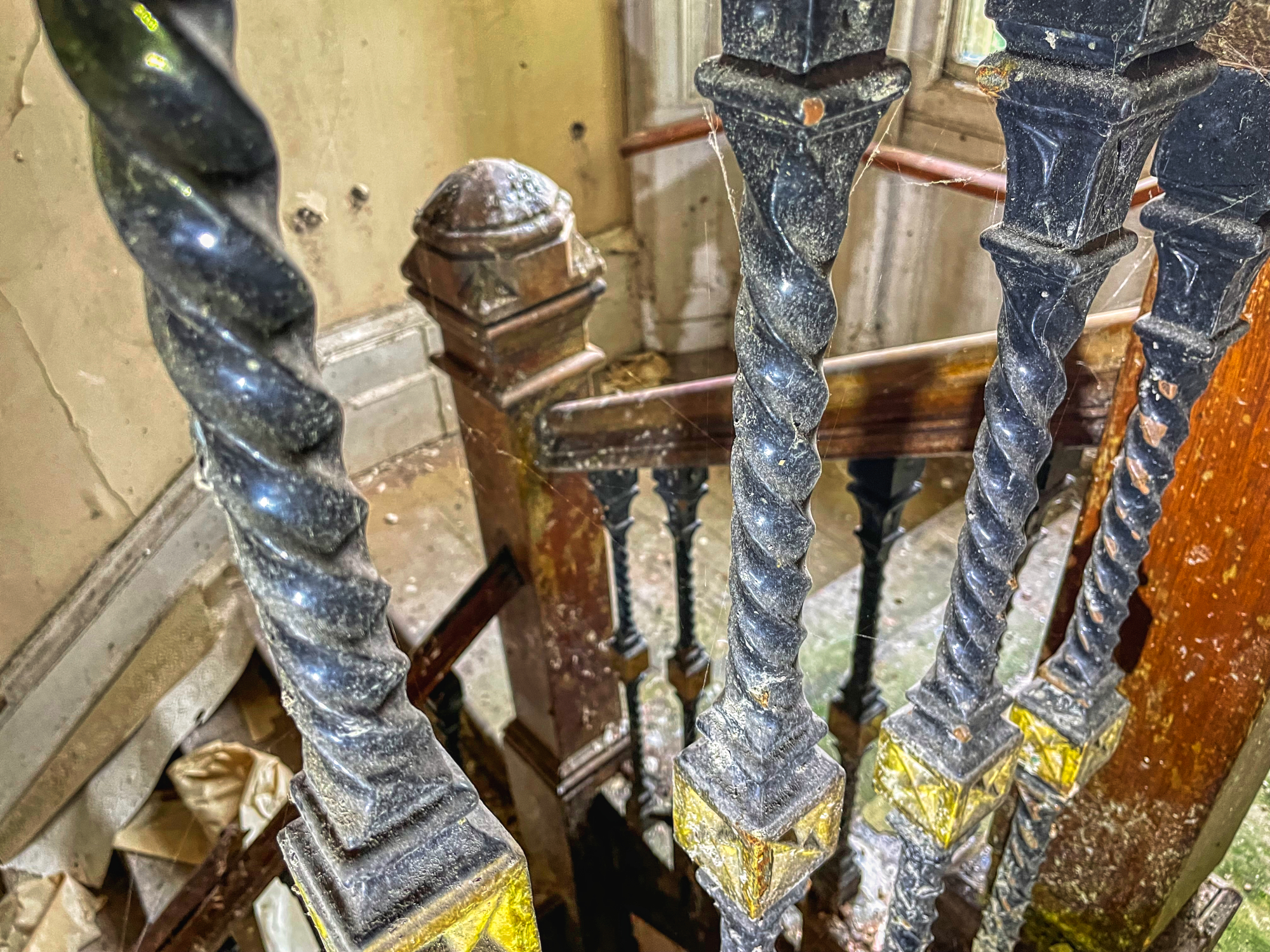 The finest quality wooden supports with stale spider webs.
We left and made our way to the entrance when @anidiotexplores suddenly stopped, backpedalled, and ran around the other side of the building.
"What is it", I exclaimed?
A burly bloke was approaching the tradesman's door and miraculously had not seen me.
I quickly followed and made for the safety of the house corner hearing no angry 'OYYYYYYYYYYYS' and heavy footsteps following.
@anidiotexplores had made his way to the far corner to distance himself from BurlyDude and for good reason.
"There goes our external shots", I thought hurriedly taking what I could. The grass looked cut and maintained on this side, we should have noticed.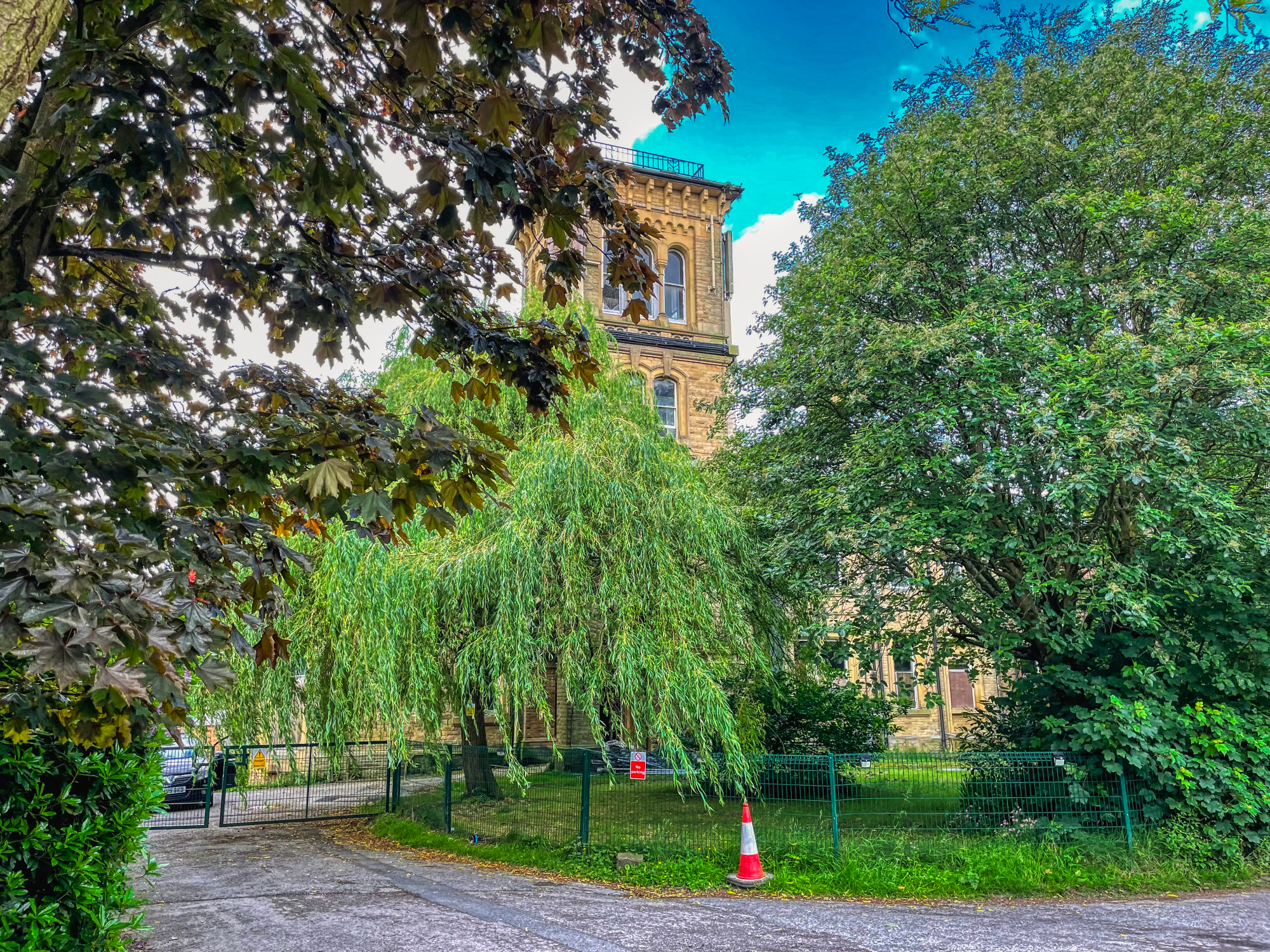 We peeked around the corner. No sign of BurlyDude but there was now a car on the grounds. We took no chances and cut through some long grass and trees toward a wall.
It was a five-foot drop to escape and onto hard concrete. Ow…, my poor fucking feet.
"What are you lot doing, causing trouble, breaking fences, destroying property…', the accusations kept on coming from a mouthy middle-aged bloke across the road from the wall who was far from happy at seeing us both jump down and had appeared out of nowhere like Mr Ben.
We made our way back to my parked vehicle grinning cheerfully at MouthyMan who despite all the talk, didn't appear to have the 'walk'.
I eventually waved at him and yelled, 'Garden Maintenance' beaming a large smile before climbing in the car and driving off.

Do you like posting your Urbex content and photography for FREE on Facebook and YouTube? I like to get some form of reward for my work and every time I create I do just that. Take a look at The Urbex Community on HIVE.
If you want to keep creating for FREE then ignore what you are reading. If you want to be like me and gain something other than BUGGER ALL for your work then click here and learn about posting on the HIVE blockchain.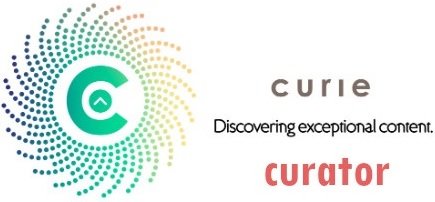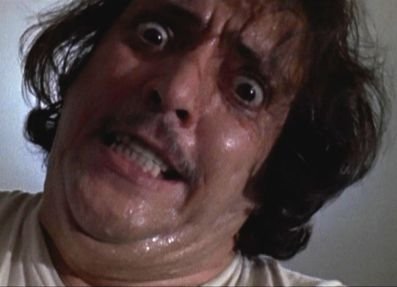 If you found this article so invigorating that you are now a positively googly-eyed, drooling lunatic with dripping saliva or even if you liked it just a bit, then please upvote, comment, rehive, engage me or all of these things.
---
---