Free Upvote For Proof Of Stake (12/16/2022)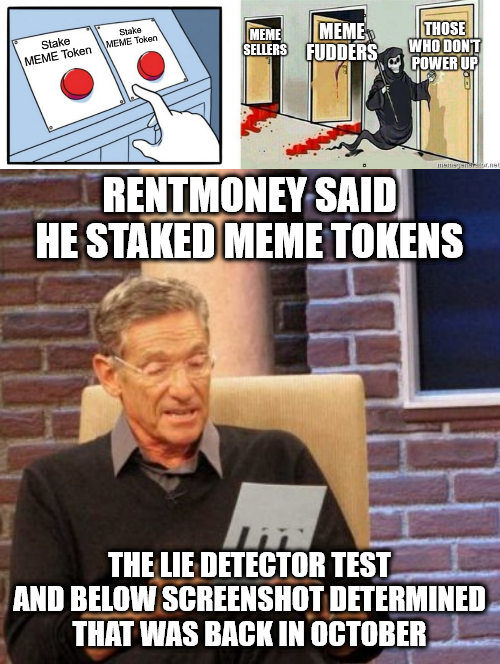 ---
***Original Images From ImageFlip: Edited and cropped by @rentmoney
---
What Is MEME Token?
HiveME.ME is a frontend that is used to access the Hive Blockchain. Creating and curating content on Hiveme.me allows users to earn the frontends native token known as MEME. One can also earn the HIVE Blockchains native tokens (HIVE/HBD) while curating and creating content on Hiveme.me. The Hiveme.me frontend allows for NFT creation and has an onsite market in which you can trade your NFT creations. Visit the official Site Here: https://www.hiveme.me/@rentmoney/
---
What Can We Do With MEME Token?
Good question; MEME can be powered up just like you would your HIVE. Powering up your MEME gives you more influence within the MEME community. MEME can also be used to create your own NFT using the HiveME.ME onsite NFT creation tool. NFT creation is an easy and straight forward process. Simply go to HiveMEME's NFT Section and click on the word MINT. From there all you need to do is follow the instructions shown in that section. NFT's on HiveME.ME can be created in three forms: Audio, Image and Video. The cost to create your own NFT is just 600 MEME. Each additional edition costs 100 MEME. The MEME token can be traded on most if not all the HIVE DEX's such as LEODEX, HIVE-ENGINE, BeeSwap and TribalDex. One does need to get whitelisted before MEME NFT creation is possible. The Whitelist process is easy as going to the official site->navigating to the NFT section and following the whitelist process displayed.
---
MEME Token Market

---
Trade MEME Token At:
---
Free MEME Token UPVOTES:
We ran this fun proof of stake promo no less than a week and a half ago. Its seemed to be popular so why not do it again. So if you participated in the past you know what to do. If not here is how this song and dance works. I just so happen to be a MEME MANIAC and own a whale share of MEME POWER. I also just so happen to have a very itchy upvote finger. Here today if you show me you are powering up MEME tokens I will give your proof of stake comment an upvote worth 250 MEME Tokens. Add a MEME to your proof of stake comment and I will up the vote to 500 MEME Tokens. Earning MEME tokens has never been this easy. I also have other tokens staked that you will be earning including over 7,000 HIVE POWER and near 5,000 LEO Power (Just to name a few). So get those MEME Tokens staked and earn some tokens while doing so (Lets Do This).
---
RentMoney's Proof Of Stake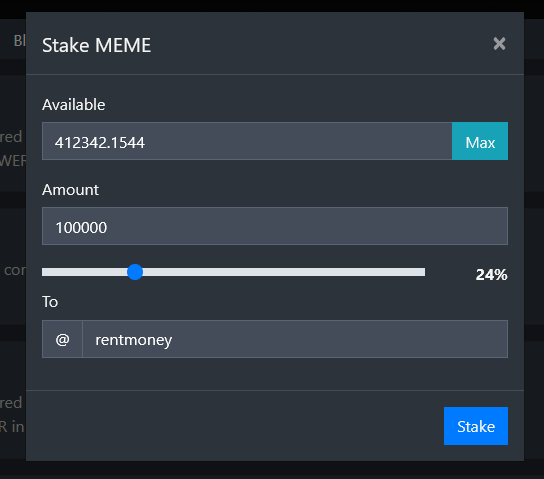 ---
RentMoney's MEME POWER

---
Visit HiveME.ME:
---

Posted Using LeoFinance Beta
---
---