2020 Australia $1: The 1656 Vergulde Draeck Wreck
Now you're talking, just the coin for @welshstacker's Odd Shapes and Sizes challenge. #sycc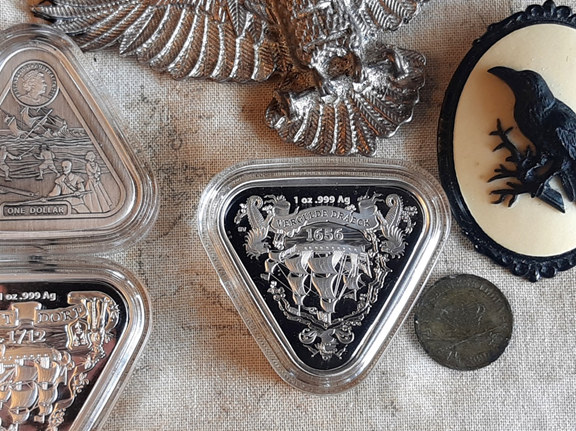 "Black birds tend to like shiny things." ~ The Bloody Raven
I've already shared the first coin of, The 1629 Batavia shipwreck way back in May of 2021. Two years ago. That long huh? Better late than never so what better opportunity to followed up with the next coin of the Australian shipwreacks 4 coin series.
And giving Nyssacat another thank you 😘 in giving me a hand in acquiring these seaworthy commemorative triangled treasures.
A Triangular Silver Coin
2020 Australia $1 The 1656 Vergulde Draeck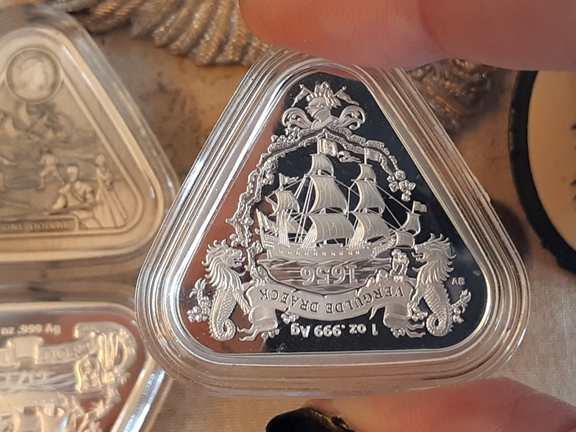 Reverse; The Vergulde Draeck, framed in maritime ornamentation
Text; VERGULDE DRAECK, 1 OZ, .999 Ag, AB
0.999 Fine silver, Weight 31.1g
Diameter 33.9mm, Thickness 3.5mm
The Vergulde Draeck, or The Gilt Dragon, was still a new ship departing on it's second voyage from it's home port of Texels to the VOC's Batavia trade center in Indonesia. In her hold were trade goods worth 106,800 Guilders and eight chests of silver worth 78,600 Guilders. After a brief stop at the Cape of Good Hope the ship continued east across the Indian Ocean towards Batavia.
She never made it.
The Gilt Dragon? By S. Caffery under CCO 4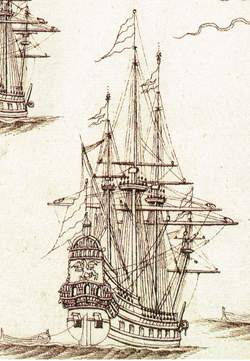 W1
Name; The Vergulde Draeck
Built in; Netherlands in 1653
Class; Dutch East Indiaman
Owner; VOC
Country of Registry; Amsterdam
Home port; Texels
Captain; Pieter Albertsz
Crew; 193 including passengers
Guns; 25
Tonnage; 290 Tons
Length;137 ft.
Beam; 32 ft.
Draft; 13.5 ft.
☠️
On April 28th, 1656 The Vergulde Draeck struck a submerged reef off the West coast south of ledge point and sank. Of the 193 passengers and crew, 75 made it to shore of an unexplored land. Abraham Leeman with six men was given the task in reaching Batavia, a trip of 1,400 nautical miles in an open boat to bring help.
2020 Australia $1 The 1656 Vergulde Draeck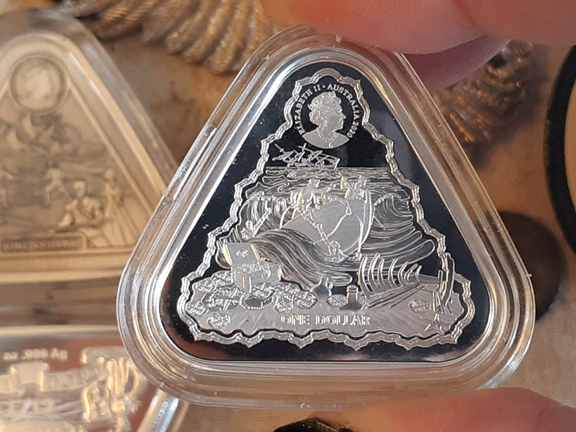 Obverse; Dramatic scene of the ship sinking in the distance, Sailors fleeing the stricken ship, A chest of treasure, coins, and cargo rests with the ship remains at the bottom of the sea, Queen Elizabeth II facing right.
Text; QUEEN ELIZABETH II, AUSTRALIA 2020, ONE DOLLAR, JC
Text; 1 OZ., 999 FINE SILVER
Royal Australian Mint, Mintage of 20,000 in BU
Mintage of 1000 in Antiqued finish
After almost six weeks, Leeman's small boat finally reached Batavia in June 1656. Upon the news, the governor of Batavia immediately dispatched two ships, the Goede Hoop and the Witte Valck to search for the survivors. The Goode Hoop lost 11 men finding no sign of the remaining 68 survivors, or of the wreck.
The Vinck was dispatched on April 23rd 1657 in the next attempt but with bad weather and high seas they also failed to find neither survivors, nor the wreckage.
Two more expeditions followed in 1658 and 1659, under more favorable weather, some scant evidence and clues were found but neither of these attempts was any more successful in finding any survivors.
2020 Australia $1 The 1656 Vergulde Draeck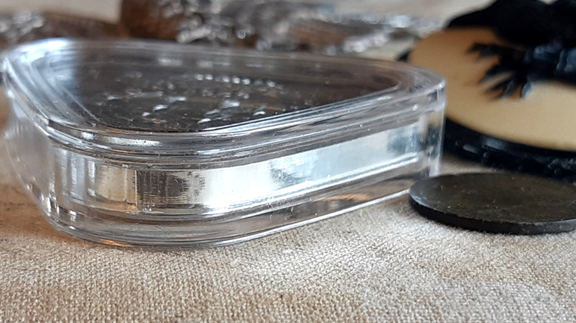 Edge; Plain
The wreck of the Vergulde Draeck was eventually discovered by spear fishermen in April 1963. This wreck site as well as the Batavia wreck site had been looted prompting the Australian government to enact legislation to preserve and protect the sites. By 1972 the excavation and collection still yielded many artifacts, cannons, and 19,000 coins. The artifacts can be viewed at the WA Maritime museum.
The whereabouts of the 68 survivors, or their remains, are still unknown and continues to be a mystery.🤔
Added Shipwreck Silver to my Stack for that big stormy day!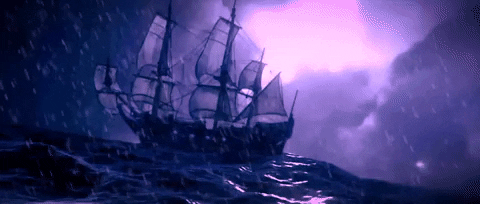 …and triangle coins won't roll off the deck!
The #piratesunday tag is the scurvy scheme of Captain @stokjockey for #silvergoldstackers pirates to proudly showcase their shiny booty and plunder for all to see. Landlubbers arrrh… welcomed to participate and be a Pirate at heart so open yer treasure chests an' show us what booty yea got!
Related Posts
2019 Australia $1 The 1628 Batavia Shipwreck.
2020 Australia $1 The 1656 Vergulde Dreack
References
My own pictures shot with a Samsung SM-A530W
P. Image under Pixabay
W. Wiki Commons
💀 Page Dividers by thekittygirl 🎃
Sources and Readings
Numista; 2020 Australia $1 Vergulde Draeck
Silver.com; 2020 Australia $1 Vergulde Draeck Silver coin.
Wiki; Vergulde Draeck
West Australian Dive tour of the Wreck of the Vegulde Draeck
Cameo Raven Brooch from The Black Wardrobe
Silver Raven, made by 'Silver to Burn' Burnie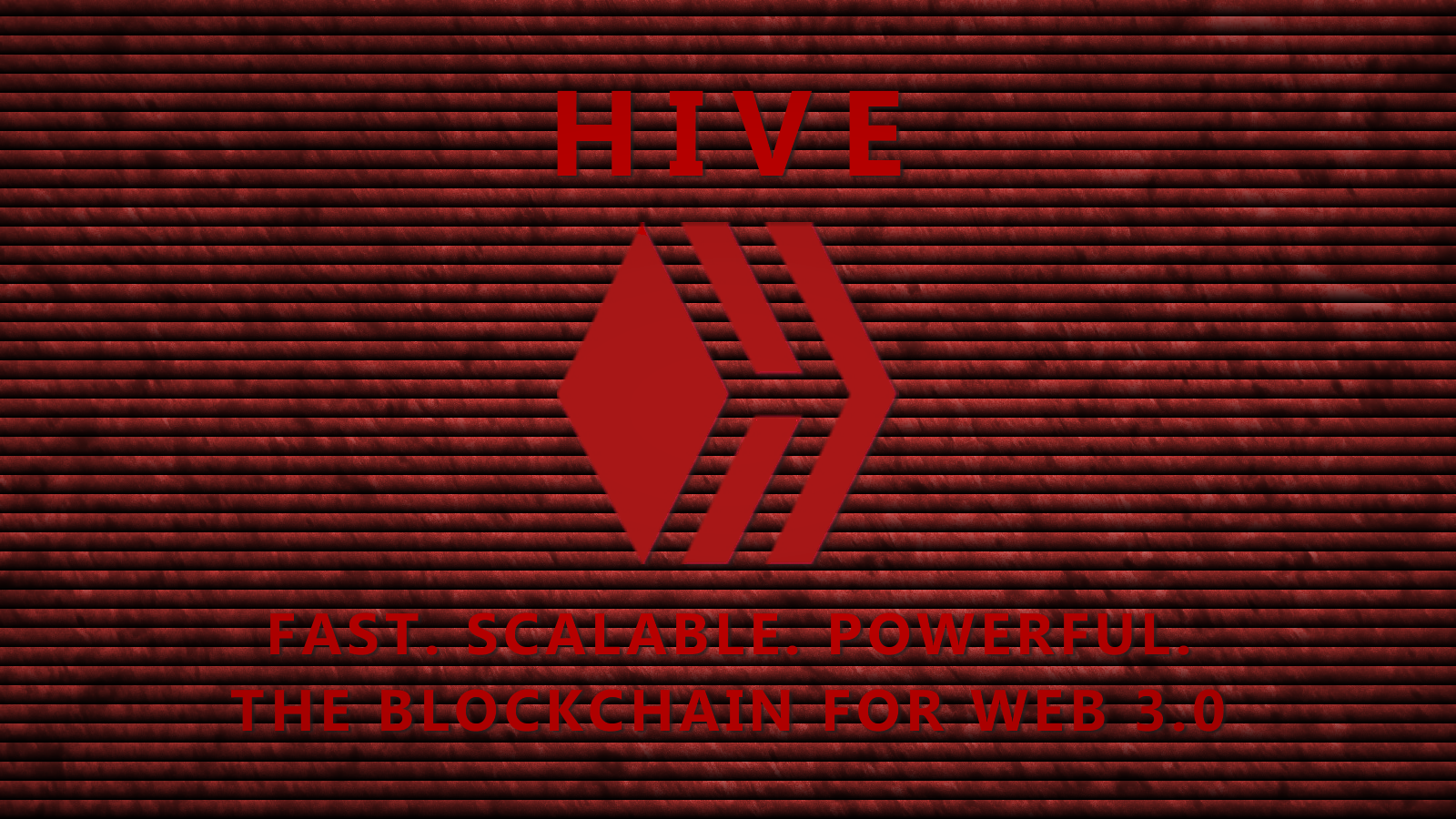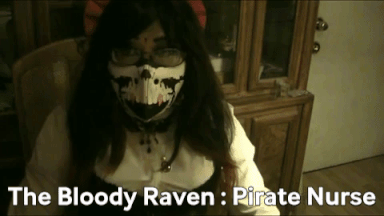 "Ahh ains nae bluudy Financial Advisor!"
---
---