Chromium's Backyard Birds #5 - Woodpeckers in da House

Hello Everyone and Welcome to Feathered Friends
Today I have some images of a couple of new visitors to the yard.
I noticed them a wile back and was able to collect many images over the last couple weeks.
These images are from the first day I spotted them around the 13th of this month.
ENJOY!

I was just sittig down and cracking open a tasty beverage when something big hit the Suet feeder and spinning round and round was this beauty.
Spilled my beverage in the process.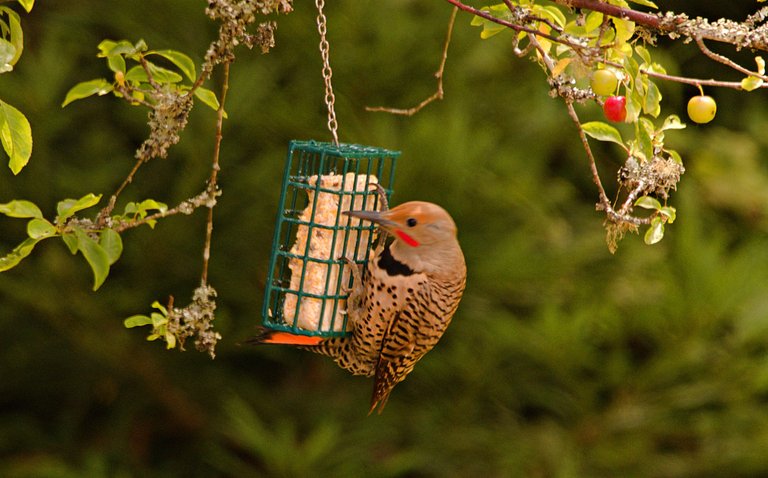 This is a Northern Red Shafted Flicker(Woodpecker)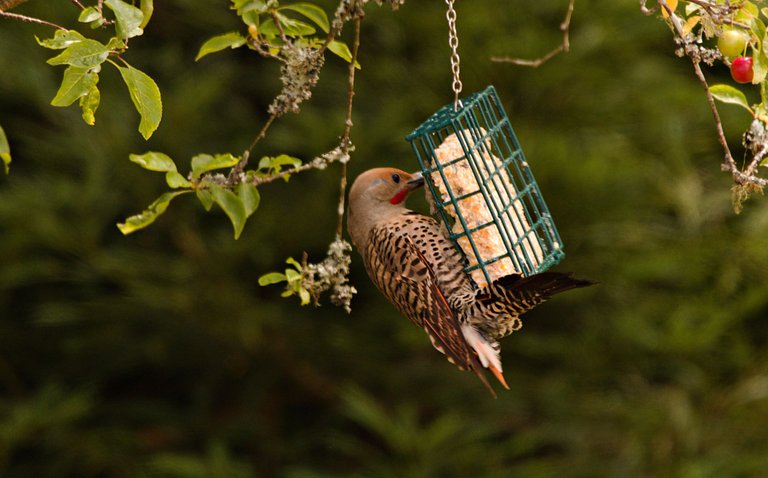 As it spins around it grabs chunks of the suet and gobbles it down.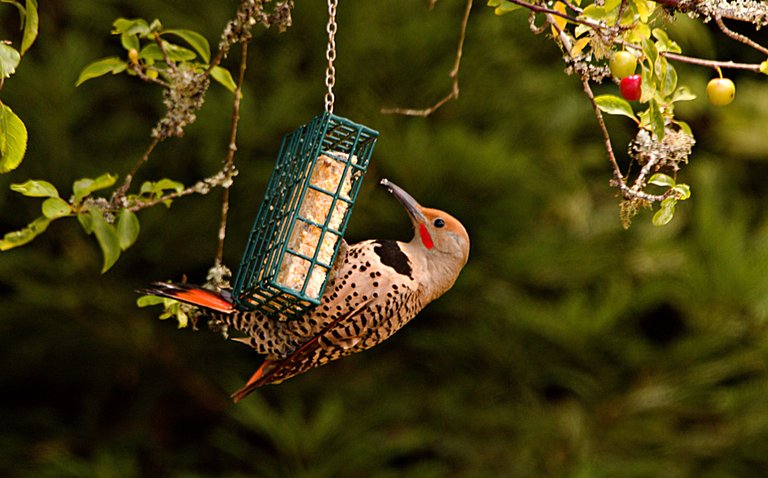 After ridding the suet merry go round for a bit it drops to the ground and begins poking around the grass for bugs.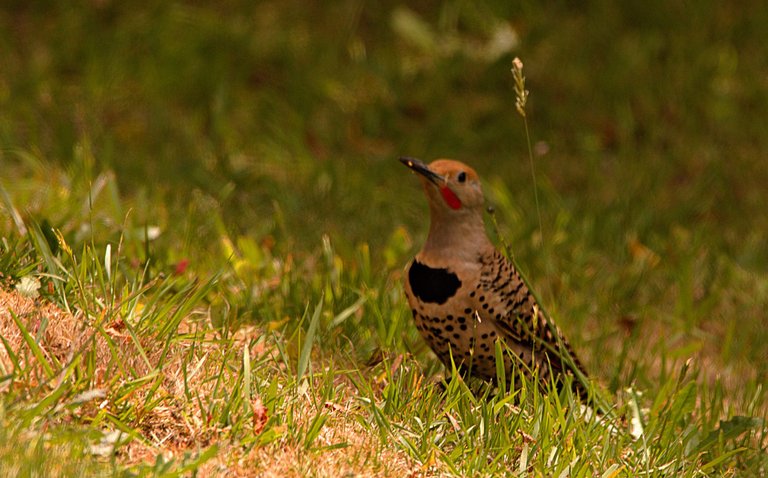 Flickers are not like most other Woodpeckers as they don't spend much time banging on trees, they spend most of their time on the ground hunting beatles, ants and other insects although they do nest and roost in trees.
So if you see one banging on a tree it's building a nest.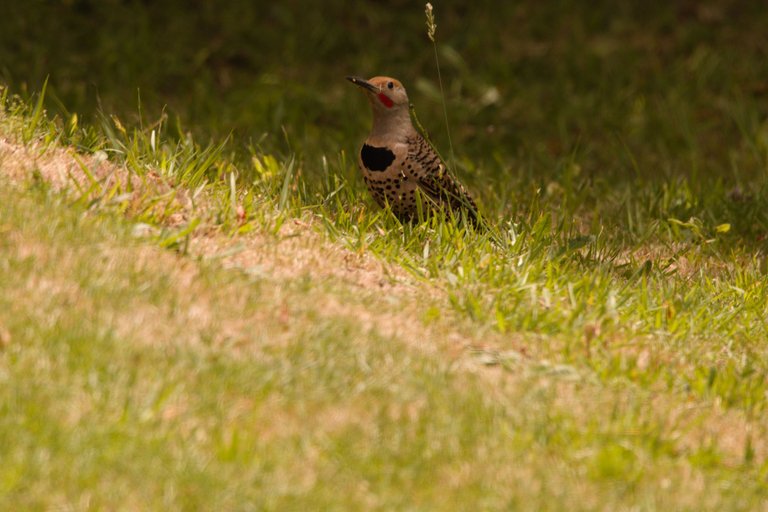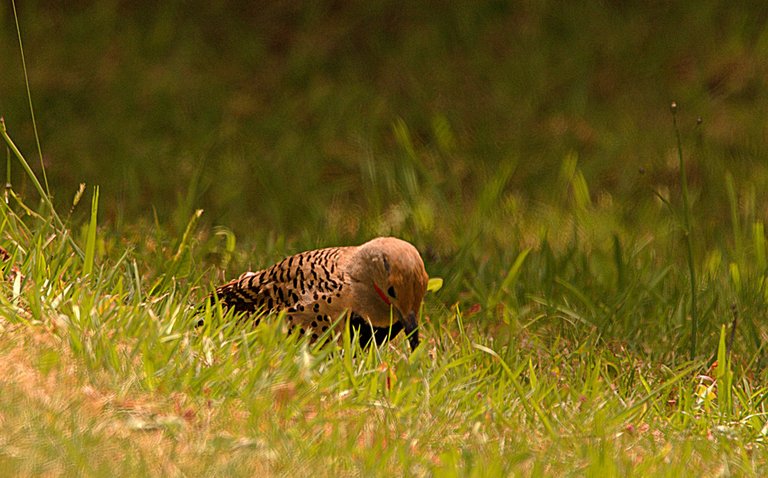 This one methodically worked that little hillside before moving up to the cement area.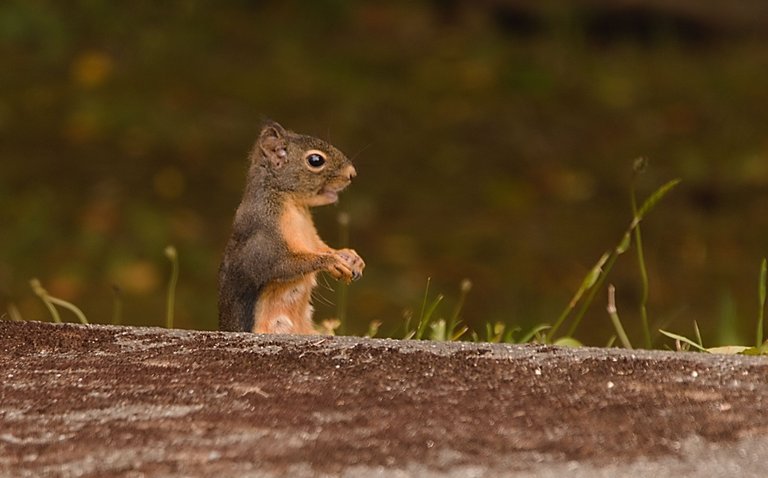 Hey wait.... Is that thing comming up here???
and does it eat sunflower seeds ???..... or squirrels that eat sunflowerseeds???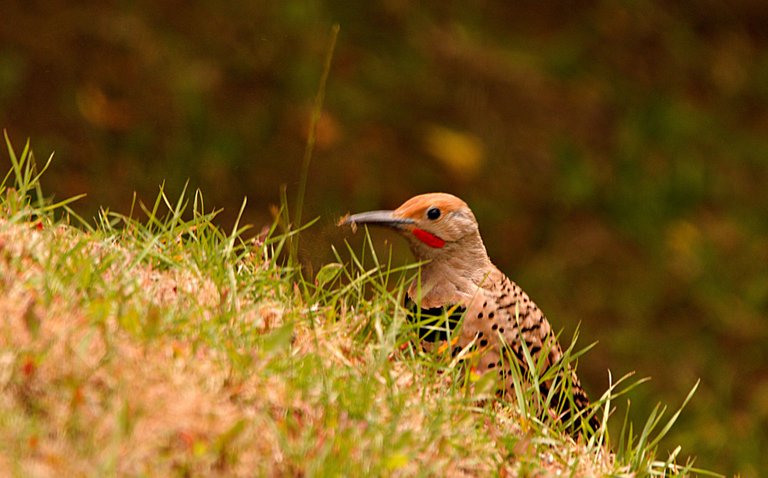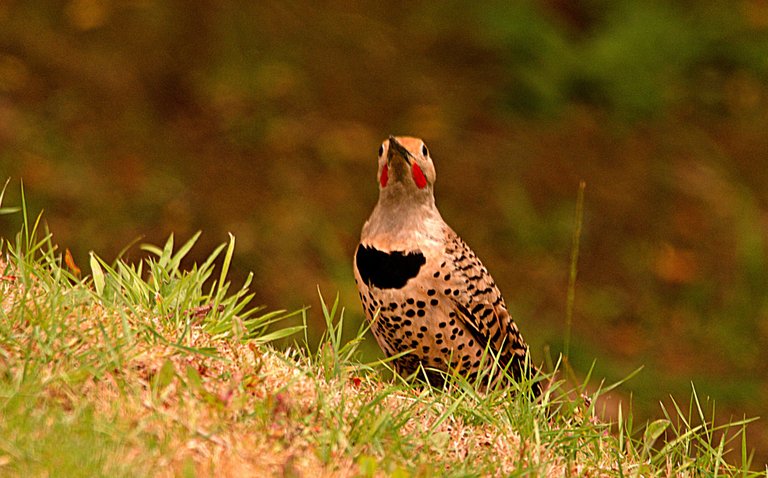 Let me just check this human out for a second... He's acting a little suspicious O.o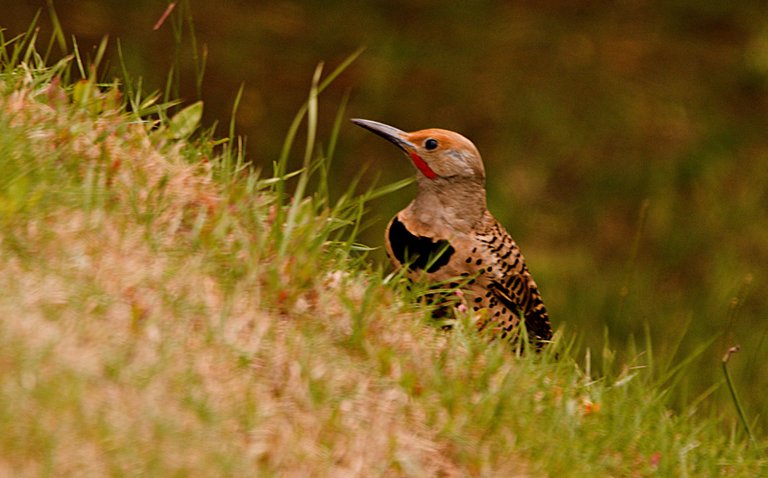 Ok.... everything looks legit, time to check out the cracks for some tasty bugs.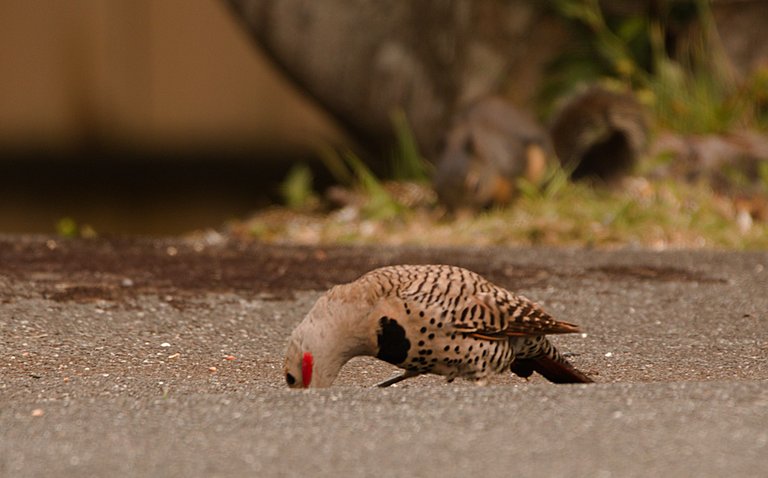 I stil keeping my eye on you though O.o
Notice squirrel in background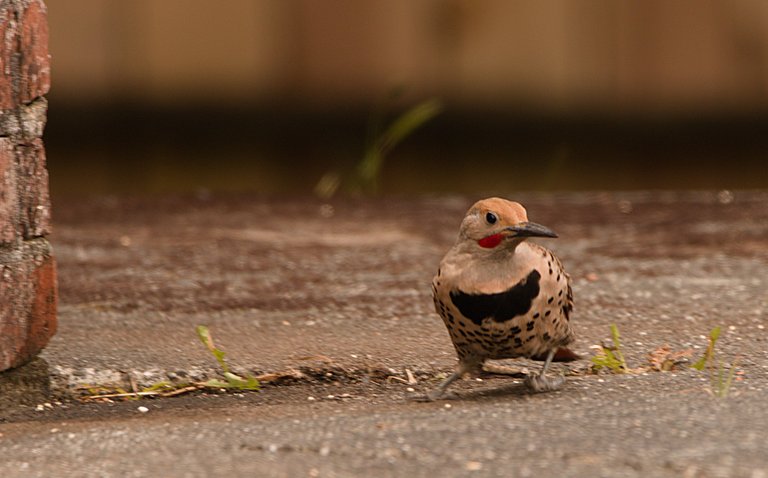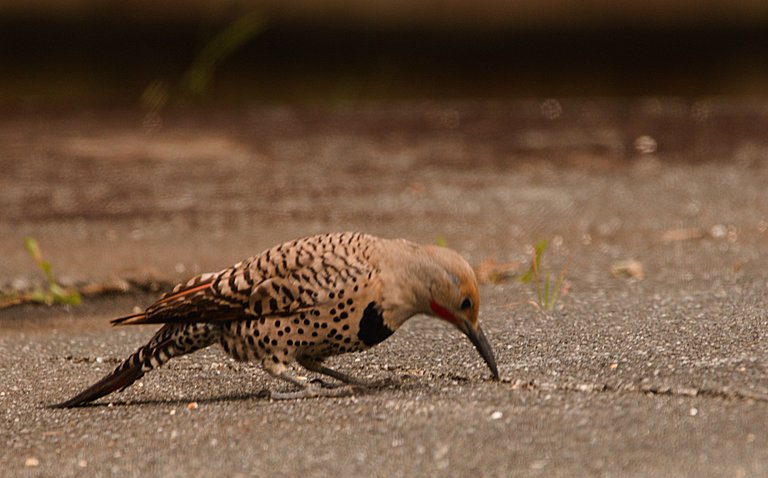 It worked the cracks in the cement (there are lots) for a good little wile so I just snapped away.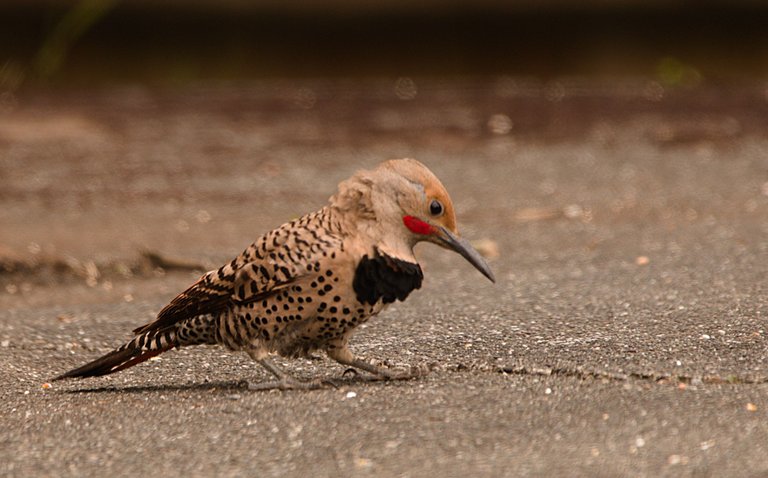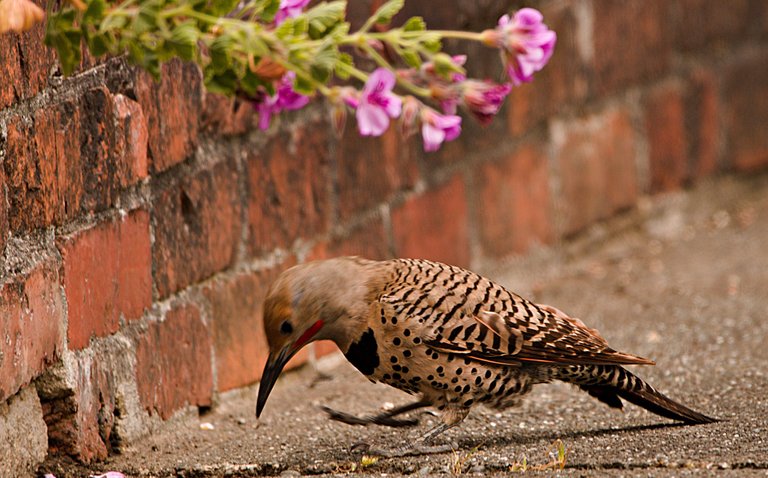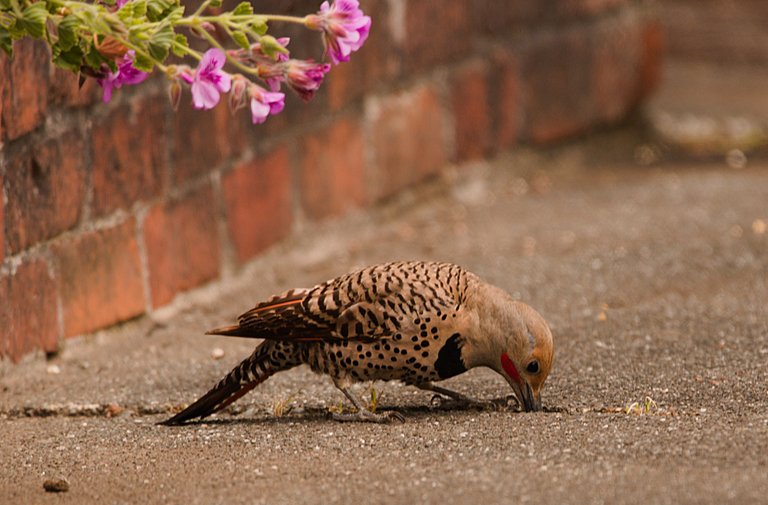 After a bit it was ... Hey, I bet there's some bugs up there.
Then jumped to the side of the brick planter and gave it a good look and also keeping a wary eye on me as I'm moving in as close as I can .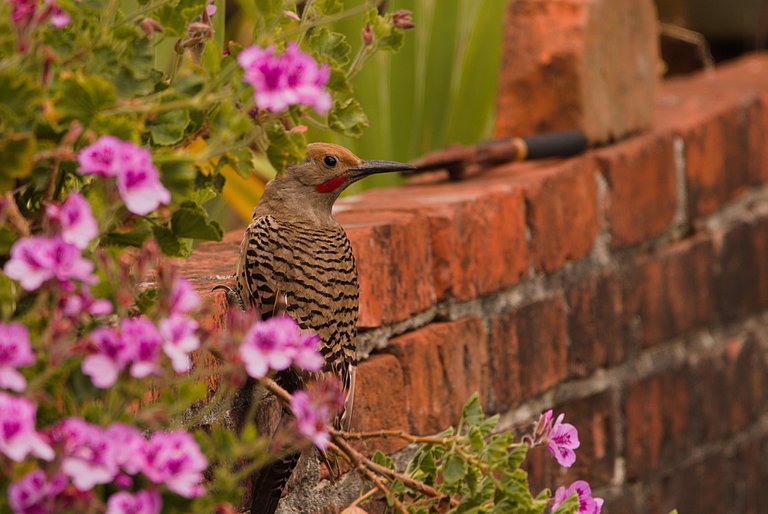 Ok that's far enough buddy, your making me a little nervous here....
Weirdo
It flew the coop as I was focusing in for a tighter shot and missed the flyoff.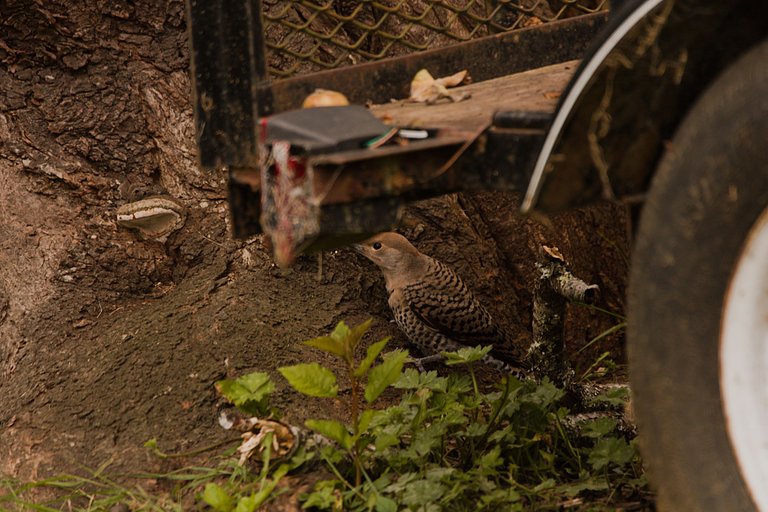 It flew back about 10 minutes later and had a little surprise.
Meet Jr.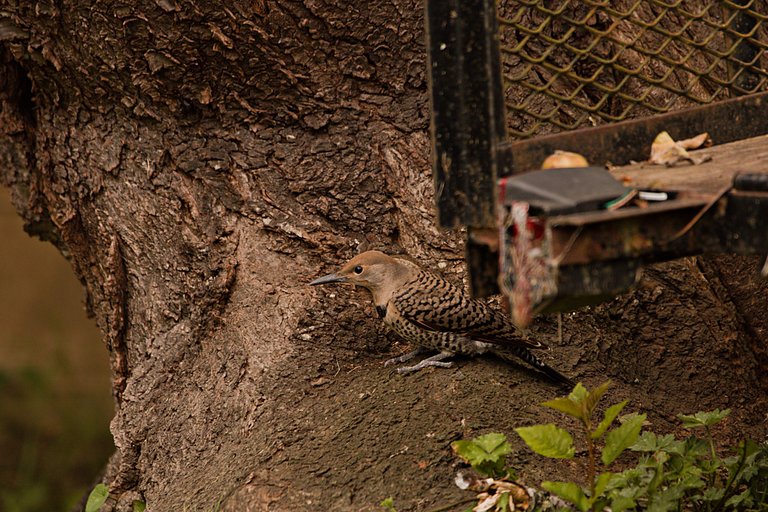 This is a juvinile Flicker and it was keeping a low profile a short distance from Mom.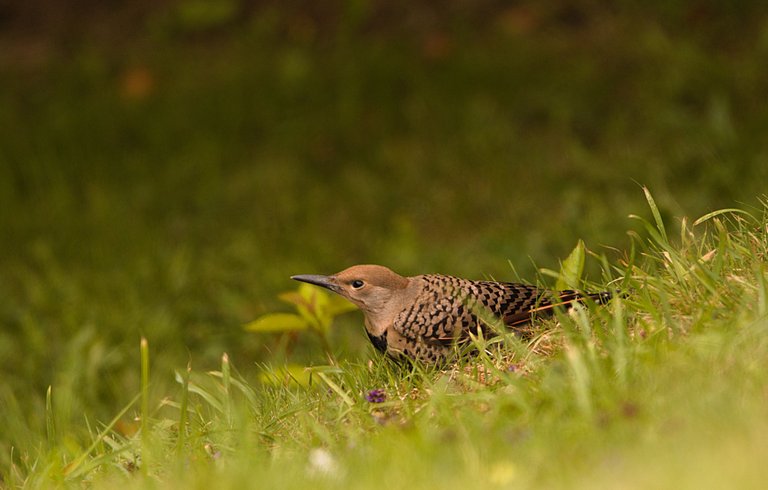 It will sit there still as can be untill Mom finds something to eat the it springs over close and sings for food.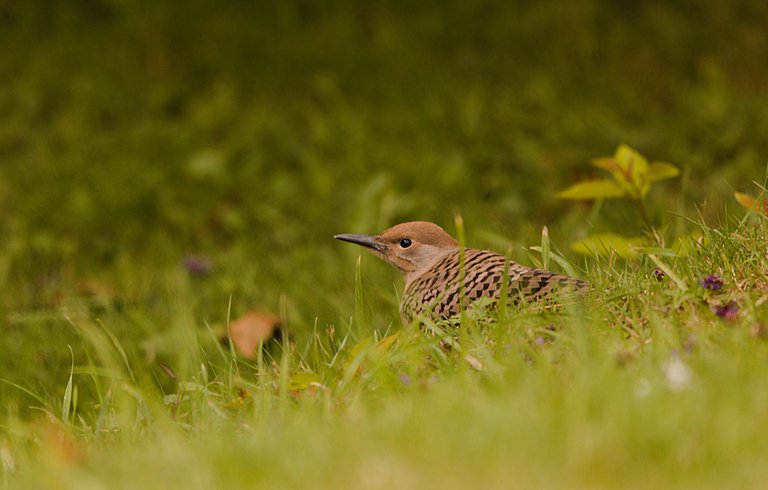 It was hard to capture her putting food into Jr.'s mouth, it happens like lightning.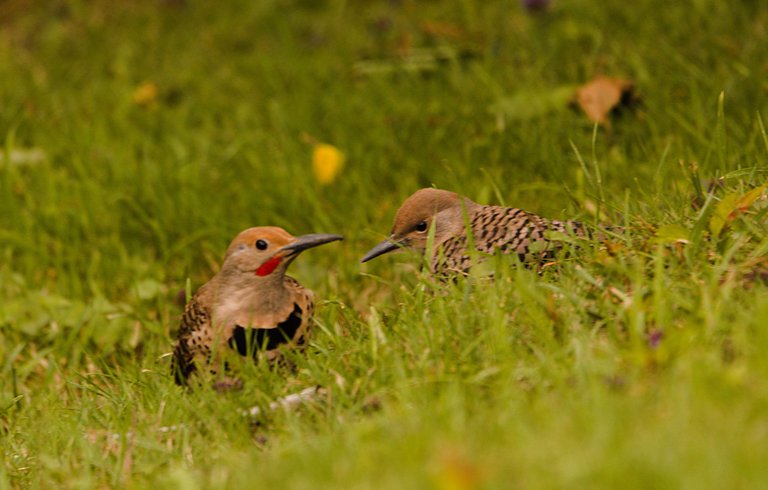 Just missed it in the image above but I did manage to get them in the same frame with both in focus.... no easy task wit the depth of feild I'm working with.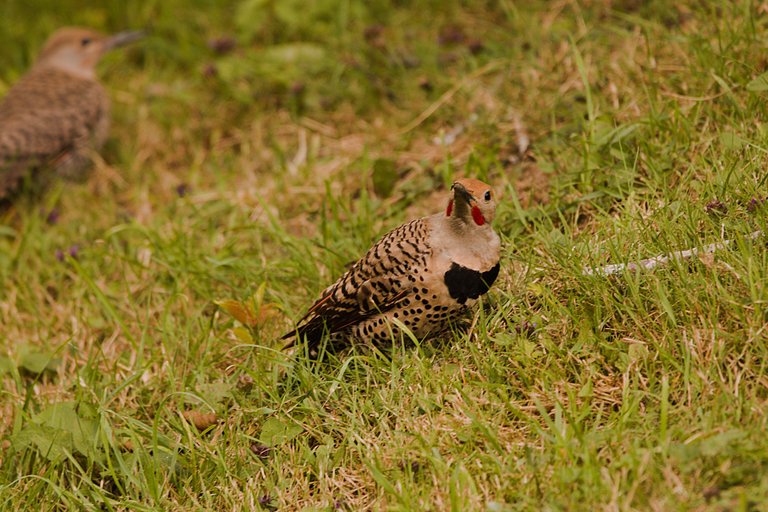 Looks like the weirdo is getting too close again and they bail over to the next yard.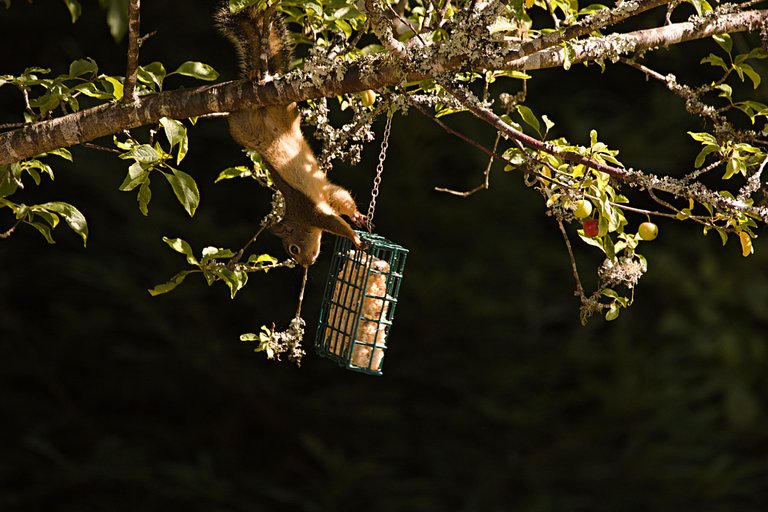 Meanwile at the suet feeder....
...<,<...WHAT ?!?...>,>
The Flicker family came back almost each day for the last couple weeks and gave me a few more chances to image these wounderful birds.
Can you imagin how many bugs she has to catch to fill this monster sized child up ?
Thanks for dropping by and...
Buzz on over to the Feathered Friends community and join
@melinda010100
@nelinoeva
@barbara-orenya
and the rest of the gang at Feathered Friends for all your feathered odds and ends.


Yes, got the flyoff =)
Thanks for visiting my post. If you enjoyed it please consider upvoting and following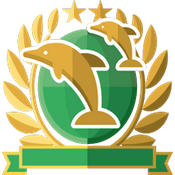 Unless otherwise noted:
All images original, by me..
All Rights Reserved.
Chromium AutographOnline Signature Maker
---
---