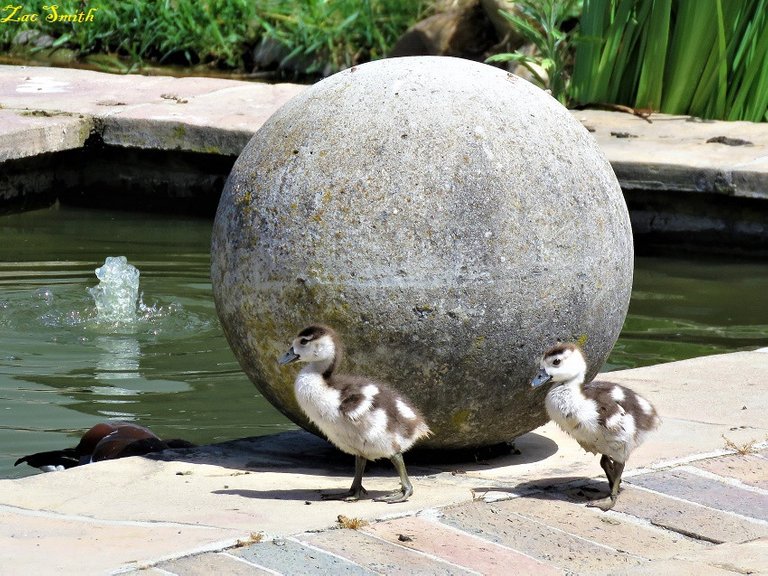 Little goslings and they are so cute and cuddly!
We went to the radiology department of the hospital this morning and they have a large fountain pool in their garden. My x-ray went much quicker than Marian's annual mammogram and I waited for her at the pool.
Then these two little ones appeared to make my day.
Come wait with me!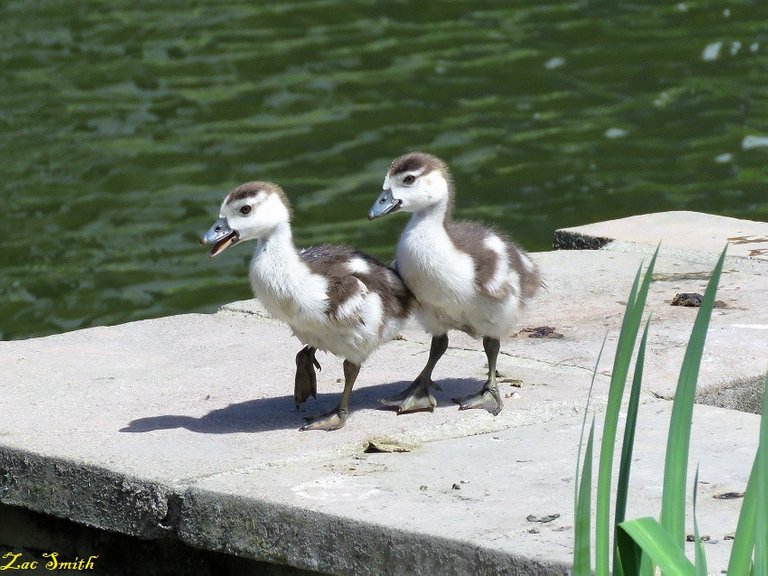 Happy and lovely little ones aren't they?
Always sad to know that all of their little brothers and sisters were taken by predators!
Only these two little ones left.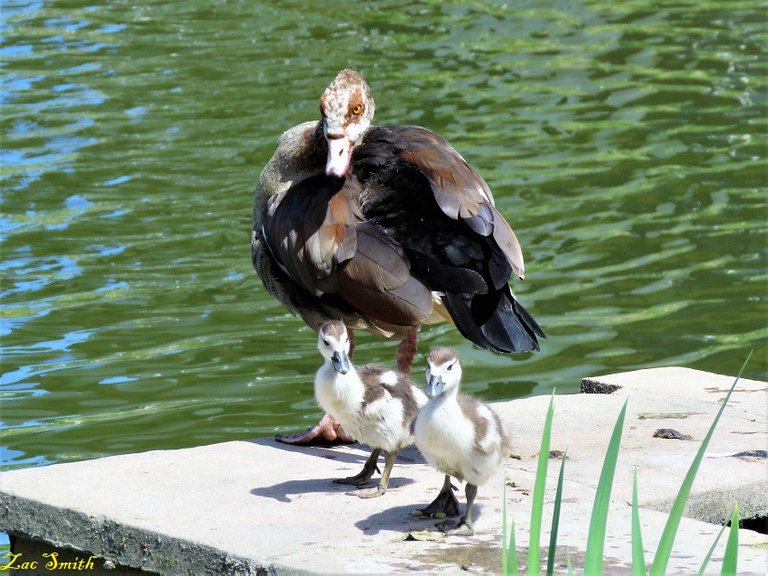 But whoa! Don't touch, unless you can face mama!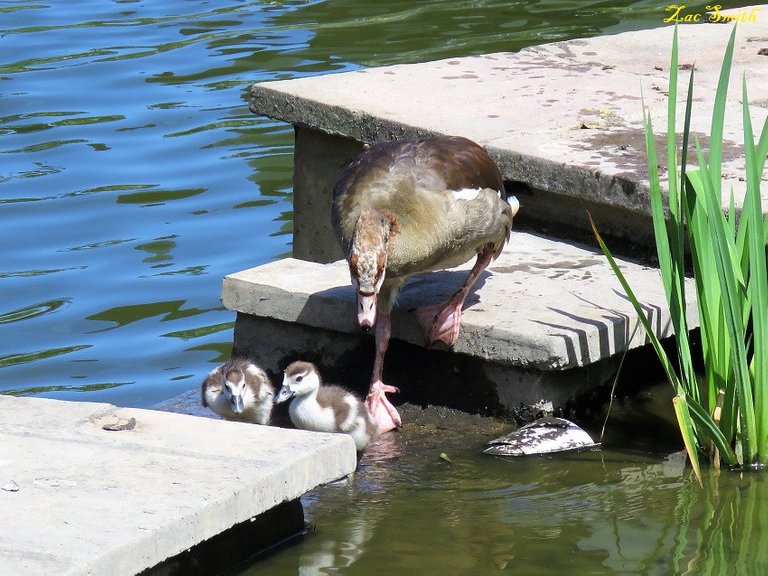 Mama took her babies for swimming lessons!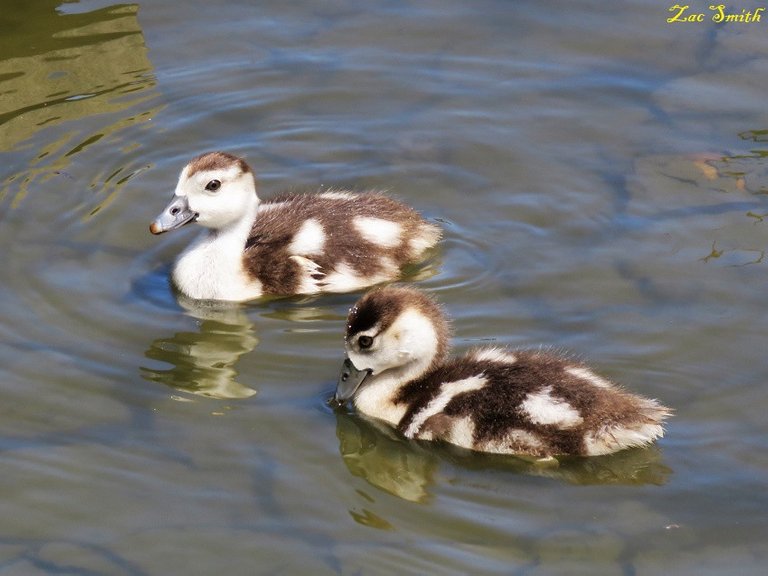 Look how cute they are in the baby pool!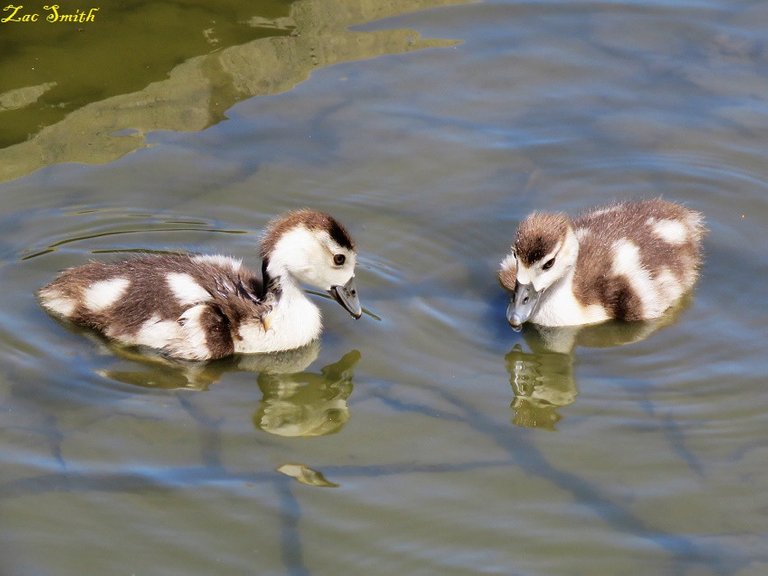 Checking their make up in the water mirror!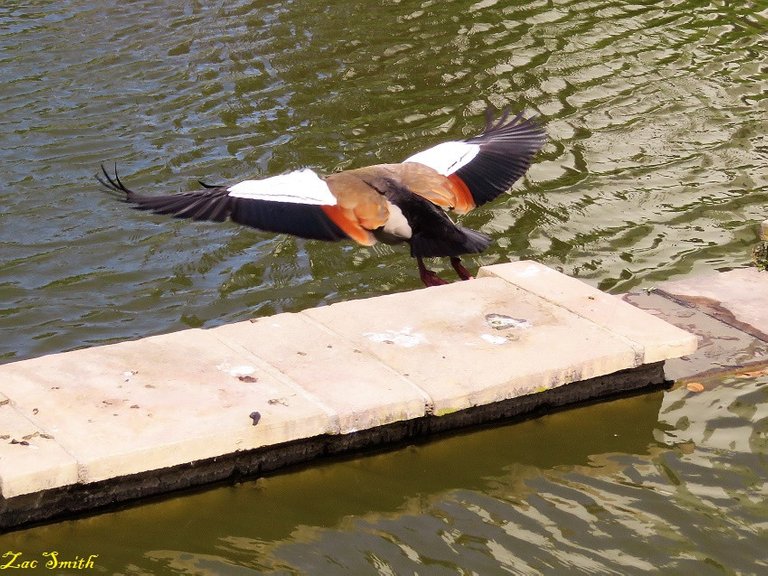 The party ended with a bang, as dad came flying through!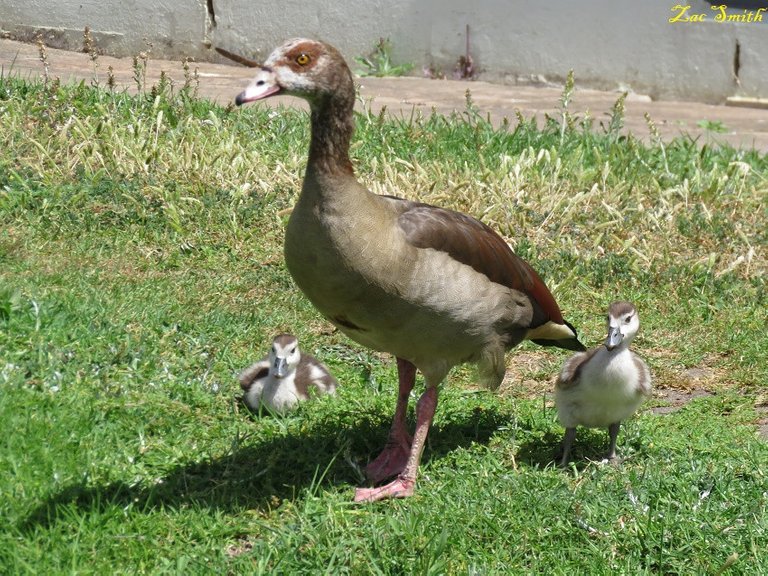 You would also be upset if your husband did that.
"Bernie" the mom screamed, "you are a real bum"
An angry mom scattered onto the grass with the kids and they watched their dad in the big pool!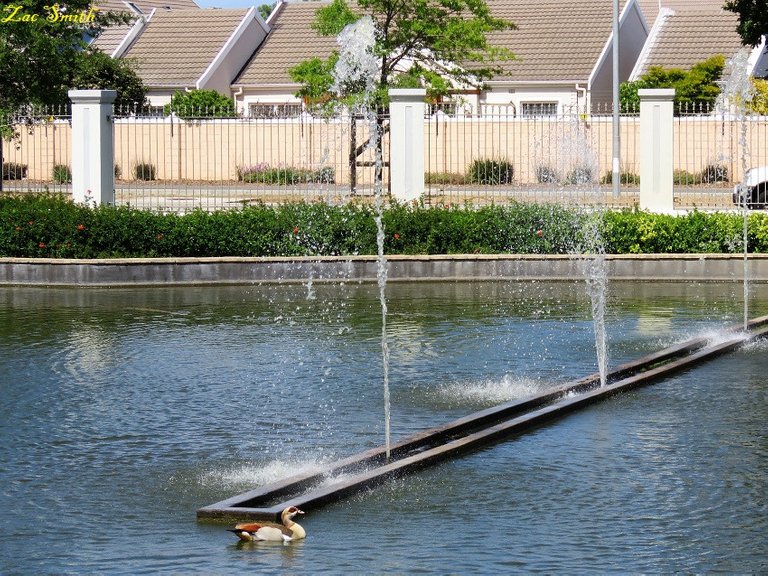 But of course rude "Bernie" is a showboat!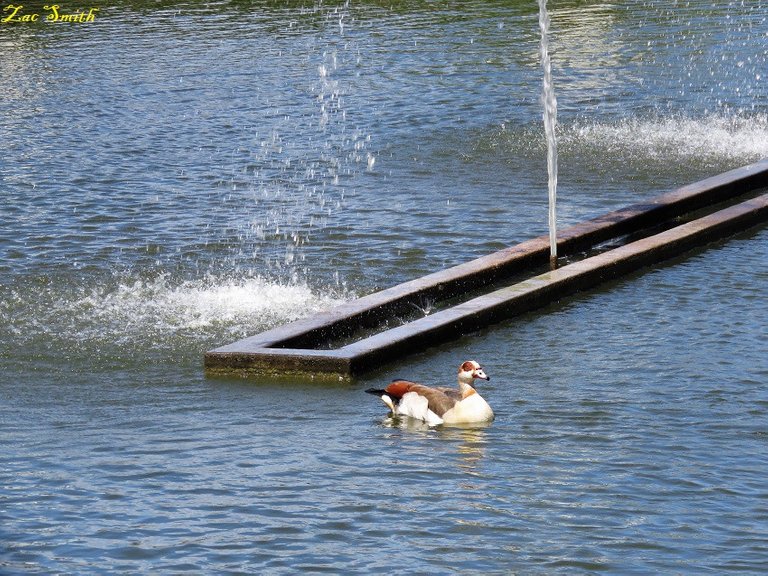 He was showing the kids how brave he was by swimming around in the danger zone near the fountains that mom ordered out of bounds for the kids.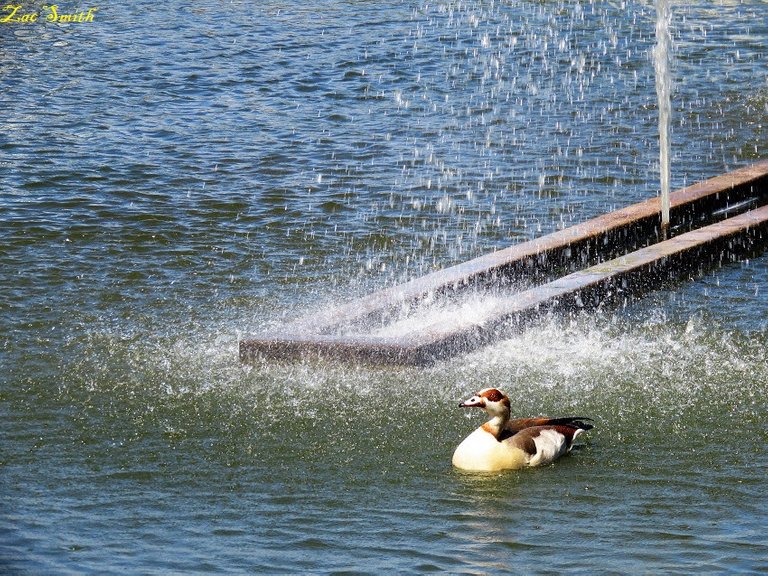 A real show off isn't he?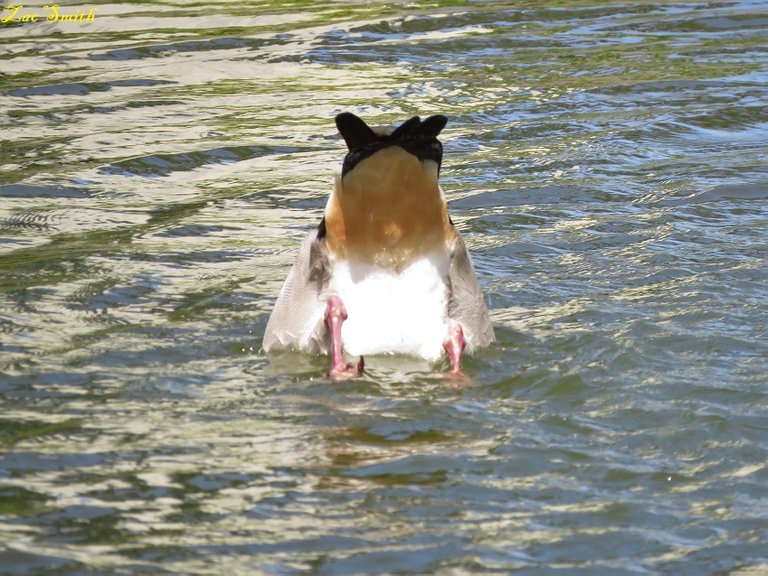 And then Bernie did a very rude thing, he flashed his bum at mom!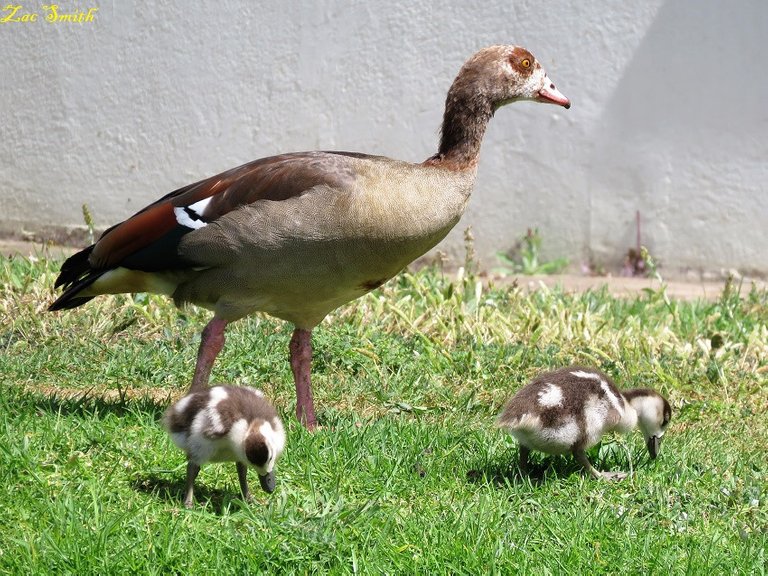 Of course mom was disgusted wouldn't you be and she stormed off with the kids!
I have had some inquiries about the Egyptian Geese and did you know that they were regarded as sacred birds in the old Egypt?
Here is some information about them.
"The Egyptian goose (Alopochen aegyptiaca) is a member of the duck, goose, and swan family Anatidae. It is native to Africa south of the Sahara and the Nile Valley.
Egyptian geese were considered sacred by the Ancient Egyptians, and appeared in much of their artwork. Because of their popularity chiefly as an ornamental bird, escapees are common and feral populations have become established in Western Europe.
The Egyptian goose has escaped or been deliberately released in to Florida, USA. However Egyptian geese are also now present in many parts of Central and Southeastern Texas with more than 100 sightings just in 1Q 2018 as reported in ebird.org database".
Source of the section in inverted commas ("")
https://en.wikipedia.org/wiki/Egyptian_goose
Note: All photos and words are my own except for the quoted and cited section.
The photos are unedited except for cropping to upload.
Thank you for visiting a post by @papilloncharity

Team South Africa banner designed by @bearone