I knew I was getting close, but yesterday I got this confirmation that I had reached orca status. I had been checking @hivebuzz to see my VESTS approaching the magic 100 million. I may have been helped over the live after @the-bitcoin-dood sent me a tip for being part of his Hive Chat on Twitter.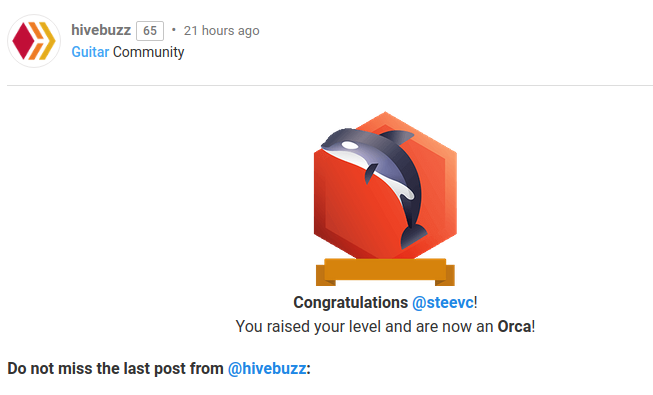 So how did I become an orca? It was not by buying lots of crypto. I have bought some small amounts along the way, but most of it has been earned. The majority of the rest was from being active in posting, commenting and voting.

However, I would not be an orca for a while yet if it were not for Justin Sun. His takeover of St++mit and the subsequent fork of Hive gave me an airdrop that allowed me to sell my previous stake to power up here. There have also been various other crypto project that have given me extra funds I could justify using here such as Coinbase, Blurt and Keybase. I am not an investor, but I do believe that this blockchain-based platform could change lives and I want to be part of that.
I will also keep being a part of #HivePUD, coordinated by @traciyork even though my stake disqualifies me from the prizes. I still want that @hivebuzz badge. Today I powered up a bit more. Some of this was from Blurt plus I had been keeping HIVE from recent rewards. If you want to withdraw from Hive Engine then Bee Swap charges a less for doing that. I use the option to convert HBD rewards to HIVE as I am not bothered about playing the market.

I have been powering up just about all my rewards recently, but now I have reached this #HiveMilestone I will consider spending some. I will not be powering down unless I am really desperate. I want to see more people build their accounts and so will keep the @TenKMinnows project going. That may have spare voting capacity, so I am open to suggestions of people to add to the voting trail.
Hive five!