Hello
I hope you're having a great day.
---
Rooftop restaurants, what a beauty they're. The last time I went to a rooftop restaurant when there was my girlfriend with me (we were unmarried back then so she was my girlfriend at that time and not my wife) and we went to a rooftop restaurant @ Savar bus stand which is somehow far from my place. It was just a memory now.
---
Suddenly, I've seen a rooftop restaurant @ pollibidyut bus stand which is too close to my place and my wife wished to go there but I didn't take her there until now.
---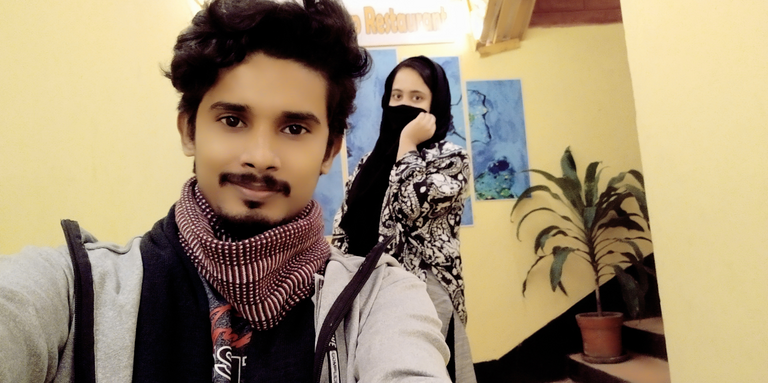 ---
But here were are... at the entrance of D'Rooftop Restaurant.
---
Already some months passed maybe after the opening of this restaurant and I don't remember why I didn't go there but maybe for my financial problem or something else. Oh no no, now I remember that I was not taking my wife there as we were staying at our old place at that time and as I wished to go there at night time but at the same time I don't feel comfortable riding with my wife on the highway at nighttime and that's why we didn't come there before. BTW... I was leaving in another place back then but now I live in another place which is closer to this restaurant.
---
My wife wished to go to a restaurant that day and then I made a plan on giving her a surprise by visiting this restaurant as she wished to visit this place too many times. Then we went there and my wife really got surprised as she thought we were going elsewhere.
---
The Restaurant
---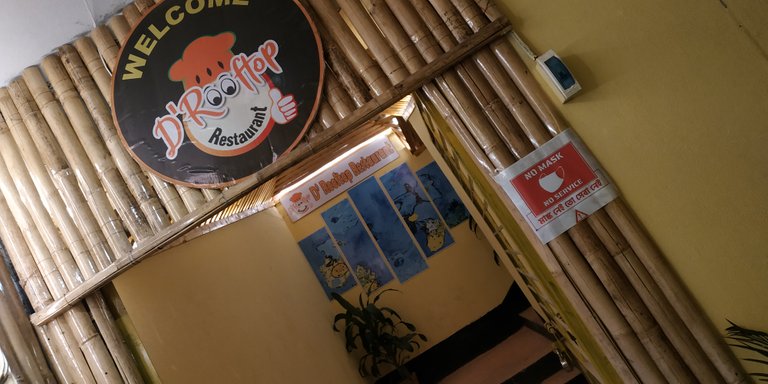 ---
The name of the restaurant is D'Rooftop Restaurant.
Location: D' Rooftop Restaurant, Savar Palli Bidyut Bazar Road, Dendabor 1344
---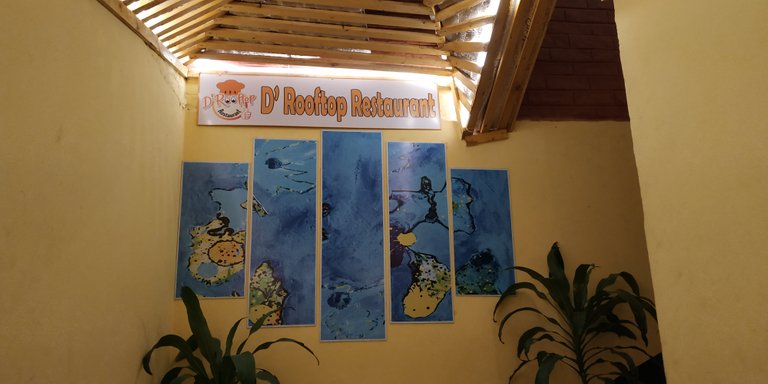 ---
It's on the rooftop of a 4storey building and its advertisement started from the ground floor up to the rooftop through the whole stairs.
---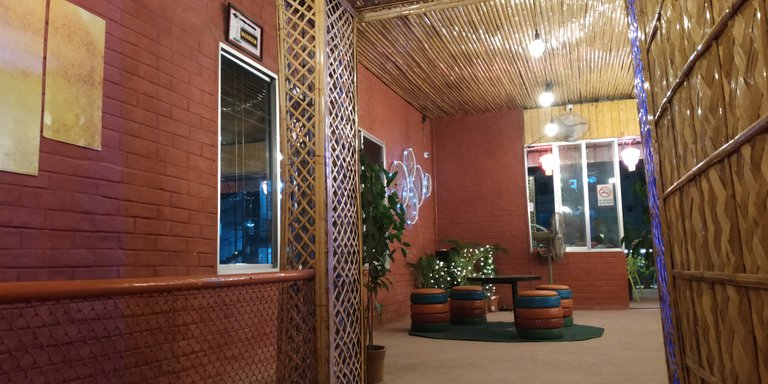 ---
This is the last gate made of bamboo from where the restaurant. You got to love this part and I was excited to see the entire place so I didn't wait to get in.
---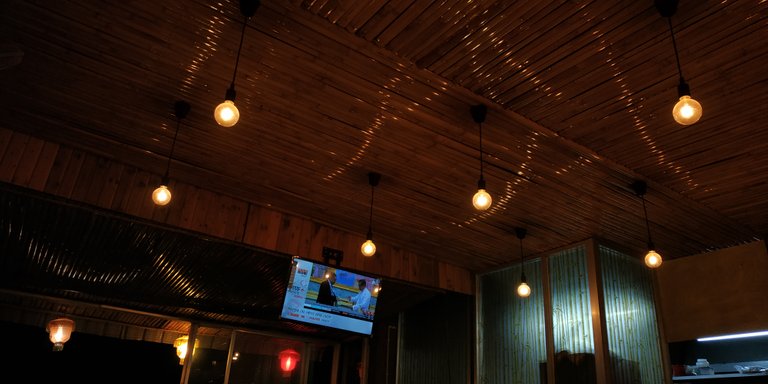 ---
This lighting system seemed quite nice. Both I and my wife liked this lighting but I hope these are a waste of electricity and I was talking about this with my wife.
---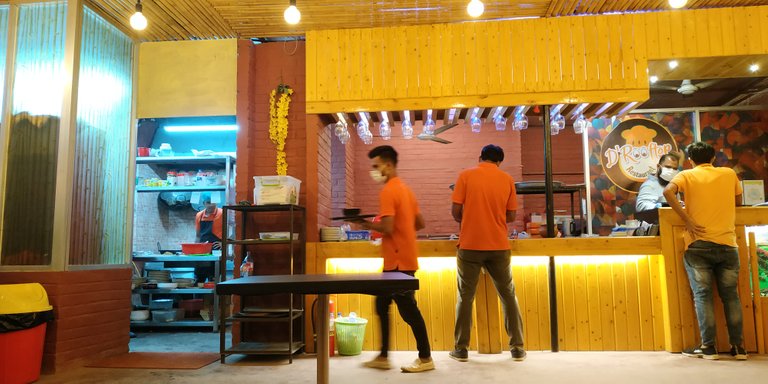 ---
That's the kitchen on the left side and the cash table on the right side. I don't think I've seen such an open kitchen in a restaurant before. We could see the chef preparing our food and I think it's a very nice thing.
---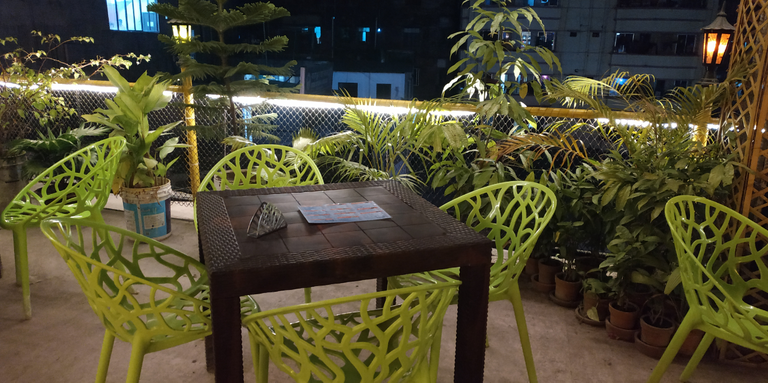 ---
---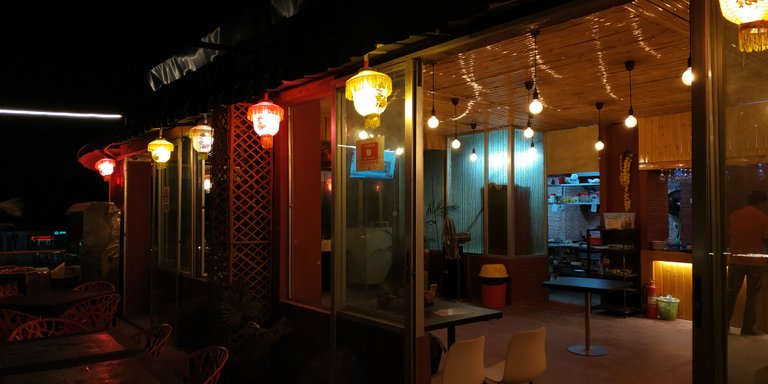 ---
I like such lights too much... they seem like Chinese-Chinese ;).
---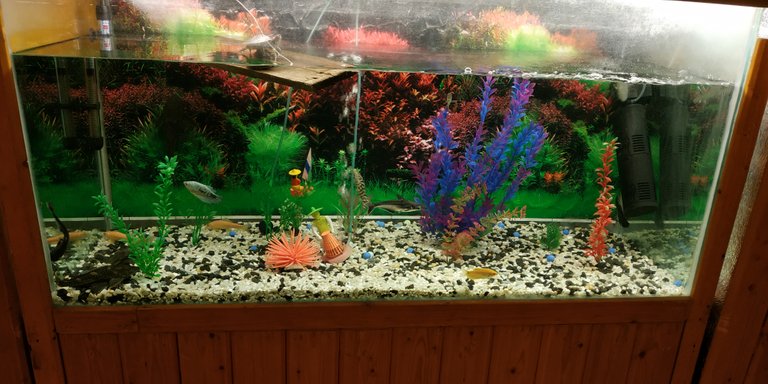 ---
Aquarium... yeah they have an aquarium too and I really really liked it. This small-sized aquarium has such nice things inside it with some adorable fishes.
---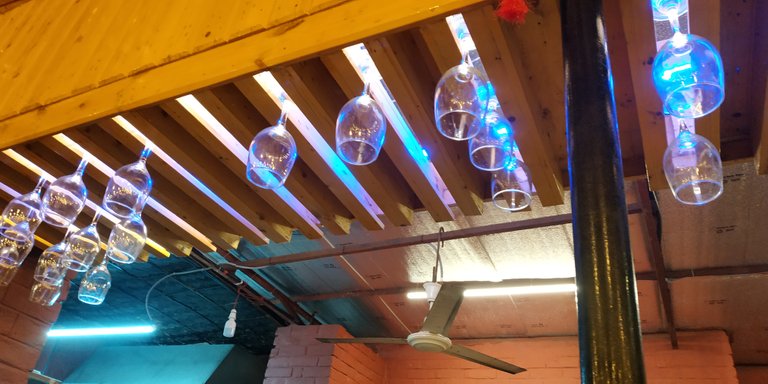 ---
It's another thing that I liked. At first, I thought they're only to show but then I've seen them using these glasses for drinks.
---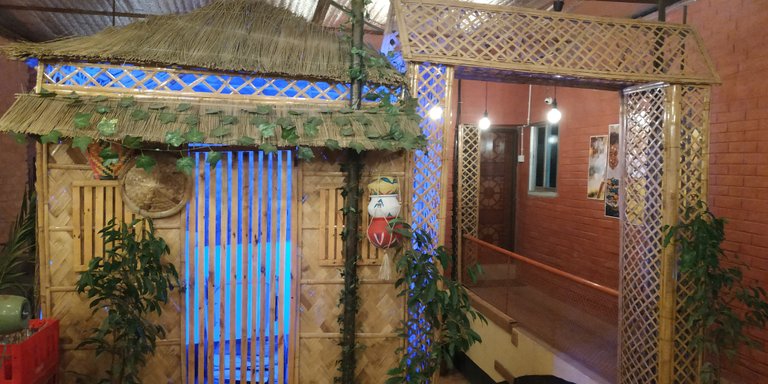 ---
Here's a little house/cabin made of wood, bamboo, and other things and I think it's for photography purposes.
---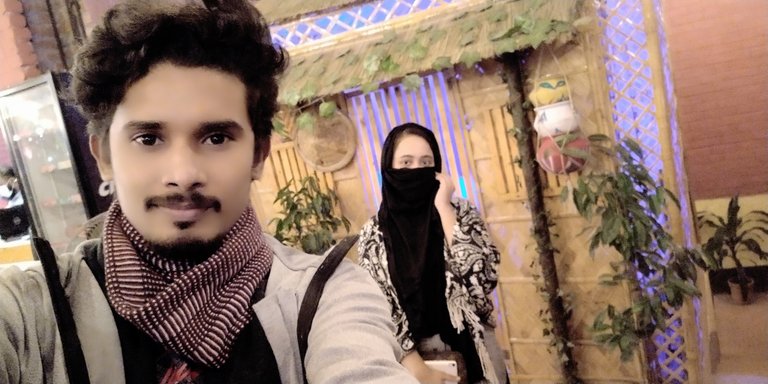 ---
Here we are beside that hut.
---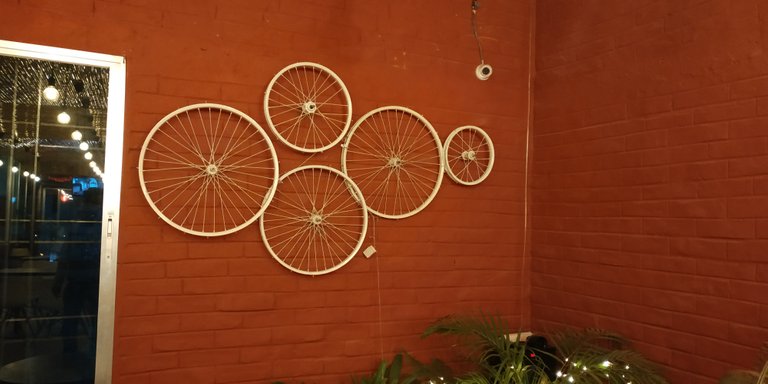 ---
I also liked this place and it's indeed the best creative and a fantastic place in the whole restaurant. Those are some rings and spikes of cycles wheel on the wall. And those are plastic made tyre as the tools around the table.
---
The Food
---
---
It's the menu card where there are individual 90 items with 15 set menu where there are appetizer, fast-food, pizza, noodles, pasta, soup, salad, fried rice, Thai dishes, Indian starter and dishes, biriyani, BBQ, drinks & dessert. I was confused about what to order as what we normally eat in a restaurant seemed expensive here. Then I ordered a set menu (set #1) includes special fried rice, beef masala, chicken fry, Chinese vegetable & salad and I had to pay 240 BDT/2.83 USD for a set menu where I had to order 2 sets for both of us.
---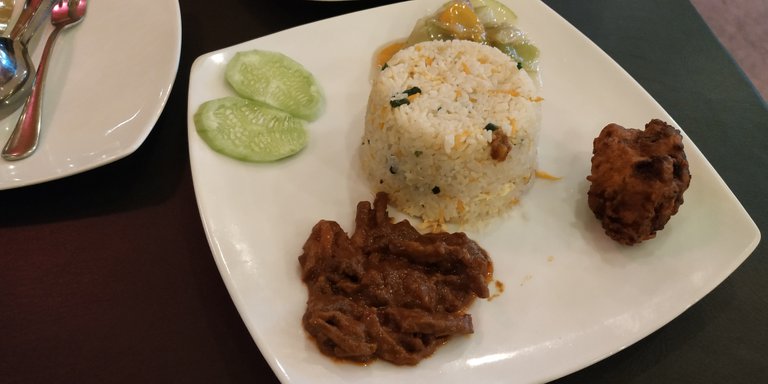 ---
After we waited for some time (for around 25-30 minutes), the food came at last and I was happy to see such nice food decoration. The taste of the food was also nice.
---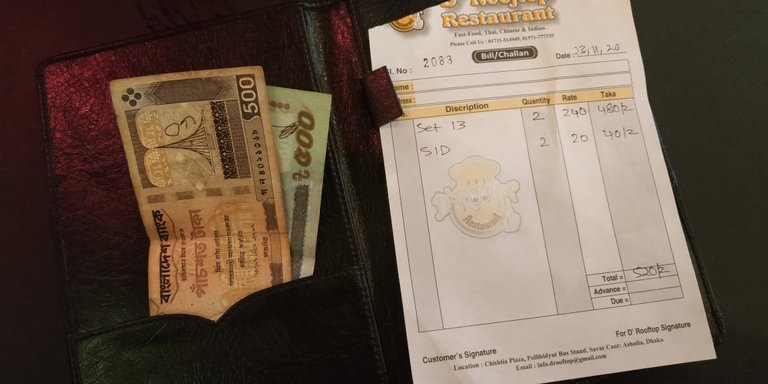 ---
This is the moment when I had to give away my money (I wish the food was free, lol). With soft drinks, I had to pay a total of 520 BDT/6.13 USD.
---
My Last Comment: I'm satisfied with the food and the behaviours of staffs of the restaurant although the food was kinda expensive in my sense in comparison to other non-rooftop restaurants but I think it's okay with everything. I'd rate the restaurant around 8 out of 10.
---
---
"The End"

Hit the upvote button if you like this post and leave a comment if you wanna say anything about this post or any other posts. Please support me to keep having more of my works and you can follow me so that you can see my future posts and you're always welcome to my blog.
---
Please subscribe to my youtube channel by wasting a little time of yours.
---

"About Me"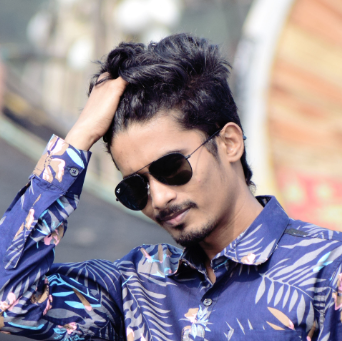 Generally...
I'm a writer (I write poems+short stories), Traveler (I travel whenever I get free time and resources as it's a part of my life actually), Photographer (I love it too much), and a Graphic Designer.
In hive blockchain...
I am a curator of
@tipu, @innerblocks, @minnowsupport, @diyhub, @splinterlands.
---
Find me on.





I am available at discord...
Discord ID: ashikstd#5058

"Be Good, Think Good and Do Good"
"Stay Home, Stay Safe & Let's Beat Corona".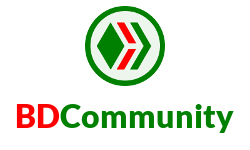 ---