What a great week we are going through all our fellow Hive Family. We have given almost 200 Free Hive(approx.) tips on our daily giveaway to encourage and inspire everyone to tweet and promote Hive on the Twitter World.
I am happy to present to you a more transparent approach to our Twitter Marketing Campaign.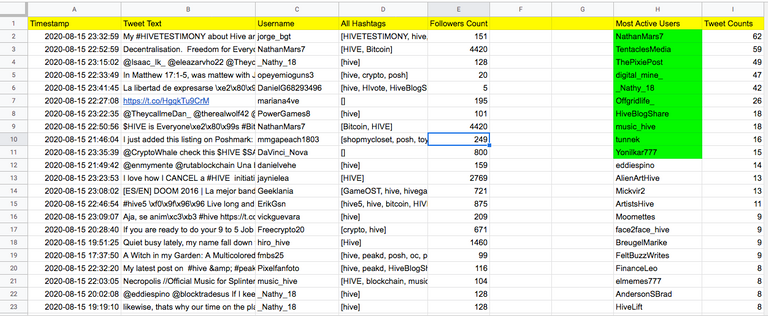 We are now compiling and collecting all our tweets readily available for public view in Excel Spreadsheets. The tweets that have at least one of these words in our tweets which include our hashtags #Hive, #Posh, $Hive, #HiveChat, hive.blog, and peakd.com.
Anyone can publicly verify our Twitter Data reports especially our Top 50 Most Active Users based on the Twitter API provided by https://developer.twitter.com/en
https://docs.google.com/spreadsheets/d/18eWON-86uDc4fNG3cDuvoXNhKbKvJv5ZglzK1u14OIs/edit?usp=sharing
The data reports are posted on @hive-data account, the post rewards we are getting on the statistics blog post are also distributed among all our active twitter hustler users.
The new modification on our Daily Top 50 will be implemented on our next report, starting exactly August 16, 2020 post reports. So please don't come to me yet for your FREE Hive tips of the day, please. Lol. Today is a test post example :))
Every day, Top Twitter Most active gets FREE Hive and Top Tweets of the day. We will make some adjustments on how we recognize our Top 50 Most Active #Hive Users on Twitter. We heard that some are on Retweeting Frenzy all the way to the Top spots, although we appreciate every effort in promoting Hive but we need to give everyone a fair share of competition.
The adjustment is our Retweets only will not count to make us on Top Twitter Hustler list. From now on, we will only recognize the original Tweets, Retweets with comments, and comments(reply) with our hashtags. As far as I am concerned this will help us be more equal to all our Hive Twitter community.
Some concerns are raised about this issue by HiveLift.
Just discovered (on my last 2 tweets) that often a RT with comment hides the images and makes it look drop dead boring. This is NOT an advantage if you want content to pop and be noticed. Also not in the authors favour to have their image hidden. @HiveBlogShare - thoughts?
For these queries, I responded
We can both normal Retweets and Retweets with comments in a single tweets. We have heard that some are in Retweeting Machine Gun so we want to fair to everyone to only put our attention on the #Hive tweets w/ dedication. Hope we understand ❤
In my humble opinion, we are not stopping anyone for using the Retweet only features because it also helps us reach more engagements however as we have rewards and gamification on this twitter competition(I may say) we can clearly say that abusing this kind of giveaways are very possible in the near future, maybe it's still early to tell right now. In my little limited mind, I am also looking forward to expanding the Hive giveaways if our Hive Marketing budget will allow.
For me, any way possible to promote #Hive does make sense.
Good day to all my Hive Family :))
Please follow me on Twitter and Hive 😍
Also, I really do love Ramen!
Please upvote, share, and follow. Thank you..
We want to recognize our great people on Twitter we always see every day. I am grateful to God to have you guys in our Hive Family. We love all of you, I am praying to God that He take good care for all of you and your family. <3
(Note: The list is the only name I know based on my limited capacity that I figured out on their usernames on Hive connected to Twitter accounts. If you think must be included on our list, we will appreciate commenting down and we will be happy to add you. Cheers!)