About three weeks ago I did a post about how I have created a bag for myself, based on my needs and inspired by other designers. I needed a bag for my red shoes, so i made one.
Since I love the bag from every point of view, I thought why not create more and list them for sale as I haven't seen any bag like this on Etsy. Who knows, maybe I'm not the only one who likes it and could sell it soon.
They say it becomes easier and easier and because this was my second bag of this design, I thought it's going to be easier indeed. Instead this was the hardest so far. I've been struggling with it from the beginning to the end, although it doesn't show (I hope).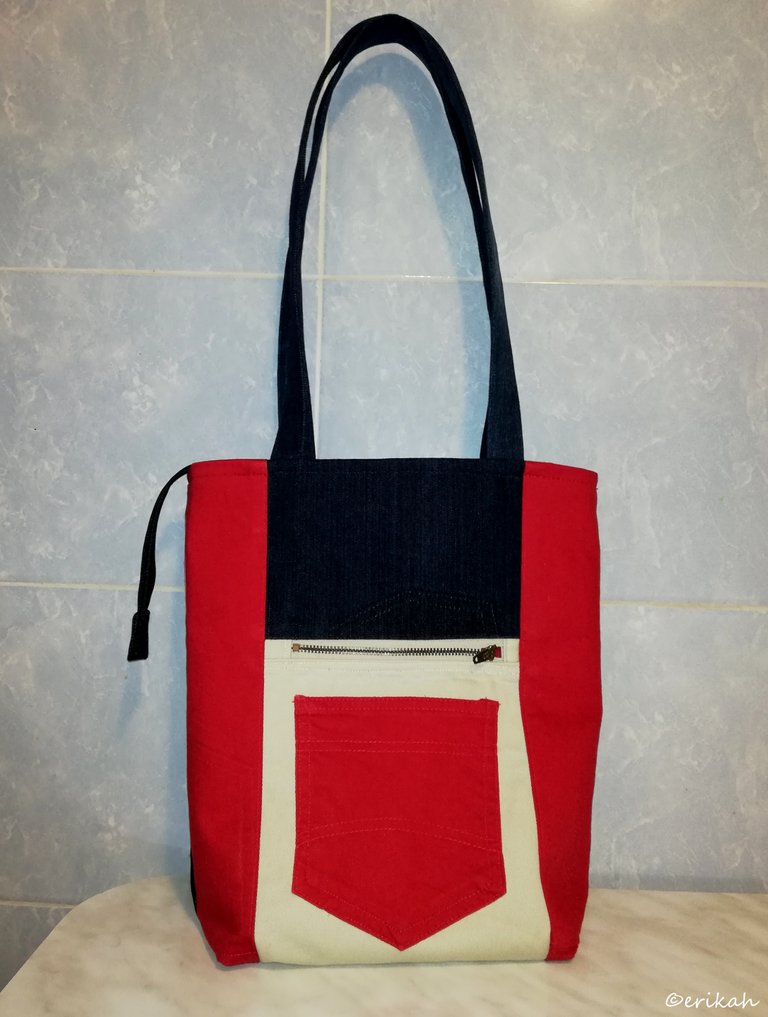 The bag should have been ready last week, for the last week's #needleworkmonday challenge but due to a back injury, I couldn't finish it, so I had yo skip it. But today I'm here with the finished bag. It's a little bit different than mine as the pocket of this one is red, mine is blue. That was my trick to avoid creating two identical bags. Original and unique, right? 😁
So this one has a red pocket but the rest is the same, except of course the lining, which is always different as there aren't two the same. How could I make two the same when I'm using shirts from the second hand shop (which are brand new by the way, only outdated), and can never find two of a kind.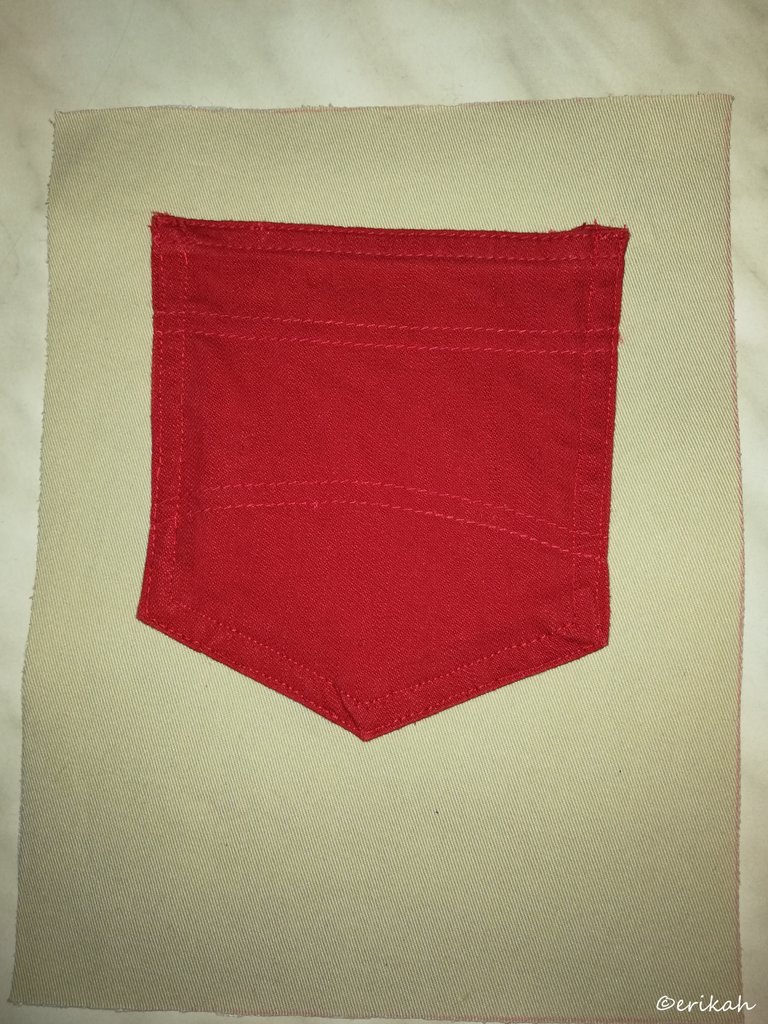 Putting together the front was the hardest. This design has a zippered pocket, which could be eliminated but I thought why not learn how to work with incorporated zippers like this instead of choosing the easy way out. The photo above is terrible, I'm sorry, as the angle is not the best, so the whole thing looks like not straight.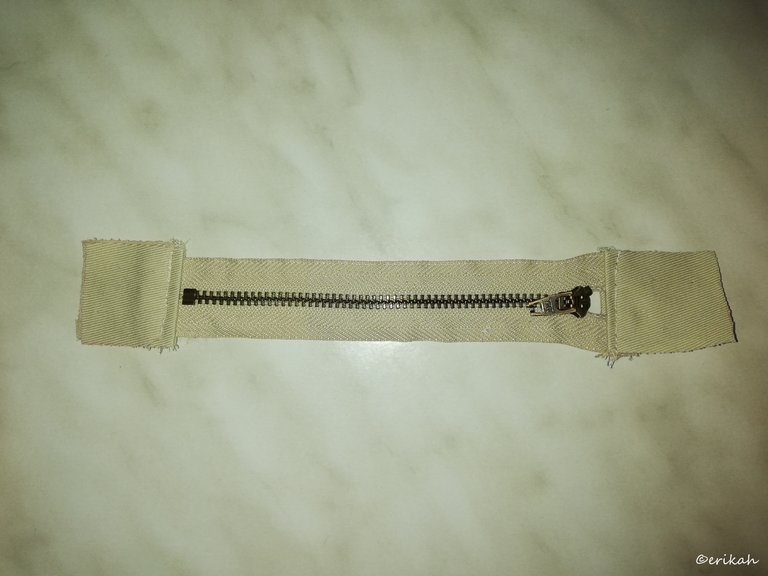 The zipper is also recycled, I'm using the zipper of the jeans. My goal is to stop waste and recycle, upcycle what I can, so I see no point in throwing these away, besides, the color is perfect, matches the jeans color. But because the zipper is a few cm shorter than what I needed, had to add a little fabric, which was pretty difficult, but I did it.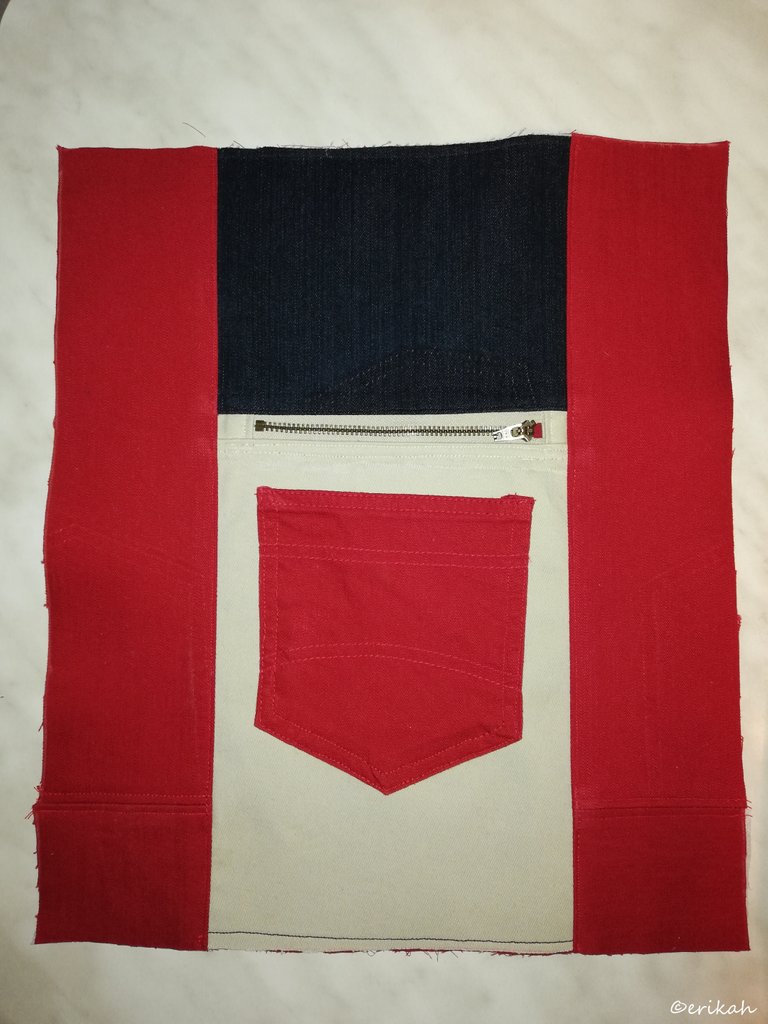 After some struggle, I was able to finish the front of the bag and that's when the accident happened, I hurt my back and could not work on it anymore.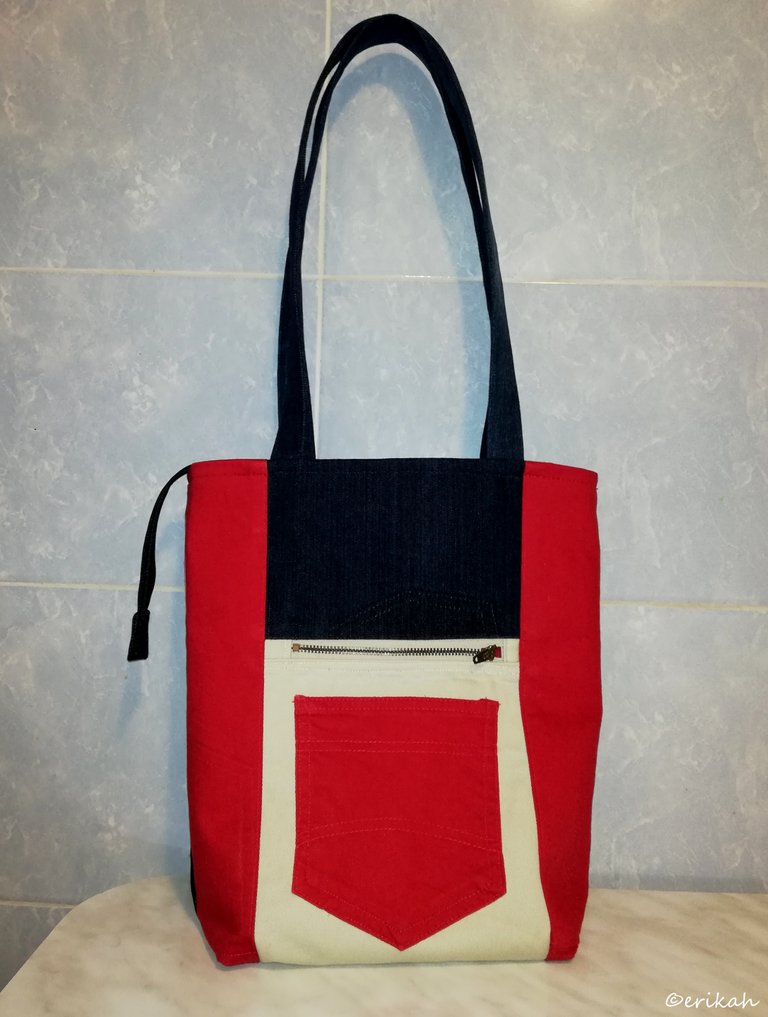 Today I've managed to finish it and here it is! In it's full beauty 😁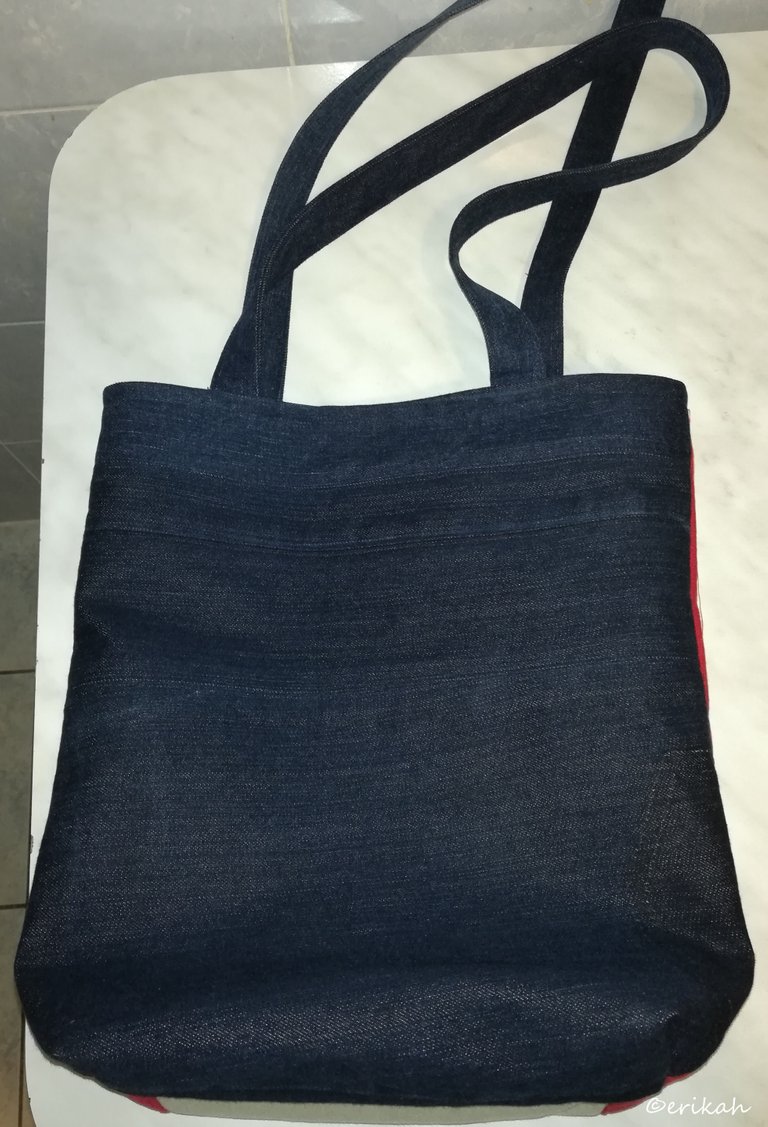 The back is simple blue, nothing fancy and the carry straps as well. Inside the lining is claret cotton and has three pockets.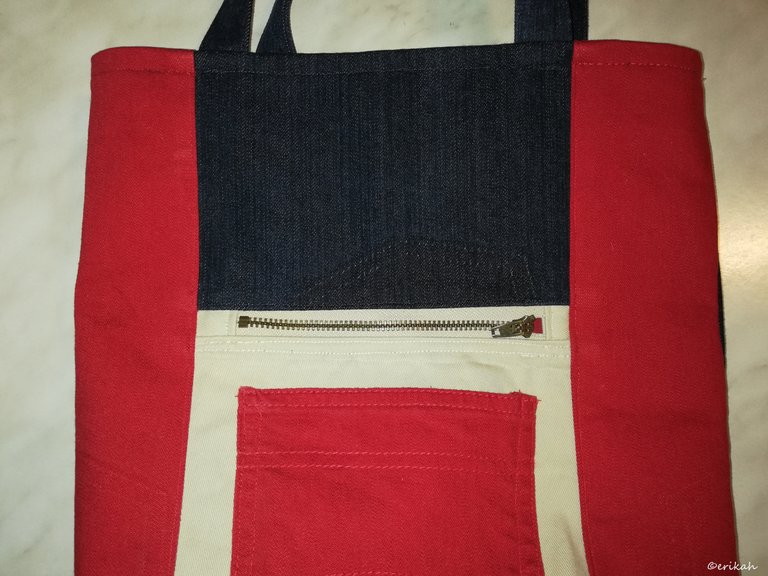 Very soon this bag is going to be listed in my Etsy shop, I just need to take some decent photos. This week there will be a photo shoot outside, just need to check with my mannequin.
Because I love this design, I thought why not make a few more, using other colors too.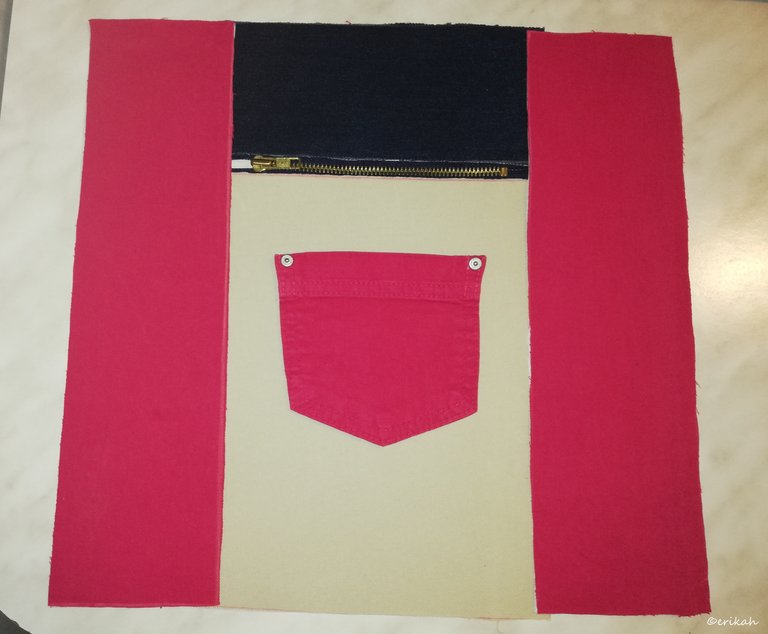 This is what I'm working on right now. The colors are awful due to the camera's light, but that color is pink, or fuchsia. Matching colors is always a gamble as it may look great to me and others don't like it, so I'm always trying to think outside the box and do not only what I like but also what I don't, as others may like it. I'm hoping to finish it soon and start a green one, then a blue one and now that I'm enumerating these colors, I remembered that I have a claret too and grey as well.
How about you? What's your favorite color combination? Any suggestion is welcomed.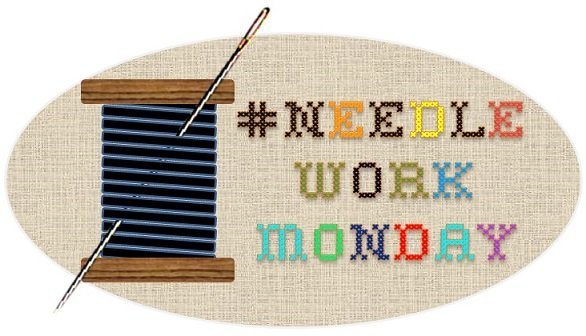 source
#NeedleWorkMonday founder: @crosheille
Hostesses (admins): @muscara, @shanibeer and @marblely

Please feel free to check out my Etsy store.
Check out my other sewing posts: