Coconut Dates Energy Balls Recipe Without Using A Food Processor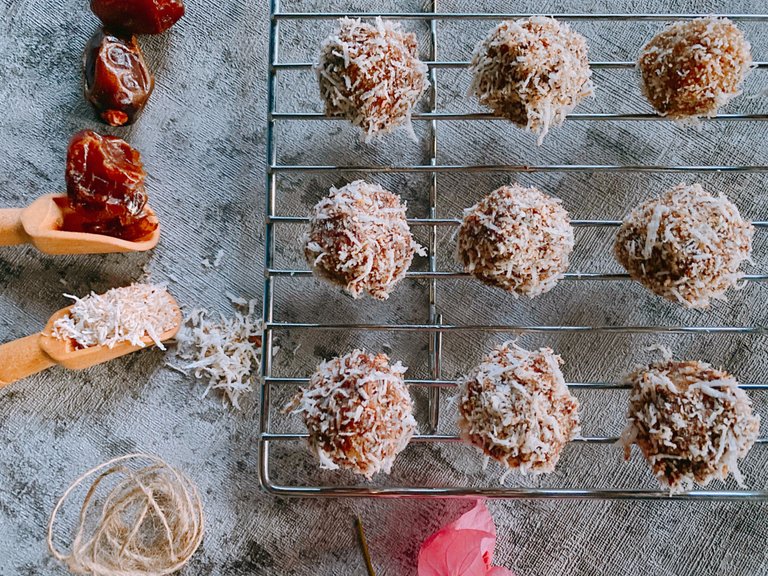 ---
A healthy and yummy snack recipe.
How to make energy balls without tools.
---
I've been thinking about making energy balls for a long time. I thought about the deliciousness and ingredients that were easily available in the area I live in.
But then the problem that arose was that I didn't have a food processor. Most energy balls recipes use a food processor.
So I thought about how I can make energy balls with the tools in my kitchen. To do that, I have to rethink what ingredients to use on these energy balls.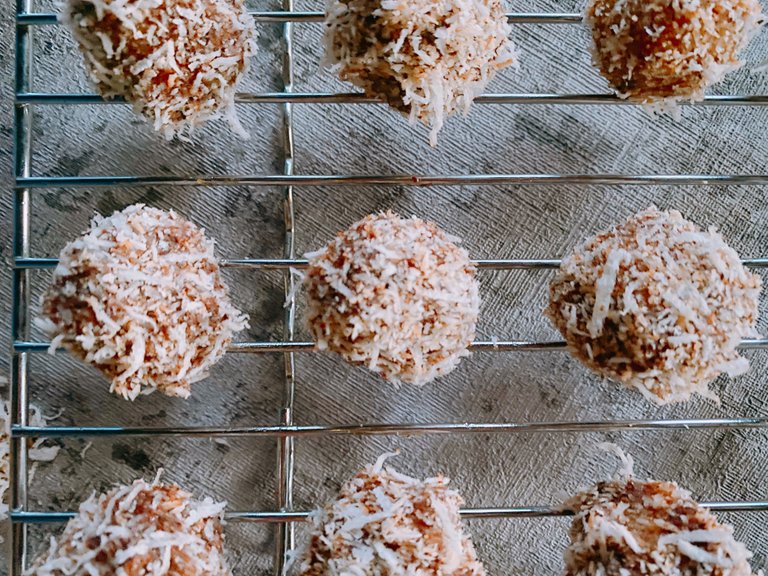 I'm glad I finally made energy balls without a food processor. I will share the tips with you. But before I share my version of the energy balls recipe, I want to first discuss the typical Indonesian coconut plant that is different from coconut tree varieties in other countries.
This discussion also follows the challenge of Ten Indonesian Medicinal Plants by Natural Medicine.
---
---
---
INDONESIAN COCONUT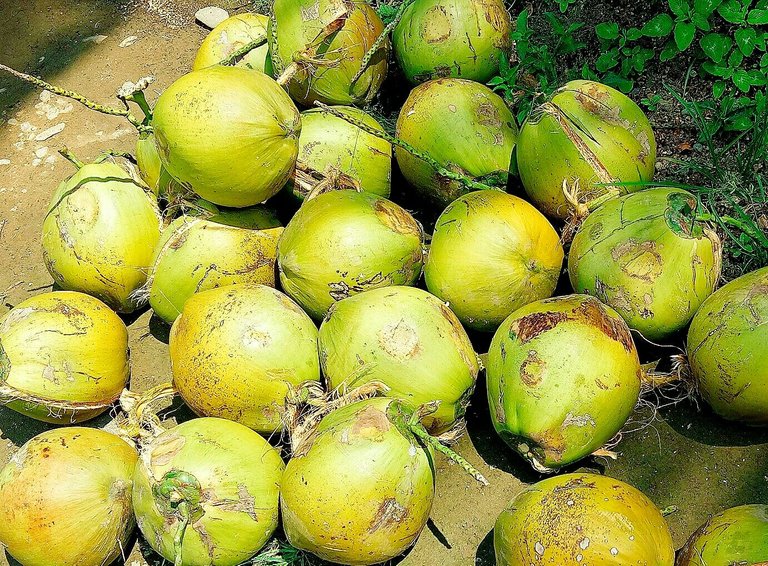 The general characteristic of Indonesian coconut is that it is bigger than other types of coconut. The larger size of the Indonesian coconut produces more coconut meat and water. In addition, old coconut produces more coconut milk.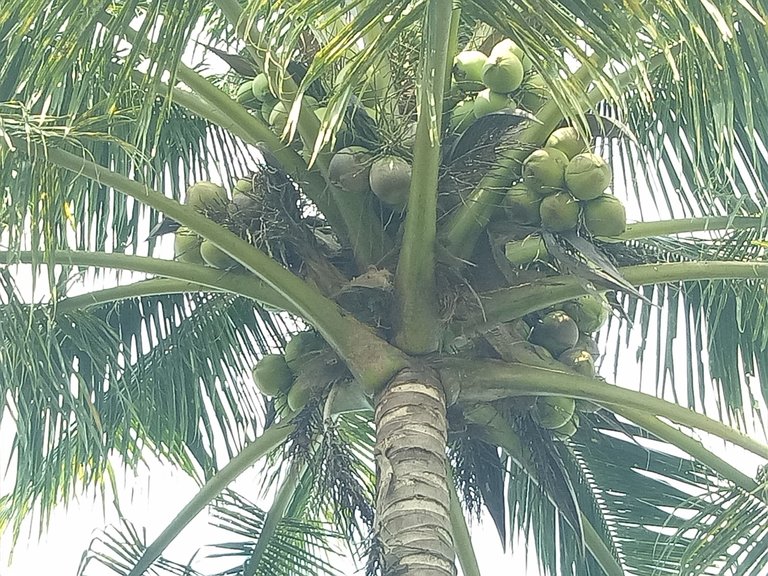 The Coconut Trees in My Garden Is Currently Cut Down Due to Extreme Weather Factors to Avoid Damage to Nearby Buildings.
---
---
---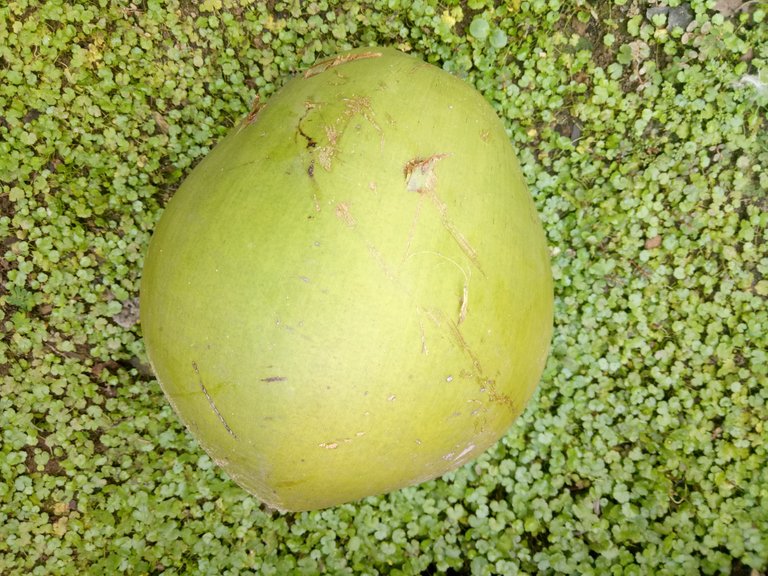 ---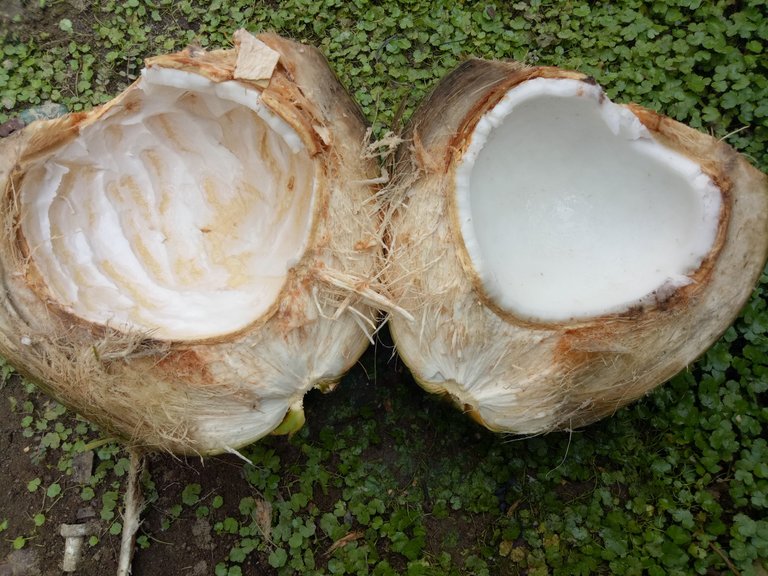 ---
Indonesian Young Coconut, refreshing and healthy.
---
---
---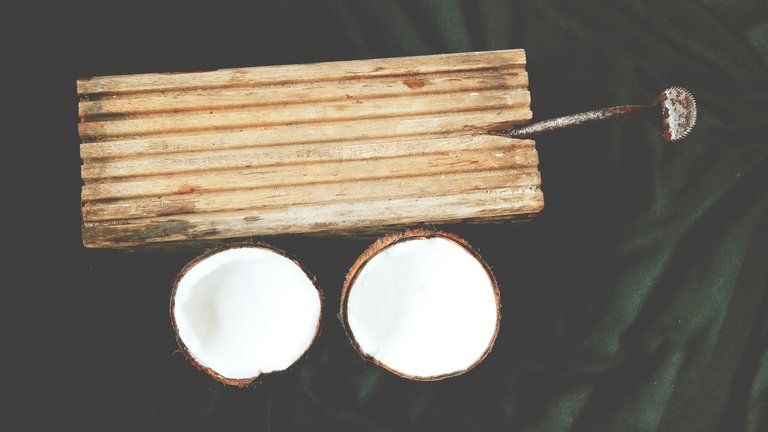 Indonesian Old Coconut, usually processed into coconut milk.
---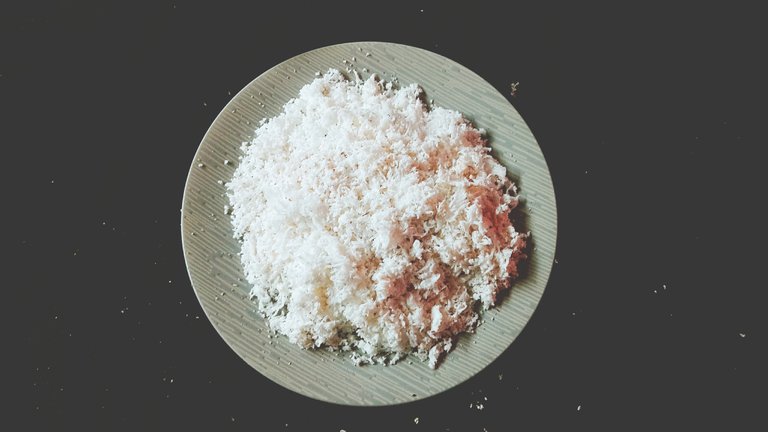 Grated coconut process using a traditional coconut grater.
---
---
---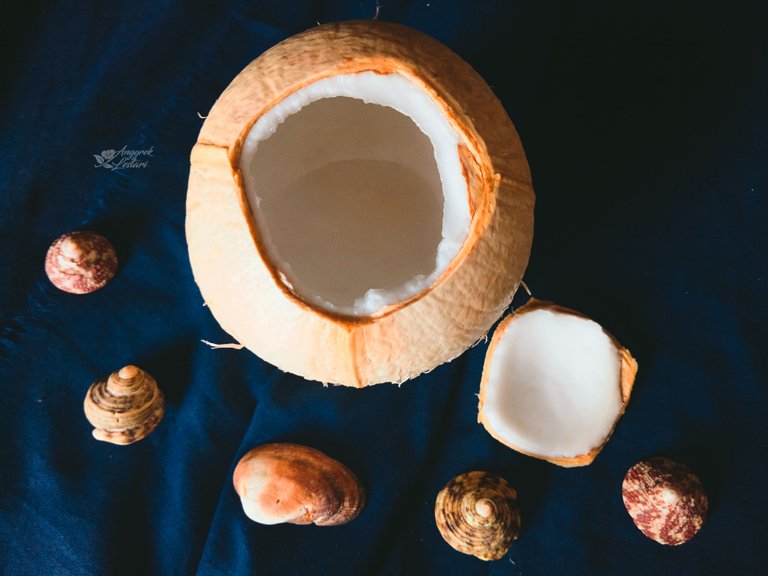 ---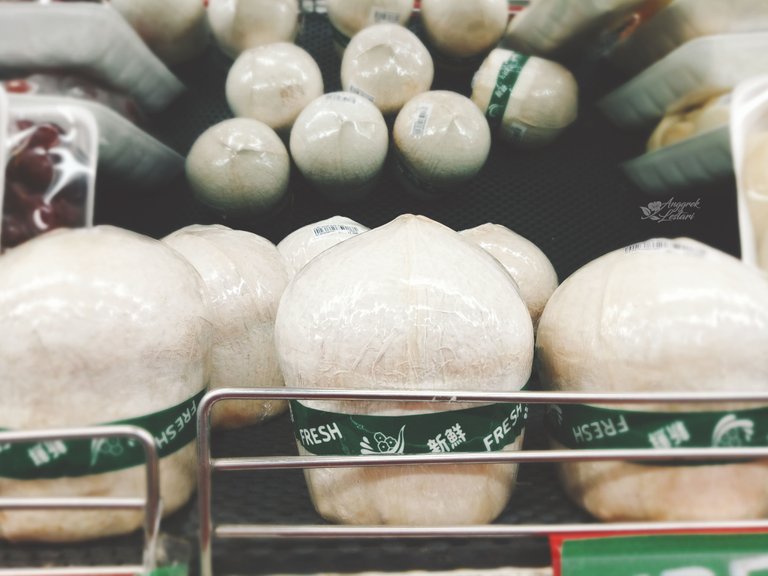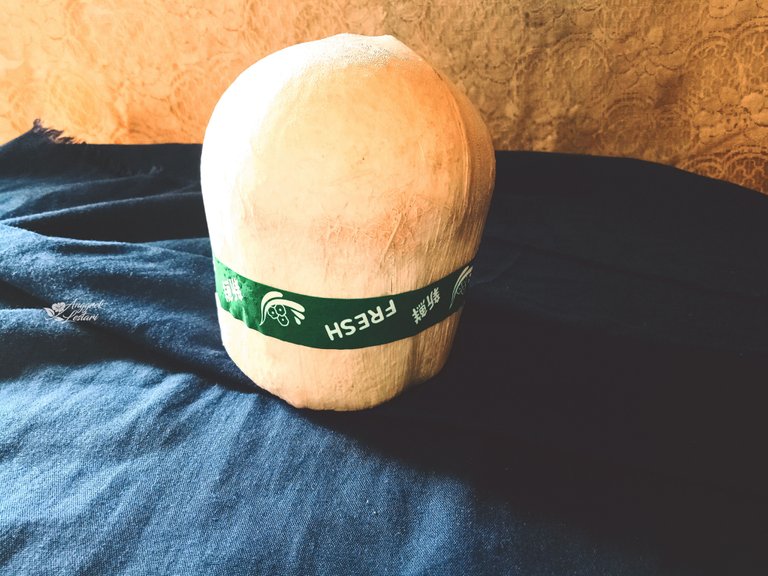 ---
This is a Thai coconut that is smaller in shape and I find it quite adequate in Asian food stores.
---
---
---
COCONUT FOR ENERGY SOURCES FOR THE BODY
Water and meat coconut both contain carbohydrates which are good sources of energy for the body. They are also high in fruit sugar (fructose) which is low in glucose so it won't cause a rise in sugar in the blood.
So coconut is very good as a source of energy booster for the body.
---
---
---
COMBINATION COCONUT WITH DATES AND BANANAS
Don't stop at the nutritional richness of coconuts, I'm also going to bring you the nutritional wealth of superfood dates, as well as the scent of bananas!
I'll blend them into delicious energy balls!
---
---
---
NUTELLA, PLEASE?
NUTELLA is optional. You can use it in the energy balls recipe this time or not.
For my version, half of my dough uses Nutella to cover the balls before I roll them into roasted coconut. Meanwhile, for another half portion, I did not use Nutella and immediately rolled the balls into the roasted coconut.
---
---
---
COCONUT DATES ENERGY BALLS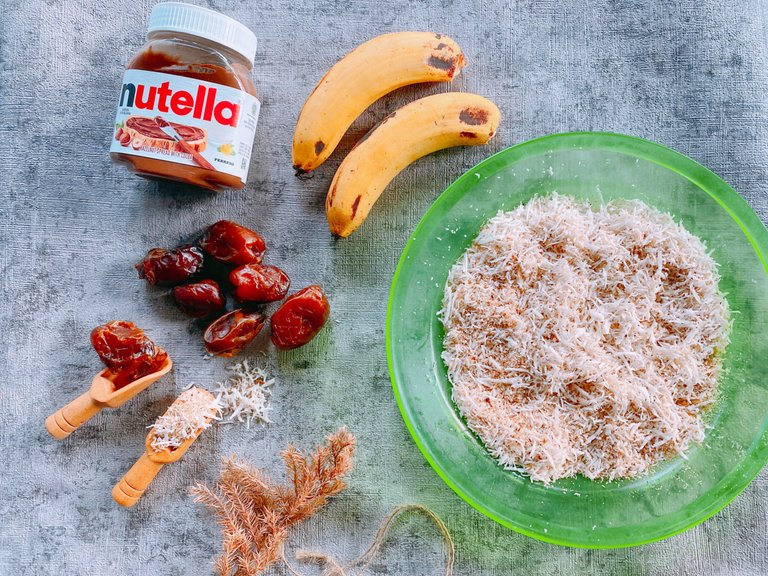 Ingredients
Grated Coconut, 200-300 grams
2 pieces of ripe bananas
5-10 pieces of dates
Nutella for coating balls to taste.
---
---
HOW TO MAKE
STEP 1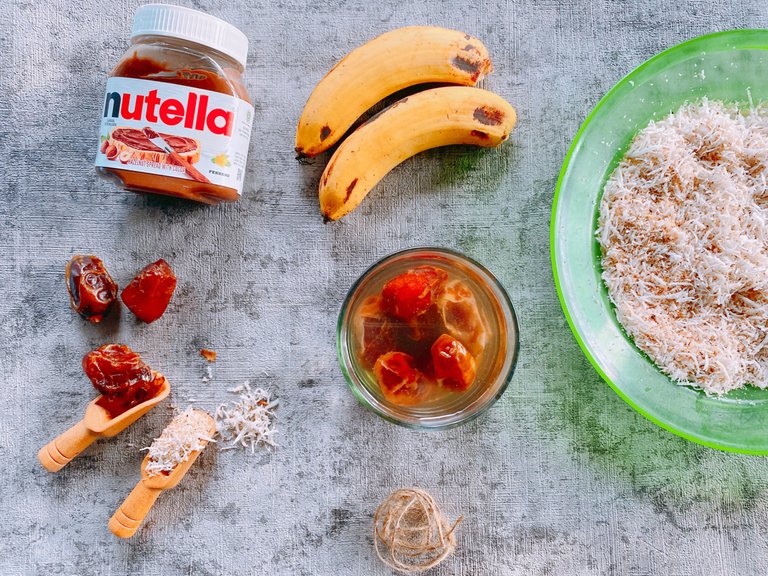 Soak dates in hygienic drinking water for at least half an hour. This is done to make the flesh of the dates soft and the hard skin on them is separated from the soft flesh.
---
---
---
STEP 2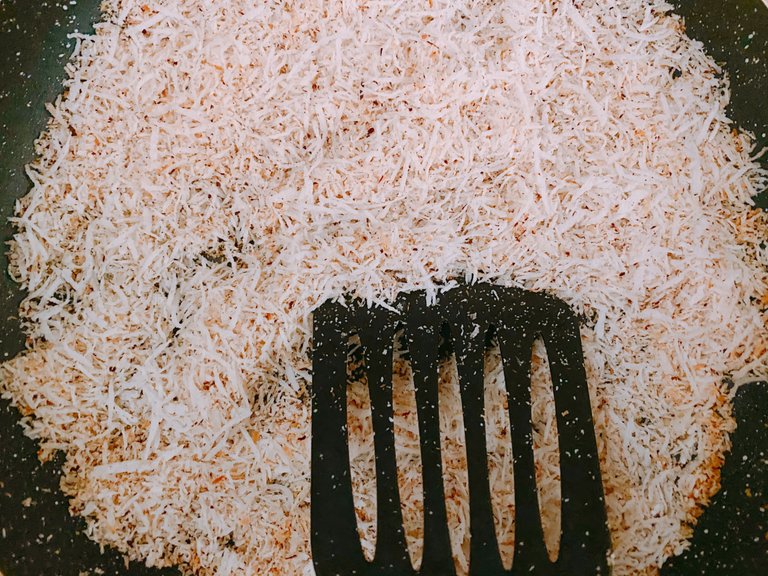 While waiting for the dates to soak until soft, roast grated coconut or just fry them without oil until fragrant and brownish. Set aside.
---
---
---
STEP 3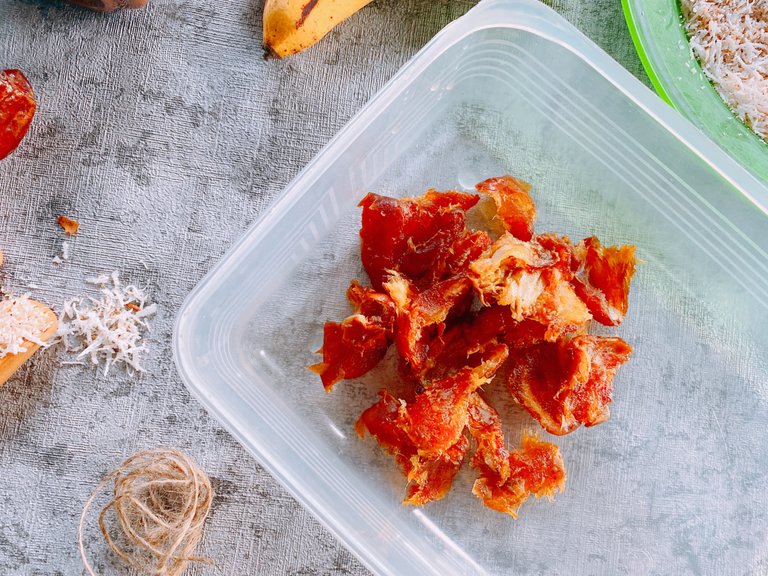 ---
Start softening the previously soaked dates. Remove the seeds and clean the hard skin of the dates. Crush the dates with a fork or it could be a manual hand mixer.
---
---
---
---
STEP 4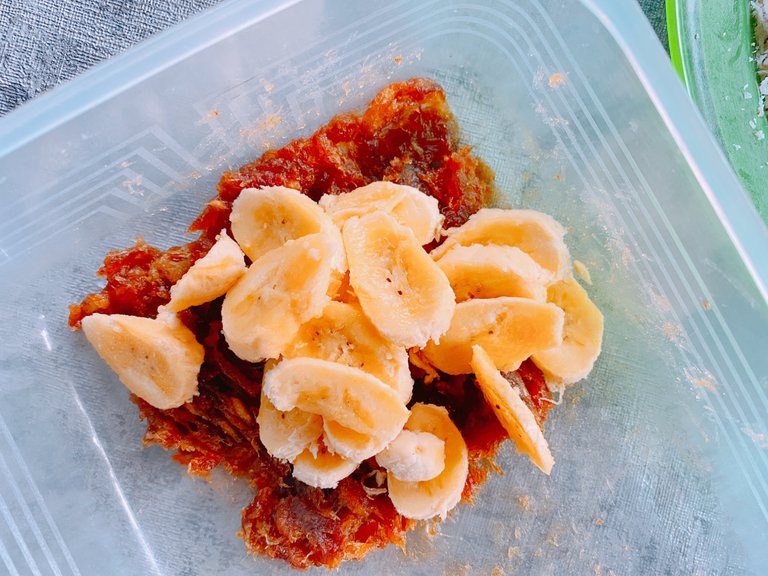 ---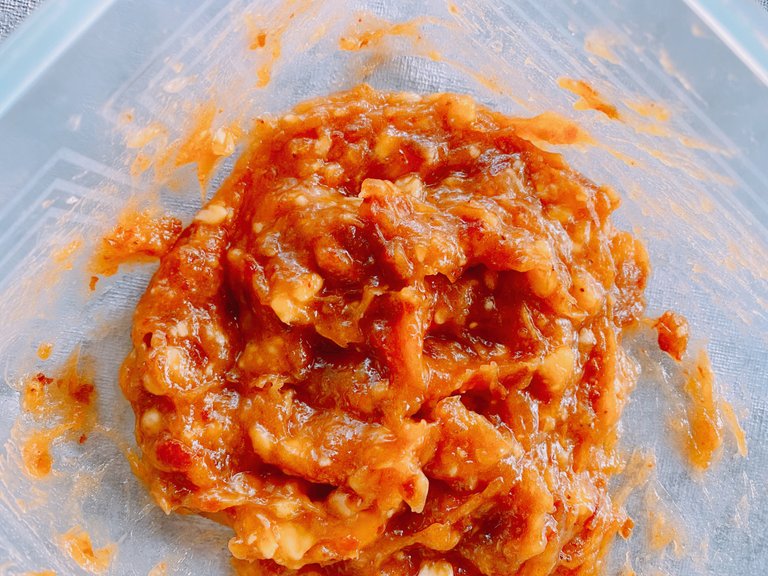 After successfully softening the dates, the next step is to add the pieces of ripe bananas. Blend them with a fork or manual hand mixer.
---
---
---
---
STEP 5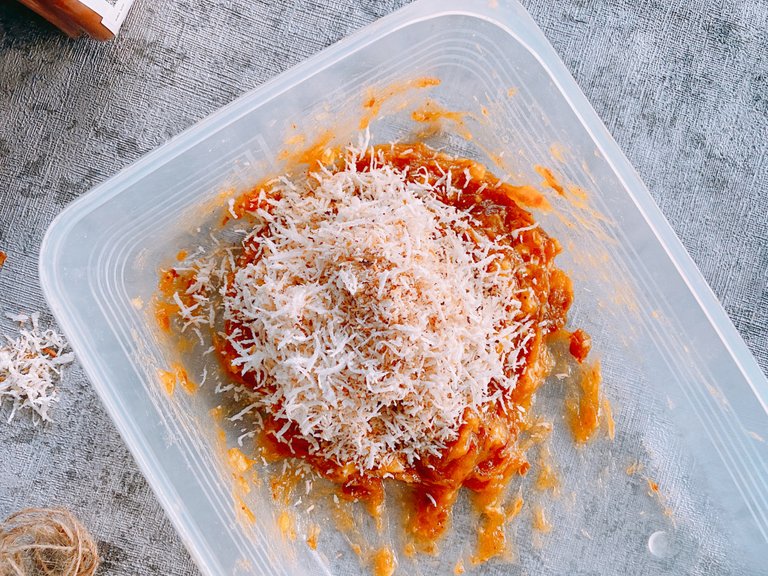 ---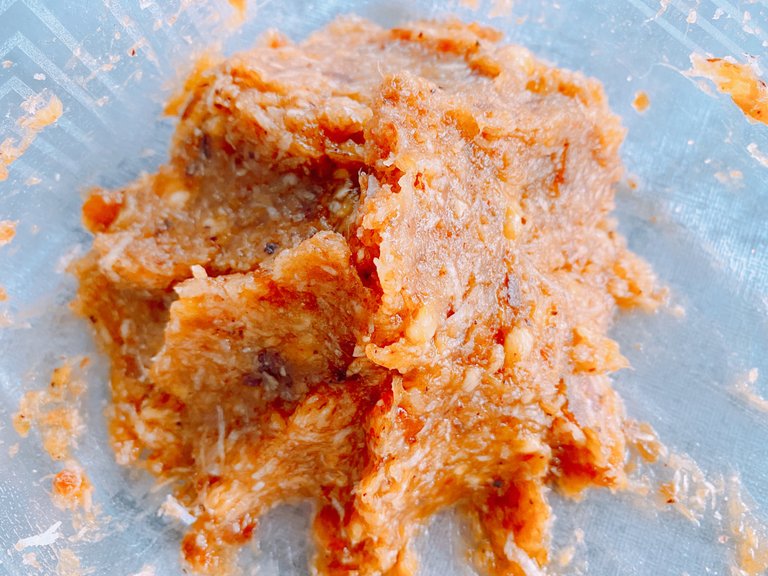 After the mixture of dates and bananas is soft, then add two hands full of roasted coconut. Or the amount is adjusted to the texture needs of the dough. If the dough is too soft and cannot be formed into balls, then add more roasted coconut.
---
---
---
---
STEP 6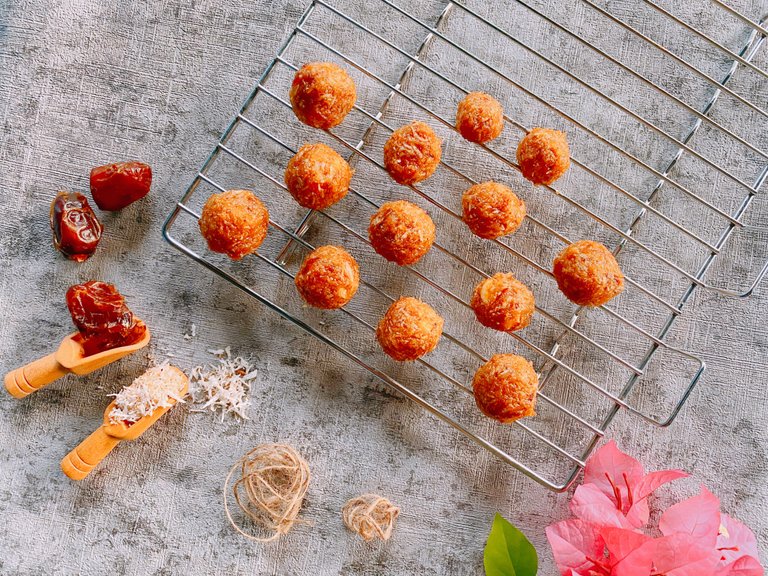 ---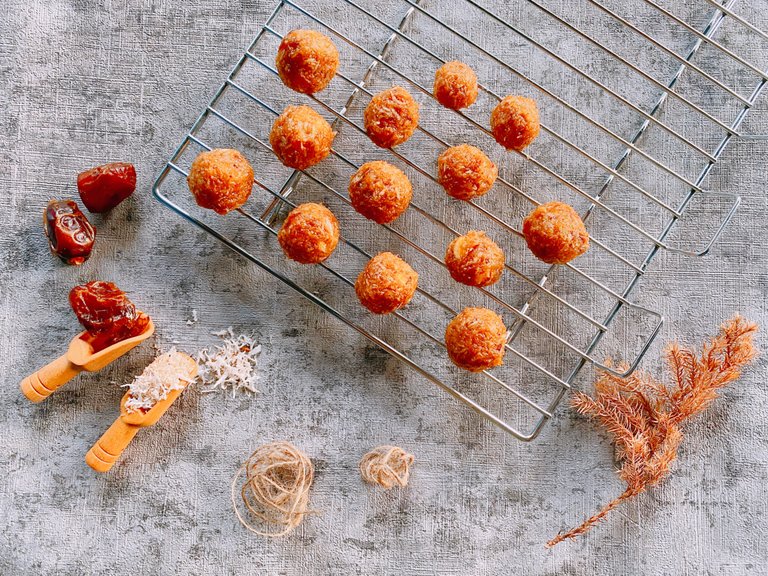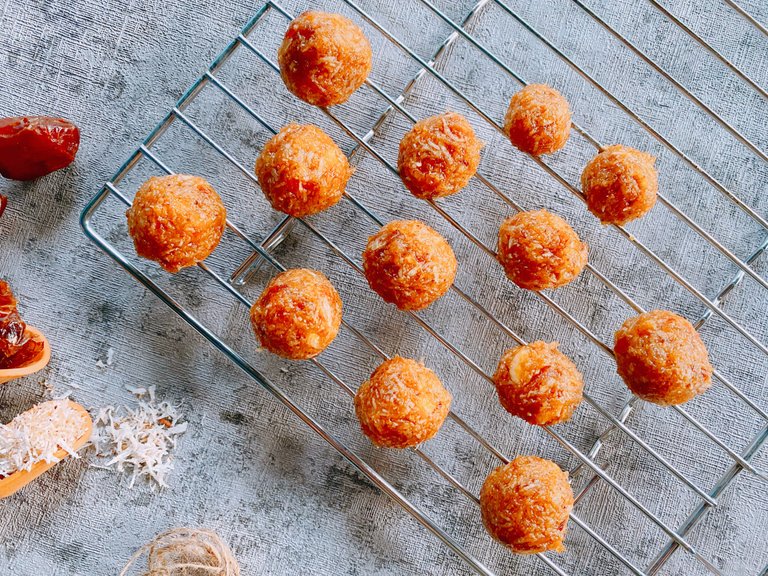 ---
Time to form the dough into balls. They have a smooth texture so be careful when shaping them into balls.
---
---
---
STEP 7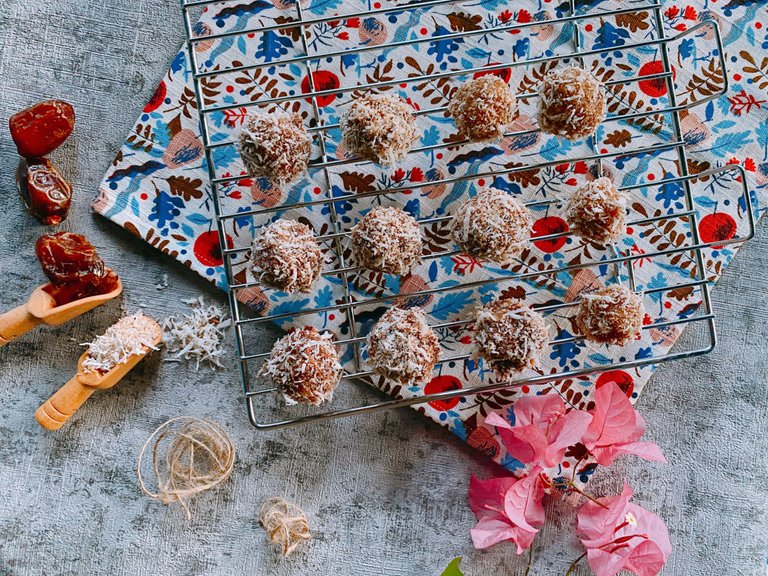 ---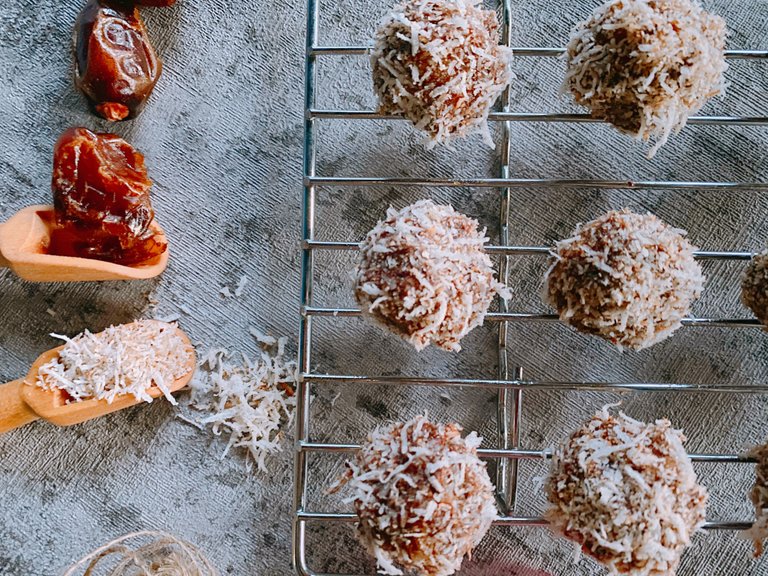 Brush or dip the balls in the Nutella and then roll them in the roasted coconut.
---
---
---
---
STEP 8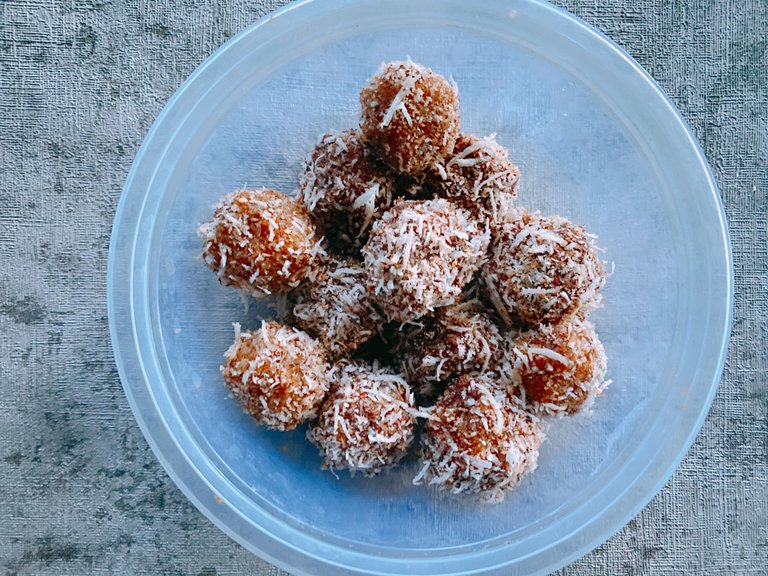 Store in the freezer a few hours before serving so the texture will be pleasing to the mouth!
---
---
---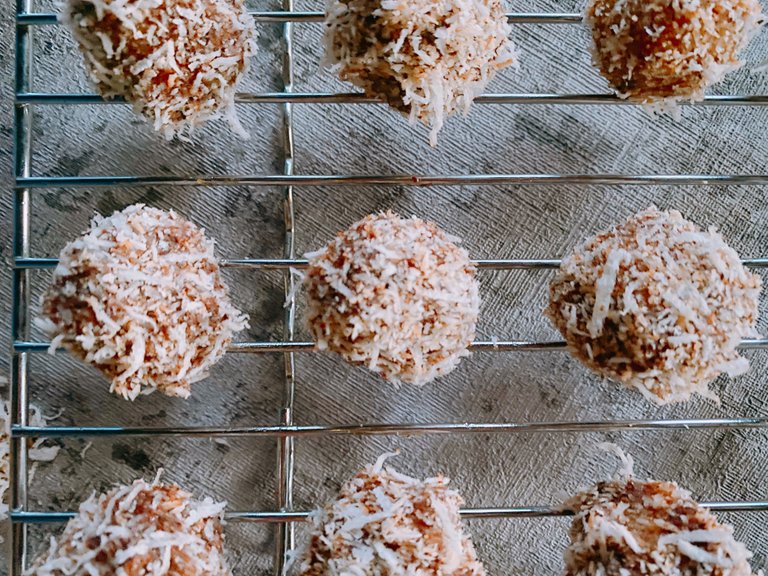 That was how to make energy balls with coconut ingredients, dates, and bananas. I'm so happy I was able to make my first energy balls without a food processor. This is an important achievement for me.
---
---
---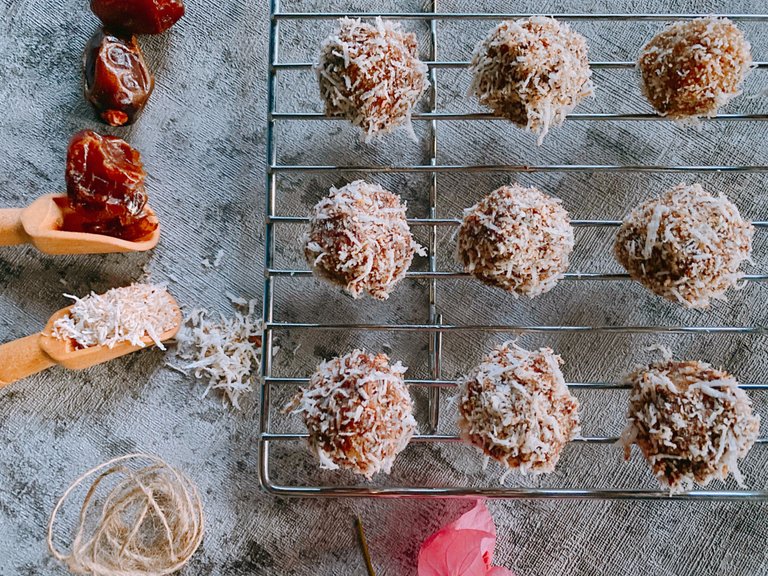 What do you think about my Coconut Dates Energy Balls recipe? Are you interested in trying them out?
---
---
---
Thank you for reading my blog and reblog if you want my blog this time worthy of reading by others.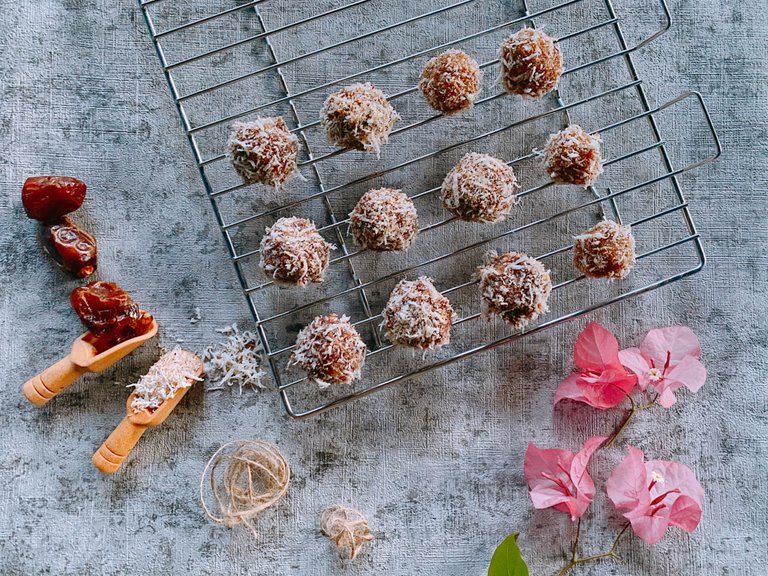 All pictures were my own properties.
---
---
---
Best Regards,
Anggrek Lestari
---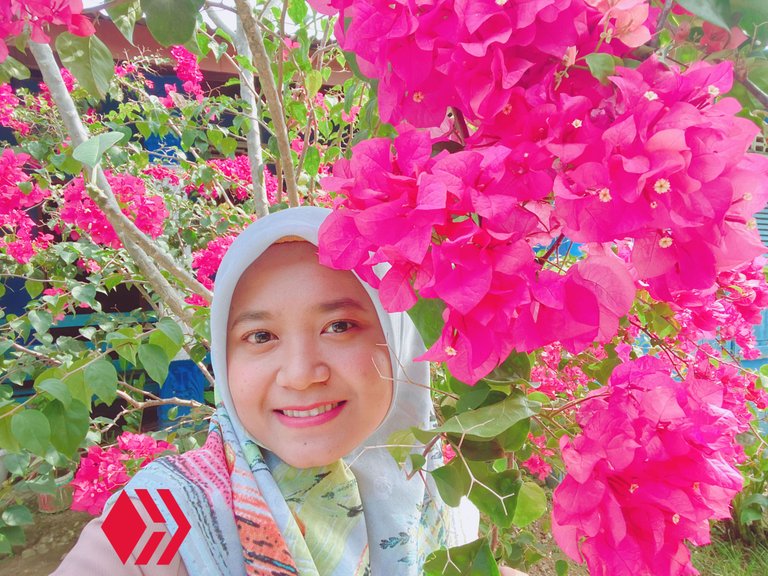 Who is Anggrek Lestari?
Anggrek Lestari is an Indonesian fiction writer who has published two major books. Now She is a full-time content creator. She has a goal to share food content that makes others happy and can get inspiration for foods that are easy to make and contain elements of health.
Make sure you follow her blog as well for some interesting discussions about life other than food.
If you need a copywriter for your projects, Anggrek Lestari will be ready to help you.
Contact Person: [email protected]
Discord: anggreklestari#3009
---
---