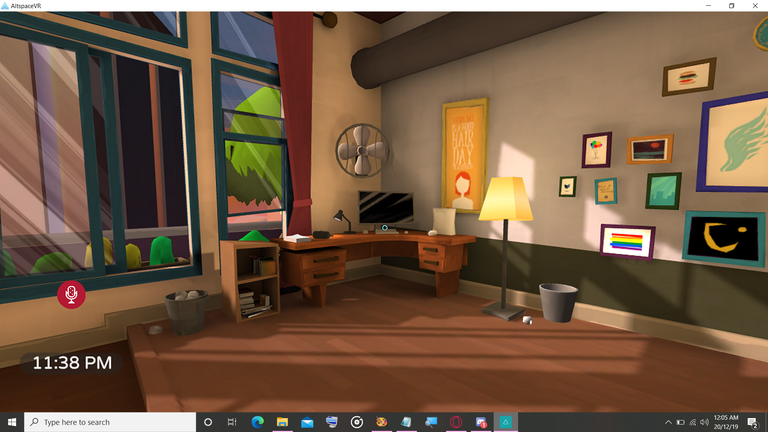 HiveFest this year was a big success and was great fun, too! It was a strange twist of fate that COVID required the event to take place online in 'virtual' space which enabled many of us to attend that would not have otherwise been able. 🙌 This was the fifth year of in-person meetups that have been organized by @roelandp, so the roman numeral "V" for "five" was doubly-appropriate since the event was held in Virtual space! 😁
Before saying anything more, I wish to say, "Thank you!" to @roelandp for organizing these yearly events! It takes much time, work, and dedication to continue this task each year, and I want to be sure that he knows how appreciated he is! 💛
The AltspaceVR software from AltVR.com was delightful and fun to use. Sadly, it was not without bugs, but was still fun. Users who purchased VR-headsets might have had a bit of an enchanced experience, but I found that the "2D Mode" worked quite well and saved money for those of us who are not hardcore gamers.
The view in the above screenshot is a corner of my apartment in AltVR world. The blades on the fan actually rotate! There's a wad of paper on the floor beside the trashcan, and you can actually pick it up and try your luck tossing it into the can. 😂 Outside on the rooftop veranda, there are sofas & chairs and a basketball hoop for shooting basketballs; I wasn't very good... 😜 There were two boxes of fireworks which you can light and launch, watching them explode in the sky. Every so often, a blimp can be seen passing by overhead. And no, I didn't experiement to see what happened if a firework was launched at a blimp... 😱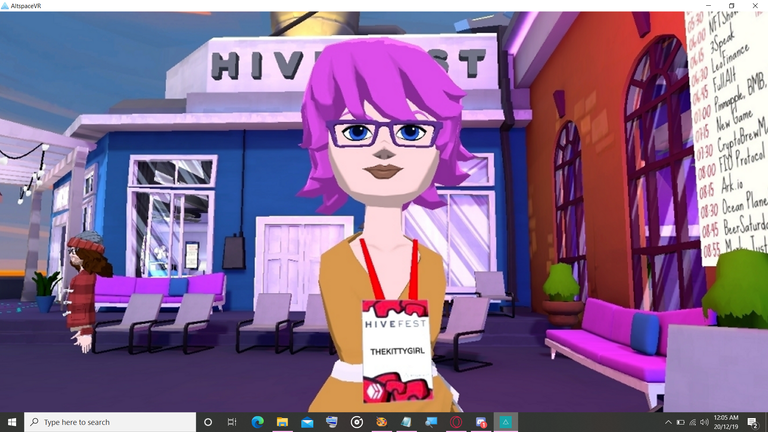 The screenshot above shows my avatar, which is a reasonable representation of what I look like in real life. My hair isn't really pink in real life, though, and I do have arms in real life. Checking-in at a 'Badge Computer' provided a badge for each attendee to wear. The 'Badge Computers' were down, periodically, and one person told me they never worked for him. 😕
Below, one can see the little log cabin that served as the first available 'check-in' spot, with a 'Badge Computer' on the front porch. Smoke was actually billowing out of the chimney of the cabin!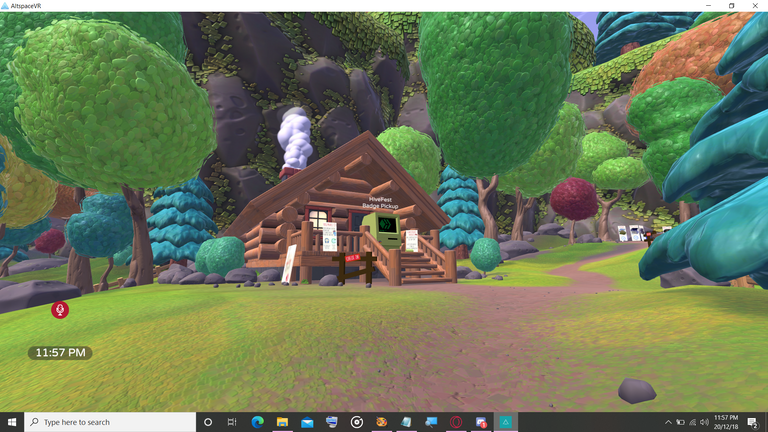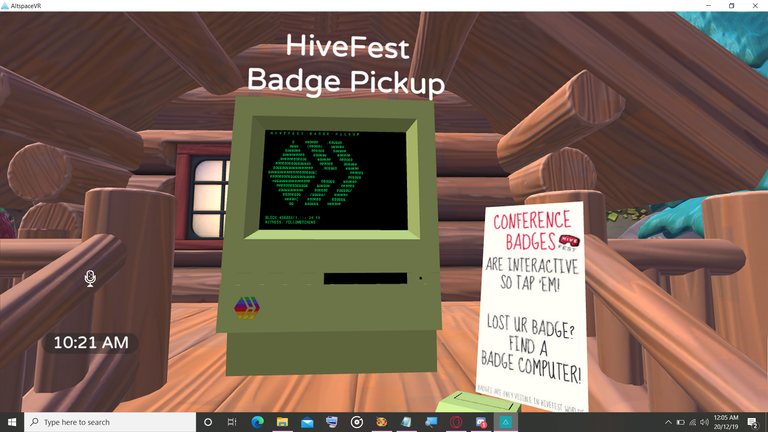 All of our avatars looked like little LEGO-people. From the photos I have seen of some of the folks on Hive, it appeared that most everyone made an effort to customize their avatars to look somewhat like them. That made it easier to recognize people immediately, without having to hover over their avatar to read their name or look at their badge.
@sgt-dan and I met one fellow who isn't even on Hive yet! I think his name was Kostas, or something similar. I imagine he is an avid AltVR user, saw the event, then registered so he could learn more about the Hive blockchain. I though that was really cool! Sarge gave him the scoop on our blockchain, and I think they traded contact info so he could get signed-up. He is seen in the pic below-left talking to Sarge. In the pic below-right is @riverflows and @livinguktaiwan.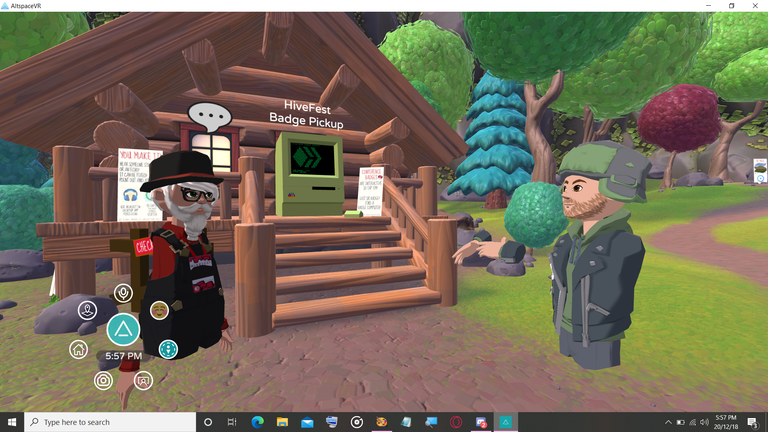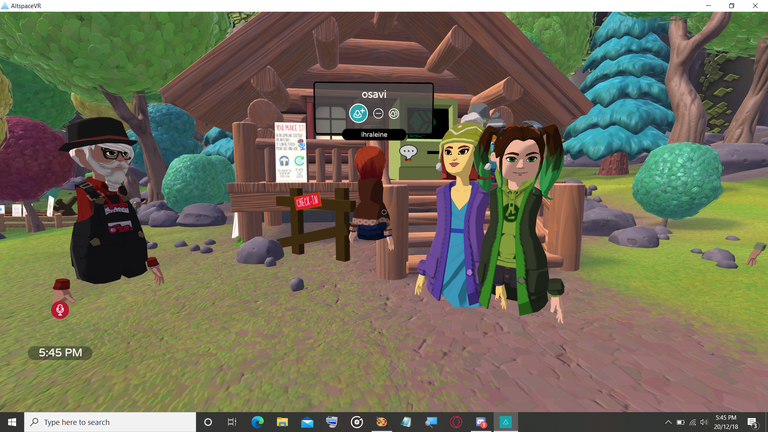 I have talked to @snook quite a number of times in voice-chats on Discord, and talked to Gandalf (@gtg) several times there, too. But, it was very cool to see both of them at HiveFest! @snook is such a sweet and charming lady, always with a great attitude and everything she says is either humorous or inspiring. @gtg is easily one of the hardest-workers on the blockchain and does so much to keep us moving forward, much of it behind-the-scenes. It was also great to "meet" @arcange at HiveFest and talk one-on-one with him! He has always seemed to be a level-headed and hard-working witness and developer on-chain, and has always been one of my favorite people here. 🙂
Funny story... I remember on that other blockchain, the one that @crimsonclad cleverly calls our "legacy blockchain," that all of SteemitBoard HiveBuzz's posts ended with a note that said it was "...a project created by @arcange." So, when @hivebuzz approached me at HiveFest and said, "Hello! You know who I am, right?" I responded with "Yes, I know who you are!" 😉 Then, another person walked up and joined the conversation: @arcange 😮 So, even though @arcange created the @hivebuzz project, I suppose someone else is doing the daily work on it now! It's amazing how many little things one learns, even if one has been on-chain for 3+ years! 😂
This leads me to another frustration with the bugs on AltVR...
In that conversation with @hivebuzz and @arcange, I learned that if one clicked on an attendee's HiveFest badge, a popup menu appears, and one of those options allows you to acknowledge having "met" the person in AltVR space. Meanwhile, your HiveBuzz page is updated to show all the people you "met" and actually talked to during HiveFest. What an awesome idea, for the HiveBuzz page site to keep up with all the folks we met! 😃 I immediately acknowledged that I had met both @hivebuzz and @arcange.
HOWEVER... After we parted company, I went to the LiveStage area and no one had a HiveFest badge on which to click. I clicked on "Re-enter Space" in the menu and there were still no badges. I exited AltVR and restarted the app, and there were still no badges. I even rebooted my computer, and there were still no badges for the remainder of HiveFest. So, my HiveBuzz page will indicate that I spoke with only two Hiveans because of the glitch with the badges. 😞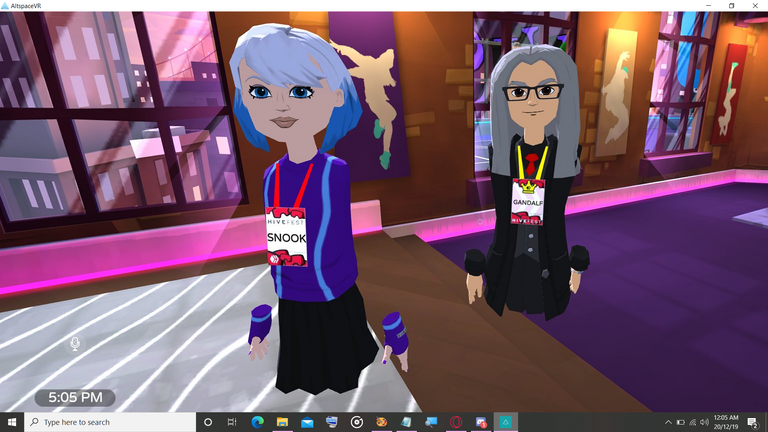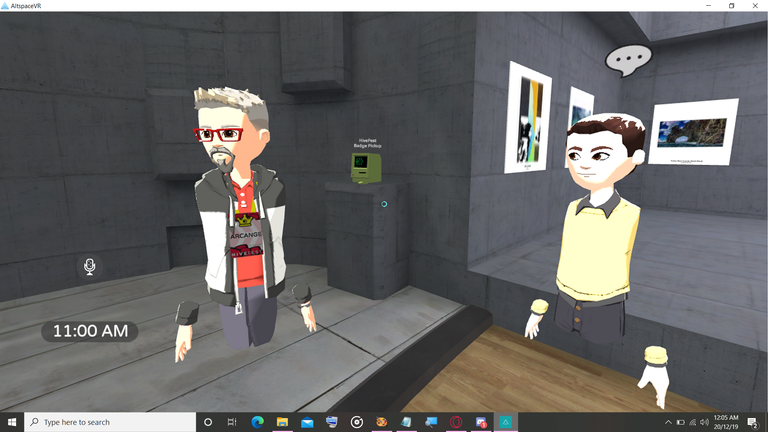 Another cool feature when the badges were working was viewing 'Stats' on each attendee (shown in the pic below-left). One could see how long they'd been on-chain, how much HP they staked, their account name, etc.
Below-right, one can see the campfire burning in The Lobby world, not far from the log cabin. The flames really move and makes a crackling noise like a real fire. Those little touches to the software were awesome!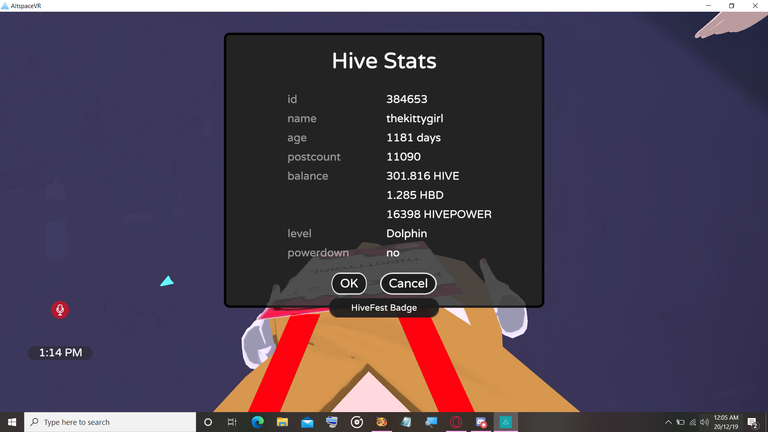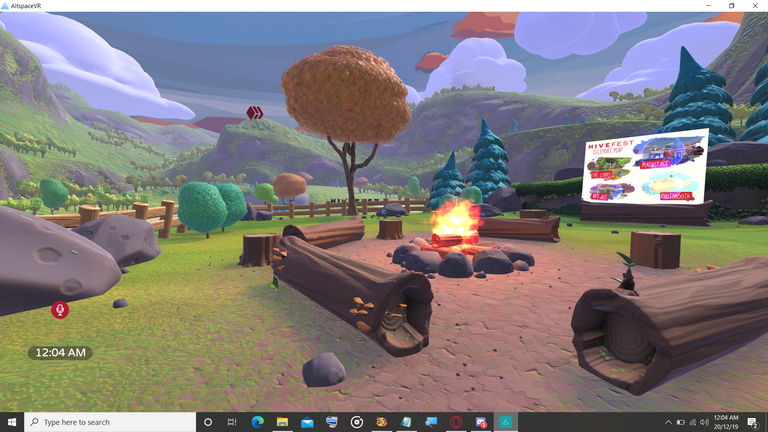 Below-left, one can see a screenshot after one of the presentations. When users applaud, a stream of little "clapping hands" emojis rise up from each person's avatar, providing visual feedback for the presenter, who can easily still be heard if they're speaking. I thought that was a great solution!
Below-right is another selfie I made, mostly to show the diversity of trees in the landscape, both conifers as well as deciduous trees! The designers really did a good job rendering the AltspaceVR environment!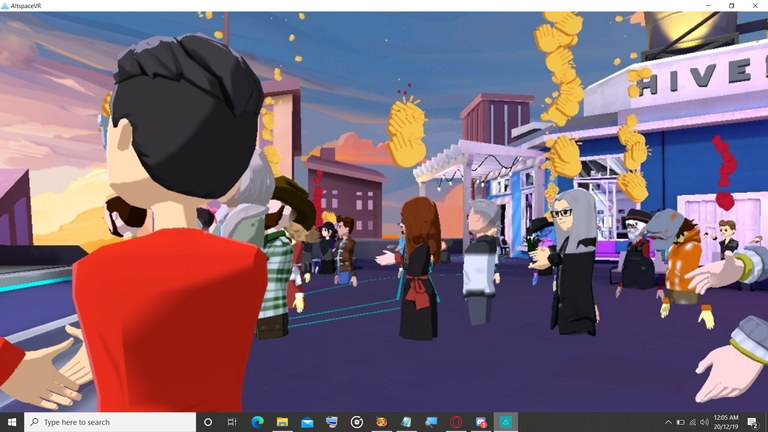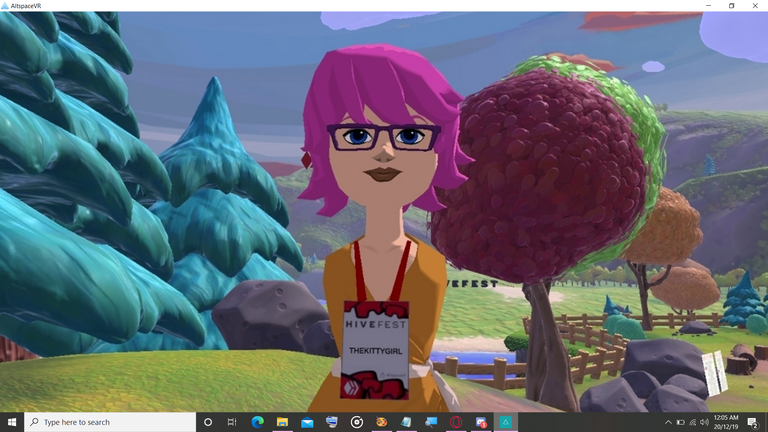 I was able to "meet" many Hiveans at HiveFest and saw many more that I recognized from a distance. Some of the people I saw and recognized were @zord189 @crimsonclad @juliakponsford @gtg @snook @arcange @hivebuzz @traciyork @livinguktaiwan @riverflows @jarvie @asgarth @r00sj3 @silversaver888 @jizzyjoe @enginewitty @c0ff33a @sgt-dan @qwerrie @seckorama @unklebonehead @bambukah and so many more that my head spins! LOL! If I know you and missed you at the event, my apologizes, but I hope you realize with the bugs in the software coupled with the fast-paced schedule of events, getting to everyone is impossible.
It was even harder after the badges stopped working to try to figure out who everyone was. There were also many that I saw and recognized their names but had no direct interactions in the past, and quite a few names I'd never heard in the 3+ years I have been here.
There were many people who were unable to attend and asked to see screenshots of what we saw at HiveFest (such as @wanderingmoon, among others), and I hope this helps to satisfy their curiosity. These shots, of course, will be a good reminder to those who attended, and I hope everyone has enjoyed seeing them!

 😊












21-Dec-2020