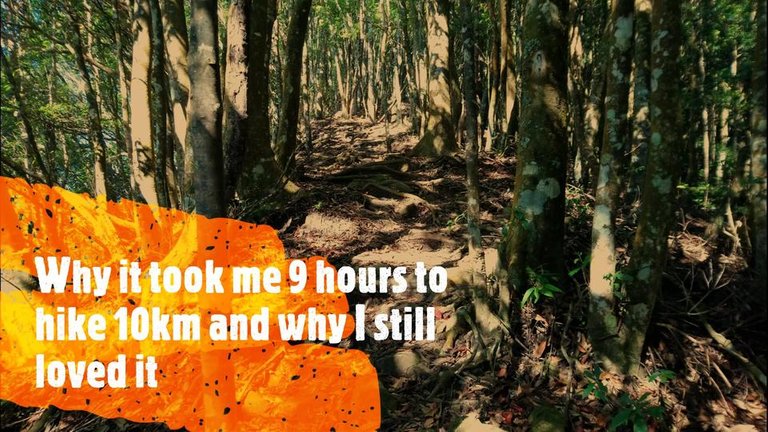 As we were approaching the destination of my most recent hike, I glanced outside and saw a range of mountains ahead of me. The sky was as blue as the sea and there was a cotton wool cloud bobbing above the mountain. It's been a while since I've seen such a welcoming and refreshing sight in the morning.
平常去行山的路上都不會有太多人。這個星期到苗栗縣的鳥嘴山,在停車場已見到大概十台遊覽車。 聽遊客說,大概有50人打算跟我們一樣到山上。 從遠處已聽到他們歡笑的聲音,看來這次爬山必定很熱鬧。

When we got to the car park, it was very busy. Normally the hikes we go to are quite remote, and often we're the only ones up the mountain. There must have been about ten coaches parked here, plus a lot of cars. I subsequently found out six coaches are from the same group on a day out, and about fifty people from the group decided to do the same hike as us. We could already hear them from a distance. This sounded like a fun hike today.

---
NOT FOR THE UNFIT
This hike is to a summit called Niao Zui Shan at Miaoli County in Taiwan. Niao Zui Shan translates to Bird's Beak Mountain in English. It is 1483m above sea level and the car park is just over 500m ASL. To be honest, this isn't a very well maintained trail and not one that's suitable for everyone. It's not the most strenuous, but definitely not a family hike. The initial section involves a bit of scrambling, and you have to use the ropes to heave yourself up.
鳥嘴山海拔1483米高,全程來回10公里。從停車場到山頂要爬升950米, 所以這絕對不是一般家樂徑。 初段有不少部分要拉繩子或徒手爬在樹根往上爬。 我都感到有點兒吃力,何況那一群遊客,我見到有不少是阿姨和伯伯輩。

This section is a lot steeper than it looks. I'm standing just a few steps away from the tree which is at my knee level
This is one hour into the hike. There are many of these little steep climbs. Individually they're not bad, but when you come across a series of them one after another, it can be quite hard work. Somebody kind person carried this up to the mountain to make it easier for everyone.
This is hubby ahead of me. All we have is the rope on the side to help us up
On the way up, I saw many from the group of fifty. Quite a lot of them are elderlies who must be in the 60+ I imagine it will be quite hard work to scramble and pull themselves up the ropes. So hats off to them for getting this far
In my video I walked past another group of elderlies not long after I started the hike. A gentleman was sitting on the ground, I don't know if it was fatigue or whether he had a minor accident as he definitely did not look well. Luckily he was conscious and wasn't far from the car park. I hope he is ok.
---
TARZAN
This section is about 3.5 hours into the hike, distance wise I'm quite near the summit, but height wise I reckon I'm only 2/3 there. There are fewer and fewer people from the group at this point. Many have probably turned back already, with the hard core trekkers marching ahead.
This massive vine is very strong and tough, I gave it a few tugs and it seemed safe for Tarzan. If I wasn't quite tired at this point, and if it wasn't an exposed straight drop on the right, I was very tempted to have a little swing. Maybe another time as I need to save my energy to scramble the last part of the hike.
行了大概3.5小時, 這裏離山峰好像不太遠,但高度還有一大段距離,而且往後的路徑會很陡。 眼前的這條樹藤非常強壯, 我用力拉了幾下似乎很安全, 泰山在也沒問題。 如果我不是開始有點累,如果旁邊不是懸崖峭壁,我真的很想盪幾下鞦韆, 應該很好玩吧!

---
WHERE THERE'S WILL THERE'S LIFE
The amazing about hiking in the mountain is that you witness the strength of life, and how weak us human beings are compared to nature. Perhaps we should learn from nature, to fight against all the odds, and adapt to the environment to survive. Where there's will, we shall always pull through.
在森林裏經常會看到大自然奇妙和頑強的生命力, 在任何環境也可以茁壯成長。

---
A LITTLE MISHAP
Talking about having the will to pull through things, that was definitely needed on this hike.
I mentioned earlier this isn't a family friendly hike. Internet says the hike is 3.5km one way, but I recorded 5km, that's 10km return. And my app says we ascended 950m. It's hard work, but we've done more arduous ones before so this wasn't beyond us.

On the way down, hubby started to lose his energy, like a battery that had gone flat. He had a light lunch, had plenty of water and chocolate, and wasn't unwell or injured or anything. But his legs just started to give away and found it difficult to walk. We had to stop frequently to let him rest and recharge. In the end, it took us 4.5 hours to descend and by the time we got to the trail head, it was already 6.30 pm and dark. We think it's just one of those bad hair days, but he's recovered and is fine now.
今次爬山出了點狀況。 下山時候,老公漸漸發覺能量消耗極快,就像一顆快將沒電的電池。 他已吃過午餐,又有充足的水和巧克力,沒有受傷亦沒有感到不適,不知為何會出現這狀況。 我們要經常停下來,讓他叉電。 結果下山用了4.5小時, 六時半回到登山口時天已黑了。 可能當天他剛遇著極差的狀態,還好現在已經回復體能了。
---
IS IT WORTH THE EFFORT?
Not all sections required such hard work and that's the beauty of this hike. After a scramble, a pleasant welcoming path suddenly appears ahead. It's almost as if I was walking in a park at ground level and not over a thousand meters up in the mountain.

It was very quiet and calm. Even the birds were very quiet. All I could hear was the wind singing occasionally. The air was crisp and fresh, every breath intake reinvigorating myself a little. It must have had a big impact on someone, and they felt so zen to stone stack up here.

Despite everything, the scrambling, the rope climbing, the rowdy crowd, the flat battery, it always feels good to get to the summit. Ok, the view from the summit isn't exactly 360 degrees wow! And I'm not above the clouds like some other hikes I've done. However, sometimes, it's not about the destination. It's the journey of getting there. I think that's what makes it worthwhile.
雖然這次行山出了狀況,路徑有點辛苦,要拉繩子又爬樹根, 但山上的環境真的很舒服。山上空氣清新,偶而經過綠樹成蔭的步道,然後再走到讓人豁然開朗的山徑,很精彩的一天。

---