Pancho Amat, revolución del tres || Pancho Amat, the Tres revolution #mondaymusic

As a lover I have always been of Latin music, of Cuban son and all the variants that have been integrated into salsa, I have always been a follower of the groups that appear to innovate. It was thus that in 1979 I met the Cuban group Son 14, of the extraordinary musician Adalberto Alvarez. His style with such deep traditional roots, but with a modern sound caught me immediately and I became a follower of his music, as did many Venezuelans because in this country the success was enormous.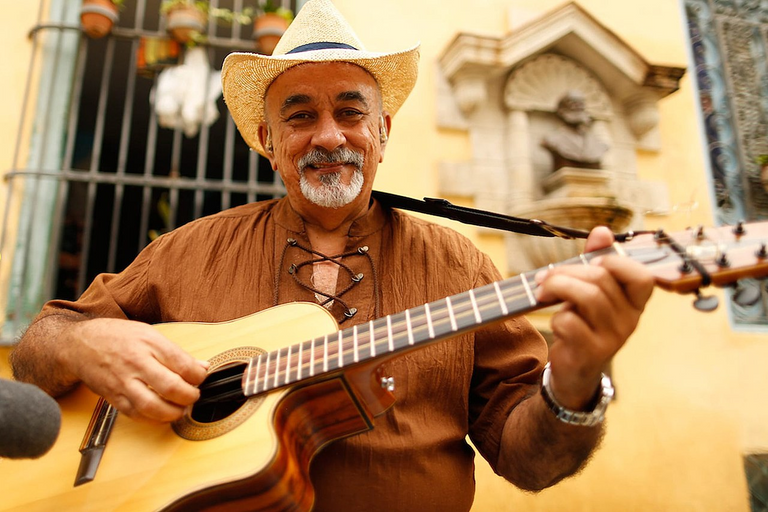 Pancho Amat [ Source - Fuente ]
---
Versión en español más abajo
---
In 1981 they released an album for Venezuela with the same name of the group, Son 14. It included a song that was a resounding success, Son para un sonero, dedicated to all the great creators of this musical genre. In spite of being a danceable song, in the middle of the piece it includes an interlude (without the rhythm) of the most outstanding instrument of the son, the Cuban Tres. The first time I heard it, this "interruption" seemed absurd, but I soon realized that this was a masterpiece, a spectacular solo and that the dancers were not bothered by this little pause. In the second tres solo in the song (this time with rhythm) the singer says: "Play Pancho! So I decided to find out who it was and to my surprise, I already knew his work although without identifying him by name: Pancho Amat.
Leonel Francisco Amat, which is his birth name, is one of the greatest tres players in history. Not only for his interpretative quality, but for the role he has played in the development of this instrument, which has allowed him to transcend frontiers and break paradigms in terms of its use and execution, achieving a revolution for the tres.
Pancho, who graduated from the Ignacio Cervantes Conservatory in Havana, was born in Güira de Melena, for which he has earned the title of "El Rápido de Güira de Melena" (The Fast One of Güira de Melena), due to his virtuosity. However, his studies were in classical guitar. He also studied in Chile, where he had the opportunity to study and work with the most important exponents of the Nueva Canción, such as Inti-Illimani, Quilapayún and where he recorded several times with Victor Jara.
Although Pancho Amat's name did not sound familiar to me at the time I started to investigate, I soon discovered that he was the founder and director of a group that I knew widely, for its Latin Americanist repertoire and deep social and political sense, Manguaré, part of the movement of the Nueva Trova Cubana.
For his magnificent contribution to the dissemination and development of the Cuban tres, as well as his great musical ability as an arranger and performer, Pancho has participated in countless musical projects in which he has deepened the fusion of this instrument so typical of Cuban culture with harmonic and melodic concepts of classical music, jazz, rock and other musical forms. Among some of the international artists with whom he has worked are Joaquín Sabina, Oscar D'León, Pablo Milanés, Rosana, Ry Cooder, Silvio Rodríguez, Víctor Víctor, Yomo Toro, and Víctor Jara.
In 1995 he created his own group with which he is still active today, Pancho Amat y su Cabildo del Son.
Music at the end of the post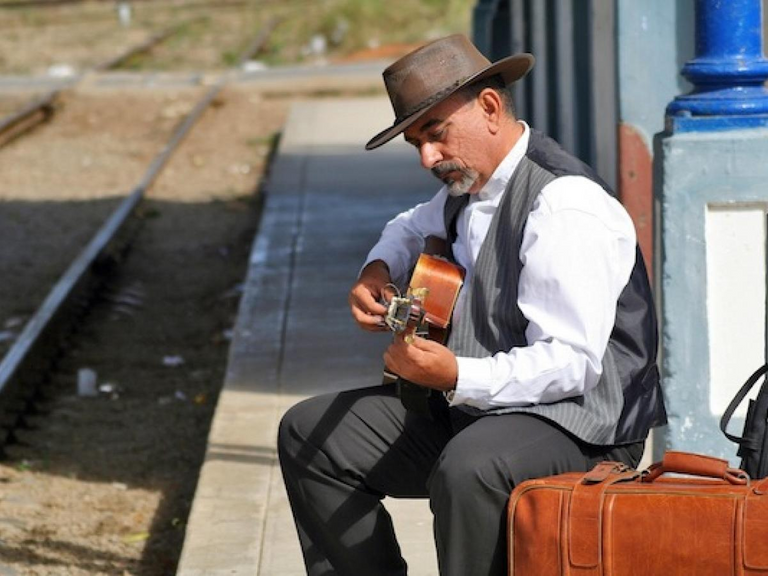 Source - Fuente
Como un amante que he sido siempre de la música latina, del son cubano y todas las variantes que se han integrado en la salsa, siempre he sido un seguidor de los grupos que aparecen para innovar. Fue así como en 1979 conocí al grupo cubano Son 14, del extraordinario músico Adalberto Álvarez. Su estilo de tan profunda raíz tradicional, pero con un sonido actual me atrapó enseguida y me hice seguidor de su música, al igual que muchos venezolanos pues en este país el éxito fue enorme.
En 1981 editaron para Venezuela un disco con el mismo nombre del grupo, Son 14. En él venía incluido un tema que fue un éxito rotundo, Son para un sonero, dedicado a todos los grandes creadores de ese género musical. A pesar de ser un tema bailable, en el medio de la pieza incluye un interludio (sin ritmo) del instrumento más destacado del son, el tres cubano. La primera vez que lo escuché me pareció un absurdo esa "interrupción", pero pronto me di cuenta que se trataba de una obra maestra, un solo espectacular y que a los bailadores no les molestaba esa pequeña pausa. En el segundo solo del tres que lleva la canción (esta vez sí era con ritmo) el cantante dice: "¡Juega Pancho!". Así que decidí averiguar de quién se trataba y para mi sorpresa, ya yo conocía su trabajo aunque sin identificarlo con el nombre: Pancho Amat.
Leonel Francisco Amat, que es su nombre de nacimiento, es uno de los más grandes tresistas que ha dado la historia. No solamente por su calidad interpretativa, sino por el papel que ha cumplido en el desarrollo de este instrumento, lo que le ha permitido trascender fronteras y romper paradigmas en cuanto a su uso y ejecución, logrando una revolución para el tres.
Pancho, quien es egresado del Conservatorio Ignacio Cervantes de La Habana, nació en Güira de Melena, por lo cual se ha ganado el título de "El Rápido de Güira de Melena", por su virtuosismo. Sin embargo, sus estudios fueron de guitarra clásica. También cursó estudios en Chile, donde tuvo la oportunidad de estudiar y trabajar junto a los más importantes exponentes de la Nueva Canción, como Inti-Illimani, Quilapayún y donde grabó en varias oportunidades junto a Victor Jara.
Aunque el nombre de Pancho Amat no me sonó conocido en el momento que empecé a indagar, muy pronto descubrí que fue el fundador y director de un grupo al que yo conocía ampliamente, por su repertorio latinoamericanista y de profundo sentido social y político, Manguaré, parte del movimiento de la Nueva Trova Cubana.
Por su magnifico aporte a la difusión y desarrollo del tres cubano, así como su gran capacidad musical, como arreglista y ejecutante, Pancho ha participado en infinidad de proyectos musicales en los cuales ha profundizado la fusión de ese instrumento tan propio de la cultura cubana con conceptos armónicos y melódicos de la música clásica, del jazz, el rock y otras formas musicales. Entre algunos de los artistas de proyección internacional con quienes ha trabajo destacan Joaquín Sabina, Oscar D'León, Pablo Milanés, Rosana, Ry Cooder, Silvio Rodríguez, Víctor Víctor, Yomo Toro, y Víctor Jara.
En 1995 creó su propia agrupación con la que sigue activo actualmente, Pancho Amat y su Cabildo del Son.

Son para un sonero - Son 14
---
Concierto Estamos Contigo: Pancho Amat y su Cabildo del Son (Concert)
---
CIMAFUNK - El Potaje ft. Omara Portuondo, Chucho Valdés, Pancho Amat y la Orquesta Aragón
---
The Great Pancho Amat No.7 | Tres Cubano | Cuban Tres

---

Music community logo by @ikasumanera | Banner by @equipodelta


@ylich
http://ylich.com
https://sptfy.com/ylich
---
If you don't have an account at Hive yet, I invite you to read my post My Hive Testimony || Mi testimonio Hive
Si aún no tienes cuenta en Hive te invito a leer mi publicación My Hive Testimony || Mi testimonio Hive
---
---