Hive Open Mic Week 146 - Just the two of us (Salsa cover)
---
Just the two of us
"Union" is a very broad term and there would be many ways to approach it, however, I wanted to refer to one of the most basic forms, as is the union between a man and a woman, a union longed for from an early age and that lasts over time, even though it may change the way it is perceived. The desire to be or stay together with the loved one "building castles in the sky", as the lyrics of the song I share with you today say.
This song belongs to a Grover Washington Jr. album, recorded in the voice of Bill Withers, who also co-authored the song, along with William Salter and Ralph MacDonald.
Although I have never been very fond of English repertoire, I remember that the first time I heard this song, I went straight out to buy the record, because I loved it.
These days I have been thinking of recording many more salsa songs on Hive and I happened to discover that the salsa arranger and producer, Loui Ramirez, had made a salsa version of this song with lyrics in Spanish.
Since one of my goals in this Latin music genre is to help break the paradigm that salsa should only be sung in Spanish, I decided to use that version, but sing it in English. Of course, since the chorus is sung in Spanish and my English is not good enough to improvise in that language, I sang the improvisations in Spanish.
By the way, most people who do salsa covers sing the same improvisations as the original singers, but in order for me to take on the challenge of creating my own improvisations, I didn't want to listen to the ones in the song that was sung vocally by Ray de la Paz. So those verses are mine, born as part of my performance.
This wonderful song is my entry to the Hive Open Mic, week 146.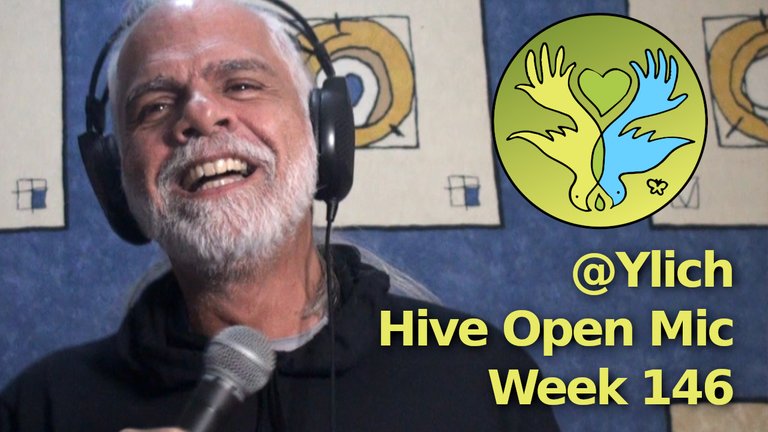 "La Unión" es un término muy amplio y habría muchas maneras de enfocarlo, sin embargo, quise referirme a una de las formas más básicas, como lo es la unión entre un hombre y una mujer, una unión anhelada desde temprana edad y que perdura en el tiempo, a pesar de que pueda cambiar la forma de percibirse. El deseo de estar o permanecer junto a la persona amada "construyendo castillos en el cielo", tal como lo dice la letra de la canción que hoy comparto con ustedes.
Esta canción pertenece a un disco de Grover Washington Jr., grabado en la voz de Bill Withers, quien también es coautor del tema, junto a William Salter y Ralph MacDonald.
Aunque yo nunca he sido muy aficionado al repertorio en inglés, recuerdo que la primera vez que escuché esta canción, salí directo a comprar el disco, pues me encantó.
En estos días he estado con la idea de grabar muchas más salsas en Hive y casualmente descubro que el arreglista y productor de salsa, Loui Ramírez, había hecho una versión en salsa de esta canción y con letra en español.
Como uno de mis objetivos en este género musical latino es contribuir a romper el paradigma de que la salsa solo debe ser cantada en español, yo decidí usar esa versión, pero cantarla en inglés. Claro, como el coro está cantado en español y mi inglés no es tan bueno como para ponerme a improvisar en ese idioma, las improvisaciones las canté en español.
Por cierto, la mayoría de las personas que hacen covers de salsa, cantan las mismas improvisaciones que los cantantes originales, pero para yo asumir el reto de crear mis propias improvisaciones, no quise escuchar las de la canción que fue interpretada en la parte vocal por Ray de la Paz. Así que esos versos sí son míos, nacidos como parte de mi interpretación.
Esta maravillosa canción es mi entrada al Hive Open Mic, semana 146.

Lyrics || Letra
I see the crystal raindrops fall
And the beauty of it all
Is when the sun comes shining through
To make those rainbows in my mind
When I think of you sometime
And I wanna spend some time with you

Just the two of us
We can make it if we try
Just the two of us

Just the two of us
Building castles in the sky
Just the two of us
You and I

We look for love, no time for tears
Wasted water's all that is
And it don't make no flowers grow
Good things might come to those who wait
Not for those who wait too late
We gotta go for all we know

Just the two of us
We can make it if we try
Just the two of us

Just the two of us
Building castles in the sky
Just the two of us
That's you and I

I hear the crystal raindrops fall
On the window down the hall
And it becomes the morning dew
And darling when the morning comes
And I see the morning sun
I wanna be the one with you

Just the two of us
We can make it if we try
Just the two of us

Just the two of us
Building castles way on high
Just the two of us
You and I

* Solos tú y yo, mi vida
Solos tú y yo

Eres tú mi consentida y por eso
te canto esta canción de amor

Sueño estar solo contigo,
Haciendo castillo en el cielo los dos

Solos tú yo yo….

Ray de La Paz así lo cantaba
Ahora te lo canta El Ruso, ahora te lo canto yo

Que cante el coro y vamos pa'l mambo
que te traigo rumba, son y guaguancó

Wasted water's all that is
And it don't make no flowers grow

We can make it if we try
Building castles in the sky

Ya con esta me despido
con esta canción les digo adiós



Vote la-colmena for witness
By @ylich
---
▶️ 3Speak
---
---