Most Photogenic Districts in Tbilisi, Georgia. City Review (20 Images)

I have spent, probably, a year and a half in Tbilisi altogether. I visited the capital of Georgia in the 1980s for the first time. But I hardly remember anything since I was a child. As an adult, I used to come in 2010s many times. In 2022-2023, I lived more than 4 months there.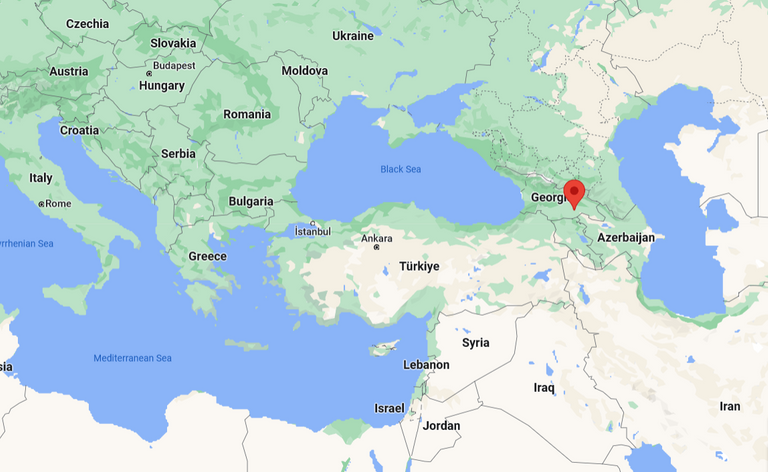 Tbilisi, Georgia on Google.Maps
I lived at my relatives' places, guesthouses, and hostels. I explored most districts of the city, and I'd like to share the top photogenic areas I've discovered.
Metekhi
Metekhi is one of the oldest areas of Tbilisi. Probably, as ancient as the city itself. It means very old - Tbilisi was founded in 455 AD.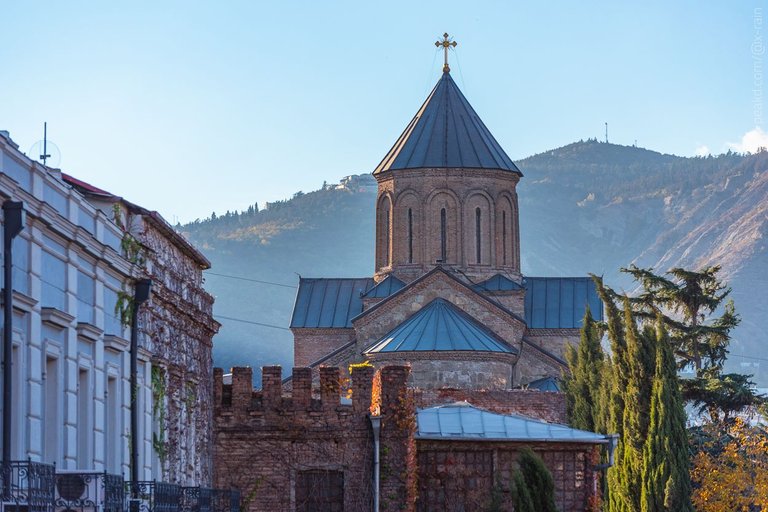 Its main landmark is Metekhi Church (founded in the 13 century) standing on a steep rock over the Kura River. The temple and its garden have preserved the spirit of antiquity and the feeling tranquility, unlike many places in old Tbilisi.
Palace of Queen Darejan is another prominent building there: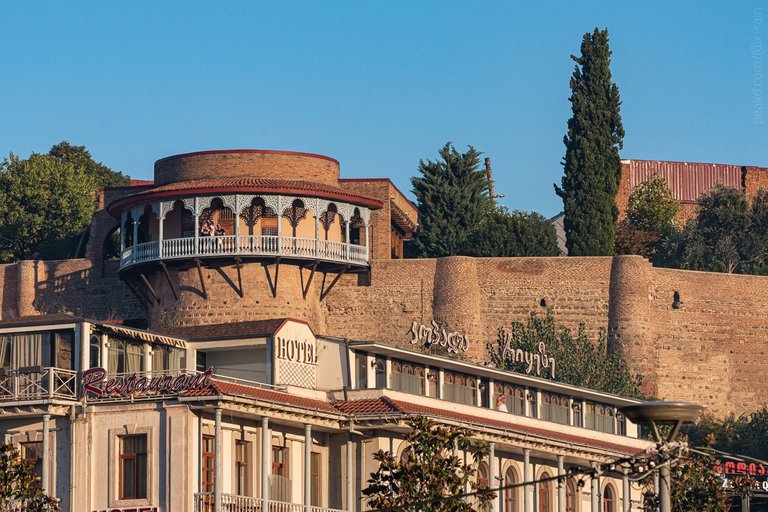 Constructed in 1776, it bears elements of the Iranian architectural style.
A rocky bank of the Kura River in Metekhi historically hosts dense urban development.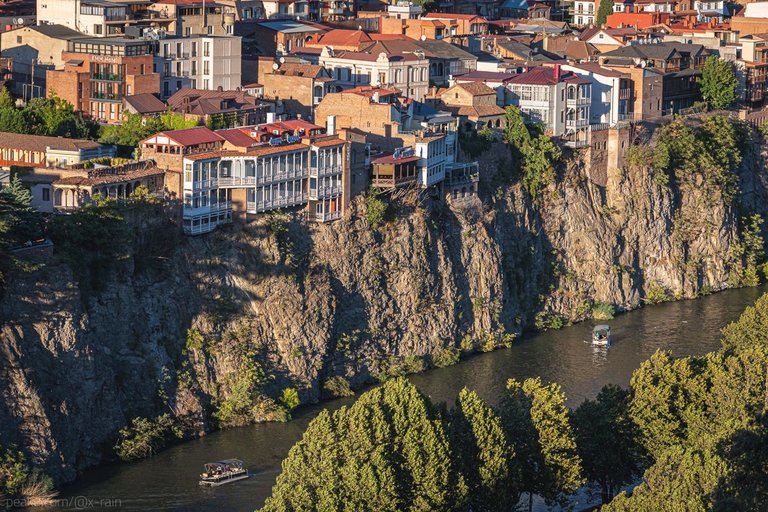 These carved balconies are a typical feature of old Tbilisi architecture.
Today, hotels and restaurants are in these renovated buildings.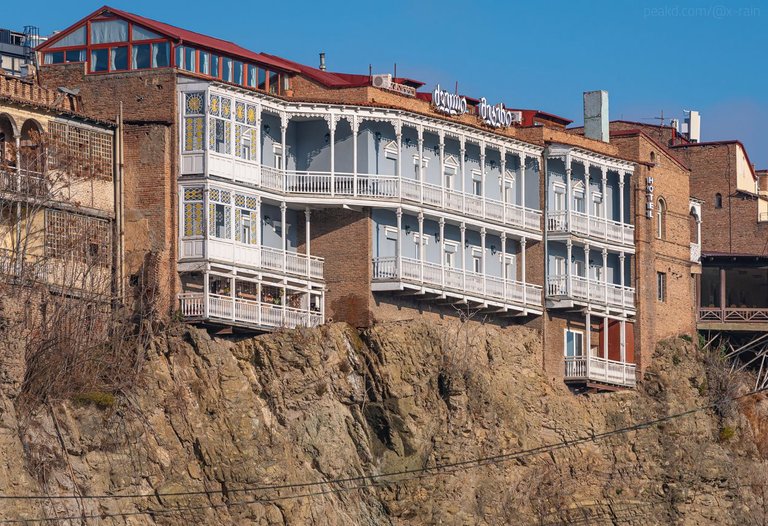 Probably, the most appealing building there, Hotel Old Metekhi.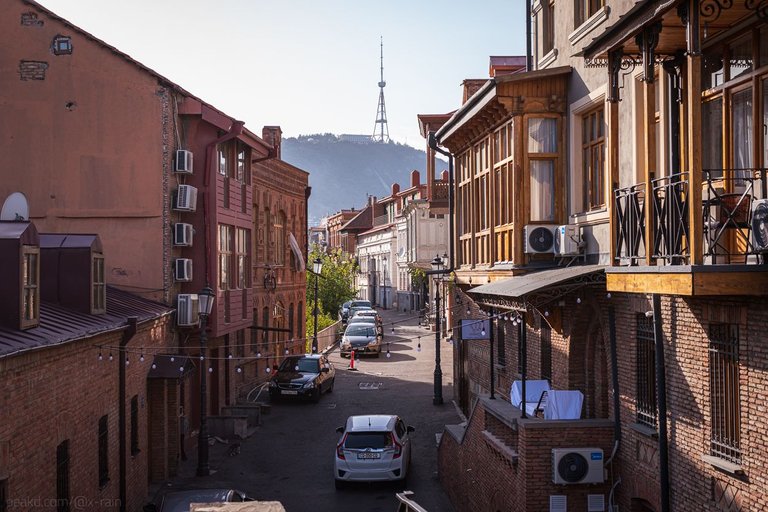 Viktor Jorbenadze Street looks a bit doll-like but the bad weather will gradually give it a more natural look.
Happily for a photographer, there are several lanes that still retain a non-tourist appearance.
Metekhi, especially its upper yard, offers stunning night views of the city's main fortress, Narikala: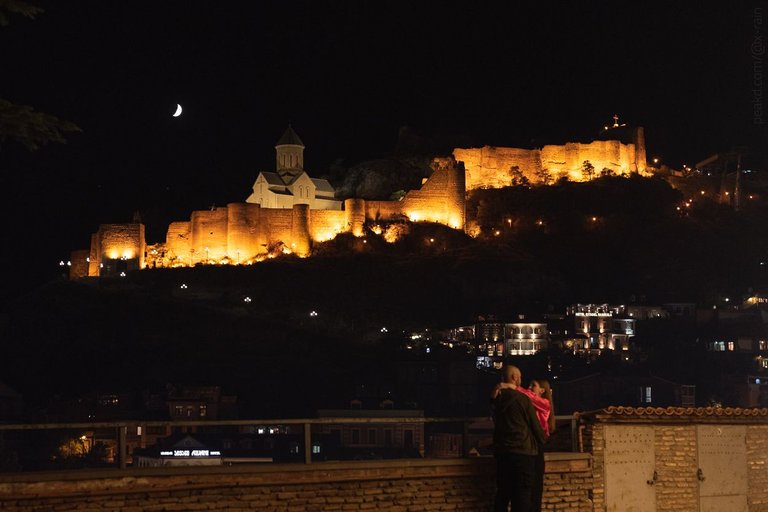 Sameba and Surroundings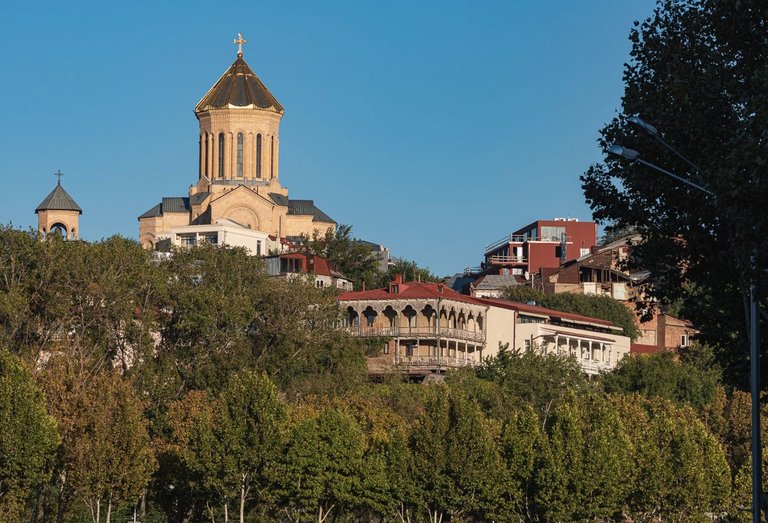 This area is adjacent to Metekhi, and they together form Avlabari district.
Sameba or Holy Trinity Cathedral of Tbilisi is the main cathedral of the country. It was opened in 2004 so it's a baby comparing, for example, to the most ancient temple of the city, Anchiskhati (6 century AD).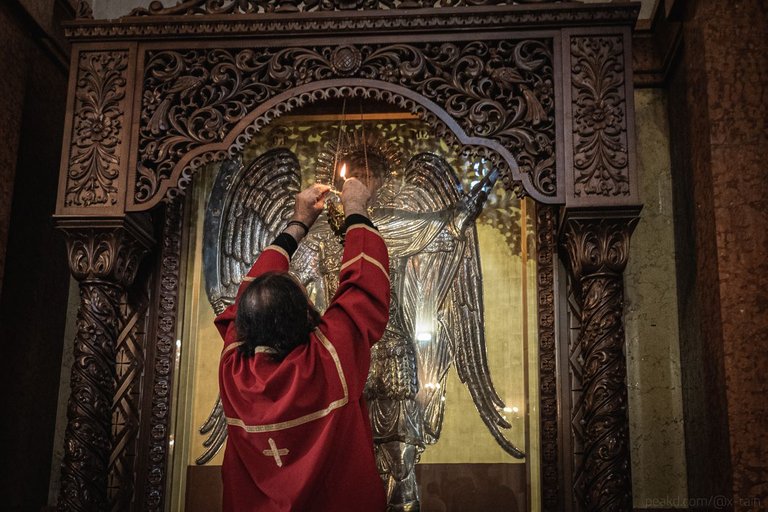 Nevertheless, Sameba is the center of religious life of Georgia and you can witness Orthodox Christian traditions there in its full extent especially during religious holidays.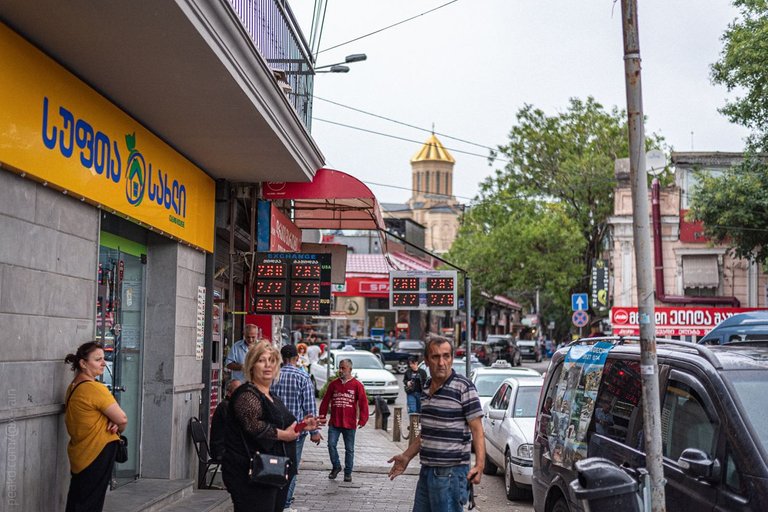 Tourism has also penetrated into this neighborhood too but, still, this is the only corner of historical Tbilisi where the old way of life still prevails.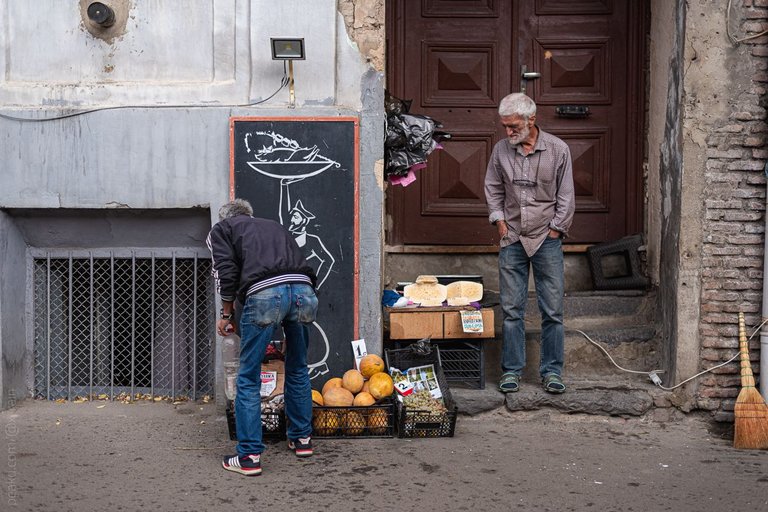 Street scenes, shabby historical buildings, old private 1-2-storey houses, gardens full of fruits, this is what I found in this corner of Tbilisi. Visiting Metekhi area which I described above can complement the walk.
One of my fruit posts largely appeared due to the surroundings of Sameba:
Check my another black-and-white photo post from Avlabari:
Old Town (Kala) + Abanotubani
Once, it was a crowded Medieval city of nobility, artisans, and merchants hidden behind the city walls.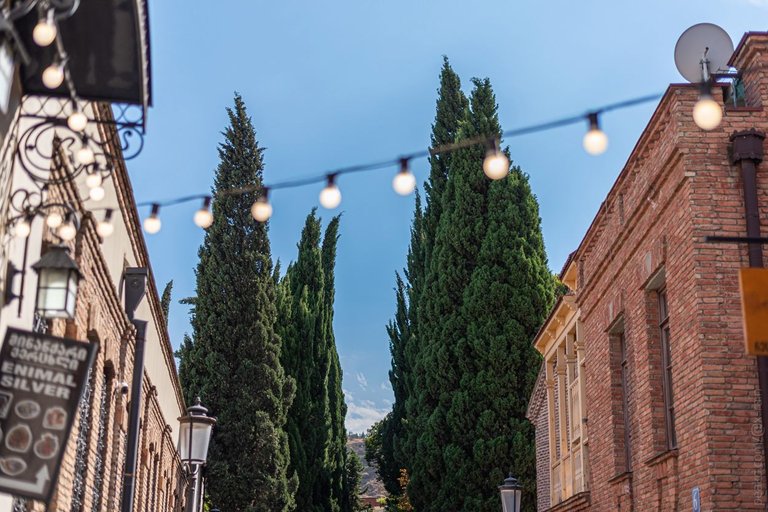 Today, the whole area works for tourism. Some corners look, though not authentic and slightly eclectic, but cute, like the most visited lane, Ioane Shavteli Street (in the two images above).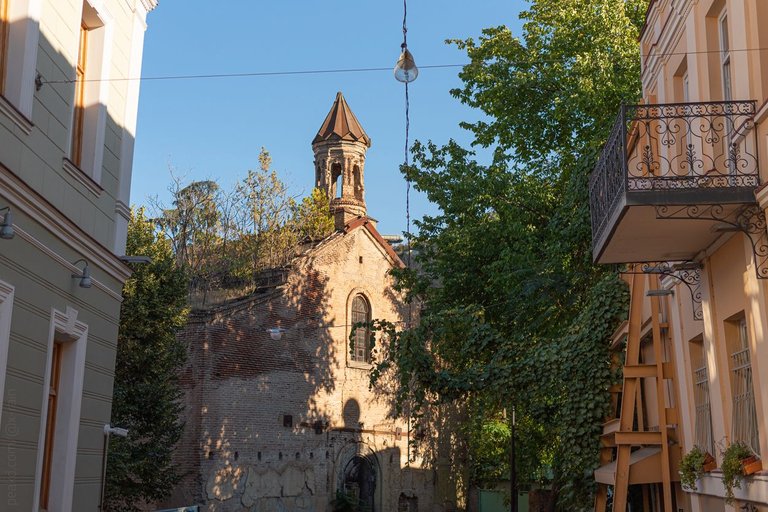 There are lovable corners and buildings in the old town like this ancient church.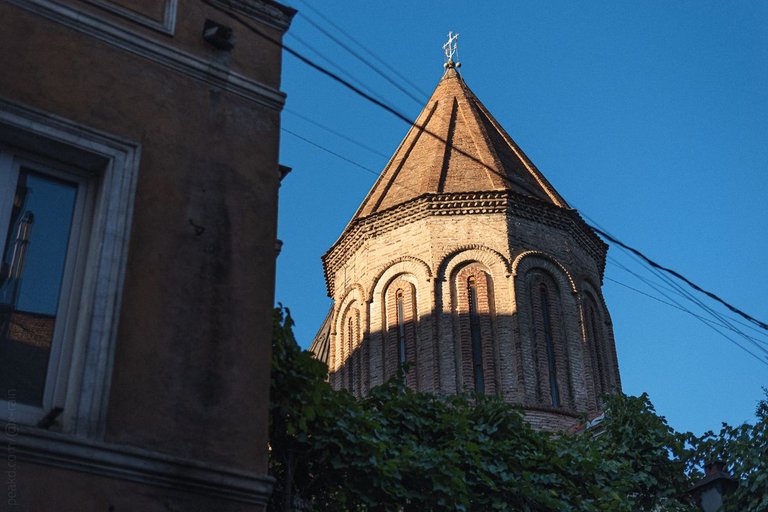 But, overall, the feeling of antiquity and real life has been lost there. There is a feeling that you are not in an ancient city but in a cardboard imitation. And it would be great if this imitation was finished. Instead, construction fences and skeletons of unfinished buildings jut out here and there. Erelke II Street, densely occupied by restaurants with outdoor tables and numerous flower pots, is neither romantic nor cozy. Buildings of the ugliest kind line the biggest artery, Kote Afkhazi Street. Jan Shardeni Street has acquired such a negative reputation, thanks to years of fraud against tourists, that it is scary even to walk there. Beautiful Sioni Cathedral looks like it stands in the center of tourist hell.


Scam street - avoid - Review of Shardeni Street, on Tripadvisor. From Google search
Abanotubani is a historic district of bathhouses. Worth visiting for sure but the general impression of it is the same: it has been spoiled by tourism.
Narikala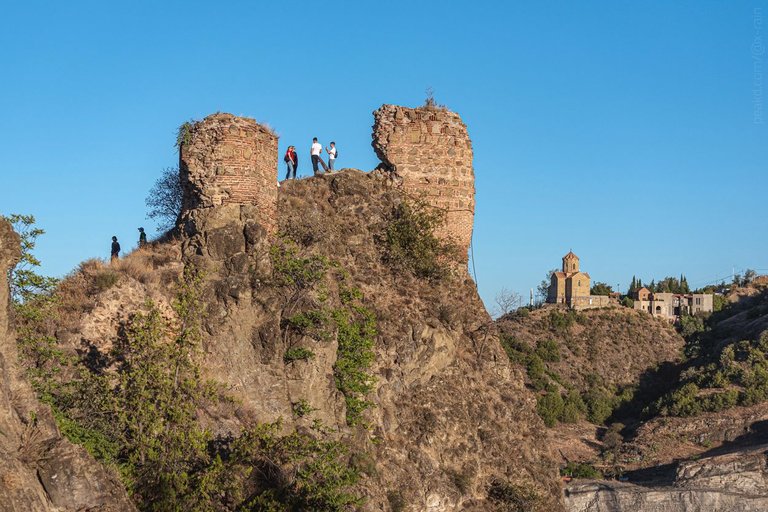 Narikala was the citadel of Tbilisi, the fortress within the city walls. Nowadays, it's usually crowded by visitors climbing from the old town streets or going up the cable car.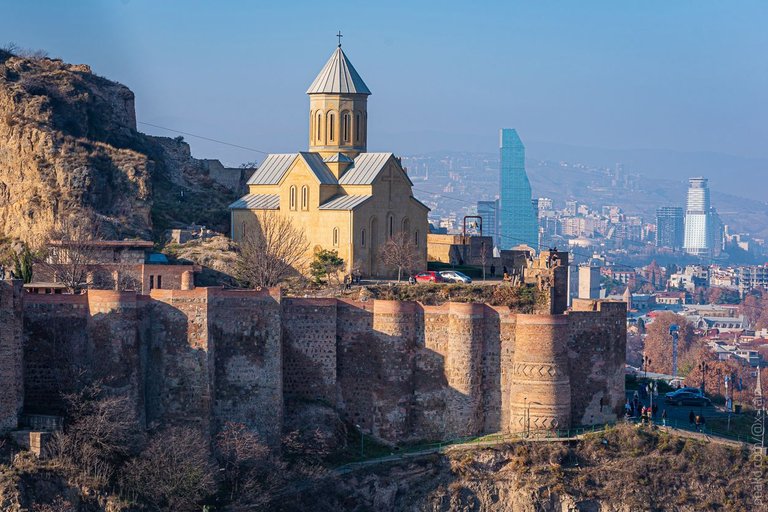 The fortress hosts Saint Nicholas's Church.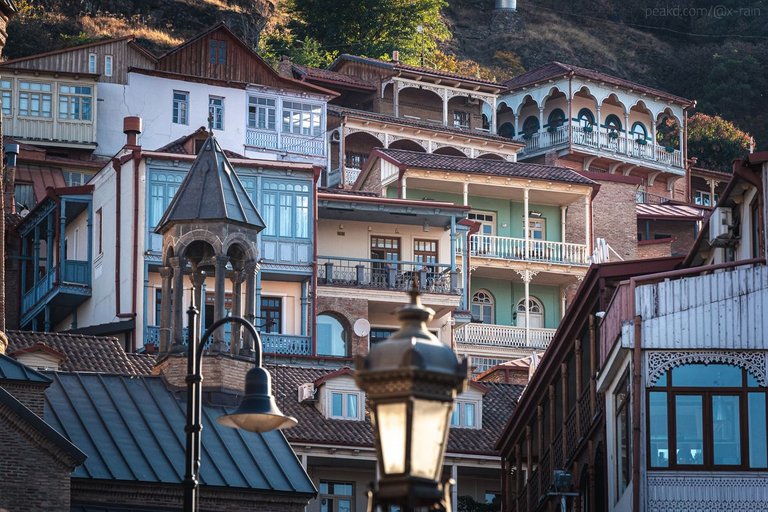 The Northern slope of the Sololaki ridge where the fortress is located is taken by dense renovated neighborhood at the service of the tourism industry.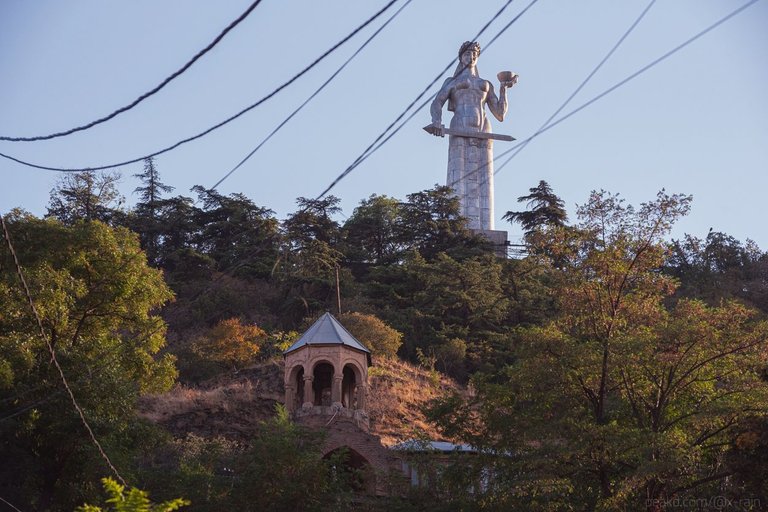 Kartlis Deda monument (1958) is another landmark of the ridge, a view from Betlemi Rise (on Google.maps). Betlemi Rise is a narrow pathway with staircases all along the Northern slope with great panoramas of the city (and abundance of cats) connecting the old town and the Sololaki ridge. This is one of the best routes in Tbilisi, the most tranquil and romantic. As a continuation, you can go down from the ridge to the botanical garden.
From Narikala and the Sololaki ridge, you can see the old town in full view. Those who have telephoto lens can also take pictures of newer districts of Tbilisi: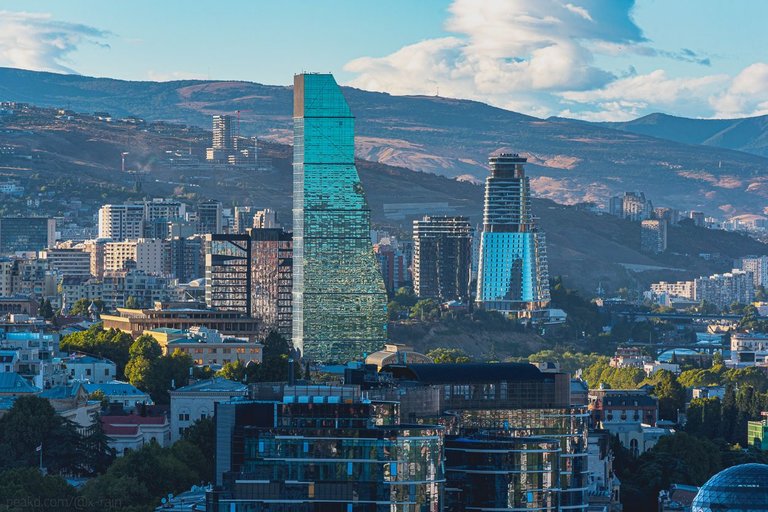 Other Areas Worth Mentioning
Sololaki with its old luxurious buildings in disrepair; its Lado Asatiani Street is a better alternative to the old town for those who would like to find a beautiful restaurant in the romantic old-and-shabby city settings.
Metro Akhmeteli Teatri (Gldani) can be a good location for street photography focusing on everyday life of Tbilisians without flavor of tourism; a big market there with better vibes than the central one (Dezerter Bazaar).
Didube bus station and market, a living museum of the 1990s, can be a location for street photography focusing on the most decadent forms of the city life. Though this is the ugliest place in the city, you can find the most curious details and characters for photography.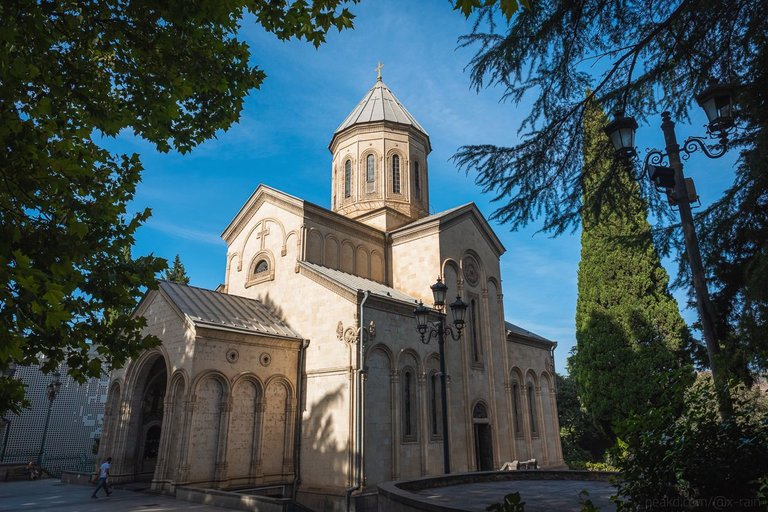 Kashveti St. George Church on Rustaveli Street
Rustaveli (Rustaveli metro) and David Aghmashenebeli (Marjanishvili metro) Avenues are two bustling city centers. Chavchavadze Avenue (Vake district) is a hub for modern-looking shopping malls (though not so lively) and brand shops.
Every corner of Tbilisi can open up an interesting angle of life like the one I found in Ortachala district.
Check out some other posts of mine from Tbilisi:
I took these images in autumn/winter 2022 with Nikon D750 and Nikkor lenses (70-300mm, 50mm, 24mm).
---
---