Graffiti Lettering Contest #9 (XMAS) - 100% Liquid Payout + 400 ECENCY Points + 2 HIVE

Hello HIVE
Hope you all doing all right
Welcome to the my first official contest

The Graffiti Lettering Contest
Shout out to @failingforwards for providing us this nice header for the meantime! Really appreciated! Thanks a lot!
---
I'm planning to do an official "Graffiti Lettering Contest" graffiti as a main logo at some point, but if anyone feeling fancy giving it a go or doing some digital art for it feel free to do so and I'll be happy to have a look and maybe use it as our main logo!
So get creative people 😎
---
#8 Ranking and Prizes
Here I will post the Ranking for our previous run (#8) and proof of Prizes Distribution 😁
The liquid payout of the #8 post was 4.40 HBD and we also had 400 ECENCY points sponsored by @melinda010100 Thanks 😎
Prizes Distribution: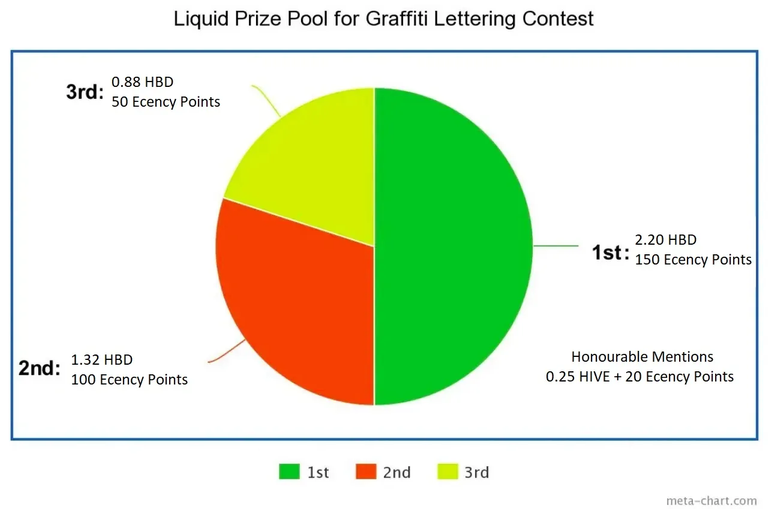 Proof of Post Payout:

Ranking
We had 5 participants this week, but there were 6 really, unfortunately @rilo did not tag me nor commented under my #8 post and I completely missed his entry, I will still send him his prize for a honourable mention, sorry about this @rilo, next time make sure to either tag me in your post or comment your work under the main contest post! 😁
1️⃣ @mazquel(6 votes) - 2.20 HBD + 150 ECENCY Points
2️⃣ @ran.koree(5 votes) - 1.32 HBD + 100 ECENCY Points
3️⃣ @gaboamc2393 (5 votes) - 0.88 HBD + 50 ECENCY Points
PS: For the 2nd and 3rd place we had some ties here! Me and my girlfriend had to drop some votes to get the ranking, @ran.koree, @mimi05, and @gaboamc2393 all had 5 points each, so we both voted for @ran.koree to get the 2nd and she really liked the hamburger drawing the FAT lettering so the 3rd place will go to @gaboamc2393, for you @mimi05 I will send you 0.35 HIVE and 35 ECENCY points to reflect the fact that you were competing for 2nd and 3rd so you deserve a bit more than the honourable mentions!
Honourable mentions:
✳️✳️ @mimi05 (5 votes) - 0.35 HIVE + 35 ECENCY Points
✳️ @andre-marg25 (3 votes) - 0.25 HIVE + 20 ECENCY Points
✳️ @rilo (N/A) - 0.25 HIVE + 20 ECENCY Points
---
---
Proof of Payment: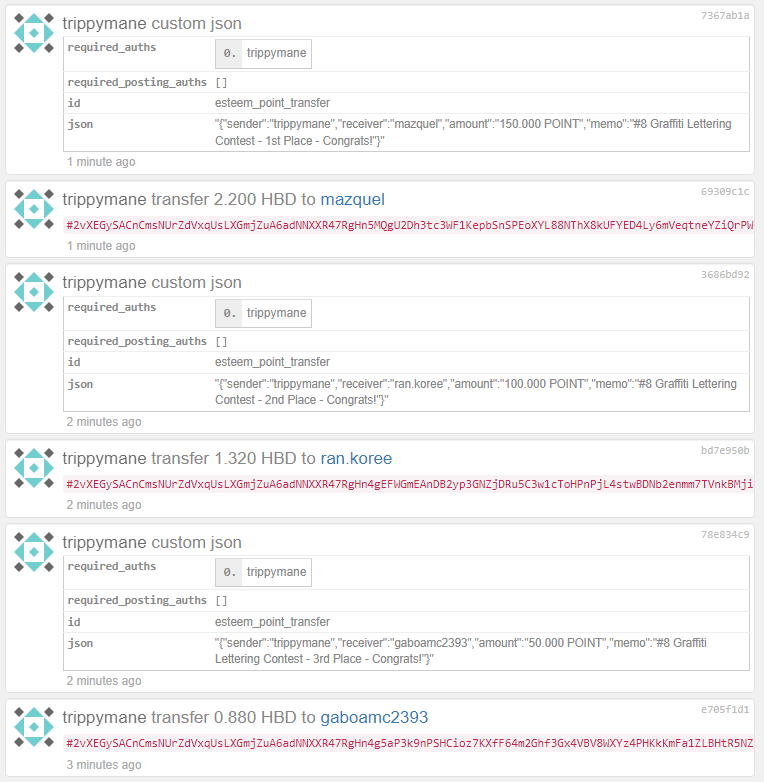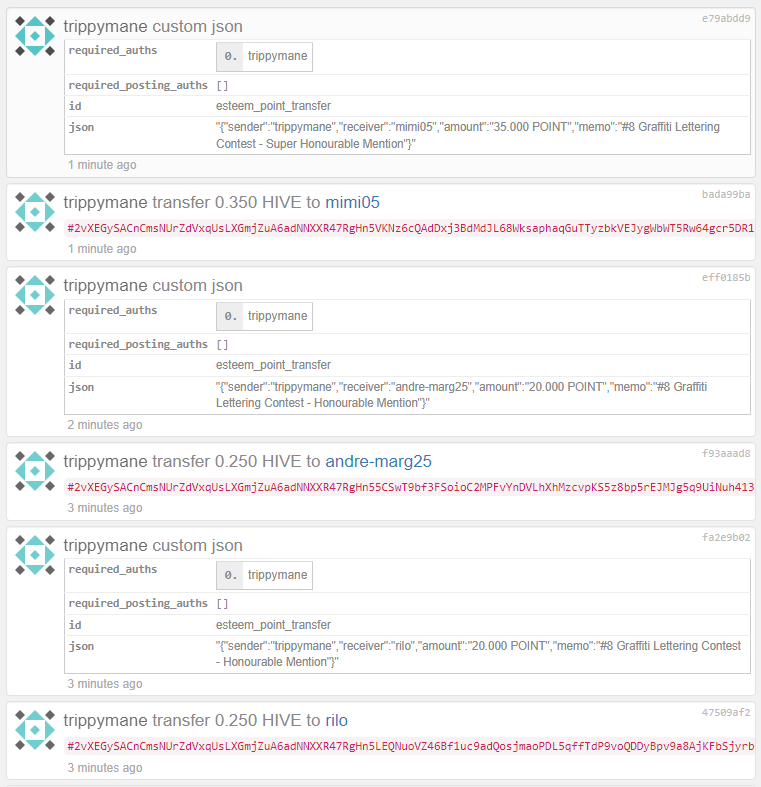 I'm not showing it here but probably you noticed my mistake @gaboamc2393 ahahaha 😂 so you got 0.001 HBD extra lol
To all the participants! Make sure to login using ECENCY so you can use the points I sent you! They can be used to boost or promote the posts! If you never used ECENCY a great starting point to get some info about it is their Discord Server
---
Congrats, and thanks for your participation 🤩 Cheers 😎
---
I will post here a list of people who I think could appreciate the contest, people who helped and supported me in the idea and friends. I will also add any future participants and winners.
I will do this also as a reminder, I personally appreciate it when I get tagged in contests that I usually participate in, but if anyone prefers not to get tagged please let me know and I will remove your name from the list.
Let me know also if you want to get added to this list! Cheers
@wesphilbin @stayten @catword @moon-city @failingforwards @brittandjosie @thekittygirl @heroldius @digi-me @gaboamc2393 @nineclaws @trincowski @ryzeonline @deepresearch @macchiata @qwerrie @yems @ran.koree @zolajade @mimi05 @rilo @latinocaracas @alovely088 @andre-marg25 @melinda010100 @mazquel @tommyl33 @dirtnowitzki @ramisey @ghostonchronic
Welcome to @ghostonchronic our latest addition to the list! I'm really curious to see some of your skills in practice! 💯 Big Welcome!
---
Contest Overview
As you can probably guess from the title the contest is about Graffiti and Lettering, my idea is to give a random "word" every couple of weeks and the participants will have to make a nice Graffiti Lettering of the word on paper (or in any way they want really, it can be drawn, painted, sprayed on a wall, you can do what you want! If you feeling fancy you can do a proper graffiti on a wall and it will surely gets extra votes 😎 at least from me 😋 ), make a quick post about it and comment their entry under the Contest Post!
I am planning to do this at least 2 times a month in this way:
I will post the Contest Post with the random word and participants will have time until payout (7 days) to submit their entries.
Once the Contest Post gets paid I will then do a Voting Post where participants and users can vote for their preferred entries, (3 votes per person - anyone can vote, not only participants!)
Similarly to the Contest Post the Voting Post will be up and running until Payout (7 days)
Then I will post the next Contest Entry but at the beginning of the post I will announce the winners of the previous entry and send out payments (with screenshot proof)! Then I will dive in the next word and contest!
Hope it all makes sense!
Sometimes I may delay the posts by one day or two, when that happens please forgive me, life gets busy at time! Cheers :).
---
The word for today is...
XMAS
Because we are in Christmas season the word will be XMAS, the voting post for this #9 entry will come out on the 19th-20th of December so I will distribute the prizes and post the #10 on the 26th-27th so it fits perfectly as a little Christmas prize 😜
I will make my best to make the 19th-26th combo! 😎
And here is my work, with a nice XMAS background too 😜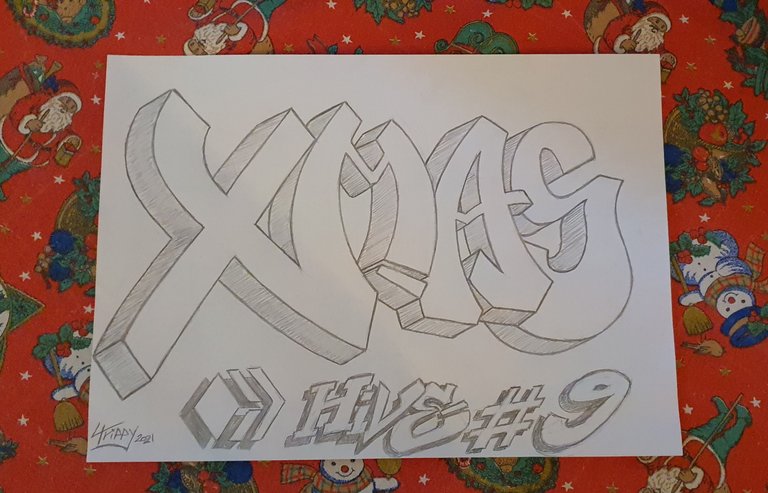 ---
I will not be actively participating to this contest, I will try to always post my work either in the post itself or under it in a comment but I will never consider my work as an official entry in this contest! 😁
---
---
Contest Rules
Contest open to everyone

Your work can be done in any way you prefer, draw it on paper, draw it digitally, draw it on your table, paint it, spay it, do a real graffiti on a wall, totally up to you! I did this contest with the idea of a quick lettering on paper in my mind but how you do it is totally up to you!

Upvote & Reblog the post OR Upvote and mention the contest post link in your entry post

Must be your original work (or someone's close to you, yes if you suck at drawing but have a friend or relative who wants to help you feel free to use them LOL In case you do make sure to reference them, don't use their work as yours 😂)

One entry per person

Post your entry post and the picture of your art under the Contest Post to officialise your entry! Please make sure to do this step so I don't miss any entry when I create the voting post!

Entry expires with the post so you have 7 days to post your entry.


---
Prizes
100% of the liquid payout of the post will be used for the prizes so make sure to upvote the post!
Everyone's support is welcome 😁 If anyone wants to sponsor the contest it would be greatly appreciated by all the participants! 😎

2 HIVE generously sponsored by @nineclaws, thanks Nines 🤗

400 ECENCY Points generously sponsored by @melinda010100 Thank you so much for your support 🤗

1st place 50%, 2nd place 30% and 3rd place 20%

3 honourable mentions will be each given 0.25 HIVE from me 😎 (or a random amount lower than the 3rd place payout, to make it fair)
---
And last but not least a Huge Thank You to @heroldius and @digi-me and their #StreetArt community, they kindly gave me the Go to post this contest in their community! And I see you pin these posts so a huge thank you for this also! I'm sure this will boost the Contest and help it get some extra visibility! Big UP #StreetArt community! 😎
---
Good Luck to everyone!
Thanks for checking out!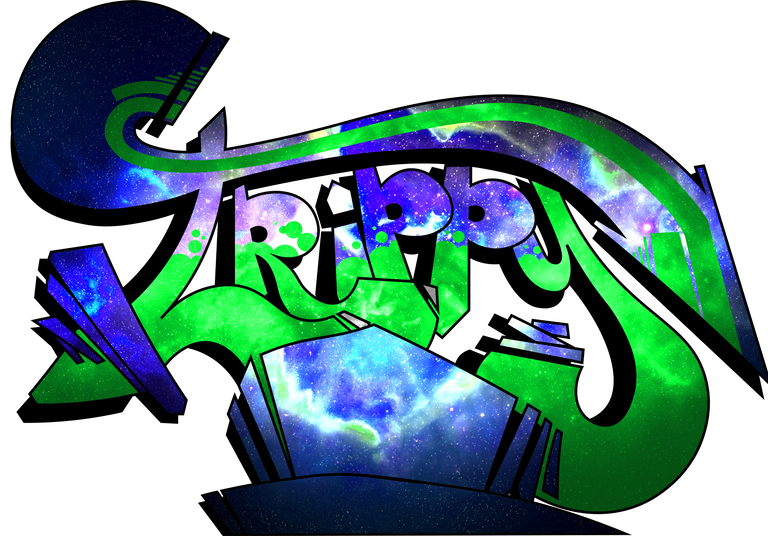 ---
---