Bus trip along the south coast of Spain
Read this post on TravelFeed.io for the best experience
---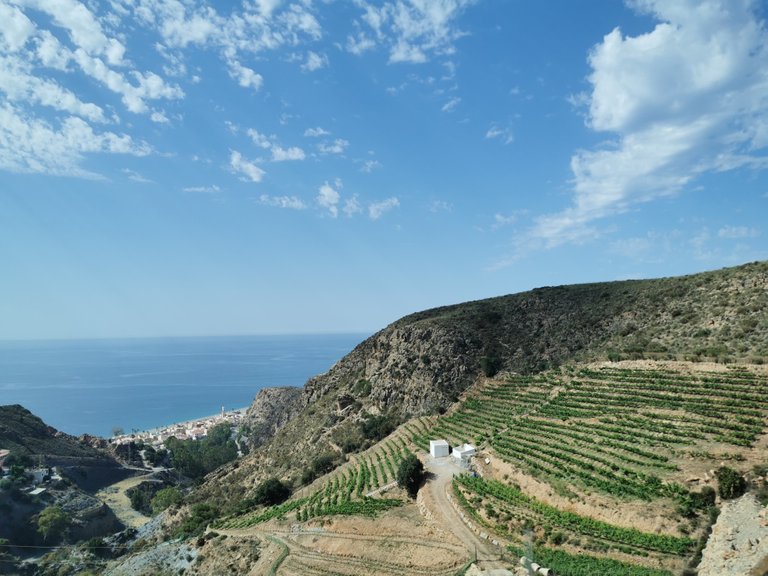 Travel logs
This will be my first blog on Travelfeed.io, I really don't know why I haven't used this frontend for all my blogs about this emigration. But here I am, I already enjoy the editor and options on this site!
Weeks after arrival in Spain, I almost forgot to write about a few parts of our trip that I wanted to capture for later. I love to read back and check out how our trip went especially as this was such a special trip where we decided to move countries again but this time fully by our own decision while the other two were mostly the best available options out there at the time.
This time, I admit, choosing the region to move to was mostly done by me. Mostly done by online research and gut feeling, and my boyfriend just trusted my judgment once again and followed me to another place in Europe, as he had already done twice before. True love!
Planning and budgeting our way to Spain
Determined to close accounts that needed closure as well as make sure the budget was there to enjoy some holidays as well as get ourselves through tougher weeks if needed, I was on top of our budget as well as planning things tightly. I made some changes not long before departure as I found cheaper, but better accommodations, saving us 500 euros for three weeks!
I was fully prepared to get everything rolled out carefully and the only thing that made me truly nervous was not the fact we needed to find a house asap, but the stupid covid tests because that was something I had no control over and that made me VERY nervous! The only thing that could go wrong in my head was that part, a positive test would ruin our plans completely!
Thankfully, the tests were negative
After a short period of self-isolation, just in case, the covid tests thankfully turned out negative and we were good to go! Woohoo! We were going to move to an area we had never been to and even though I was very certain we were doing the right thing, of course, a tiny voice in the back of my head was also wondering what if my boyfriend doesn't like it there? I knew one thing for sure: he would be happier than he was in Budapest, so what could go wrong?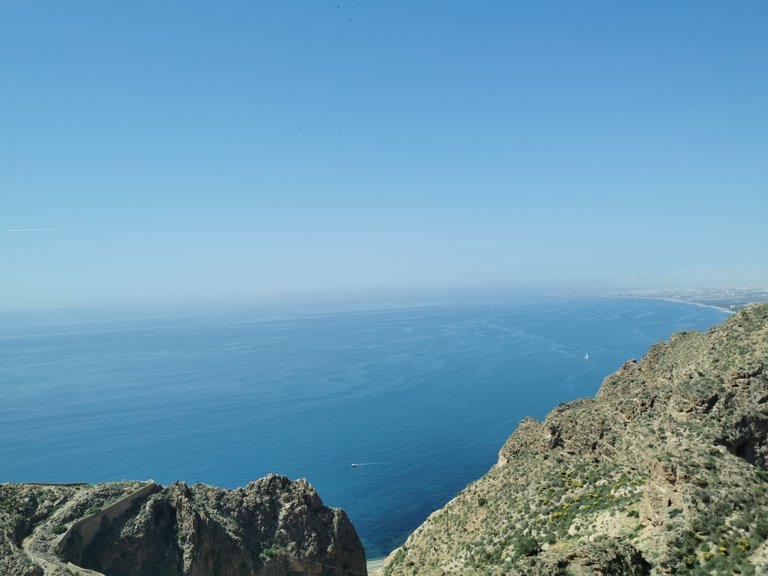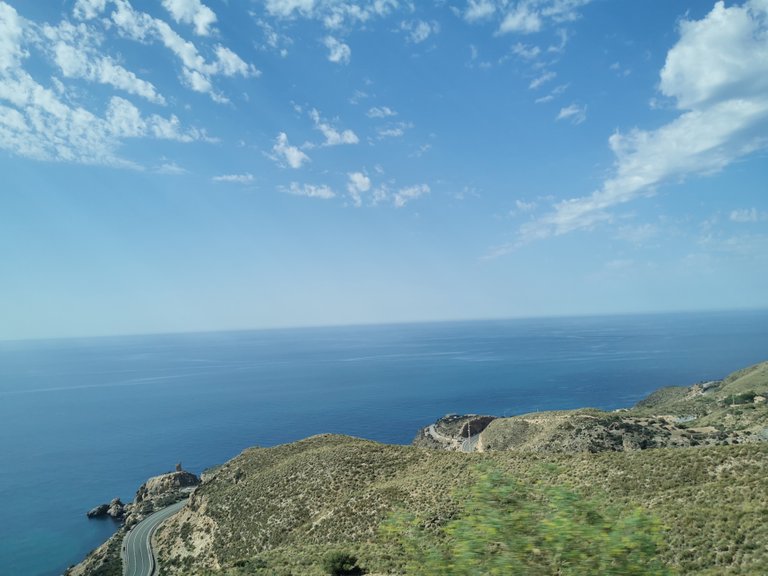 Fast forward to the day after arrival
You can find my earlier posts about the arrival in Malaga linked below, now I want to talk about the 2,5-hour bus trip from Malaga to Almeria. We aren't going to live in Almeria, thankfully, but that's where the bus brought us for our final part of the trip. I made sure to book tickets online including front-row seats where we could enjoy the views constantly and I'm so glad I did. I was not looking forward to the bus trip because of the mandatory mask-wearing which we already skipped quite some time ago in Budapest, but I also knew there was going to be decent air conditioning so I was hoping for the best.
A peaceful and interesting bus trip
Once we sat down on the bus and noticed the bus wasn't packed, we felt quite relaxed and decided to take in the views along the way. From Malaga to Almeria bus station it's a trip mostly along the coastline. So there were many moments that I tried capturing the sea as well as other interesting views. What I did not realize before coming here is the many many km's of greenhouses that seemed to never end. At some point it was as if we'd never see an area with houses anymore, the agriculture in this area seems to be there in abundance. I haven't read into the exact details yet but we were told by a local last week that there are many of these greenhouses with cucumbers for example. Just like in Holland. I have seen greenhouses in other footage of the Almeria region in movies but never thought I'd see endless km's of these greenhouses in a few-hour bus trip.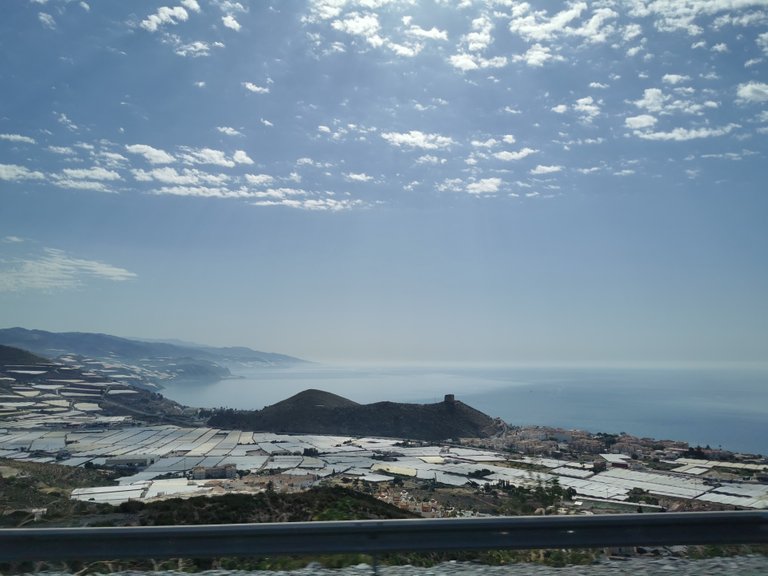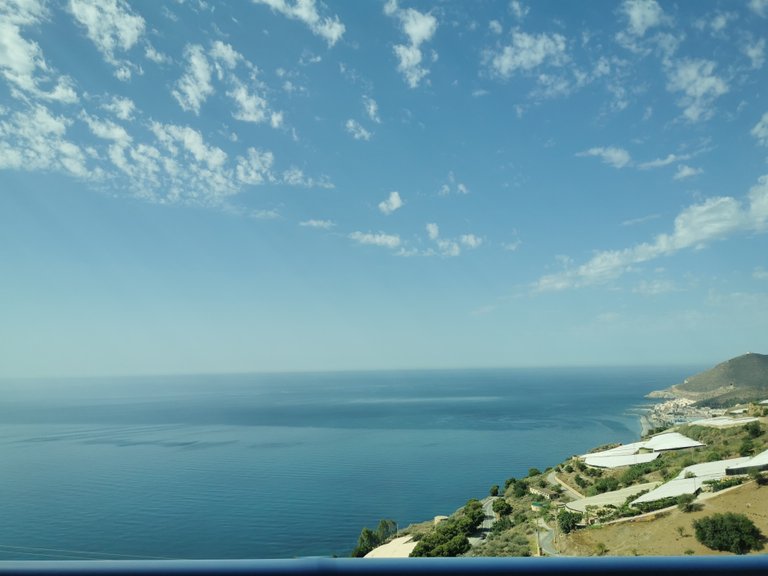 Sunflower fields vs greenhouses
The last time we lived in Spain, I remember traveling from the Seville region in the mountains to have a few days off in Seville city and when we drove there by bus, we always used to see endless fields of sunflowers. It's funny to see the contrast with the Almeria region now because here too there didn't seem to be an end for a long time. Every time when we went around the corner, another endless sight of greenhouses appeared.
It was sad to see that a lot of them (those we could see near the road) seemed empty, it made me wonder if this was because they didn't survive the hard pandemic period. I'm sure I will find out more about this while we are here a bit longer. I'm hoping that I can inspire some people struggling with what they want to do exactly to share their passion on Hive and hopefully give them some new insights about the blockchain that many probably never heard of.
Contrast
So far, I haven't seen much poverty around us, to be completely honest, I think I only saw a total of 3 homeless people during our stay and it's quite the contrast with Budapest where we had half of our street filled with homeless people or drunks that were being loud all day. I'm grateful to finally be in an area where I actually want to have long walks and be outside. There hasn't been one day since we arrived in Spain that we didn't go for a long walk, and were home before 11 PM mostly. It has been great to get more active by default without even feeling too much discomfort from it.
I'm so grateful to be back in Spain <3
Previous parts of The Expat Diaries
Credits
All images used in this post are my own.
Let's Connect
If you want to connect, you can give me a follow on my socials. For inquiries, you can send me a direct message on Discord.
Social Media Management Portfolio:
My Referral Links:
---
View this post on TravelFeed for the best experience.
---
---