Registered for HiveFest⁶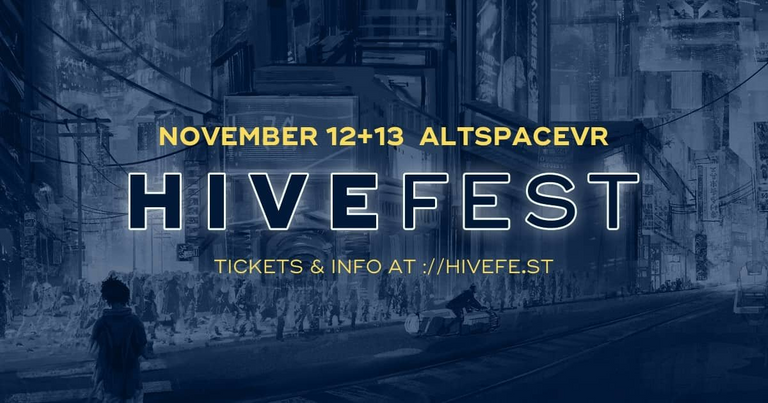 Hivefest 6 has been announced and will take place on November 12 and 13th in AltSpace VR. If you didn't attend last years event, you do not need a VR device to participate. 2D mode works great and in some cases is a better experience (if you are presenting for example).
I recommend you check out @roelandp's introduction post to get the basics of Hivefest 6.
Last year I did a presentation at Hivefest about using AltSpace VR to onboard users to Hive and the basics of doing presentations. I also closed Hivefest with a stand up comedy rountine.
You can watch both my presentation and stand up routine
I highly recommend going to Hivefest, with it being in AltSpace VR there is no financial barrier to join and no need to travel halfway across the world to get there. I always encourage you to consider doing a presentation if you think you have something interesting to offer.
I will probably start hoping on AltSpace VR again prior to the event to mingle and perhaps work on a new presentation this year. Not sure what the availability of presenting is this year, hopefully @roelandp can leave a comment regarding that.
Since a lot of my focus lately has been into Blockchain gaming, if I did do a presentation I might talk about that.

I have a few projects I am working on and doing it under the branding Blockhead Games.
I have two smaller projects similar in size of Ape Mining Club but I believe a bit more interesting and one massive project that I have been spending a lot of time thinking about the logistics and how it would work. I really love this project idea but it's very stressful to work on and ultimately release something of this size on a blockchain. I can't really share anything about this project yet except will be a massive adventure, rpg, collectible card pirate themed game.
Anyway, I don't want to get too far off topic, I will definitely be going to Hivefest unless something critical comes up, and there is a good chance I will prepare a presentation if I can come up with something I think you would like listening to.
I highly recommend spending some time customizing your avatar in AltSpace VR and explore the world and get familiar with the experience. There is a small learning curve but it is relatively easy to do.
If you really want to go nuts, try building a presentation and launch a show in VR, use my presentation to give yourself some guidance.
---
---