hive.pizza | Announcing Stake2Earn model for PIZZA token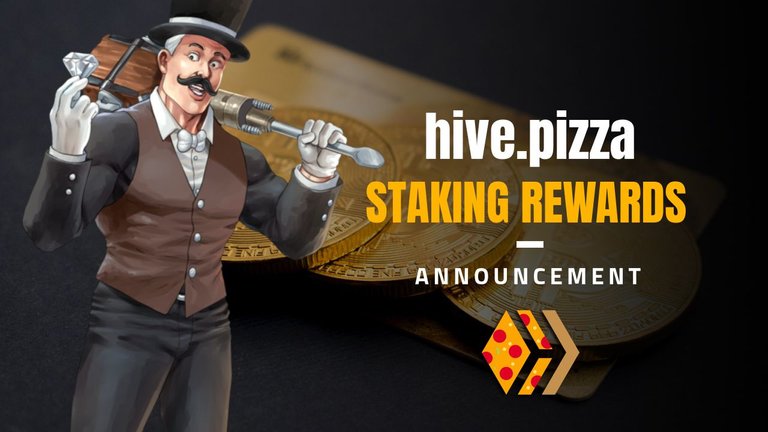 Hey Everyone!


We are pleased to announce that the much anticipated PIZZA passive staking rewards are coming to all PIZZA token holders!
The great Za Baron will begin minting Za and rewarding those who lock up his treasured PIZZA tokens this Sunday (1/30) at 4pm PST (Midnight UTC) and will mint new tokens at the same time each day to be distributed and staked to stakers. The first phase of our staking rewards program will offer a baseline of 12% APR for everyone. Not only does the program fit within our original 30 year tokenomic plan, but also mirrors current HBD interest and remains extremely competitive to fiat banking interest offers which we believe will continue to attract new users to the community.
Technical note:
As you know PIZZA is a two decimal token. As such, we require staking a minimum of 30.5 tokens to start receiving the minimum of 0.01 PIZZA per day from staking. We can also expect users staking 30.5 and 61 tokens to receive the same minimum payout. Please keep this in mind when staking your tokens!
On top of the 12% baseline reward, we are preparing to launch phase-two of staking rewards which will include additional weekly rewards paid out to holders based on their holding percentage. This additional incentive will bring everyone's overall APR above 12% regardless of your position in PIZZA which we are really excited about. We are still ironing out a few details but we're getting close to announcing that Phase-Two is ready and what to expect so stay tuned!
This is another big step forward in our plan to build an exciting and attractive rewards program for the Pizza Guild and for Hivians. We have found great success (we are nearing 5,000 Guild members) by introducing users to our existing programs such as our pools or our Engage2Earn program. We are going to continue ramping our onboarding process up by offering more attractive value propositions that allow our guild members opportunities to earn.
With that said, there will be another project announcement within the next few days revealing the next program launch for our Guild members and earnings program, so keep an eye out and I would start stocking up on PIZZA!
2022 is going to be a very exciting year for PIZZA holders as we ramp up our operations, team, and partnerships!
We're over 3,000 members strong
Are you a part of the Pizza Guild yet?

EARN PASSIVELY BY DELEGATING TO PIZZA
Consider helping our onboarding and curation initiatives by delegating your HP to our @hive.pizza curation account. Not only does it help our project grow, but you will farm your share of the daily $PIZZA delegation rewards pool! Delegation rewards are paid out in liquid form to your wallet each day.



Buy $PIZZA
Leodex
Tribadex
Hive-Engine
Join the
Pizza Guild Discord Server
Join our curation trail here
Vote for us as Hive-Engine witness here
Vote for us as HIVE WITNESS HERE
---
---