The Little Technicality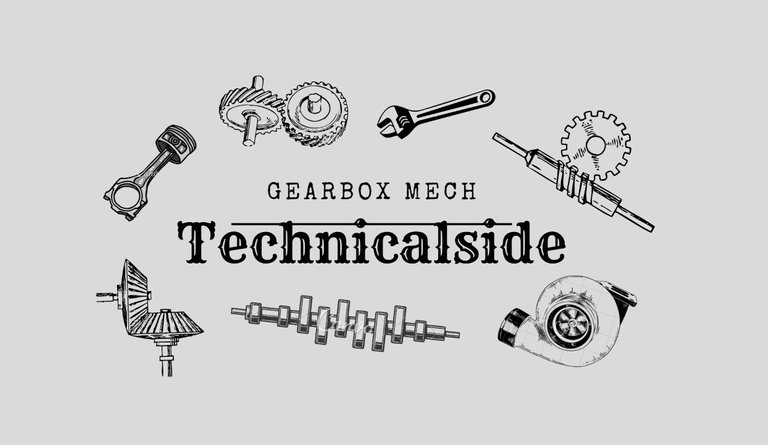 Well Hello There Fellow Technicians And Hivers
So, a while back we got this vehicle where we had to do a repair on the front differential and along with that we refurbished the CV Joints as well. Ever since then the CV's constantly pop out, either the one or the other, well not constantly but this would be the second time.
Now it's not that big of a deal if the customer stops driving the vehicle, which luckily for us he did other wise we would have had to rebuild the whole differential again. Along with that we did a crank seal replacement on the motor, at the time I thought it needed a lot more seals than a crank seal but that was proven to me now. It has another leak and it doesn't actually have anything to do with us at all but we told them we would replace it none the less. (Oh it's not actually a customer it's more of a privatized government vehicle)
---
Well Here We Are Needing To Fix The Problem That's Been A Thorn In Our Side
---
As you can see it's a pickup, a Toyota Hilux 4x4 so it's a hassle to work on, not that much but still.
Also this vehicle resides in a small town that doesn't really have much left of it, thanks to the ruling party of our country. What this means is that this vehicle is subjected to harsh roads, very harsh and very muddy at that!
But at the end of the day the job has to be right and this one isn't.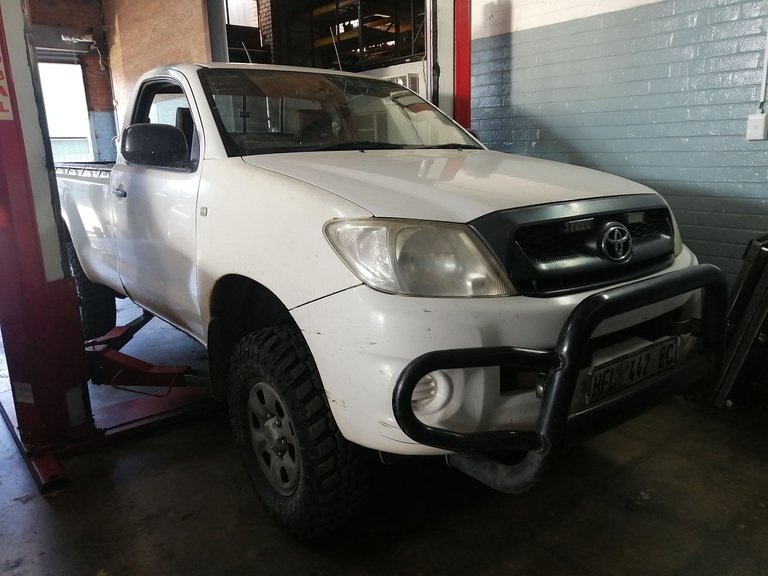 Well there's the problem, I really wonder why they pop out like this, because I did test it after we had the first one popping out of place. The first time around we had to rebuild the differential again, luckily not this time.
I have a feeling that the place who refurbished the CV joints for us made a mess of things.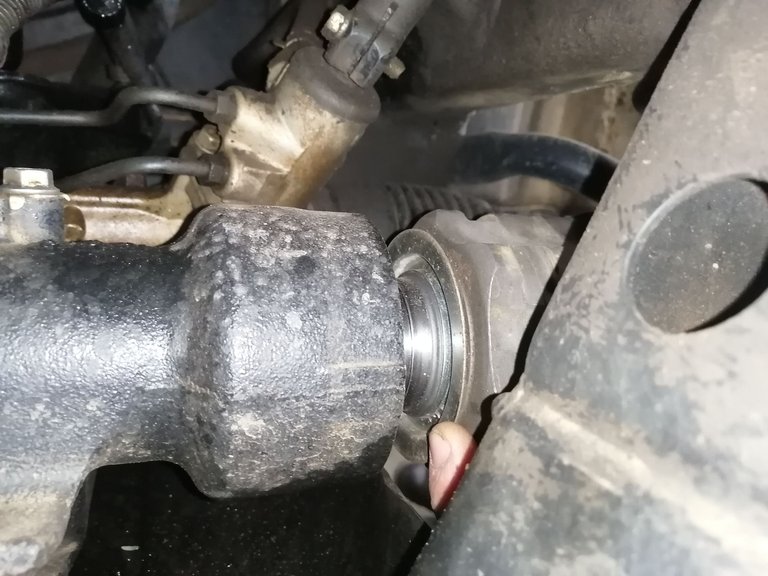 (Sorry for the two blurry photos.)
Normally removing a CV joint isn't at all that much work but when it's on a pickup truck it gets a bit more complicated or rather annoying because it's placed right in the middle of everything that has to be removed before one can pop it out.
Of-course it makes sense since it has to move along with the suspension on the vehicle, I should rather not complain about it they could have designed it like a rear differential and boy oh boy then I would have had a very hard time!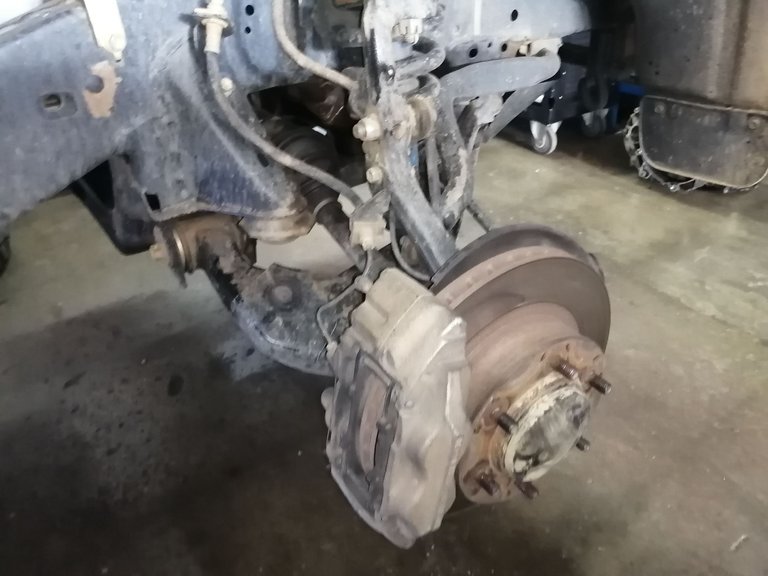 We've got our work cut out for us with this one! We really do!
Laughs, I told Bossman the other day, when we get a comeback we should leave them for Saturdays. It's not like I'm trying to score some overtime but at-least then the work still flows as normal in the shop which can only be a good thing, right?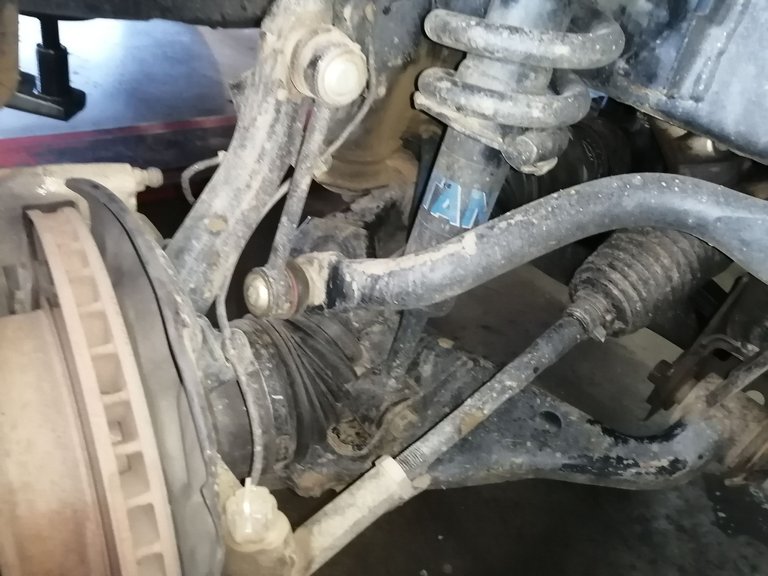 ---
I Remember Having The Same Problem The Last Time.
---
The problem is because the CV popped out while in the ride it's actually locked in place and moving it is not going to happen. Usually when you unbolt the top ball-joint it has more than enough room to move freely and get it out but since it's locked in place I might just have to remove the lower ball joint as well. I can pull on it even harder and have it free BUT notice the small pipe in front of everything, that is the brake line and I really don't want to tear that apart now. After all it's already a come back we don't want a bigger mess than we already have.
No biggy just a few more bolts.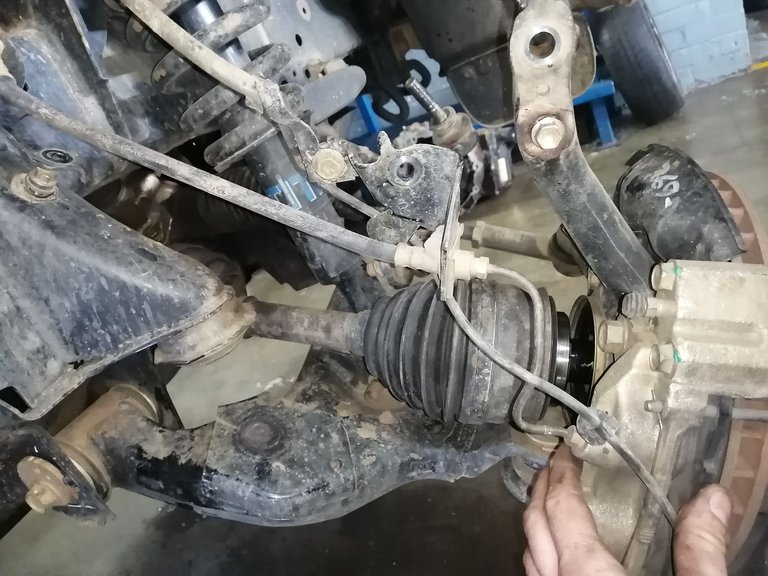 Pardon the dirty fingers.
This is the circlip on the CV joint that didn't pop out, this one popped out the previous time. Now I didn't snap a picture of the problematic one BUT it's not the same at all. This one is a lot more springy if I may say that and has a lot less play on it both sideways and up and down. The problematic one barely stands out and has an insane amount of play on it.
I thought it might be the circlip doing that, seems like they really did have the wrong clips on. But let's fit it back before judging the oak. Besides we all make mistakes!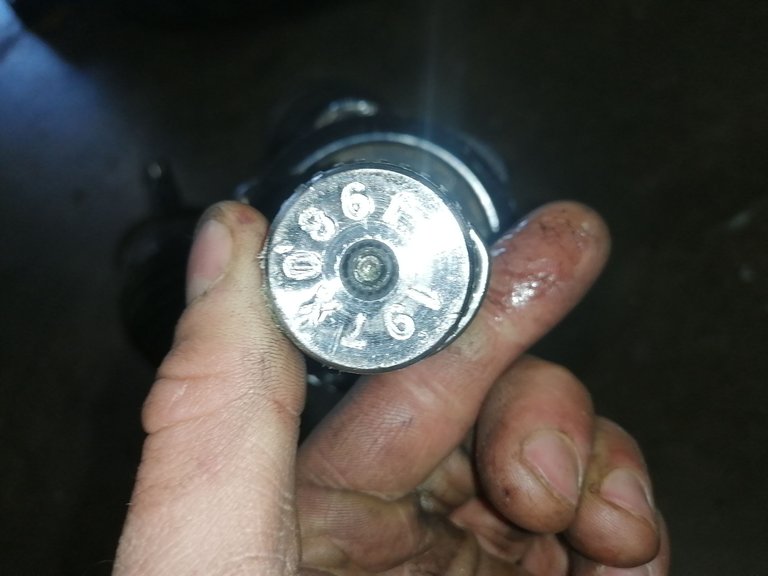 Laughs and this is where I had a brain fart! At first I thought the CV's were not equal in length as well but when I pressed them in they shifted to their original spacing. Must be because it popped out, glad it didn't ruin the rolling balls inside the CV heads.
Although only one looks refurbished right?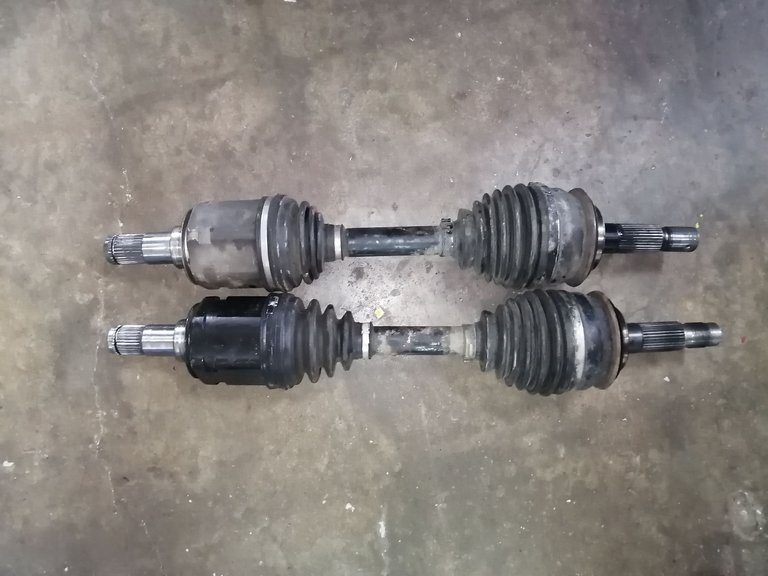 ---
Attending To The Oil Leak.
---
I can see why they thought that it was our front main crank seal that was leaking, that is a lot of oil dripping out of that little black box. Must be the cam-shaft seal that's leaking. Might have been the cam-shaft seal from the start and not the crank seal BUT this whole motor was a colossal oil ball to be honest.
To top it off the pulleys throws all of the oil everywhere, but it is very clear where the oil is coming from. It even left a small trail to follow.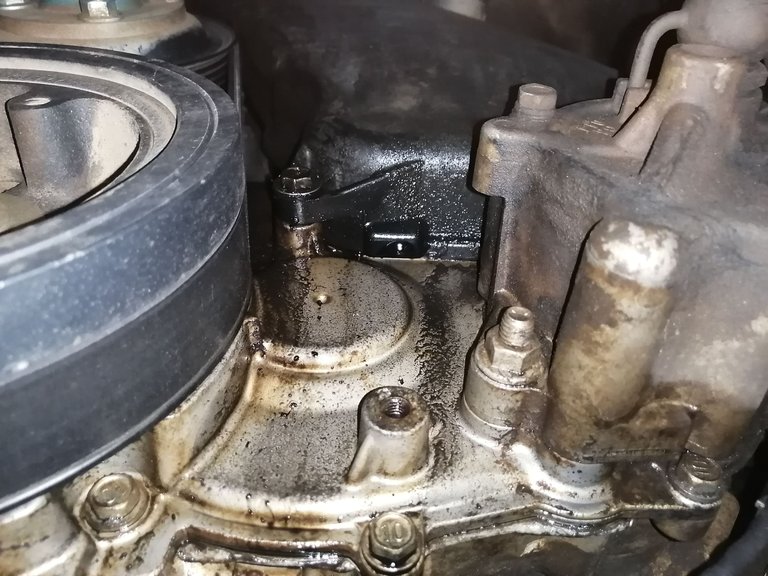 Well I have to add that at-least this isn't all that much work. It has a little effort behind it but it's at-least not hard labour. It's really mostly small bolts but if you don't focus on this you can blow up the whole motor.
The reason for that is because I'll be fiddling with the timing of the motor, well not so much but I'll have to remove the timing belt to replace the cam-shaft seal.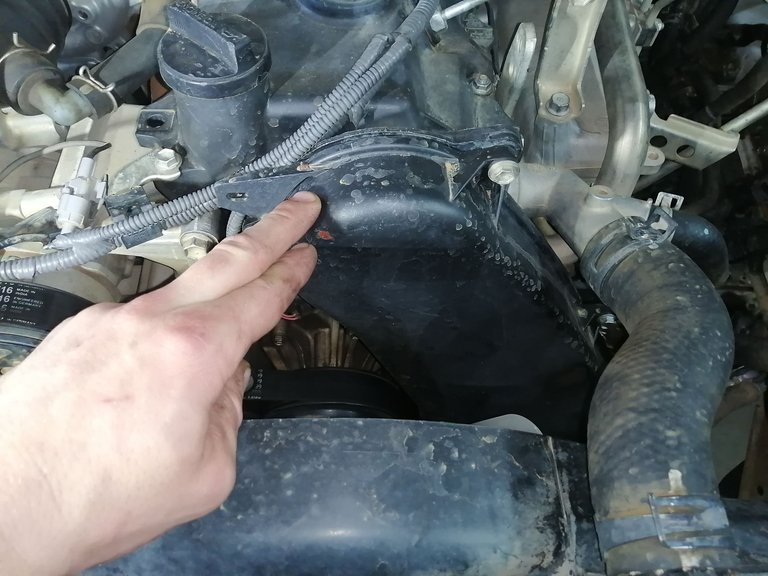 The most important thing about this is that you have to get the timing marks on its timing. The cam-shaft pulley needs to be TDC - Top Dead Center but this is where it gets a little tricky because you have to make sure that the crank pulley as well as the diesel pump timing is also on their marks.
Now unless anyone tampered with it before having one timing mark on its place all of the rest should be in place as well, but double checking it wont hurt.
I did notice with this one that the diesel pump was one or two teeth out of timing, but this has nothing to do with us, we will only be replacing the seal and put it back together the way it was. I mean not unless they pay us, if they do that we can sort out anything.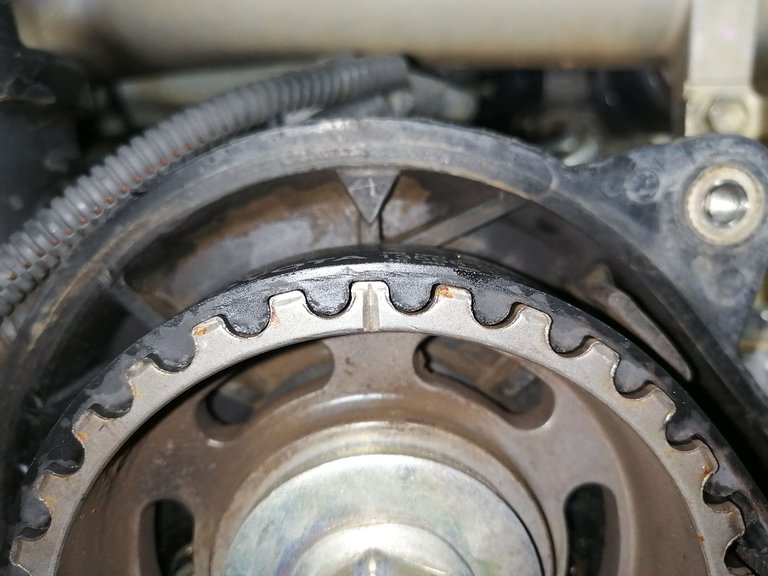 Don't focus too much on having it on the right timing if you still have to loosen the bolt of the pulley you want to remove. You'll just have to get it in place again. Luckily it's not really hard work.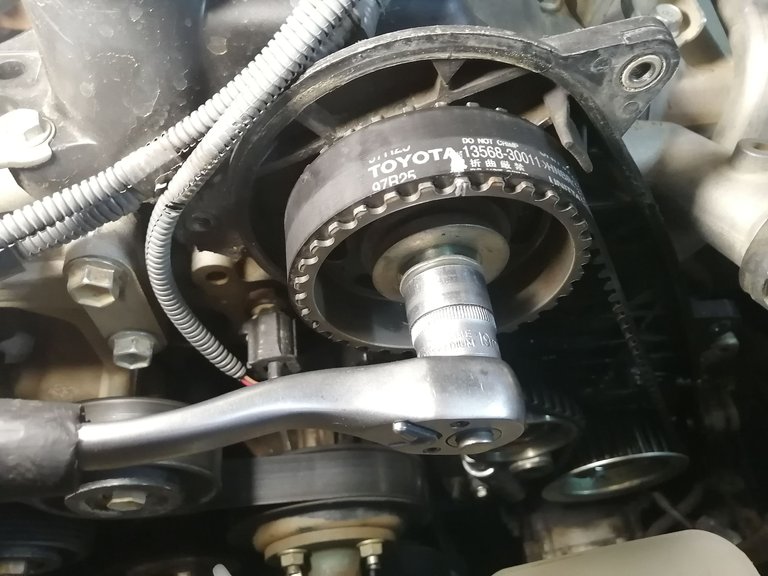 Before removing the pulley from the cam-shaft you have to remove the timing belt tensioner first, no real reason for this but it would allow you to work a little easier and isn't that what we all really want.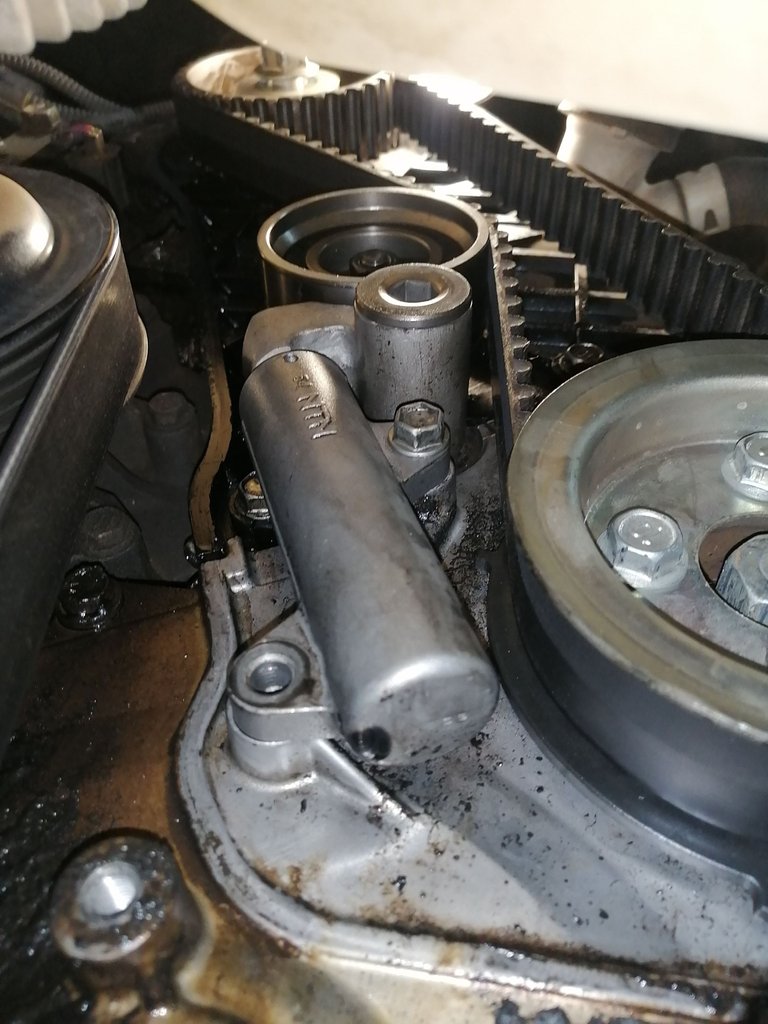 We got her off nice and easy, and you can see how badly it is leaking oil.
It's almost pouring out of there! I'll show you why! The bloak who replaced that seal before us really messed up badly! Like real badly! That must also be the reason as to why the diesel pump timing is out. That oak can be glad it's not that much out of timing, but sooner or later it will have a diesel seizure.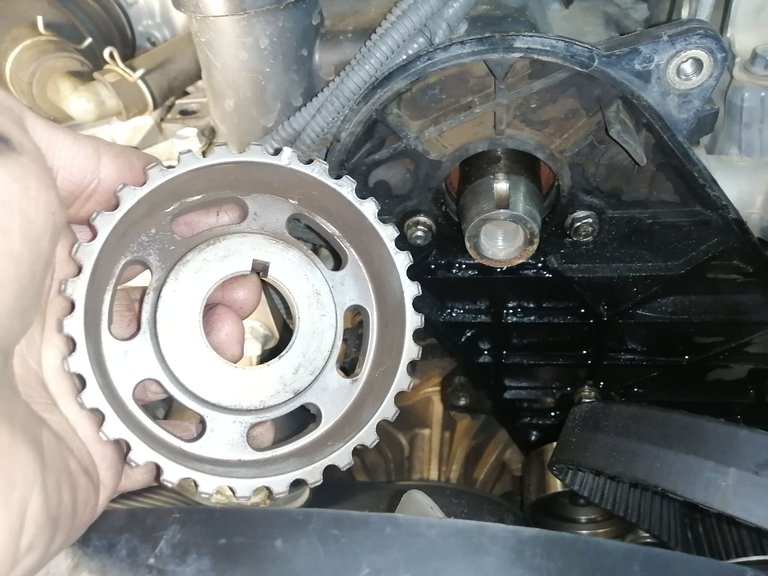 Yeahp it is beyond clear that who ever fitted this seal really had no idea what so ever! He must have thought what the hell is he doing in that work shop.
The seal even has a little ridge to which it seats, well they butchered it past that ridge with something. Notice how bent the seal is and how it's peeling out on the right hand side...
Jeeeezzz common sense really can't be bought at all!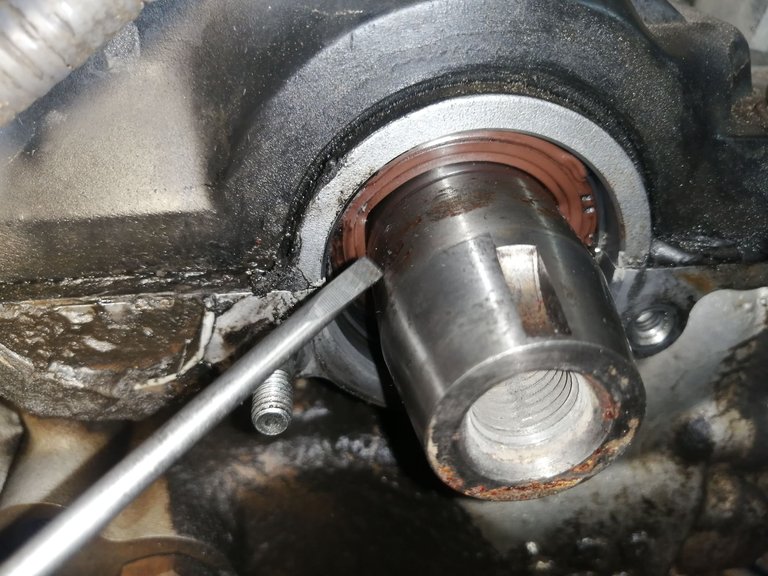 This is the new and replaced seal, you can see how far out this one is compared to the previous seal, it really isn't that hard when you have the slightest bit of common sense xD and that is something we don't get anymore. Not just here but world wide!
On a side note, we rebuilt the car and fitted the CV joints back in. This time with the right circlips I assume because Bossman went haywire with that vehicle over some very unpleasant dirt roads to see if it would be able to hold up.
They did.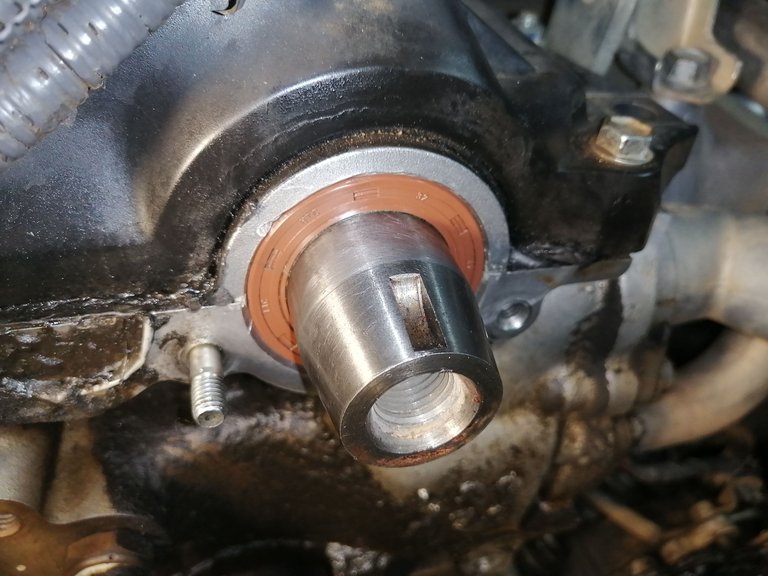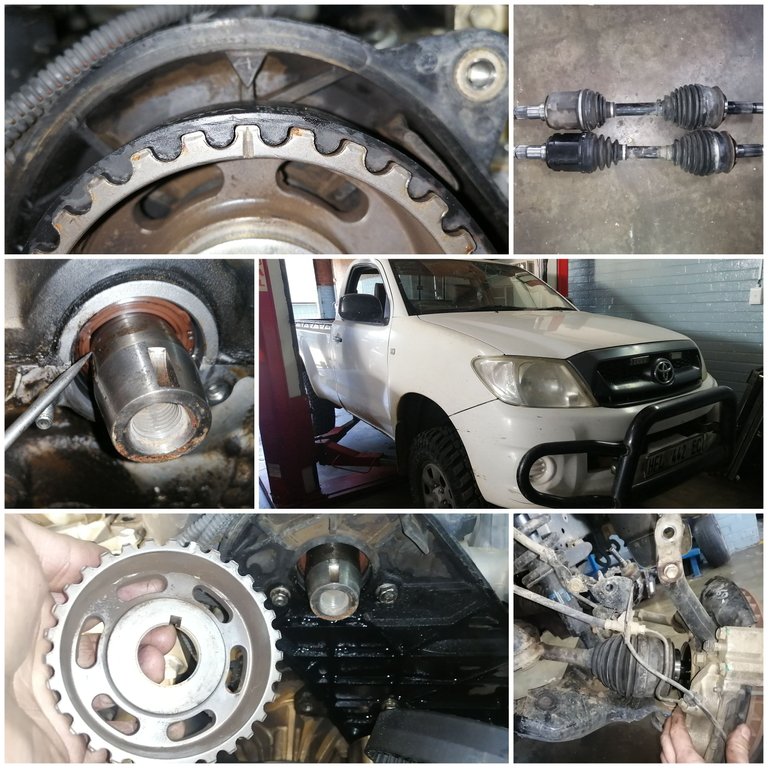 ---
Dated 08/06/2023
Take note this is not a how to guide, merely myself talking about the work I do and my thoughts around certain things.

To everyone who made it this far into my post Thank you for the read and the support.
If you found this entertaining or educational please consider a re-blog and up-vote.
Most of all please leave a input in the comments below, whether is good or bad critic I would like to know, whether its your opinion or your way of doing things in a different manner I would like.



Connecting the people of #HIVE across South Africa. #hive
---
---