Art #54: Kyojuro Rengoku | Demon Slayer

Umai!
-Kyojuro Rengoku
When I hear "Demon Slayer Mugen Train", one character comes to your mind. Rengoku.
Several weeks ago, one of the characters presented for ArtPark's weekly DTIYS (Draw This in Your Style) was Kyojuro Rengoku, a character from the popular anime, Demon Slayer. This is going to be my second Demon Slayer artwork. The first one I drew was Nezuko.
Kyojuro Rengoku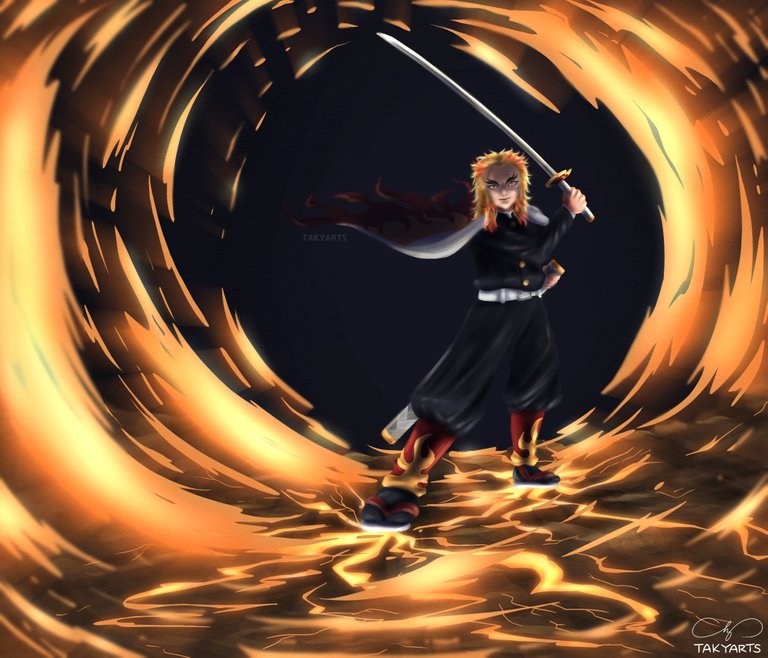 Kyojuro Rengoku is one of the Hashira, a group of high-ranking and elite Demon Slayers. The power he holds is flame which is kind of obvious with his hairstyle, hair color, and eye color. If you're looking for something more obvious, see his cape and feet. All these dead giveaway signs but still my oblivious self thought Kyojuro has some sort of connection with lions instead, because of his hairstyle. Yikes.
I know a lot of people likes Rengoku's character a lot but he never really caught my heart. Oopss. I'm sorry, Demon Slayer fans. His an awesome character for sacrificing his life in the name of his duty as a Demon Slayer though there's something weird about his appearance that puts me off.
His eyes and half smile.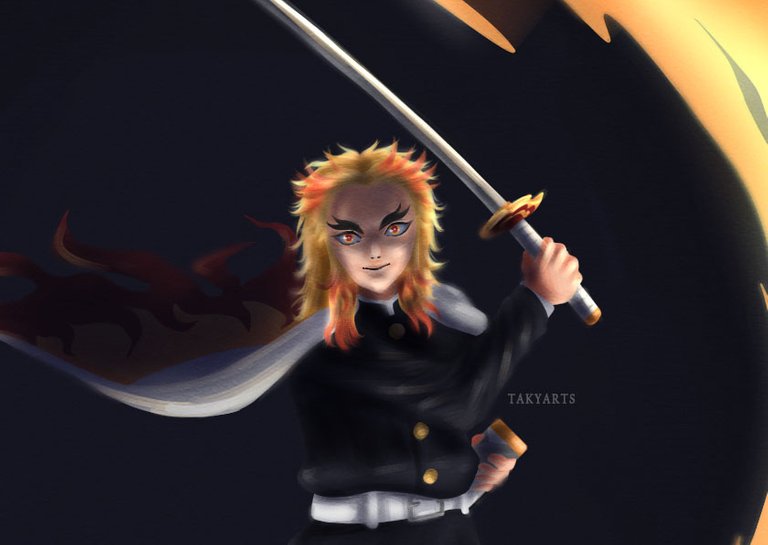 His eyes, eyebrows and half smile creeps me out, actually, especially the scene at the beginning of the film where he was just quietly sitting. I didn't know if he was an ally or not based from his face. I feared he would surprise attack Tanjiro's group while they were checking the passengers.
Anyway, his cape reminds me very well of a certain Naruto character named Minato. Lol.
Drawing Process

This is yet again a "drawing idea that didn't come out right". As you can see, the anatomy failed here big time. The right foot looks extra weird and I cringe every time I see it.
My goal for this artwork was to draw Rengoku in a pose wherein one of his foot is forward and looking bigger because it is nearer the point of view of the viewer. However, I still don't know how to draw it properly and so right leg ended up looking weird and funny. But hey, failure is a step towards making something right. Yeah, I should practice more drawing the anatomy.
The massive bright light from the flame must have a huge contrast that's why I made the shadows on Rengoku darker than usual. And speaking of flames, I drew some lava beginning to erupt from the ground below his feet. To make the flames glow, I use the "Add (Glow)" blending option then overlayed an oil paint texture and dropping the opacity down to around 12%.
If you want to see how I drew Rengoku, check the video below!
---
Medium: Digital Wacom Cintiq 16
Program: Clip Studio Paint
Collage Made on Photoshop CS6
Video Edited on Premiere CS6
---

---
---