The Cruising Life
Until now I had only been on one cruise. That was in 1978 on the Canberra that later took troops to the Falklands conflict. I have just been away on the very latest ship, so wanted to give my impressions. This was the P&O MS Iona that was only christened last year. The Canberra could take 1500 passengers, but the Iona takes over 5000 with a huge crew.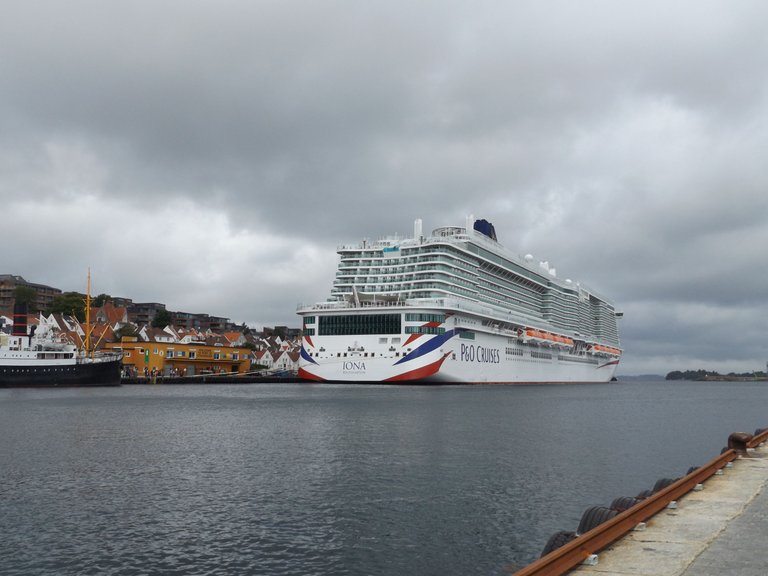 This really is a floating combination of hotel and resort. At times you could forget you are on a ship as it glides through the water. We did have pretty calm seas to and from Norway with just some gentle rocking at times. You would only sometimes feel the engines when at the rear.
On the Canberra we had a cabin in the depths of the ship with four bunks and no window. It looks like all cabins on Iona are bigger than that. We had a balcony, but be warned that if you are on deck 8 then the promenade runs past and people can see in. This was not a big problem for us, and it was nice to be able to stand out there and admire the view. It was also handy for drying any wet clothes, although there is a laundry on board with driers.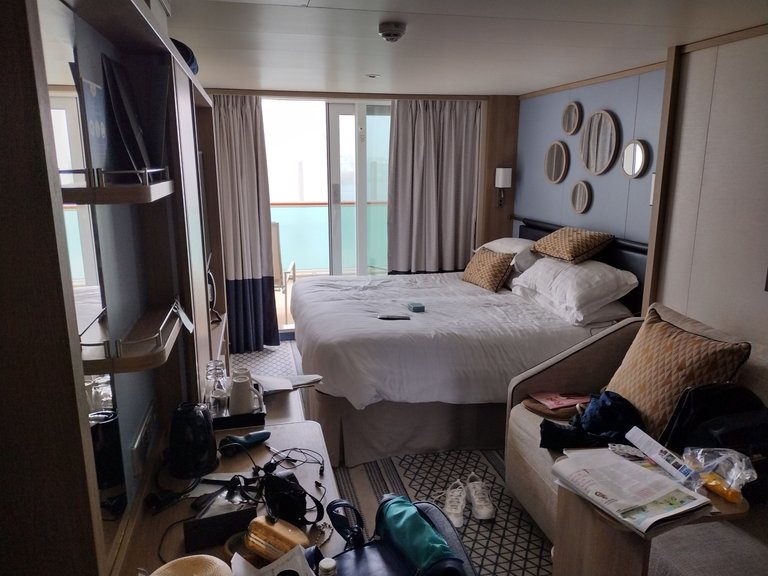 The cabin was a decent space. Some I saw had the TV opposite the couch rather than at the end of the bed. The bathroom had a shower and was perfectly adequate. There are luxury suites with much more space and a bath, but they will cost you lots more.
On the TV you had a few news and sport channels as well as access to a fair few on-demand movies and shows. I expect some people used that to keep their kids entertained.
There were UK and Euro power sockets in the cabin, but no shaver socket. I needed to charge my shaver and toothbrush, but nobody could find an adaptor for those. This seems odd as I am sure plenty of other people had the same requirement. I had an adaptor at home, but did not expect to need it.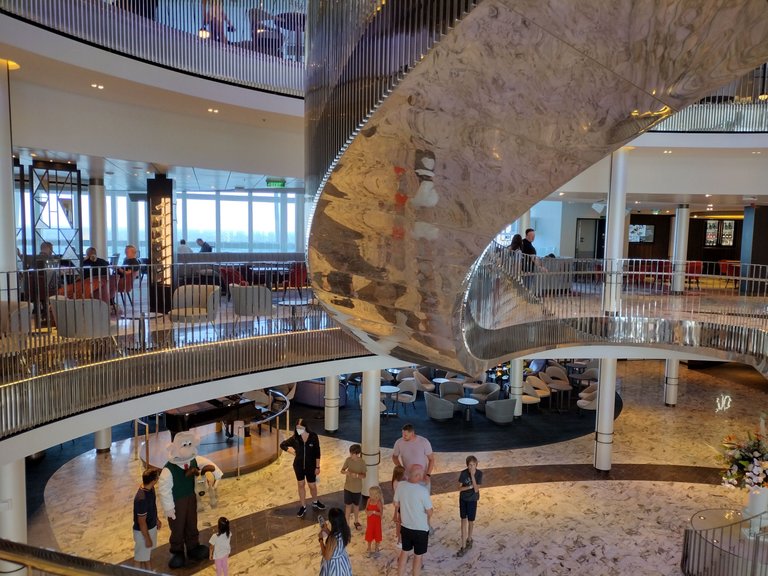 Yes, that is Wallace and Gromit there. They had some tie-in with Aardman for entertaining the kids.
Even with thousands of people aboard it rarely felt crowded. There are lots of places to just sit such as the three deck atrium. You were never far from a bar. All spending onboard is using the card which opens your cabin door. You get some spending money and link your credit card for when you use it up. Drinks were reasonably priced and some restaurants charged a premium. You can get by just with the included restaurants and buffets, but would still have to buy drinks other than tea, coffee and water. We ate in one of the four huge restaurants on several nights where you get table service. The menu was varied with plenty of vegetarian options and selections for those with food intolerance issues such as gluten.
There was a vast buffet with lots of choice. You could eat as much as you like with food available until late. The midnight buffet was popular. We had breakfast most days in the buffet. You could eat enough to not really need lunch.
There are several swimming pools, but they are not huge. I did not use them, but you could probably swim lengths if you got there before all the kids. There are also lots of hot tubs scattered around. These were really popular with some people were in there before we even left Southampton.
Boarding was simple. You drop off your cases with the tags on and they are delivered to your cabin later. Then you check in and go through security. We had a slight issue with one of our kids getting our cabin, but the reception staff sorted this out. They seemed to be from somewhere like the Philippines with most of the other passenger facing crew from India. They were all wearing masks, as were some passengers, but it was not compulsory. There was antiseptic gel everywhere. I have had a COVID warning that I was near someone with it whilst on the ship, but is inevitable there would be infected people aboard. We decided the risk was acceptable, but I would prefer not to have it again.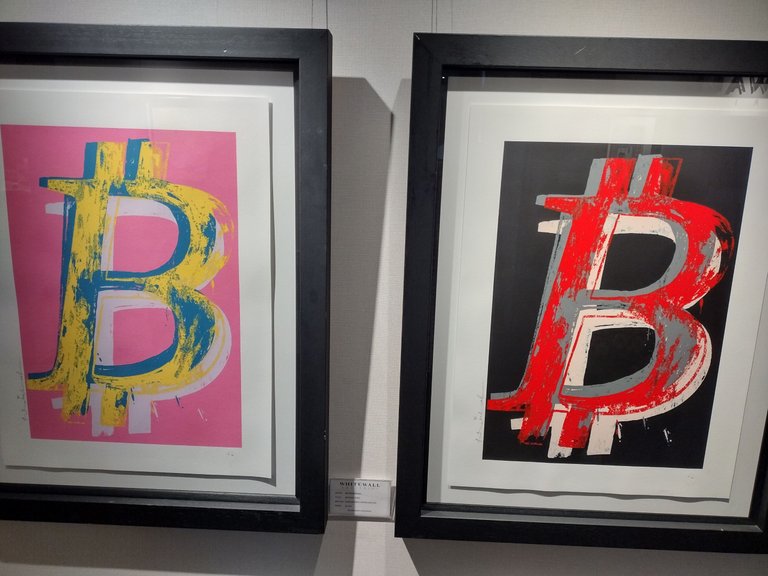 If you like browsing shops then you had some opportunities on board. As well as some that sold sweets, clothes and holiday knickknacks there were some boutiques selling more premium items such as expensive jewellery, watches and Mulberry handbags. Every day there were presentations about what they sell that are obviously aimed at encouraging you to spend more money, but you could just browse. There was also a gallery selling art at a range of prices from hundreds to many thousands of pounds. The one above is by Mr Brainwash. Only £2750 and I do not think they accepted cryptocurrency.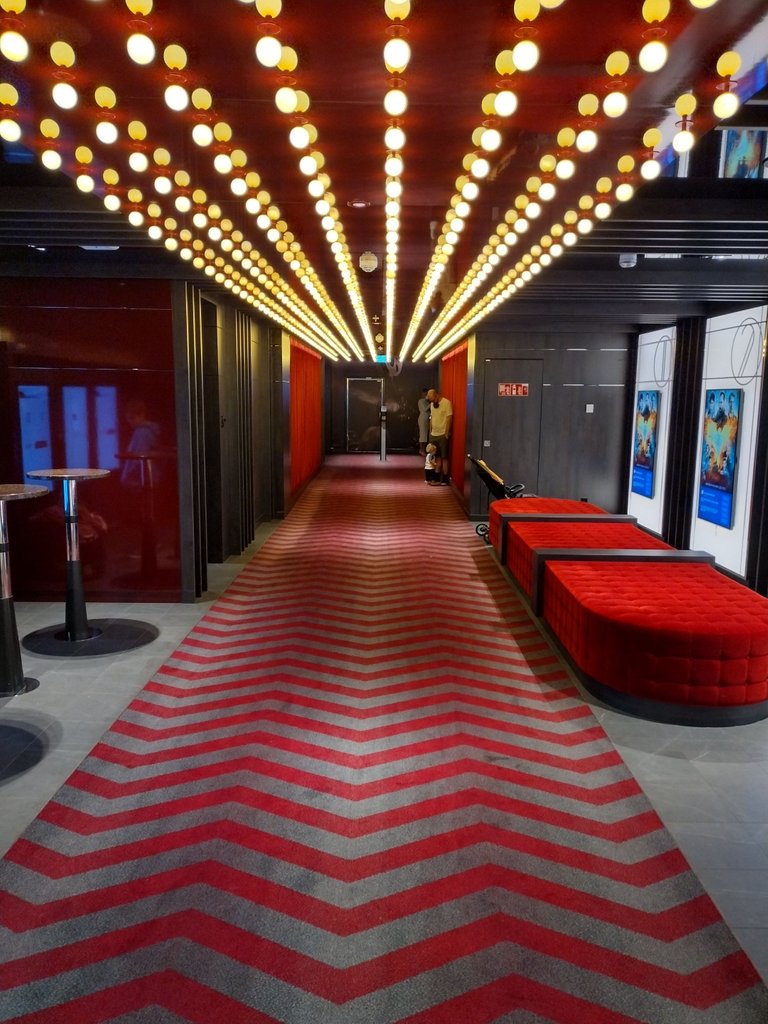 There were plenty of other things to do. There is a four screen cinema with about fifty seats in each. We saw the latest Fantastic Beasts movie. Some movies were shown in the huge theatre. We saw a couple of shows there.
There were various entertainers with the shows we saw were in the theatre by their musical theatre group. The theatre was very well equipped with advanced lighting and moving platforms. This was all included, but you had to book for some. There was a band who did various themed sets. Those would last about 45 minutes, but there would be three shows each evening of the same music so you could fit it around meals and whatever else you were doing. We did not see some of the other singers. Those were often playing in smaller bars and for some of those you had to pay for a meal. We did see their acrobatic performers who were doing various shows in the style of Cirque du Soleil, but perhaps not quite as spectacular.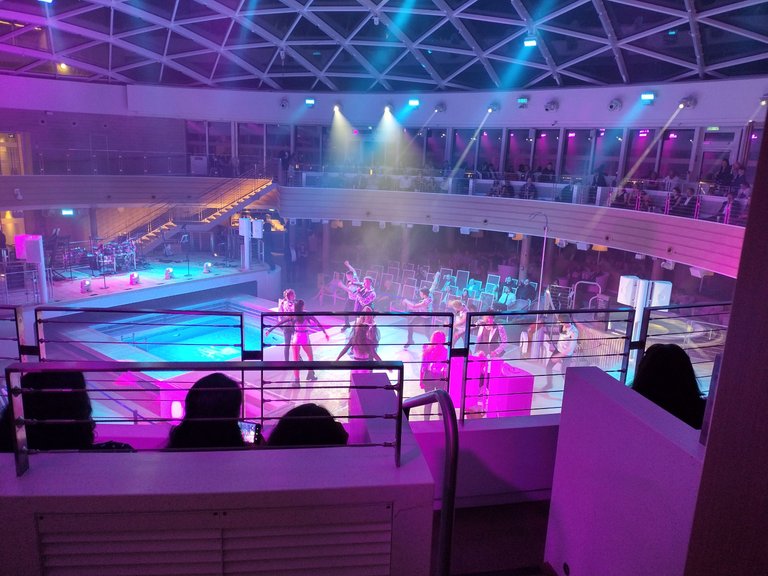 We saw some shows in the Skydome where moving platforms would glide over the pool. The acoustics were not so great in there, but we enjoyed the rock show. That had a medley by the musical theatre lot and then some songs by the band. This was late in the evening, but they still did an extra song after encouragement by the crowd and so ended with Enter Sandman by Metallica. Perhaps not what you would expect to hear on a cruise. Some of the family did the big silent disco in the atrium. It was not so silent when they all started singing along. We did not have any issues with noise in the cabin. We were over the theatre, but I think the shows finished before we went to bed.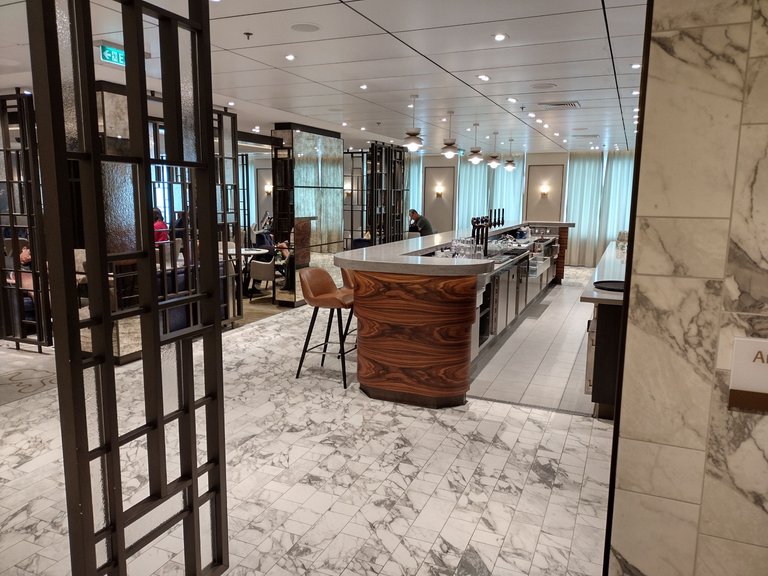 As I said, there were plenty of bars. Some had specialities such as gin (with their own distillery) or wine.
There was a 'pub' called Brodie's where they staged various quizzes each day. We do enjoy a quiz and did fairly well. I even won an individual one. All you got was a sticker with which you could claim a prize at the end, but I did not get around to that. I expect it would not be anything more exciting than a keyring. You could play for bigger stakes in the casino with lots of slot machines, roulette and some card games, but that is not my thing. Some of the family did play bingo where you could win up to £5000. You could not use your included credit for gambling.
I know some cruises are aimed at an older clientele, but this was very mixed with loads of kids around. There were also a lot of wheelchair users and the ship was very accessible to them. The crew were all very helpful.
We are not normally ones for resort holidays or cruises as we like to explore and find interesting places to eat. That said, this was all very convenient. I am just not sure we would do a cruise very often. This time it was for a family event with a big group of us. They managed to seat us all together for some meals.
It did take a while to find our way around the ship. I think their signs could be improved a bit. You could come out of an elevator and have to figure out which way to go from there. It was easy to lose track of whether you were going fore or aft.
I will be doing a couple of other posts about this trip with the next one being about where we went. Unfortunately they had an issue with the engines which meant that we were unable to make the final stop and they compensated us with extra cabin credit to spend. Apart from that we had plenty of time to explore the three places we stopped in. They scan your card as you get off and on to ensure nobody is left behind. There were some announcements that seemed to be to find people who they had lost, but I do not know if they had made it back to the ship.
I had a good time on my week aboard the Iona and the rest of the family did too. There is something for most tastes. I get that some people are really into cruising and do it a lot, but it is not a particularly cheap holiday and we just prefer other ways to travel.
Happy travels.
---
---