Follow Friday: Ups and Downs
The News
It was another rocky week for crypto. It seems the chaos in Kazakhstan is affecting Bitcoin mining and that tends to knock on to other coins even when they are not directly hit.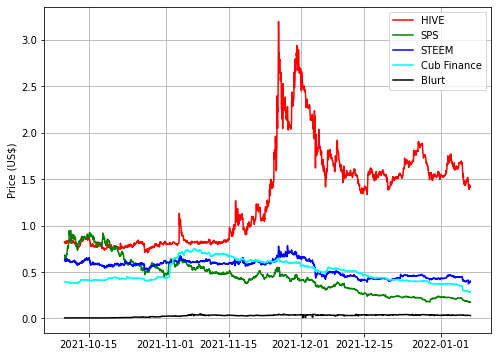 Meanwhile on Hive there are airdrops planned for @threespeak and @ragnarok.game for which the snapshot has been taken. If you were holding HIVE you could benefit.
Friday Followings
The Doghouse
One of the things I specified not to do in my Hive Guide is duplicating posts. @pixelswd46 has been doing exactly that by putting the same post into lots of communities despite being told previously that he should cross-post instead. You can get your posts seen in more than one community, but all the rewards should go back to the original post. It is quality that matters, not quantity.
I saw someone else who has been benefiting from some automatic votes milking that by putting out several posts per day. The result is that he lost that vote now and will make less. Greediness does not always pay off on Hive. We want good content to get rewarded, but do not be selfish.
The End
Despite price issues I think the year has started well for Hive. We have lots of exciting new projects and the community keeps on growing. If we can each do a few things to help with that then we will do fine. Things you can do include:
Bring a friend to Hive
Help out a new user
Leave lots of comments and not just 'nice post'
Promote the accounts of others as I do each week for #FollowFriday
Talk about Hive on other platforms
It all matters even if you just reach one more person.
Hive five!
---
---