Follow Friday: Interesting Times
The News
Obviously a major world power invading a European nation is going to be big news and affect the markets. I think we need to care about the people of Ukraine who are currently suffering. I have seen some reports from @zirochka in Kyiv. I visited that city a couple of times and it is sad to hear about the destruction going on.
The markets have not been looking great lately, but we have to keep confidence in Hive. I expect some people will see it as a buying opportunity, but I will not give financial advice.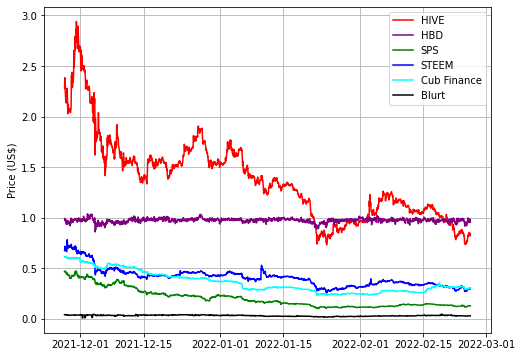 I have been feeling ill this week, but I am not convinced it is COVID. It may just be a bad cold. That is stopping me running for a while, but I will still check in on Hive. Unfortunately the @exhaust project is shutting down. The developer @mstafford is unable to keep it going. That is always a risk with small projects. We can still post our activities and should make use of the various sporting communities.
Another of my musicians friends has joined Hive, but has not posted yet. It can take people a while to find their way. I hope my guide is useful to some of them. I will update it if people raise new questions.
Friday Follows
The Doghouse
I would put Putin in the doghouse, but I do not think he has a Hive account. He and his friends are making too much money to care about us.
The End
These are difficult times, but I hope that good people will persevere and triumph. We need to call out those who would wreck what is good in the world.
Stay strong and Hive five!
---
---