Follow Friday: HivePUDding
The News
More downs and ups for crypto prices this week as some uncertainties keep speculators nervous. $HIVE is weathering it fairly well.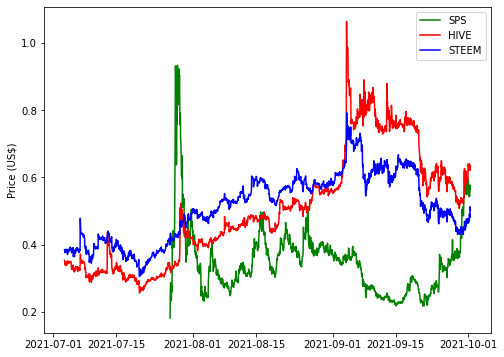 I updated my chart to include Splinterland SPS this time. It is a month since $HIVE overtook 'the other coin' and it has maintained a lead since then. Now SPS has a higher value too.
Today is Hive Power Up Day with badges to be won. I have added some more HP thanks to what I am earning in various dapps. I also powered up someone else this time and could get an extra badge for that.

By powering up we help spread the rewards better with our votes and it also locks some $HIVE away to reduce the supply.
Hive has suffered some slow-downs recently that seem to be due to high activity on @splinterlands. I would hope the witnesses can act to handle that. According to the Hive FAQ:
When the blockchain becomes busy (due to heavy use), the Resource Credit cost of transactions may become higher than during times when the blockchain is less busy.
As most Splinterlands players are not staking HP I wonder if they may find they cannot play as much as and when the RC cost goes up.
Friday Followings
I would always recommend that people follow the creators who will post what they find interesting rather than fishing for rewards. If you make Hive fun, informative and entertaining then you will want to keep coming back even when you are not making much. I just provide some suggestions that may be of interest, but we are each into different things.
The Doghouse
Something I have looked into this week is misuse of a certain tag. The #teamuk tag is intended to support Hivers in the UK. You can get a small vote for using it and I do delegate to the bot. I have seen people using it who are neither from the UK or posting about it. I expect they have just seen others use the tag and get a vote.

I get that people are desperate for any votes and you will see posts with a whole stream of tags that are purely intended to increase their rewards. I will admit I use some myself, but I try to ensure they are relevant to the post and will also include others that may bring in readers actually interested in my content.
I know that some of the tags that bring votes or give you extra tokens operate blacklists to reduce misuse, but that requires people to check it. I was looking at #teamuk to find people to put on the #BritList and found some who did not fit. I have left comments to let them know they are misusing the tag and everyone so far has taken that well. I am not making threats. Mistakes will be made, but threats and downvotes can drive people away from Hive when they were just misguided.
You should check if a tag has a specific purpose before you use it. Also, I would say that you should be looking to get humans to see and vote on your posts rather than just bots. If you build a loyal following then you can do well and it will be more fun as you can engage with their comments. You should also be commenting on posts you like and not just to fish for votes. Make Hive social and not just about money.
The End
I will be producing a new #BritList tomorrow, so any late additions are still welcome.
Have you powered up today?
---
---