Follow Friday: Happy New Year?
The News
I am sure many are hoping that 2023 can be better than recent times. With financial crises, environmental chaos, epidemics and wars around the world it is not looking good. We have to look for things to give us hope. I would not look to crypto prices for that.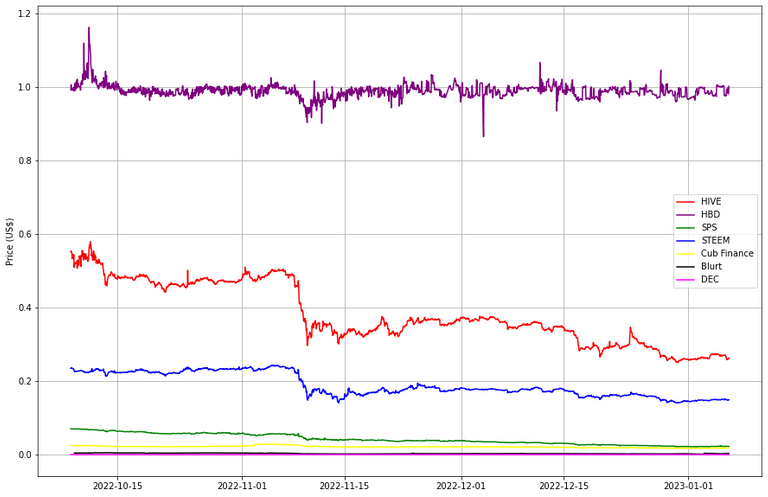 Some Hive projects are struggling too. The @rabona soccer game team have given up. The SPORTS token team are also reviewing the options. With low prices the economics can get tricky. I would hope things improve soon.
Friday Follows
The Doghouse
This is a general appeal for people to ensure their comments have value. If you just say 'Great post' then it means little and does not show that you even looked at it. I get some on my running posts saying something like 'Running is good for your health'. Well, yes, that is why I do it. You do not need to tell me things I already know. I do not expect others to follow my example. Do whatever works for you. What I want to see is comments that show some thought which I can engage with. Posts can be the start of a conversation, not a statement you have to agree with. I do vote on a lot of comments, but those that I enjoy get more, sometimes even if I disagree with the opinion. I get that many are not native English speakers, but I appreciate it when they try. You can use online translation and/or spell/grammar checkers to get your meaning across.
I would just like to give a mention to @stimialiti and @fersher (possibly the same person). They no longer post, but they have been downvoting me for years as my punishment for dealing with their abuses. There is no need to worry as their power is insignificant. I actually gain from this as others give me votes to revert any damage. We can give more upvotes than downvotes each day, so the harm they can do is limited. I would rather see them as productive members of the Hive community, but they chose a different path. I do not bear them ill will. I am in favour of giving people another chance if they show that they can change.
The End
I hope that 2023 can be a year of building on Hive in terms of projects and community. We can each contribute to that in many ways. Those who do are more likely to benefit in the long run. People notice when you do good things.
---
---