Follow Friday: Growth and progress
The News
Nothing much to report on this week that I have seen. Hive is still under active development with efforts to make it possible for more people to run a node. I would love to be a witness, but cannot justify the cost right now. If I can get to a stage where Hive is giving me decent income I will consider it. I am thinking of spending some of my earnings from posts, curation and games as I need new running shoes.
$HIVE is maintaining its lead over 'the other coin' after lagging behind for so long. The markets can be fickle, but support still seems strong.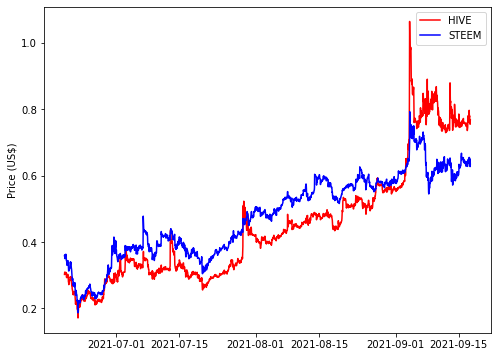 Chart from my own script querying @coingecko.
@splinterlands is close to being the biggest gaming dapp after recent growth. If that continues it could become the biggest dapp of all, but we will have to see if it can keep growing like this. They finally released some new cards this week that may help new players progress. Buying cards can be ridiculously expensive.
I am always looking for people to add to the #BritList. I use some scripts for that, but I will miss some. Let me know of any you find.
Friday Follows
I am struggling a bit to find people to include in this segment, so I welcome suggestions. I tend to look at what I have re-posted and who has commented over the week.
The Doghouse
A large elephant in the Hive room is the @ranchorelaxo account. It votes with over a million HP and has a delegation to @haejin who was driven away from posting here for abusive self-voting. Those two accounts vote up various posts and this can have a large effect on the rewards distribution. I believe Haejin may have the posting keys to control the vote or Rancho is following his trail, but someone claiming to be the owner of Rancho said they had lost the keys and so could not change the delegation or withdraw funds. So we are stuck with this major influence for good or ill. I guess the only way to change that would be for the witnesses to support excluding their transactions, but I know they will be reluctant to take such action. Hive is supposed to be about freedom and excluding anyone would set a bad prescedent.
Some people may be lucky to get a massive vote from these accounts, but you are at risk of it being removed by the community to re-balance the rewards. Much as some dislike downvotes they were intended to deal with such issues as well as other abuse to prevent anti-social behaviour.
The End
We are over two thirds through 2021. Do you have predictions of what may happen by the end of the year? Will $HIVE reach new highs? Will we have a breakthrough in signups and activity? Will a major celebrity start posting here?
Hive five!
---
---