Feline look | Tender and mischievous eyes
Today I felt inspired with my girl Waffles and I'm introducing them to those of you who don't know her. She is one of my two cats, but Waffles was the one chosen to show you her feline look in this #colourblackandwhite community where I have decided to dabble as a simple amateur that I am in photography with my iPhone in hand.
As you will see below, Waffles is very tender and also restless, just like her eyes.
Hoy me sentí inspirado con mi chica Waffles y se las presento a quienes no la conocen. Ella es una de mis dos gatas, pero Waffles fue la elegida para mostrarles su mirada felina en esta comunidad #colourblackandwhite donde he decidido incursionar como un sencillo aficionado que soy a la fotografía con mi iPhone en mano.
Como verán a continuación, Waffles es muy tierna y también inquieta, como su mirada.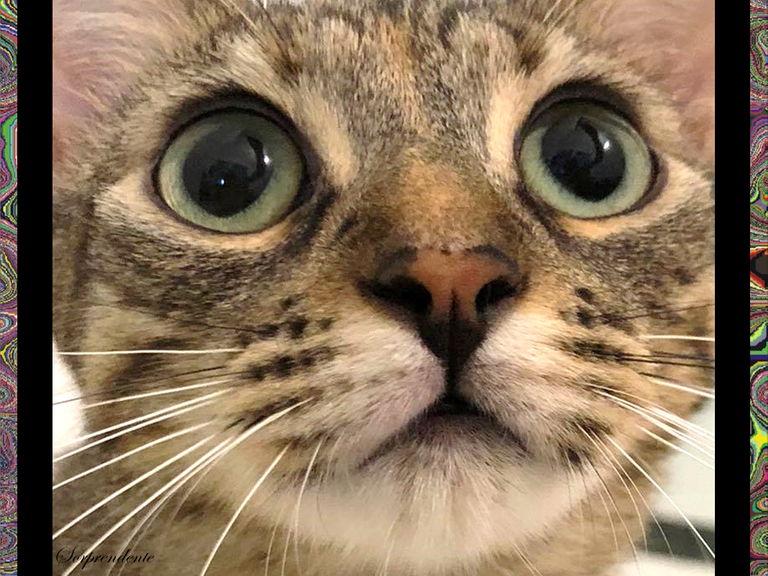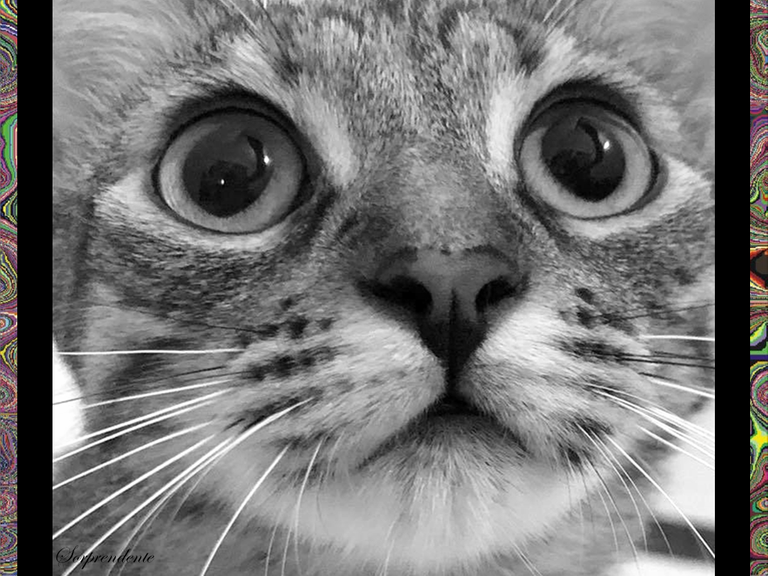 She is attentive to everything that happens, the pupils of her eyes are always dilated because she is a girl who has too much energy not to let a free moment pass.
Ella está atenta a todo lo que sucede, la pupila de sus ojos están siempre dilatada porque ella es una chica que tiene mucha energía como para no dejar pasar un momento libre.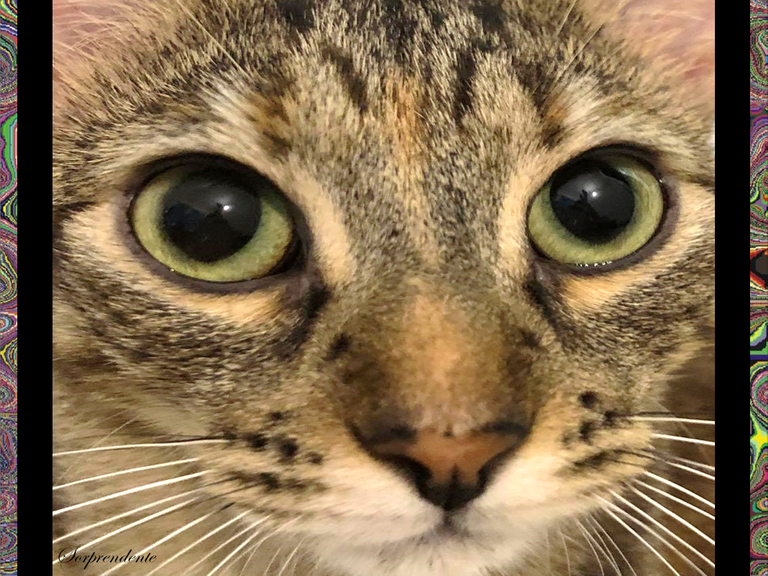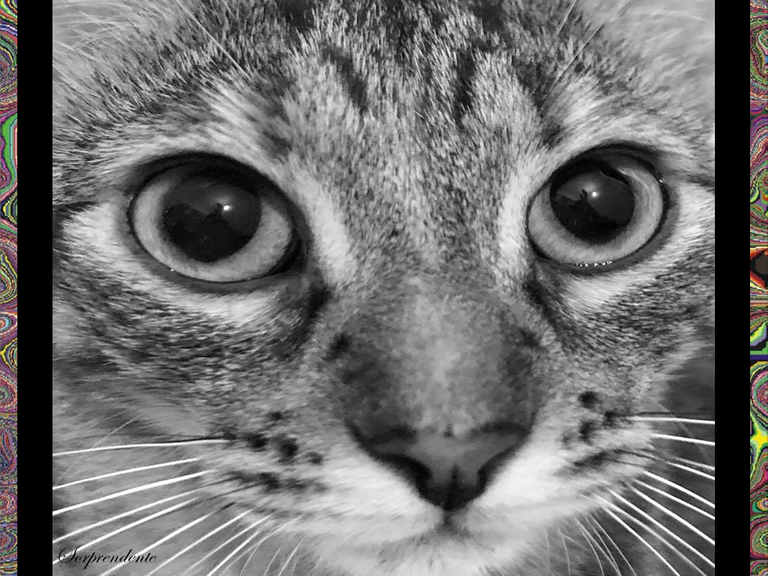 His eyes take in everything. Waffles doesn't lose track of anything going on around him.
Sus ojos captan todo. Waffles no pierde la pista a nada de lo que sucede a su alrededor.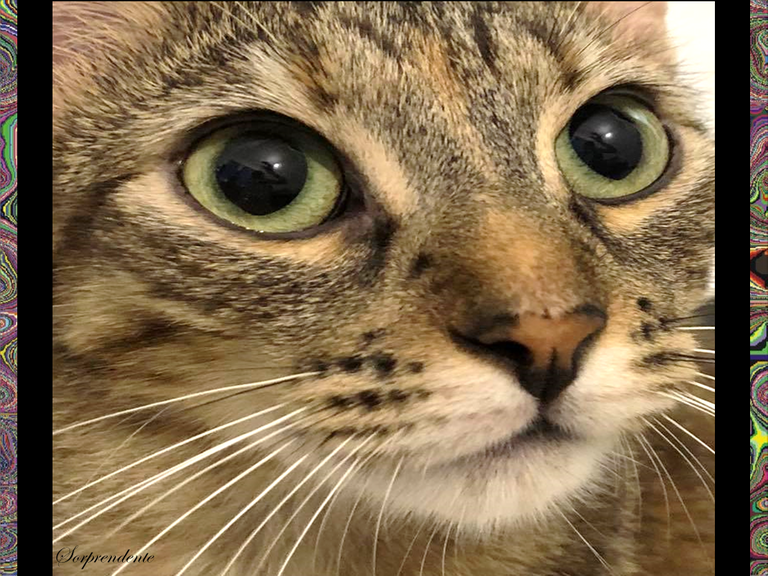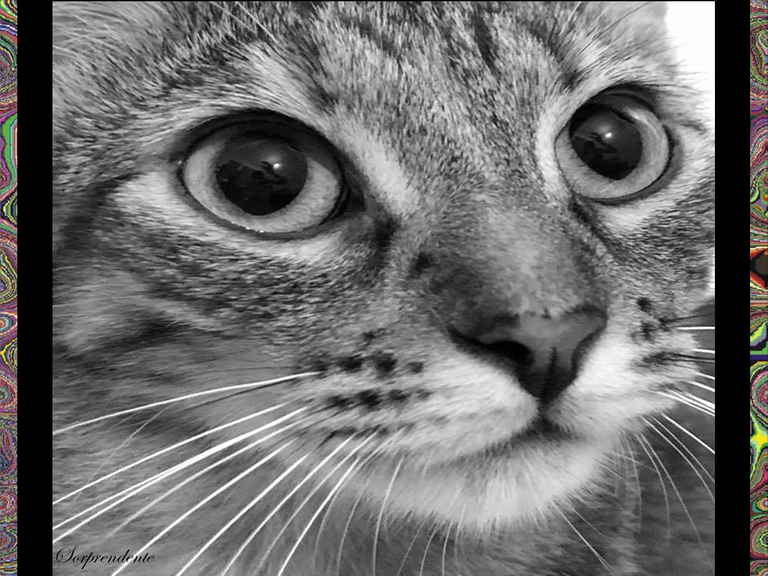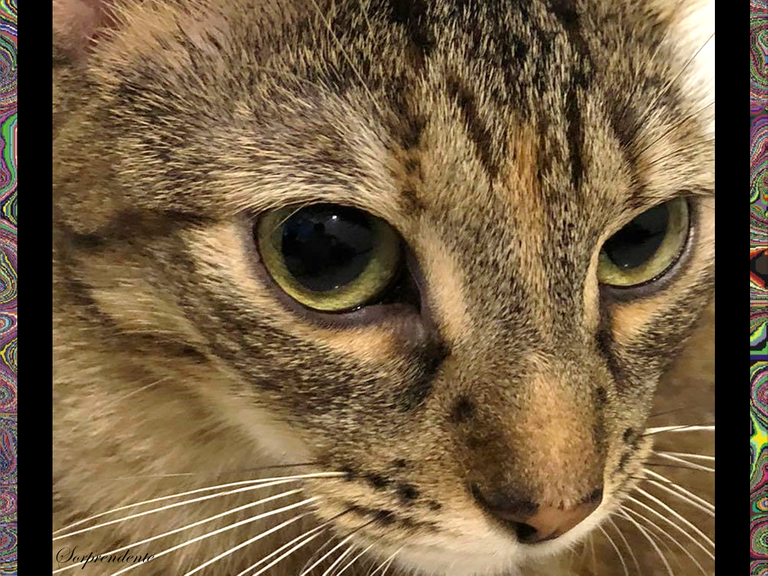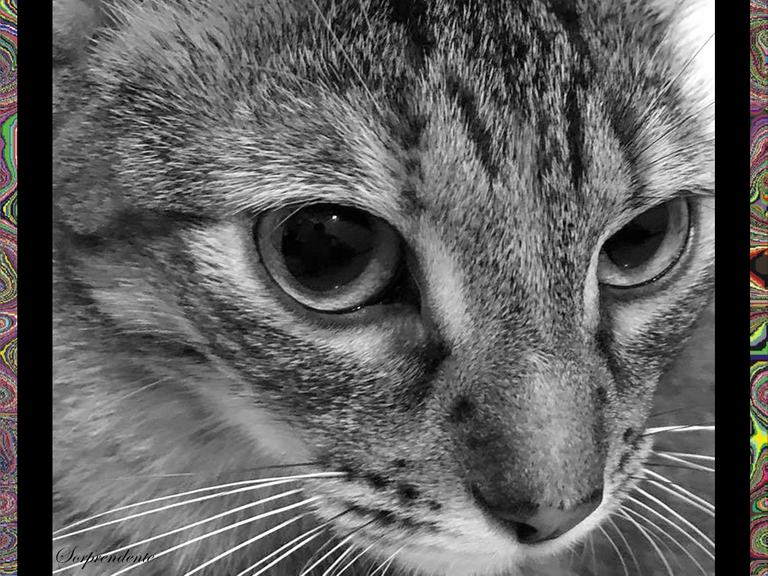 Especially when it comes to her feeding time her gaze becomes more active. She is ready to receive her portion.
Especialmente cuando se trata de su hora de alimento su mirada se activa más. Está lista para recibir su porción.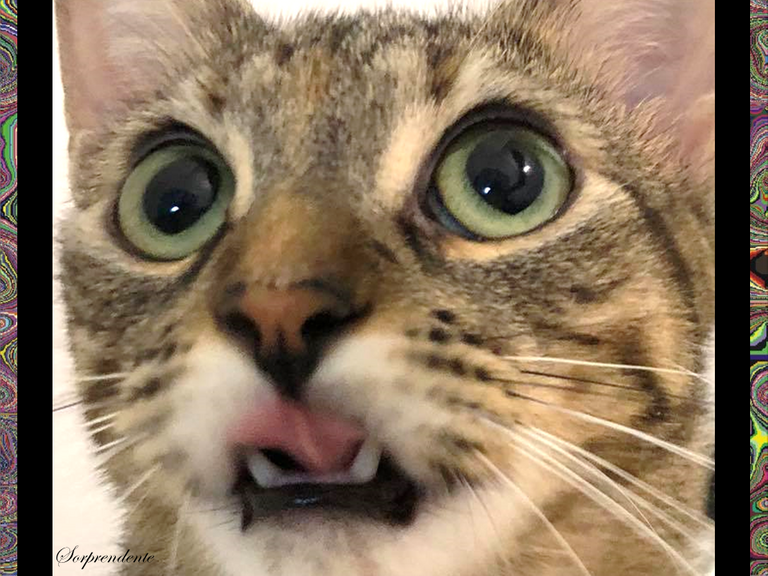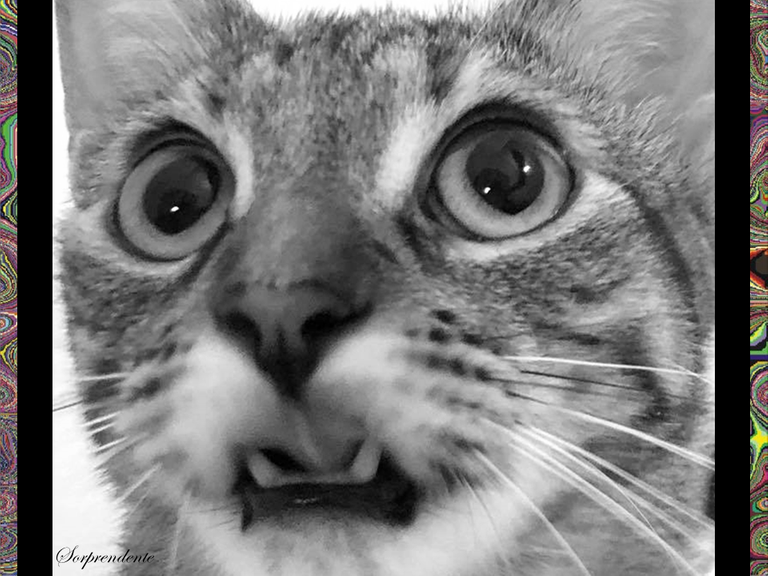 As Waffles stares at his plate I take another picture. Waffles' gaze and expressions are an inspiring poem.
Mientras Waffles mira su plato fijamente le tomo otra foto. La mirada y las expresiones de Waffles son un poema que inspiran.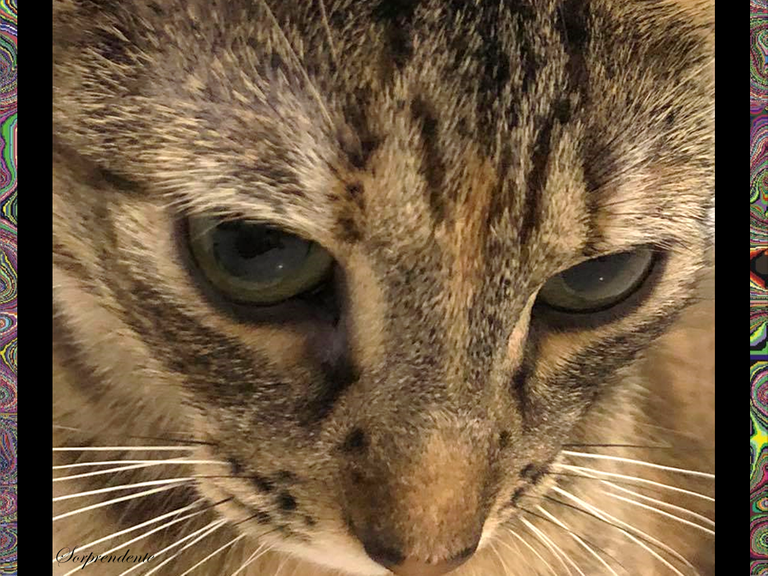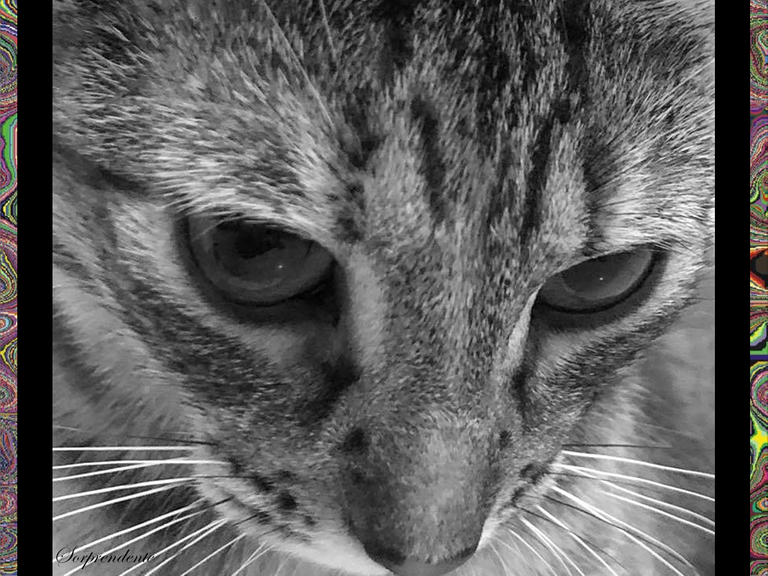 But it's only fair that his hyperactive eyes rest and that tender, restless look fades for a moment while Waffles recharges his energy. Happy dreams Waffles!
Pero es justo que sus ojos hiperactivos descansen y esa mirada tierna e inquieta se apague un instante mientras Waffles recarga las energías. ¡Felices sueños Waffles!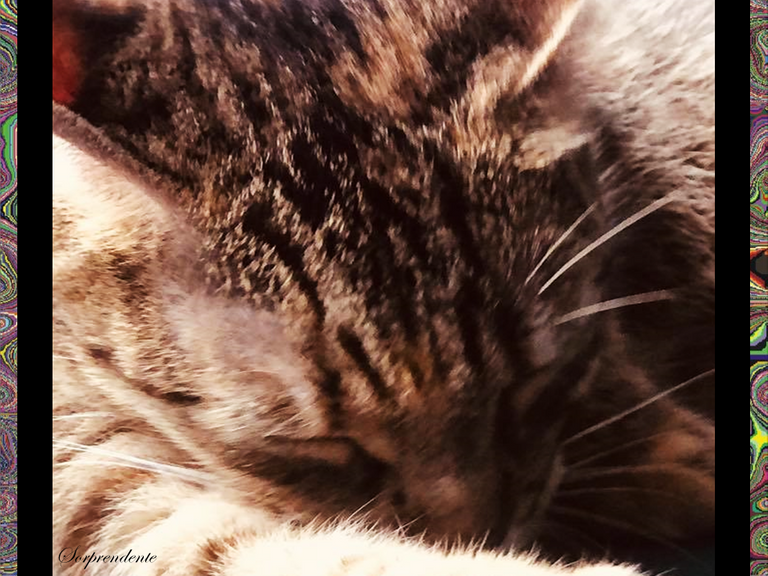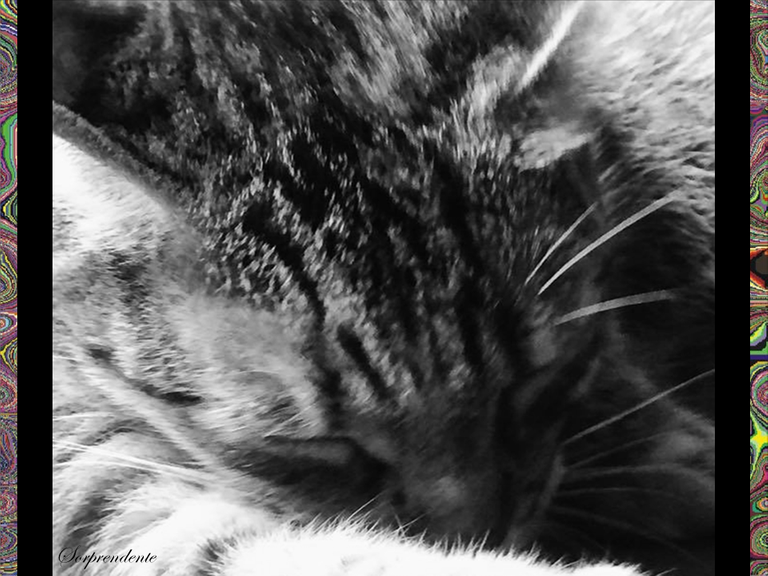 It feels great to find new spaces on hive dedicated to photography and especially this one created for the presentation of life in color and black and white.
Se siente muy bien encontrar nuevos espacios en hive dedicados a la fotografía y especialmente esta creada para la presentación de la vida a color y a blanco y negro.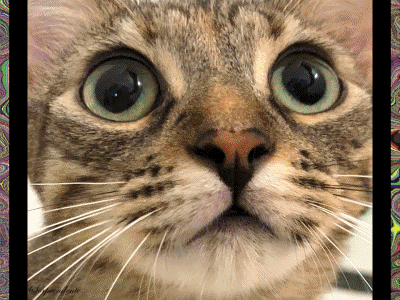 ---
---
Translated with www.DeepL.com/Translator
Bienvenidos a mi blog
Welcome to my blog
Gracias por tu visita
Thanks for your visit

Contenido original / Autor @sorprendente
Fotos e imágenes de mi propiedad.
Si desea usar alguna como referencia
destaque mi nombre como fuente: @sorprendente
Original content / Author @sorprendente
Photos and images of my property.
If you want to use one as a reference,
please highlight my name as a source: @sorprendente

C/Architecture+Design 🌀 C/Mundo Autismo
Logos propiedad de las comunidades. / Logos owned by the communities.
---
Nos seguimos viendo y leyendo. / We keep watching and reading.
---
---
---