HIVE Meet-Up, Saturday 18th June 2022 (Halifax, West Yorkshire, UK)

COVID this, COVID that, COVID gone!
COVID messed up most of the HIVE meetings of last year, but I am pleased to announce that there will be another one commencing Saturday 18th June 2022 in the West Yorkshire town of Halifax, England.
When I say 'commencing', this is no STEEMFest, and there will be no @roelandp wearing orange duck outfits (unless he wants to come). It's a single-day event and will be FREE.

The host, like the previous meetup, will be @c0ff33a, a UK HIVE Witness of some repute. @c0ff33a has generously allowed us to use his premises for the day at ZERO cost.
@shanibeer is dealing with the registrations and created the EventBrite.
I don't know what to call it, technically it should be HIVE-Camp 2 as HIVE was born several months before the last one.
Everything will be informal, so you don't need to wear your top hat or fancy dress. It will be made up of chats, forging bonds, eating, belching, farting, and drinking coffee.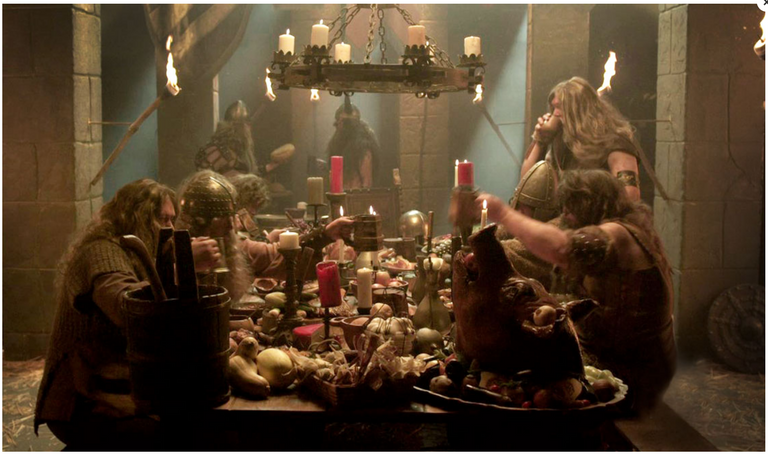 Source
…'it is hosted in the wild north after all'…
That 'coffee' part is important as from the time of the last UK HIVE meetup in the summer of 2020, I have been purchasing my coffee from @c0ff33a via mail order..., the very same host.
… and it's great coffee, I wouldn't buy mine anywhere else!
We are planning on providing some food, just some as last time much was wasted due to people dropping out at the last minute.
...'the mid-section of @c0ff33a next to his giant coffee roaster'...
That said, @c0ff33a's place is quite central to the mid-sized town of Halifax and there are plenty of eateries available if you don't fancy the freebie food.
I'll be there from around noon or so and the event will run until around 17:00 or when @c0ff33a gets fed up with us.
Yes, it may seem a long distance to travel but if you are new to HIVE you will find the information you pick up here invaluable.
…'unless you think it's some cult like I did in April 2018 when I attended my first. I barely made it out alive'…
If you would like to attend then please register here. It all looks formal, but all we need is your name and email address.
I put 'Slobber' and 'Chops' as I like to remain anonymous, but the email address needs to be real as a ticket will then be sent to you.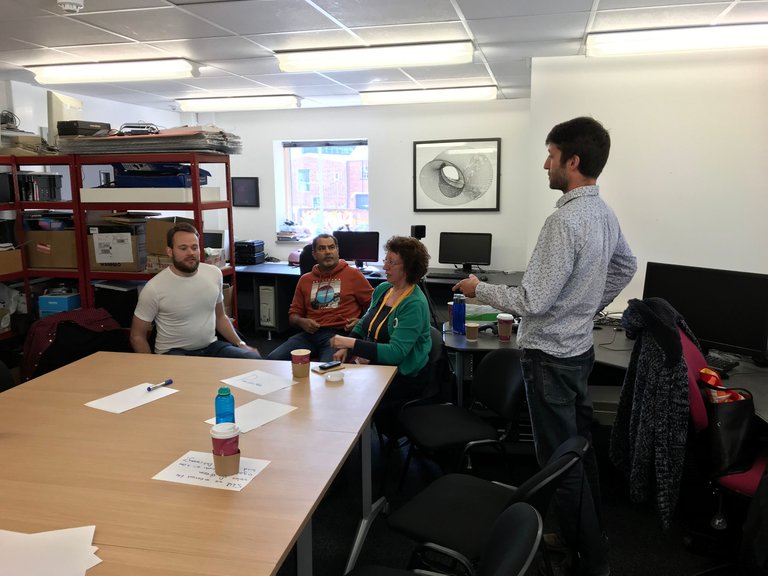 'some meetups have been a little too formal for my tastes such as this one. There will be no pens or bits of paper. This was SteemCamp 2 in May 2019. In the picture (left to right): @starkerz, @goblinknackers and @shanibeer, and someone who has now left HIVE'...
It's all anonymous and nobody will see your email so stop fretting.
All liquid rewards from this post (HBD) will be sent to @c0ff33a to help pay for the food. If that's not enough then I will add a some more on the day.

Earn currency while you play brewing virtual beer with CryptoBrewMaster
Earn currency while you play and become a global Rock Star with Rising Star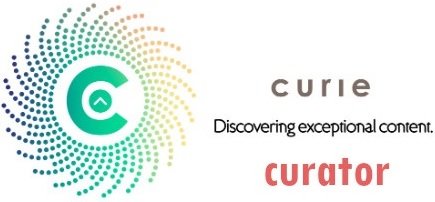 ---
---