THE ONE THING I WOULD CHANGE IF GIVEN THE POWER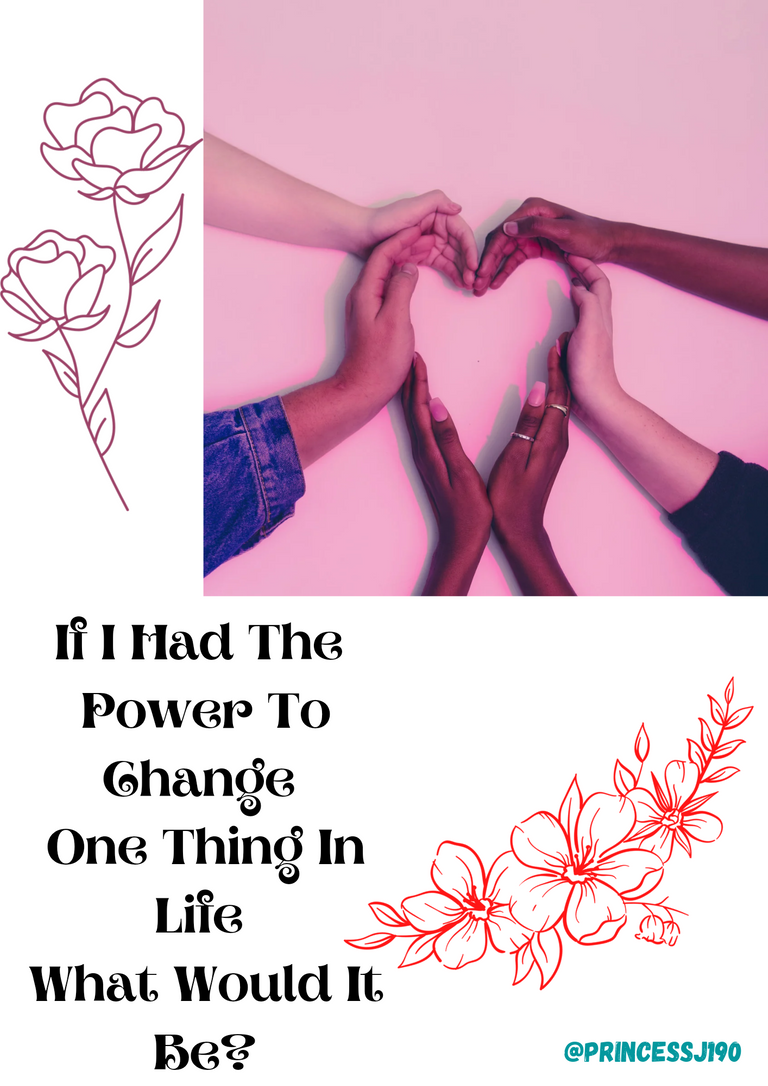 Photo by Atccomm On Pexels | banner created by Me using Canva
About 2 years ago when I was still super active on the Fb network I followed a certain page that was run by a fitness trainer, to be honest, I only started following that page because one of his posts randomly showed up on my home page (FB advertising at its best ) and seeing his picture 🤩🤩 I couldn't help but crush 😇😇 lol it happens sometimes but in the long run, I was glad I did choose to become a fan then.
On one of his engagement posts, he asked "if you could make one wish that would come to pass what would it be?" We all discussed this issue with a lot of people sharing different opinions including me.
For some reason, this question has been running through my mind all through last week so today I decided to ask myself a similar question.
⎽⎼⎻⎺⎺⎻⎼⎽⎽⎼⎻⎺⎺⎻⎼⎽⎽⎼⎻⎺⎺⎻⎼⎽⎽⎼⎻⎺⎺⎻⎼⎽⎽⎼⎻⎺⎺⎻⎼⎽⎽⎼⎻⎺⎺⎻⎼⎽⎽⎼⎻⎺⎺⎻⎼⎽⎽⎼⎻⎺⎺⎻⎼⎽

𝗤𝗨𝗘𝗦𝗧𝗜𝗢𝗡

𝘐𝘍 𝘠𝘖𝘜 𝘏𝘈𝘋 𝘛𝘏𝘌 𝘗𝘖𝘞𝘌𝘙 𝘛𝘖 𝘊𝘏𝘈𝘕𝘎𝘌 𝘖𝘕𝘌 𝘛𝘏𝘐𝘕𝘎 𝘐𝘕 𝘓𝘐𝘍𝘌 (𝘈𝘕𝘠𝘛𝘏𝘐𝘕𝘎)𝘞𝘏𝘈𝘛 𝘞𝘖𝘜𝘓𝘋 𝘐𝘛 𝘉𝘌 ? 𝘈𝘕𝘋 𝘞𝘏𝘈𝘛 𝘞𝘖𝘜𝘓𝘋 𝘛𝘏𝘈𝘛 𝘊𝘏𝘈𝘕𝘎𝘌 𝘈𝘊𝘏𝘐𝘌𝘝𝘌.
Your mind is bound to take you in so many different directions when asked a question like this and some of the usual answers you would hear will likely be
. Bring about world peace
. End hunger
. No More Sickness And Disease 😷
. Be the Richest in The World So You Can
Help Others 😉 (lol it's your wish after all and you can use it as you deem fit)
Every one of the above options is great and would make life as we know it a lot easier for all if it could be done but I on the other hand would choose to change SOMETHING else.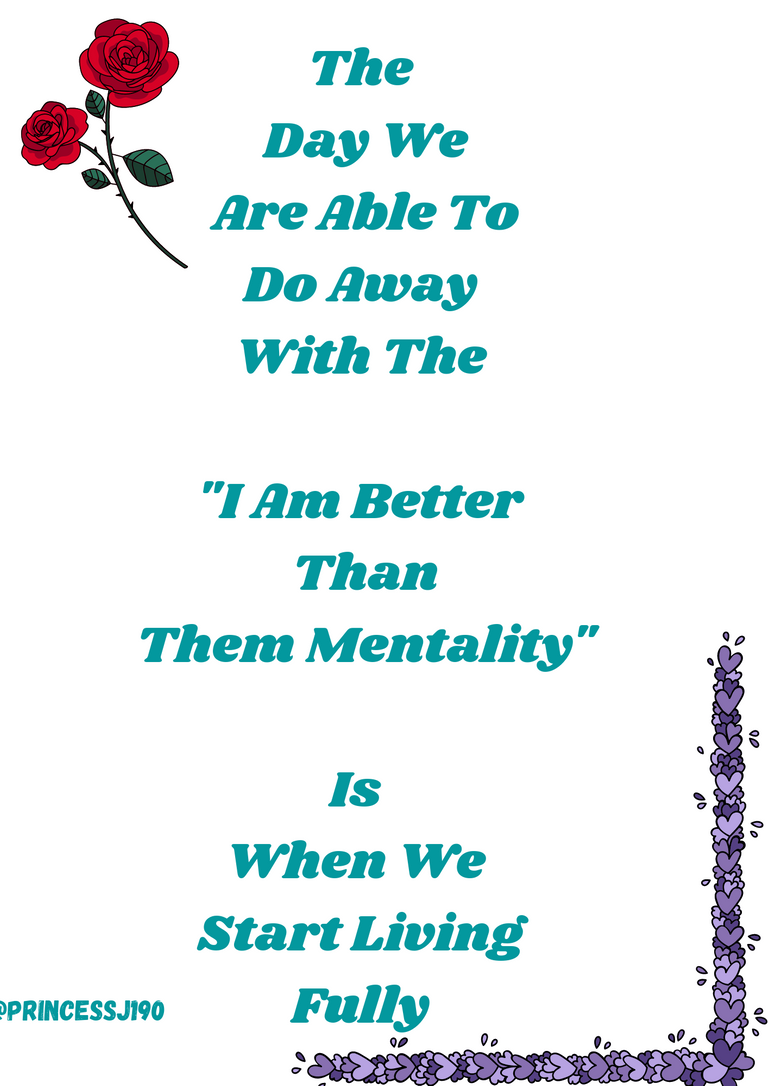 banner created by Me using Canva
I would choose to put an end to 𝘙𝘈𝘊𝘐𝘚𝘔, eradicate the mentality from the minds of every living human being so it would never be used as a barrier again.
When I say eradicate Racism in this post I'm not talking about one particular race being discriminated against no, the issue of racism has gone beyond that solo circle and evolved into a worldwide phenomenon that affects EVERY SINGLE PERSON because now no matter the color of your skin today SOMEONE SOMEWHERE is hating on you because of it.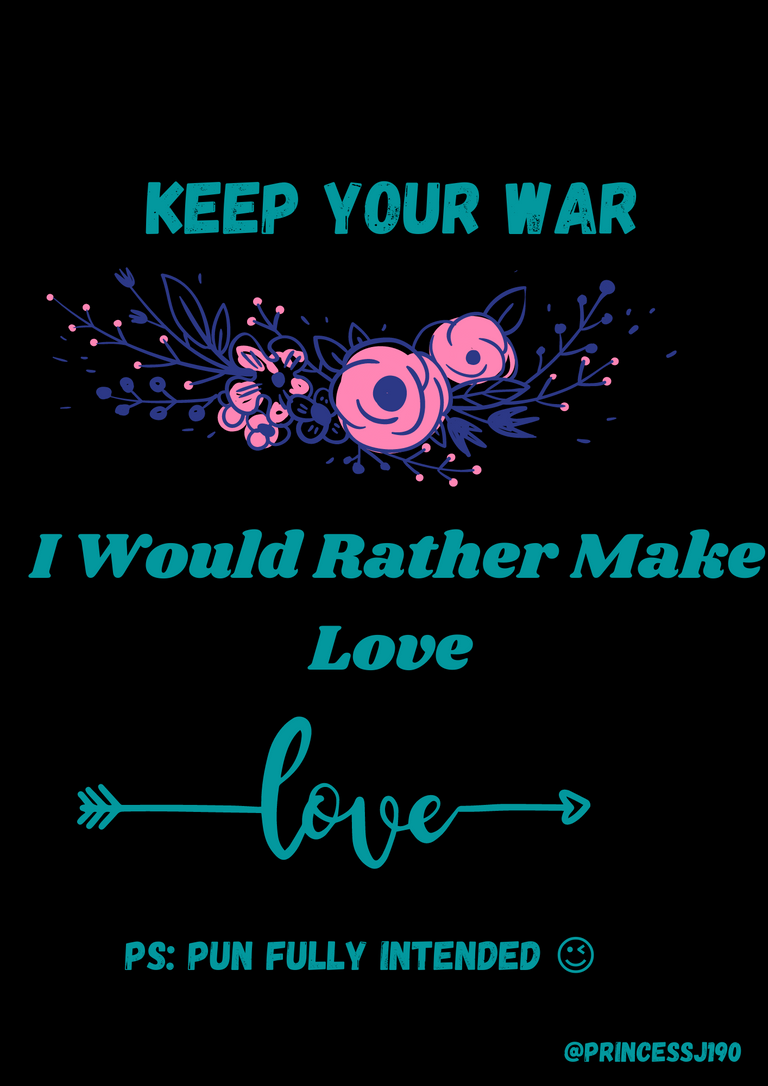 banner created by Me using Canva
------------───✱.。:。✱.:。✧.。✰.:。✧.。:。.。✱ ───---------------
It's no longer a problem only a particular race suffers from but Everyone today is getting a test of this venom based on color which has led not just to separation but an unhealthy competition to prove who is more superior.
I've heard it said that racism stems from one's upbringing, right from the Homefront.
"The children become what the parents mold them into, if a parent is racist the child would most likely become one" was a friend's opinion during a discussion on this issue, and although I appreciated his input I didn't completely agree with it.
Kind of reminds me of that Riddle "which comes first, the chicken or the egg?"
I believe that while the family and its belief plays a big role in what a person turns out to be, even society has an equally important role to play and quite frankly both of these fronts have failed woefully when it comes to the issue of racism.
Right now we can be likened to this snake hellbent on devouring itself, should be interesting to see just how much progress it makes trying to move forward in its present state.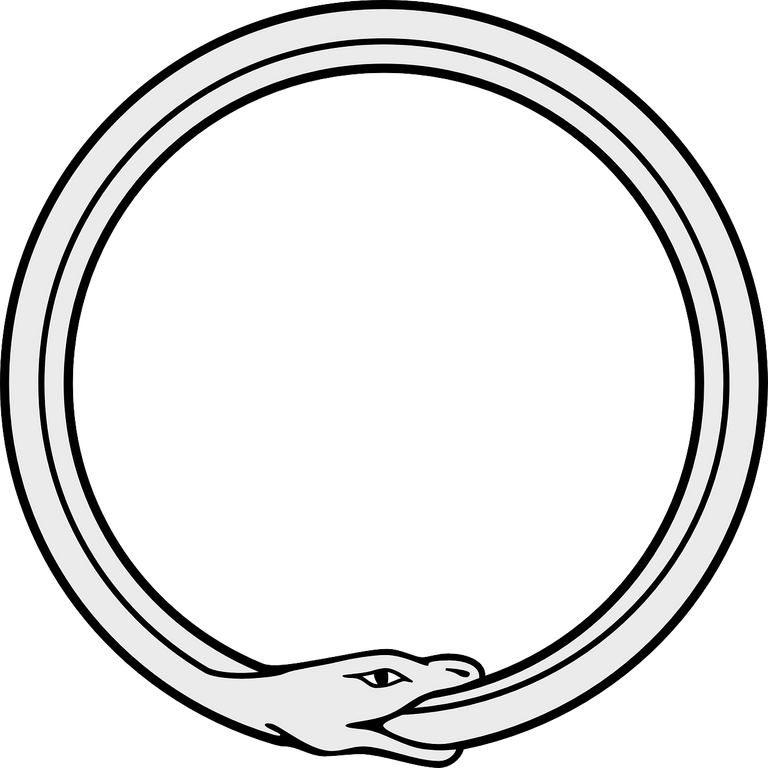 Isource
It's funny how we all strive for development and growth yet at a moments notice we go Ouroboros on ourselves, creating and destroying at the same time only to turn around and complain of a lack of progress smh

▂▃▅▇█▓▒░۩۞۩ ۩۞۩░▒▓█▇▅▃▂


𝘞𝘏𝘈𝘛 𝘞𝘖𝘜𝘓𝘋 𝘛𝘏𝘈𝘛 𝘊𝘏𝘈𝘕𝘎𝘌 𝘈𝘊𝘏𝘐𝘌𝘝𝘌?

Just close your eyes for a minute and imagine a world WITHOUT that color barrier!!! A world where everyone is everyone else brother or sister.
A place where one helps another of an entirely different race without it appearing as a charity, where EVERYONE can sit and eat on the same table as a true family would and support one another through situations because they know their combined strength remains their strongest weapon.
𝘕𝘰𝘸 𝘪'𝘮 𝘴𝘶𝘳𝘦 𝘢 𝘭𝘰𝘵 𝘰𝘧 𝘱𝘦𝘰𝘱𝘭𝘦 𝘮𝘰𝘴𝘵 𝘣𝘦 𝘸𝘰𝘯𝘥𝘦𝘳𝘪𝘯𝘨 𝘞𝘏𝘠 𝘪 𝘤𝘩𝘰𝘰𝘴𝘦 𝘵𝘰 𝘦𝘯𝘥 𝘳𝘢𝘤𝘪𝘴𝘮 𝘳𝘢𝘵𝘩𝘦𝘳 𝘵𝘩𝘢𝘯 𝘸𝘪𝘴𝘩 𝘧𝘰𝘳 𝘸𝘰𝘳𝘭𝘥 𝘱𝘦𝘢𝘤𝘦 𝘰𝘳 𝘦𝘯𝘥 𝘩𝘶𝘯𝘨𝘦𝘳, 𝘭𝘦𝘵 𝘮𝘦 𝘦𝘹𝘱𝘭𝘢𝘪𝘯.
Let's take the love between a father and a child which if you ask me is the purest form of love which is why a father would go to any lengths for his child, to ensure they are happy, protected, and provided for.
Now if the child, in this case, is one race and the father another but in between there exists this same pure unadulterated love do you think one will have more than enough to eat and be able to watch the other die of hunger? And as for world peace ✌️ if we love one other as much as we love ourselves then why would we fight or kill each other???
And yes I know there will still be issues of sickness and diseases but I do not doubt that if we can learn to walk hand in hand as each other support them no matter the severity of the illness we are sure to overcome.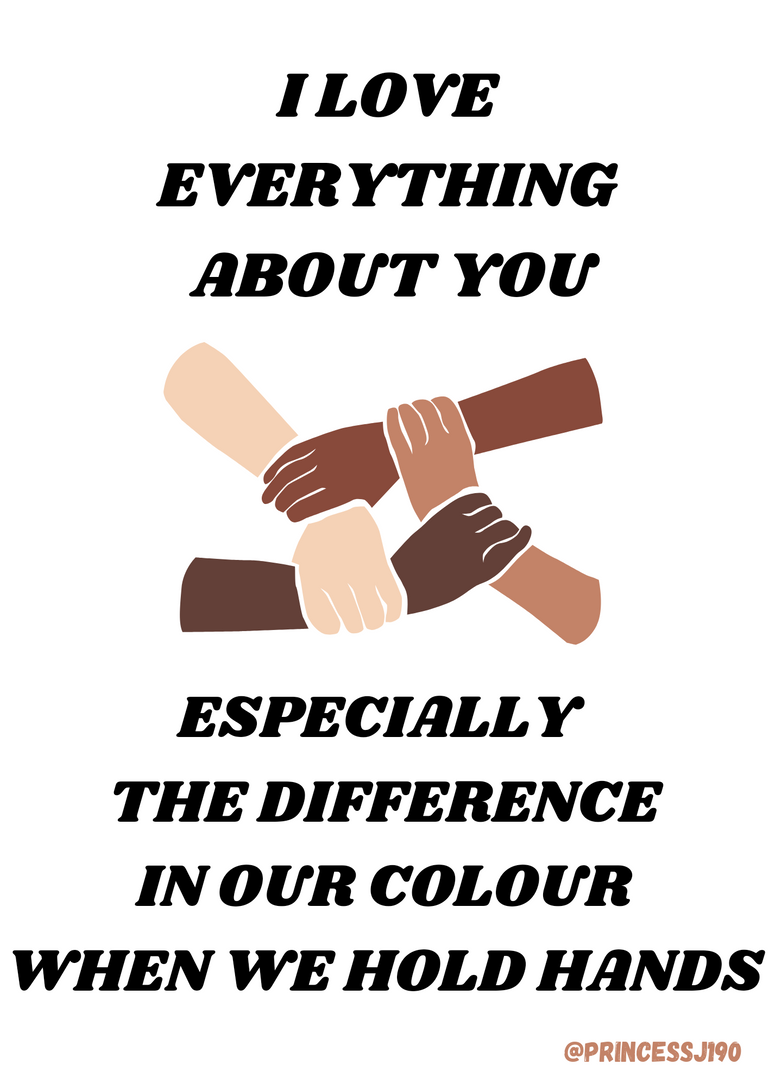 banner created by Me using Canva
So basically eradicating racism in my book is the one med that can heal a lot of ills ravishing our world today so wouldn't it be worth our time to take this 💊 and be the change we want to see?.
Thank you so much for reading 😉 your comments, observations, or correction to this blog is 💯 welcome. Sending 💕💕💕 and wishing you a wonderful day.
All Banners created using Canva free tools and graphics but the texts are mine.
---
---