FEAR CREATES OPPORTUNITY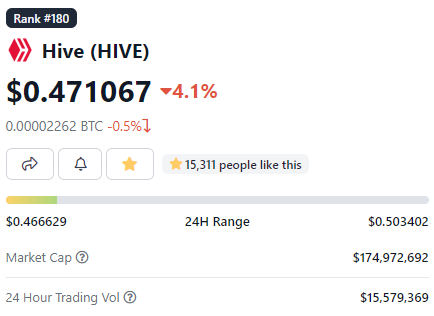 source
Maybe I am not so inclined to wait any longer for #hive to drop in value to acquire more. Lately the sideshow from the way crypto is behaving, got me thinking the boring bear is taking its time. In a bear market not all stocks will drop. Some will due to the reaction of being weak, while some will rebound quickly afterwards. If you are not new to crypto you can be proactive that this is not the last or the first bear market.
I recalled vividly 2017 going after. It was an event many forget by now but it shaped many to prepare and get the best from crypto. This cycle exists to help everyone. It is hardly nonchalant to think of crypto as a way to make money out of thin air. During the rise of crypto in the early pandemic time, many companies profited handsomely by investing huge amount. Yes BTC alone captivates the market with $60k for a short moment to fall back where it is today.
Bear market helps to differentiate holders of crypto and investors. Hard to find investors these days. They are fearful and losing is not part of their vocabulary. This is where opportunity is knocking for holders to step in and fill the void. While I am saying that not all crypto that fall down is the product of the bear market. It is just market contraction. Lack of liquidity among exchanges forced the tokens to trade at a lower value.
#Hive fits this profile clearly. Yes price is down but not where it is out of contention. #Hive is still pricey and steady moving up from time to time. It should not stop a holder to slowly pack your wallet. The minute the scenario changes Hive will be right there to grab digits.
With fear you tend to spend less. You are worry where the bottom is. In crypto losing is no fun. It is already hard to make headway.
Since most of us lack the priority data when bear market ends, you have to find indication to time the market. We all know by 2024 things will be a lot different than today. This is a good two years in prospective. I think we will have a lot of situational aspect of the market.
As more folks worldwide coming over to crypto it is a leverage that will work on holders advantage. This is no fun to hold not knowing when 10X is coming.
This is investment 101, you buy low and you sell high.
The elephant in the room, you need cash. Luckily Hive takes care of this headache for many when you come over and render your service to the blockchain.
Not every blockchain can pull this off.
If you are here in Hive, double dare yourself by posting in Leofinance or elsewhere in Hive-engine to maximize your input.
This is a long road for those who can take this analogy to the wallet.
Keep the vesting moving.
Posted Using LeoFinance Beta
---
---