We Went To Wakanda But We Couldn't Stay Forever

If you know me well enough, then you probably know that I do not do much outside my room, in my corner with my gadgets, guitar and movies. Yeah, movies are an integral part of my life. However, last weekend was different...and exhilarating too.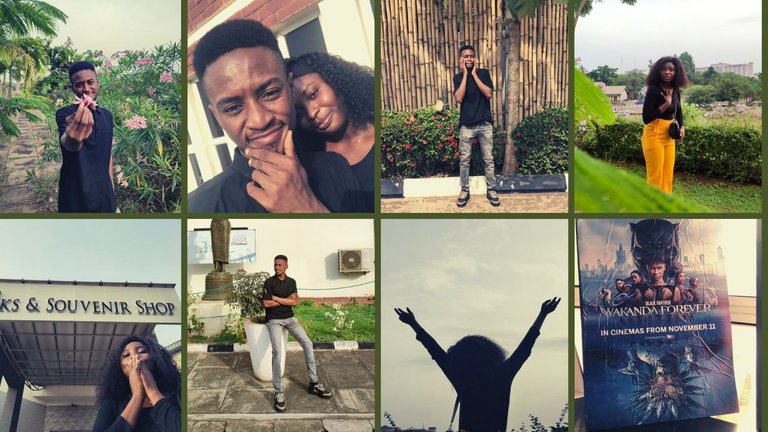 You see, I am still a student, in final year, and school's currently in session. This means that I spend most of my days of the week in classrooms, or at home in virtual classrooms if necessary. And it has always been like that for throughout my 7 years of being in this school. But this semester, I changed some things a little.
I am the class governor, and I have that power to fix the lectures as I deem fit. This time, I did it in our favour. I managed to get all lectures to be between Monday and Thursday, leaving Friday all to ourselves and our whatevers.
But I digress...
Black Panther: Wakanda Forever, the sequel to Black Panther (2018), has been available in cinemas for a month now, and will not be available to on streaming services for a very long time. And I normally would wait, but after a conversation with @teminike on how she had not seen the first part came up, the narrative changed.
I actually was surprised to learn that she had not seen the film. I guess I was just assuming that everyone had seen it back when it was first released as it was all everywhere at that time. What was I thinking?...
I got the first film for her downloaded, and she when she had finished seeing it, she longed to see the second one. So we arranged to go on Friday, since we both happened to not have lectures that day.
I had assumed that the showtime was 5:30 p.m., since other days were so, but lo and behold, it was 1:50 p.m. We then had to hasten up with whatever we were doing.
---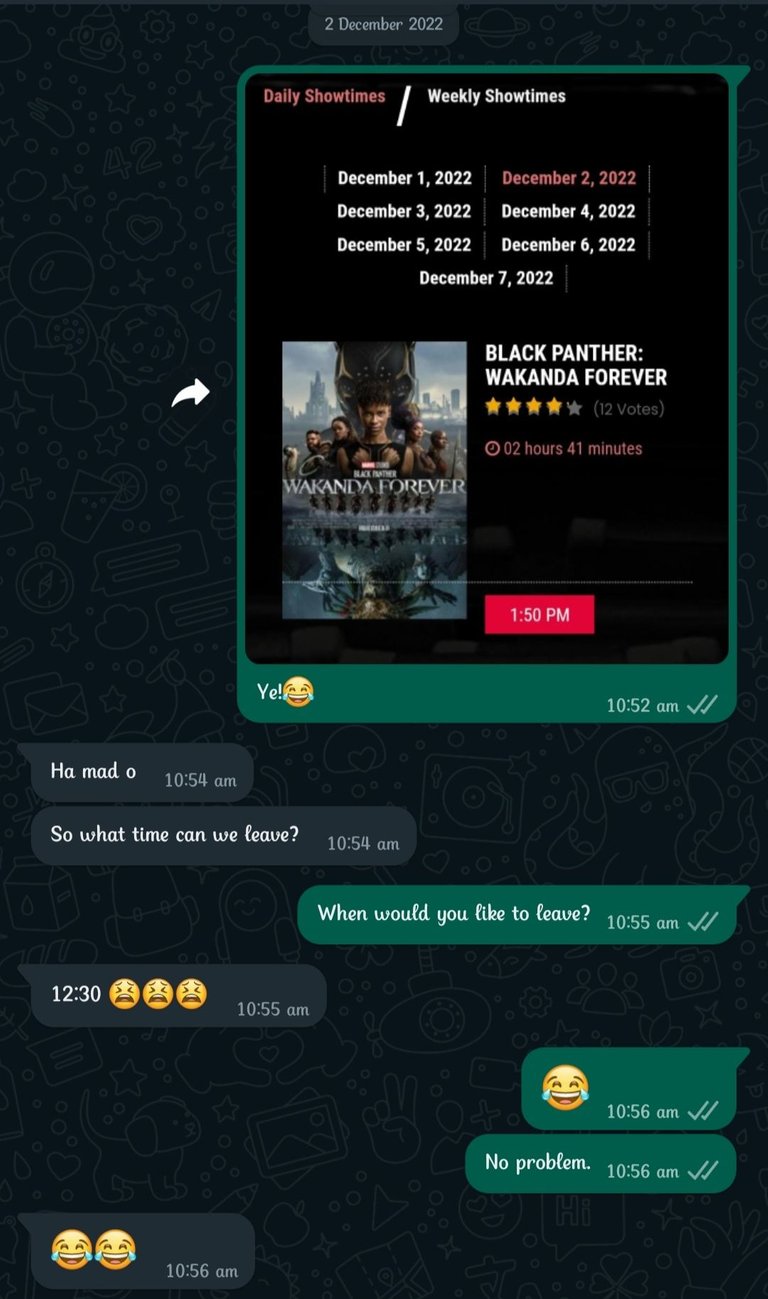 ---
We agreed to leave by 12:30 p.m., but we still ended up leaving late, and it was going to take at least an hour to get there.
The film was to start at 1:50 p.m. and we were still taking photos at 1:05 p.m., yet to search for cab.
---
---
We didn't plan well, so instead of taking a private vehicle by Bolt (like Uber), we opted for public rides. And boy, that was a challenge. This is because fuel is really scarce now, and that makes it really expensive and therefore making vehicles hard to board. We took a motorcycle to beat traffic as we were already running late.
---
---
We spent about $2 as transport fare. That's quite expensive, but since it was both of us, it was still okay. We didn't mind, actually, since we got to beat the traffic. Eventually, we got there 1:40 p.m. And rather than just go straight to see the movie, we got distracted and began taking photos, and then time was passing fast.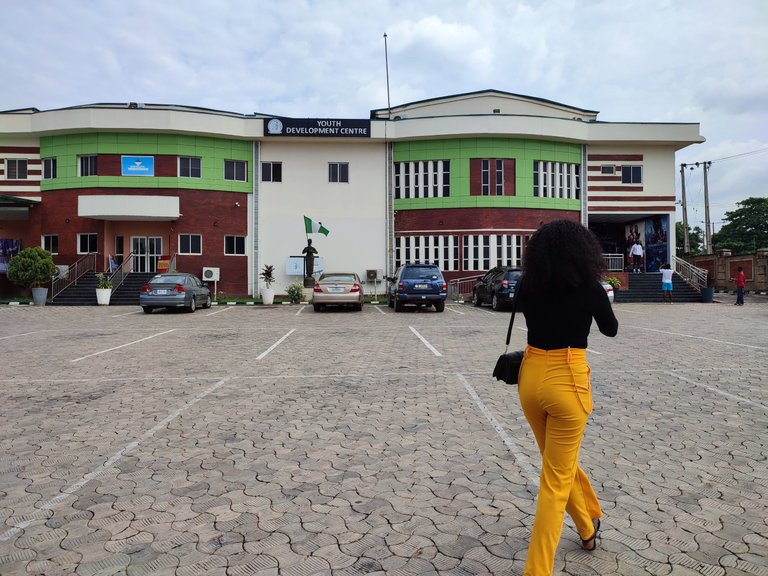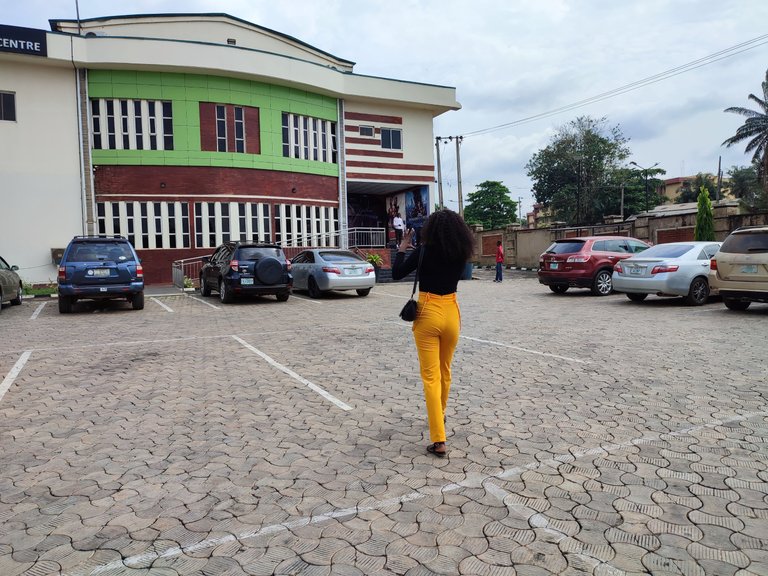 We got to the lobby to pay for our tickets, but then the transaction failed. My card had just expired two days prior and I could not use it to pay, and they were not accepting transfers. Fortunately for us, @teminike came with a lot of cash withdrawn already because she is a cave woman (she had no card)...so we just used her cash.
We got popcorn and drinks and headed straight for the theater, but we were like 10 mins late and missed some part of the beginning of the film. We didn't think we missed much, but we couldn't have been more wrong. Nonetheless, we could still catch up.
We spent over two hours seeing the movie and I must say, I have never felt as emotional as I felt about Black Panther 2 in any movie before. It was a tribute to Chadwick Boseman.
Despite the purpose and emotions behind this film, the filmmakers were able to deliver an unforgettable film that not only reflects on the love for a lost friend but also delivers entertainment on a whole new level.
You can find my my review about the film here, if you are interested. It is actually my tribute to Chadwick Boseman.
When the film had ended, we chose to still chill a little and enjoy the moment for a little while. And to our surprise, there was a post-credit scene.
If we had chosen to leave right when the credits came, like everyone else, we definitely would have missed this part, and it would have hurt us to discover it outside the cinema we had paid for. This is because the post-credit scene was deep; to be concise.
It's a good thing the film was during the afternoon as it gave us the time to have more fun and take more photos.
We then went outside the cinema and began the next on the list, photos! And then later on, we began exploring the area, OOPL (Obasanjo Olusegun Presidential Library).
---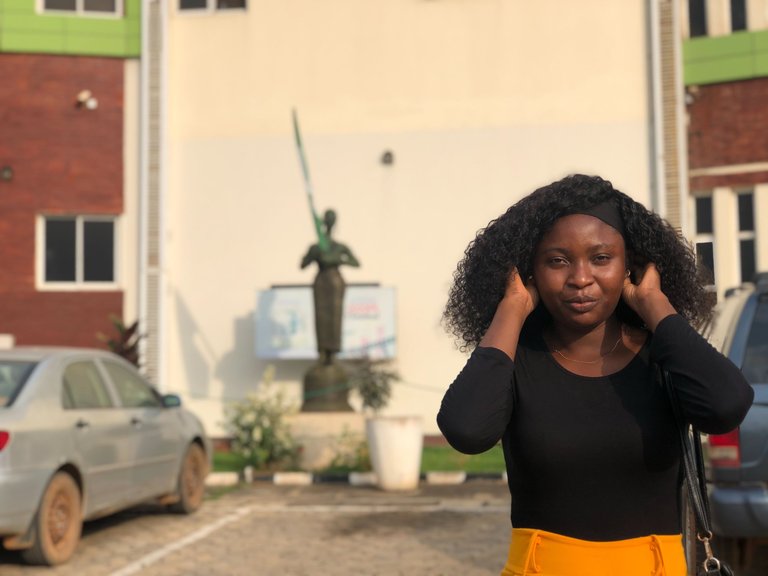 There were some pretty houses we found around and a wall made of bamboo...we took photos with them all. We also made videos too.
We firstly were takling about the movie and how we individually felt about it, and then we moved on to talk about random things, many of which I do not remember. You know how it is...
It was my first time at OOPL, but @teminike had been here before. She talked about a place where there were many rocks, so we went on to look for that place since we still had much time to chill.
---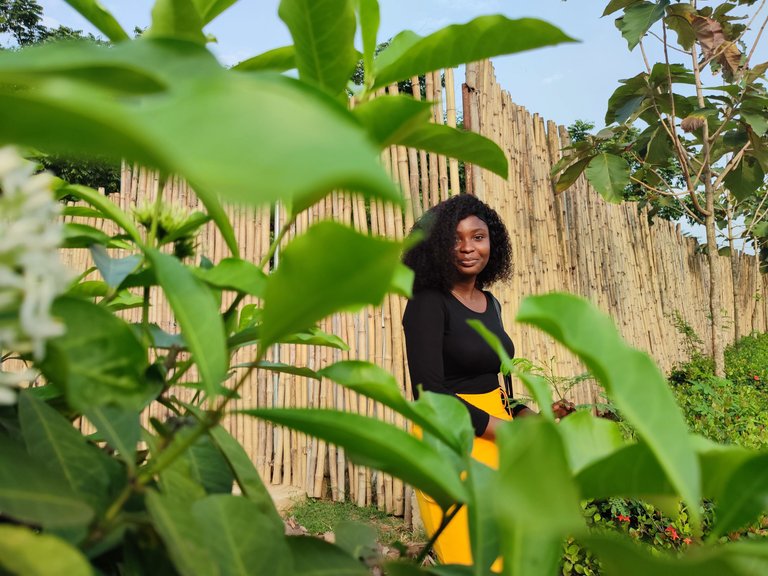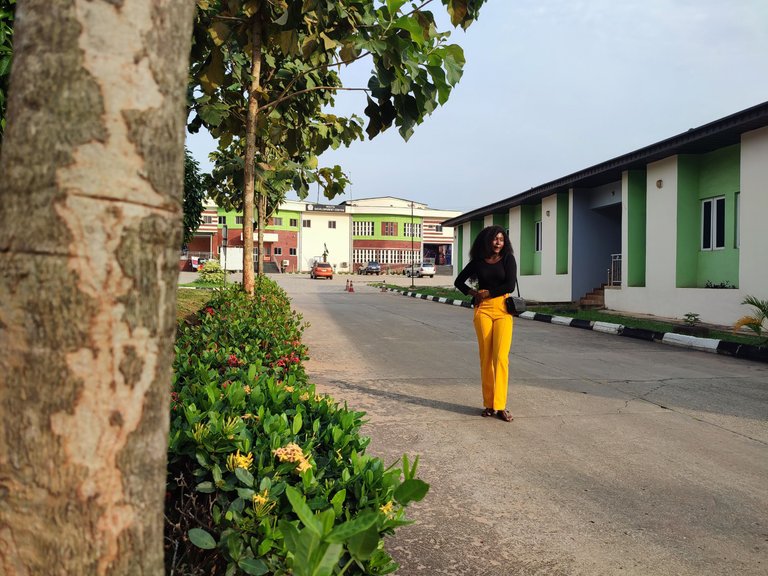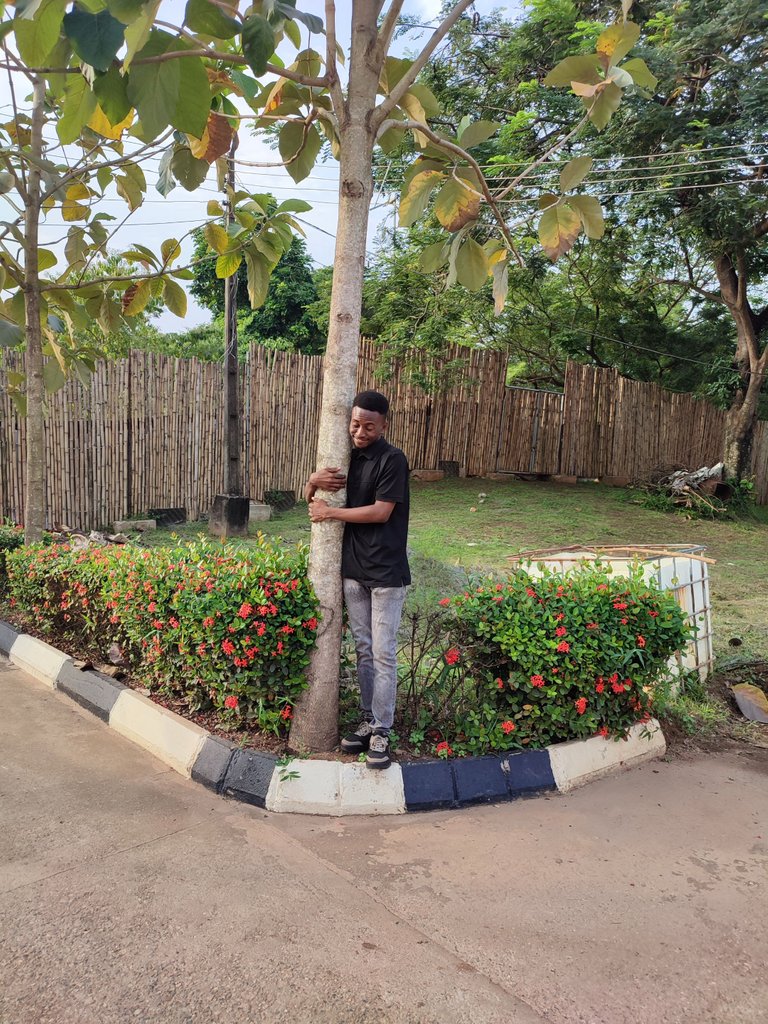 ---
There was this swampy area that piqued her interest. And for some reason, she wanted to take photos of it. It seemed mundane to me, but she somehow like the view of it. Or maybe something special happened for her there the last time she was here.I just don't know...cavewoman, maybe. But we took photos of them anyway.
---
---
After her reminiscence at that place, we moved on to keep exploring the place. OOPL is surprisingly big and there seemed to be a lot of places for different activities. I just thought it was a place with libraries and theaters.
As we walked down, the sight of a bookstore pulled us in that direction. The bookstore looked pretty and we thought to visit, but they were closed. It seemed more like they had not re-stocked or even had visitors in a long while.
---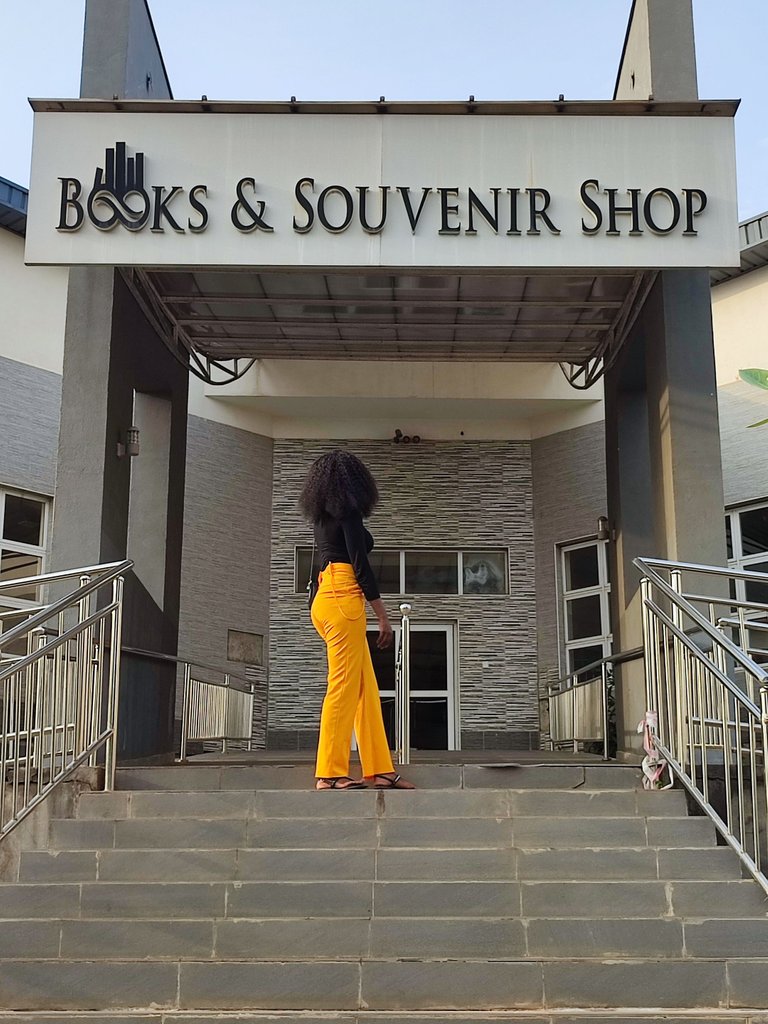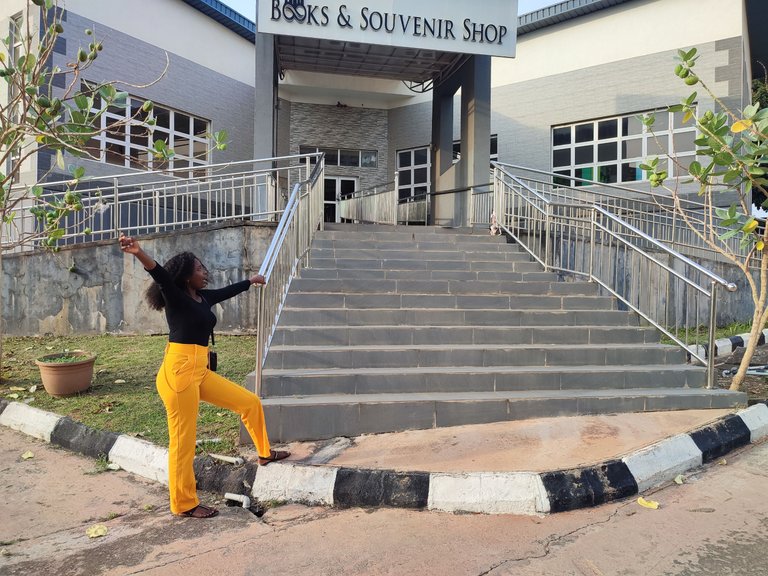 ---
And during another series of conversations about random things, another place caught our eyes. It was a stairway to the top of a really large rock.
We had no idea what was up there, as there were no descriptions around, but we couldn't ignore and so, we decided to go up the stairway into the unknown.
---
---
What we did find there were large rocks, a high point to view everywhere around as they were down below, and then a perfect spot to take sihoulette photos.
I tell you, just this little height I had to stand to take photos made me nervous as I am a little scared of heights, but I managed to strike a pose for the camera.
---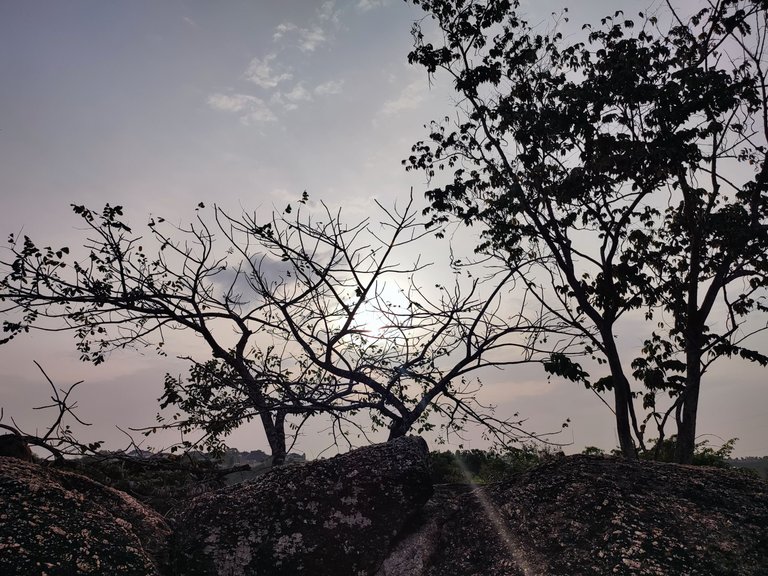 ---
We found other people sitting and chilling under a hut on the other side of where we were, so we just stayed where we were and took photos of the buildings down below.
There were railings to restrain us from going past the boundary and falling off and rolling away. I wanted to try some interesting photography, but when I held on to the railings and found that it was not in anyway sturdy, I just debunked that idea. Else, this post may have been a completely different story.
---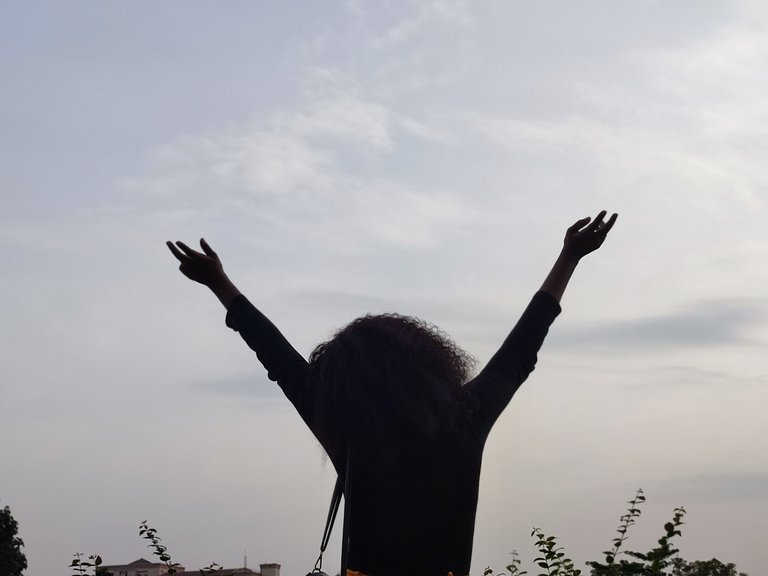 ---
Right from where we were, we found that there was a river and a bridge over it and chose to go there next. @teminike thought we were going to just visit it and return, but I had other plans.
Roses are red, violets are blue. Petals are tender, and so are you.
We went back down, and our way there, we took the wrong route. And on rerouting, we stopped again to take photos with this ginormic building.
---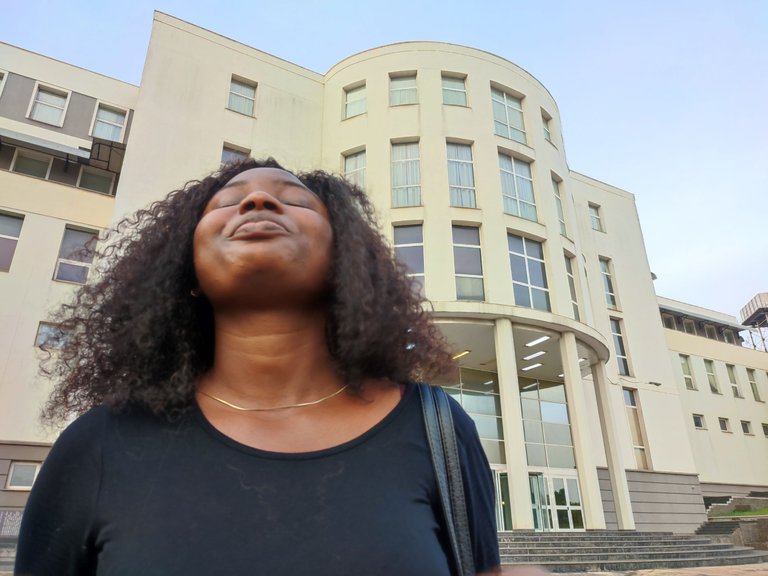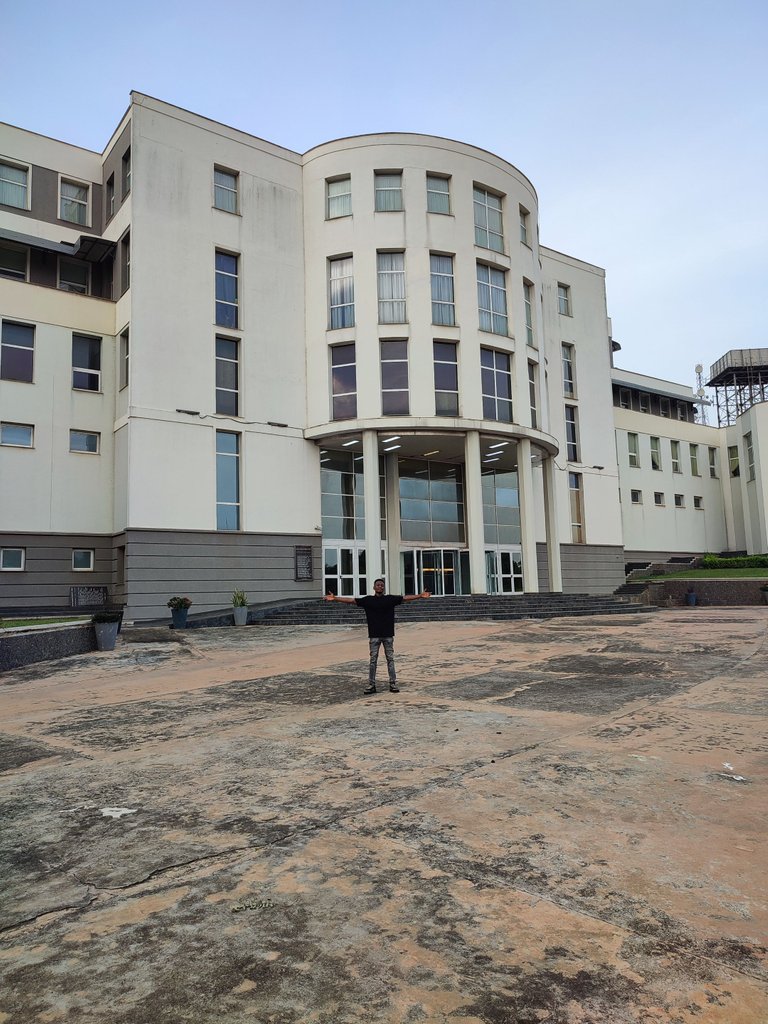 ---
Looking again, the building is not all that big, actually. But there was something a little spooky about the building, though.
We didn't find anyone going in or coming out. We couldn't tell if it was a hotel or office building, and then at the entrance, we could see a figure shaped like a human facing us. It looked more like a shadow and was not moving. We didn't take chances and left immmediately to the bridge. We could have taken a photo of the entity we saw, but who does that?
---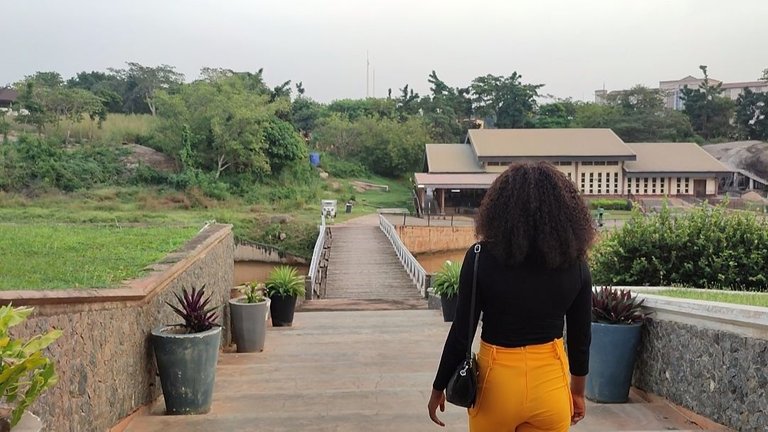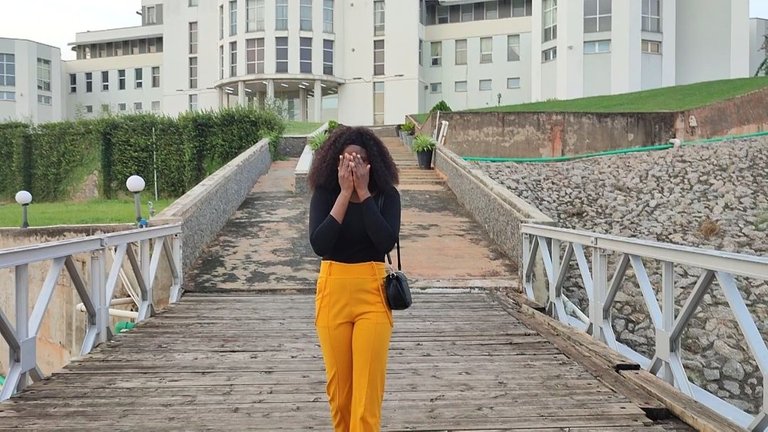 ---
It was just a small bridge, made of solid metal in fact, but I had never seen @teminike scared for her life as much as she was on the bridge.
It was meant to be a simple walk on the bridge, but what we have is @teminike running and shivering across the bridge.
---
---
It was time to go as it was already getting late and we had explored many places already, but we were hungry. We found a grill spot, so we stopped there.
Well, we didn't even stay long as the prices for the grilled fishes were exorbitant, so we just opted for snacks and headed back to the cinema to get them.
We got meatpies and ice cream. The plates of ice-cream were actually for our friends back at home.
---
This is @teminike, our celebrity, chowing down the pie with no mercy.
---
We tried getting a private vehicle this time from Bolt (like Uber), but the fuel problem made the prices become really high, more like double. So therefore, we opted to leave the same way came in, on a motorcyle, to beat the traffic. There's always traffic in Abeokuta.
I still had a night vigil at church to attend later that night, so as we both got home, I just went on take care of myself and prepare for a long night of rehearsal with my fellow musicians in church.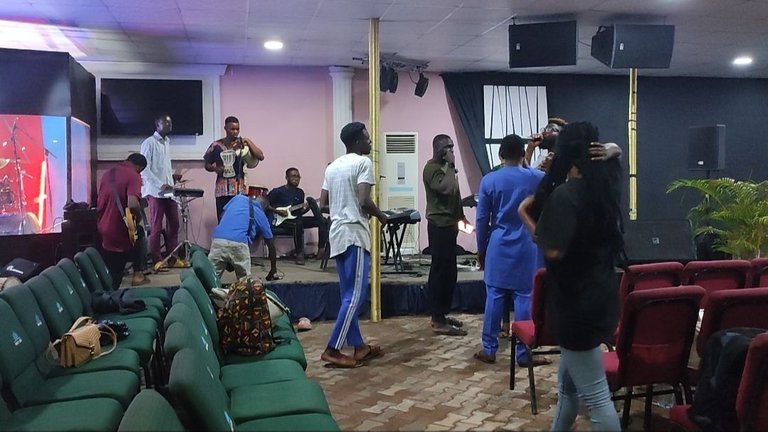 ---
TL;DR
Spending some time outside my cocoon is turned out to be a really good idea and a really fun experience. I think it was particularly so because of @teminike. She was surprisingly an amazingly company.
Avatar: The Way of Water is going to be out in theaters December 16, and I am looking forward to watching it that same day. It's been 13 years since the first part, Avatar, and I am super excited to see it.
It took so long to compile this post because life had been more of a knucklehead lately. But here you have it.
And that's a wrap on our escapade last weekend.
---
ᴀʟʟ ɪᴍᴀɢᴇs ᴀʀᴇ ᴍɪɴᴇ
---
ℍ𝕖𝕪, 𝕚𝕗 𝕪𝕠𝕦 𝕖𝕟𝕛𝕠𝕪𝕖𝕕 𝕥𝕙𝕚𝕤 𝕡𝕠𝕤𝕥, 𝕜𝕚𝕟𝕕𝕝𝕪 𝕝𝕖𝕒𝕧𝕖 𝕒 𝕔𝕠𝕞𝕞𝕖𝕟𝕥, 𝕣𝕖𝕓𝕝𝕠𝕘, 𝕠𝕣 𝕦𝕡𝕧𝕠𝕥𝕖. 𝕀𝕥'𝕝𝕝 𝕤𝕦𝕣𝕖 𝕓𝕖 𝕒𝕡𝕡𝕣𝕖𝕔𝕚𝕒𝕥𝕖𝕕.
𝒮𝑒𝑒 𝓎𝑜𝓊 𝒾𝓃 𝓉𝒽𝑒 𝓃𝑒𝓍𝓉 . . .
---
---