IT SEEMED VERY EASY || SHARING MY EXPERIENCE WITH YOU ALL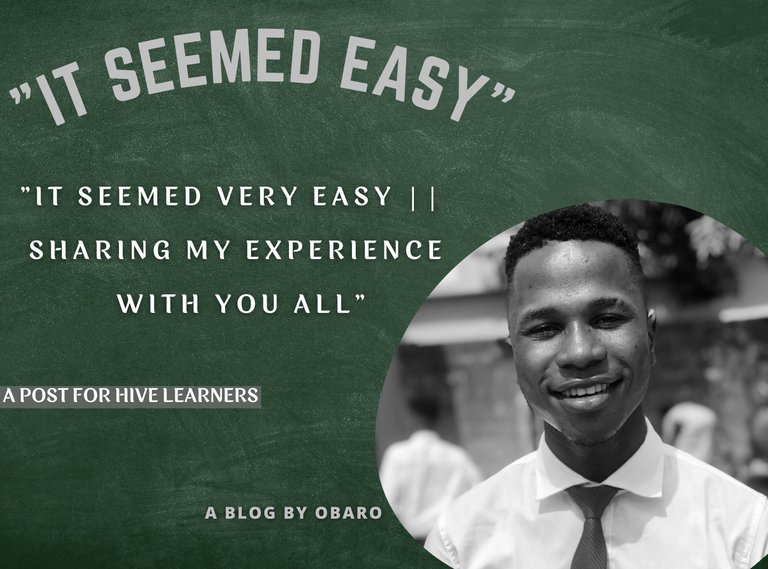 To start with, we all have something within us that we can do quite easily. However, most of us have not gotten to detect that thing because we have not tried.
Trial gets to expose that in-born possession that we have, which will mostly seem easy at the first trial because it is our talent!
WHAT IS TALENT?
Talent is defined as a natural skill that you have in you.
To me, this is the simplest definition which talent can be.
Many of us tend to notice that whenever we set our mind to learning a particular skill, we get it easily.
Well, this probably is not because you are a genius.
It is because you have the talent in that particular field.
You could have a musical talent, Art talent, Writing talents and so on.
Now let me share what seemed very easy for me at the first try.
WHAT SEEMED EASY THE FIRST TIME
I was much younger then and I happened to grow up with CAC (meaning Christ Apostolic Church) upbringing because my mother was a reputable member of the CAC.
I was part of the children choir and of course, I was never given the platform to sing because I haven't even discovered my singing ability.
Then, we had the major church drummer who was good at drumming. I noticed that whenever he plays the drums, I get the urge in me as though I can do it.
Well, I was able to overcome this doubt and I mounted the drums on a faithful afternoon after service and behold, I played the basic worship beat easily.
I was able to separate my Hi-hat count from my snare count and also from my kick count.
The church drummer was surprised because, that which I did must have taken him some rehearsals to get.
This was how it continued and I developed so fast to the extent that I later got so good at drumming.
I later got to detect my singing ability afterwards.
So, what seemed easy for me the first time is Drumming.
I have grown to be a musician that now plays three instruments and sings.
This is why I am called "D4MUSIC".
THANKS FOR READING THROUGH❤️
---
---