SBI Giveaway - Posting / writing habits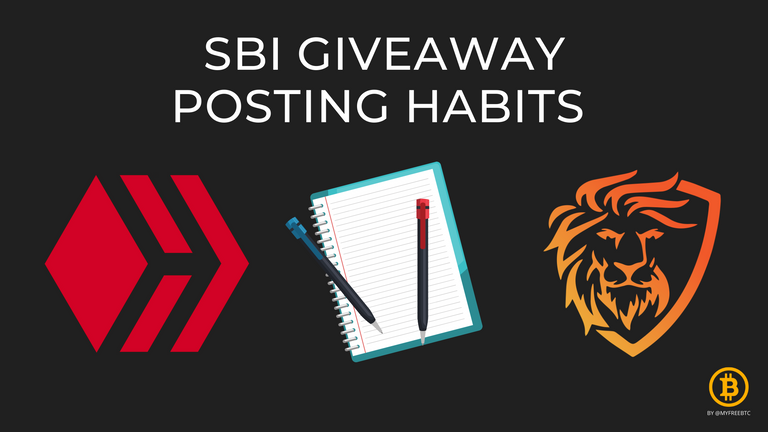 It's been 25 days since my last giveaway post but now I'm back and getting everything back on track. The SBI giveaways will resume from where I left and will keep the usual every Friday schedule.
The bear market threat gleaming over our heads is getting me worried so I'm tightening my crypto focus to only a few good projects. I love exploring new projects and learning more about the entirety of the crypto world but the bear market will wipe out a lot of the upcoming tokens and I don't want to invest time and money to get nothing in return.
Hive will be one of my main focuses, one of my main struggles with Hive is posting consistently. Every now and then I get really into it and manage to post a lot and come up with interesting content (for me at least) but I find it quite difficult to keep the streak going once I run out of interesting topics or whenever I have other interesting projects that consume a lot of my time and energy.
I need to make writing a daily habit and force myself to spend at least 4 hours per day on Hive / Leofinance reading posts, commenting, and writing. It will be just like every other habit, hard to get started but it will keep getting easier every day had I develop my writing and editing skills.
Share with me your tricks and tips to improve on Hive and keep the motivation going for a chance to win some SBI shares. How many posts a week do you aim for? Do you have some pre-written content ready to post on the days you don't have enough time to edit and post? Keep a list of interesting content ideas for future use?

Giveaway
Last week's winners:
The last giveaway post had a pretty decent reward so the total payout will be 7 SBI shares!
Congrats to the lucky winners, hope to see you participating once again this week!

Rules
Upvote / Follow or Re-post is NOT mandatory but it is greatly appreciated.
Comment with your tips and tricks to post consistently on hive
Have at least one post on Hive in the last 2 months
Only one comment per person
100% of the author post rewards will be used to buy SBI shares for the lucky winners! The winners will be picked by a randomizer and will be announced on next week's giveaway post every Friday.

What are Hive SBI Shares:
I'm going to explain this in the simplest manner possible: For every share of Hive SBI, I buy I get a chance to sponsor someone with an equal share. For example, I buy a share and send your username on the Memo. I get 1 share and you also get 1 share.
These shares grant you an upvote on your Hive posts FOREVER, the more shares you have the more and bigger upvotes you get. There is no point in participating if you don't make any posts on your account.
If you're interested in the project you can check out the FAQ HERE

Posted Using LeoFinance Beta
---
---