Diosa del otoño - A Picture is Worth a Thousand Words - (Es/Eng)
ESPAÑOL
Diosa del otoño
Elegante y majestuosa, luciendo llamativas galas, la Diosa del otoño arranca a las tormentas eléctricas su vibrante luz para lucir su glamorosa presencia y ahuyentar la oscuridad de su entorno.
Ella sólo debe girar sus manos hacia rayos y centellas para conducirlos enmarañados como nerviosas culebrillas que iluminan los cielos, contrastando con la oscura nubosidad, o bien conducirlos a tierra, en oscilantes líneas rectas que hacen temblar a quienes no admiran la voluptuosa magia de las tormentas al despedir el verano y abrazar los revoltosos aires de otoño, los cuales arrancan a su paso las hojas de las ramas y, según su furia, ramas completas. Y vuelan raudos sobre el mar, encabritando las olas.
A su paso la Diosa enjaula el silencio y libera los aullidos del viento al chocar con árboles y cornisas y los quejidos de las ramas al golpearse unas con otras y el estruendo de los truenos.
El fru-frú de su traje sobre las hojas caídas espanta a las criaturas menores que huyen de sus nichos despavoridas, alejándose de las electrizantes fricciones de su vestido.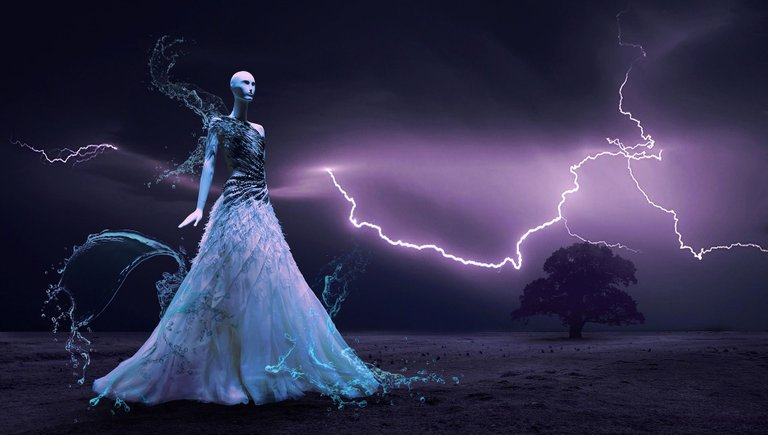 Imagen del concurso

ENGLISH
Autumn Goddess
Elegant and majestic, wearing flashy finery, the Goddess of Autumn plucks her vibrant light from thunderstorms to show off her glamorous presence and chase away the darkness from her surroundings.
She only has to turn her hands towards lightning and sparks to lead them tangled like nervous snakes that light up the skies, contrasting with the dark cloudiness, or lead them to the ground, in oscillating straight lines that make you tremble those who do not admire the voluptuous magic of storms as they bid farewell to summer and embrace the unruly airs of autumn, which tear leaves from branches in their wake and, depending on their fury, entire branches. And they fly swiftly over the sea, rearing the waves.
As she passes by, the Goddess cages silence and releases the howling of the wind as it collides with trees and cornices and the moans of the branches as they hit each other and the rumble of thunder .
The fro-froo of her dress on fallen leaves scares lesser creatures that flee from her terrified niches, away from the electrifying frictions of her dress.


AGRADEZCO TU LECTURA
THANK YOU FOR READING

​
---
---