Bloggers and Content Creator's Secrets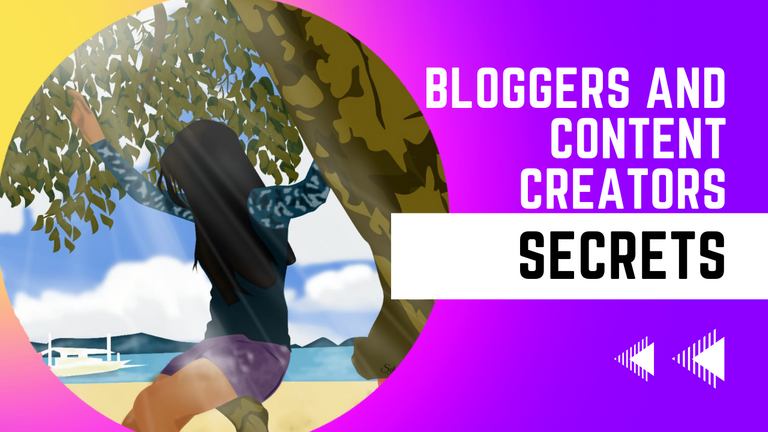 A lot of us search for different ways of earning. Some of us just love writing. Some of us love creating videos and expressing ourselves through them. This is the trending way of social media now. It's either through writing or video editing. Whatever it is, we love to know how they succeed in that hobby or profession.
I love watching Tiktok videos recently coz it's just simply entertaining and discusses a lot of topics. One day when I go online, I watched one video that discusses the secret of a content creator. And somehow, it is also related to all bloggers out there.
And why did I create this article? Coz I know this is a great help for us especially here in Hive. These are the three things that I remember. It's a three-C... Content, Consistency, Connection.

Content.
If we want to be a blogger or even a content creators, of course, we need to know what to write or create.
In this part, it depends on the individual. We need to know what topic we love, know and can attract viewers.
It's either cooking, gaming, life experience, or even advice that people can relate to. One can succeed if he discovers his niche.
In thinking of content, focus on what we love. On what we enjoy. From what we know that we can relate, and others can relate too. In this way, we can be consistent in giving viewers that content, and sooner or later... They will stay with you and support you all the way through.

Consistency.
As a blogger, or even for those content creators, being consistent is a must. Why? Coz we have viewers. They are waiting for our newly released topics.
Also, we want to earn. So being consistent, means constant earnings.
By the way, this one depends on the individual again. We have different obligations, priorities, and commitments. So that means, one full-time mom can be busiest than anybody else. But still, she wants to write. She can still be consistent in doing that. Maybe once a week can save her from being consistent. Or one person just stays at home, doing nothing, searching for ways to earn. This one can be consistent by giving us his writings every day. So again, it depends individually. But what's the key point? Be consistent.

Connection.
As a blogger or content creators, we love people who visit our articles or videos. But is that enough? Of course not. We need to attract them more by replying to their comments, or questions. Don't be snobby. Learn to communicate with your viewers. Make them feel that you are there. Not just by giving them your opinions, but also by making them feel that you can be reached.
Also, learn to visit other content too. There are lots of bloggers and content creators too. They also need support. So make them feel that you are helping them. Read their contents, leave a comment, and communicate. In this way, you are doing, what you want people to do to you. Is that the golden rule? Anyways, have a connection, that's it.
Disclaimer: All photographs by me, 
 unless otherwise stated. 

This was previously posted on my blog at read.cash: https://read.cash/@Mayt/bloggers-and-content-creators-secrets-8eac4fd5
---
---