Liquid Staking on Osmosis (Superfluid Staking)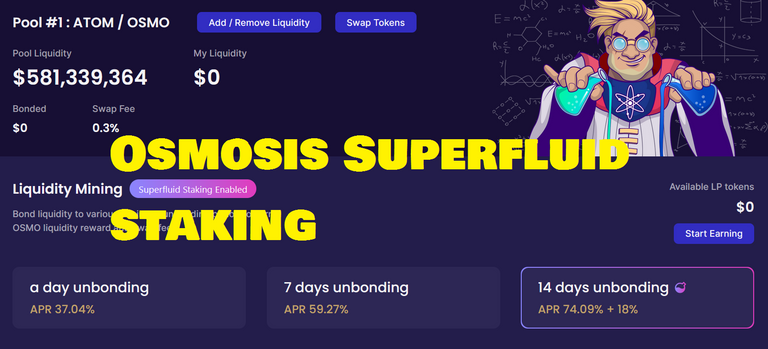 Today we look at another liquid staking but this is on the Osmosis chain. The chain is calling the unique staking as Superfluid Staking. The jest of this is staked assets can have up to half of the staked tokens be also used to vote for validator and be staked in a the chain. How is this any different from fluid staking?
Superfluid Staking
As of yesterday Osmosis has rolled out their proprietary superfluid staking. It is currently functioning on Pool 1 for OSMO on the ATOM and OSMO tokens. In the future more pools will allow for validator voting such as OSMO, JUNO, SCRT, and many more.
The way it works is when I stake in OSMO : ATOM pool, half of OSMO staked in pool can be used to stake in the OSMO chain. By doing this I earn staking rewards in OSMO and air drops related to staking on the OSMO chain. OSMO staking rewards APR is over 50%.

This is in addition of having the same OSMO earning 74% APR in liquidity pool. The drawback to this is the OSMO and ATOM have to be locked up at least 14 days before the funds can be released. This 14 days coincides with the required lockup period for staked OSMO in the OSMO chain.
In the future the % of OSMO that can be superfluid staked will also rise and more pools will have superfluid staking as an option. For now enjoy the first of many innovations on the Osmosis chain.
Conclusions
One final note I like to mention for those new to Osmosis is that the chain is fee-less. This is exception in that investors can redeposit their daily earned yields into respective pools to increase their APY % earned. All over Defi platforms for reinvesting yields inccur a lot of fees. Over at Osmosis this is not the case. The only fees involved are when you swap between assets. However these fees are part of what generates income for pool participants.
Meanwhile the daily yields can start out small but daily reinvesting into the pools without incurring fees only helps in investors in making more in the long run. The less fees incur the more you keep in your pockets and the more you can earn. Superfluid staking now introduced in a fee-less dex and the yields are not half bad at all, how can people ignore Osmosis?
None of what I write is financial advice. It is for entertainment purposes only. Thanks for reading!

LeoFinance = Financial Blog
LeoDex = Hive trading exchange for Secondary Tokens, Low 0.25% fees for deposits and withdraws.
HiveStats = Hive stats per user
LeoPedia = Informative content related to anything about Crypto and how to make financial gains in crypto!
CubDefi = LEO Finance's Defi with CUB Token
---
---