ᗯEEKᒪY ᗷᖇᗩᗯᒪ ᖇEᑕᗩᑭ #16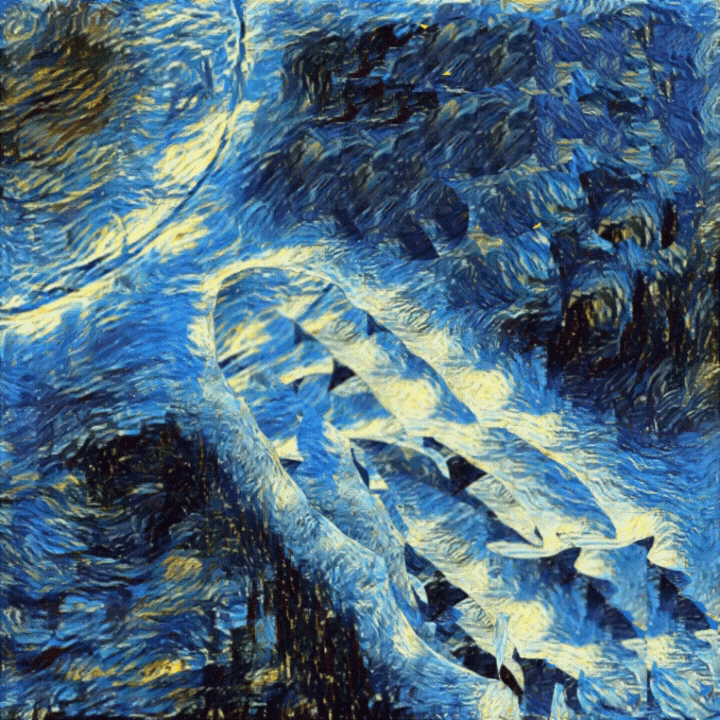 𝐆𝐫𝐞𝐞𝐭𝐢𝐧𝐠𝐬 𝐒𝐩𝐥𝐢𝐧𝐭𝐞𝐫𝐥𝐚𝐧𝐝𝐞𝐫𝐬 𝐚𝐧𝐝 𝐇𝐢𝐯𝐞𝐚𝐧𝐬!

𝐇𝐨𝐩𝐞 𝐲𝐚'𝐥𝐥 𝐡𝐚𝐯𝐢𝐧𝐠 𝐚 𝐠𝐨𝐨𝐝 𝐝𝐚𝐲 𝐭𝐨𝐝𝐚𝐲!😁

𝐓𝐡𝐢𝐬 𝐰𝐢𝐥𝐥 𝐛𝐞 𝐃𝐢𝐧𝐞𝐫𝐨 𝐉𝐮𝐞𝐠𝐨𝐬' 16𝐭𝐡 𝐖𝐞𝐞𝐤𝐥𝐲 𝐁𝐫𝐚𝐰𝐥 𝐑𝐞𝐜𝐚𝐩!
𝐋𝐞𝐭'𝐬 𝐫𝐞𝐥𝐚𝐱 𝐚 𝐛𝐢𝐭 𝐚𝐧𝐝 𝐯𝐢𝐞𝐰 𝐬𝐨𝐦𝐞 𝐚𝐰𝐞𝐬𝐨𝐦𝐞 𝐛𝐫𝐚𝐰𝐥 𝐛𝐚𝐭𝐭𝐥𝐞𝐬 😁

𝙾𝚟𝚎𝚛𝚊𝚕𝚕 𝙶𝚞𝚒𝚕𝚍 𝙿𝚎𝚛𝚏𝚘𝚛𝚖𝚊𝚗𝚌𝚎: 7th 𝙿𝚕𝚊𝚌𝚎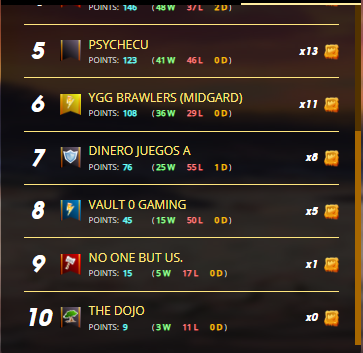 We finished 7th with 25 victories, 55 defeats, and 1 draw. 😌

This nets the guild a loot of 8 crowns 👑

369 merits were awarded to each guild member 🏅
The results are not so good, we have to try better in the next brawl guys! 😣

𝙼𝚅𝙿 𝙾𝚏 𝚃𝚑𝚎 𝙱𝚛𝚊𝚠𝚕



There will always be someone who is determined to win the tournament, as there is with any competition!🤠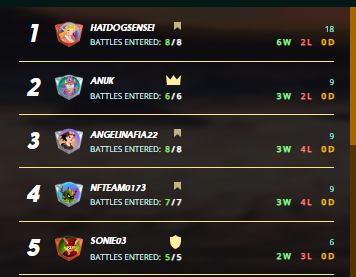 Congratulations, @hatdogsensei!
You deserve to receive this match's MVP honors!🎉🎉
We greatly appreciate all of your efforts on behalf of this guild! ♥️

𝙶𝚞𝚒𝚕𝚍𝚖𝚊𝚝𝚎 𝙱𝚛𝚊𝚠𝚕 𝙷𝚒𝚐𝚑𝚕𝚒𝚐𝚑𝚝𝚜



wαтcн ιт нere
Even though hatdogsensei chose a magical line-up and was countered by the opposing team's summoner "Thadius Brood," it didn't really matter because hatdogsensei's team is much stronger and faster thanks to the buffs provided by hatdogsensei's chosen summoner "Kelya Frendul"!
The +1 speed added to hatdogsensei's "Djinn Oshanus" was the key to hatdogsensei's victory; having a fast monster means the enemy will miss a lot, which most of them did. Awesome job, @hatdogsensei! 🔥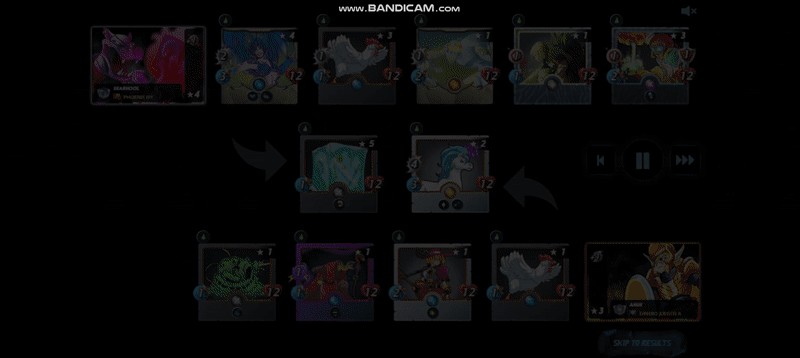 wαтcн ιт нere
Anuk was clever in using "Sacred Unicorn" because it has heal, which, as we all know, Heal scales with the amount of health a card has, making Sacred Unicorn heal a mind-boggling 4 hp per round! 🤯
Furthermore, Anuk's "Silvershield Bard" cleansed Sacred Unicorn, making it immune to the poison ruleset at hand, and as if that wasn't enough, Anuk used "Daria Dragonscale, A Dragon Summoner that buffs "Sacred Unicorn" with a +1 melee, making Anuk's Sacred unicorn stats totaling 5 melee, 12 health, 3 speed, and healing at 4 hp per round! 👏 Anuk brought out his best in this brawl, no doubt! What an awesome way to win! 💪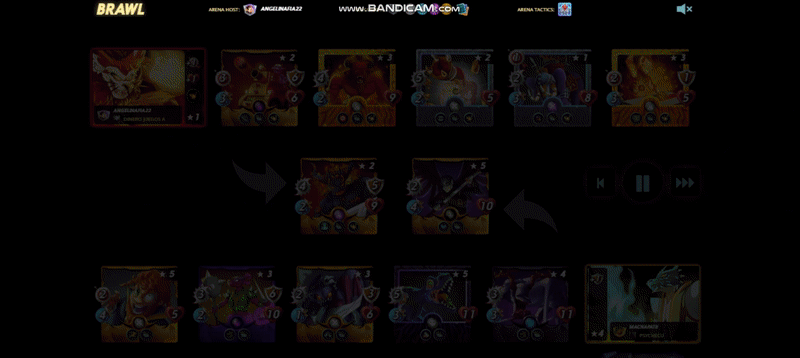 wαтcн ιт нere
Angelinafia22 came out swinging in this battle, summoning "Yodin Zaku" and having all of his cards deal Blast damage to the cards around him!
Because of the "Equal opportunity" ruleset, all cards will prioritize attacking the team with the lowest health on both sides from any position, which means melee monsters can now attack from positions other than the front!
Using this ruleset to his advantage, angelinafia22 used a melee monster with range attack, and that card is "War Chaang"!
Angelinafia22 was very wise to diversify his team with both melee and ranged cards, because if he hadn't, Angelinafia22 would've lost to the enemy's "Djinn Chwala," which has the ability "Thorns," a common counter to melee cards, and the enemy also has another anti-melee card, "Disintegrator," a melee card with the ability "Demoralize," which would've cut angelinafia22's melee card damage by 1!
In the end, due to to the clever planning and counter-play by Angelinafia22, he undoubtly won this match! Good job, @angelinafia22! 🔥
wαтcн ιт нere
As a huge perk of belonging to the Dinero Juegos guild, nfteam0173 won this battle by using the Gladius Card, "Sarius"!
The "bloodlust" feature, included on all Gladius Cards, allows for the addition of stats each time a Gladius card delivers the final blow to an opponent's card.
"Sarius" perfectly suits the ruleset because it only costs 3 mana, deals 2 ranged damage, and has the potential to deal more when it deals the final blow.
The damage that Sarius dealt while stacking the bloodlust bonus was undoubtedly too much for the opposition team to handle, giving @nfteam0173 the victory!



That's all for the recap guys, thanks for making it to the end! ♥

Credits
For the dividers and signature picture, we are grateful to our Guild Leader and close friend, @bananofarmer. 🚀

The layouts for this recap were strongly influenced by @pogier's brawl reports. Check out his posts here.

The intro thumbnail and outro were turned into Gifs using Canva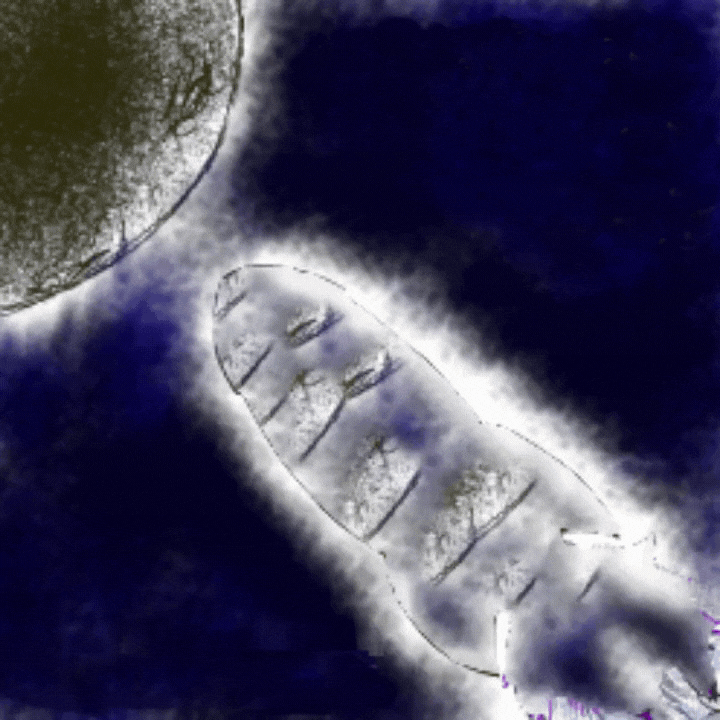 𝙽𝚎𝚠 𝚝𝚘 𝚜𝚙𝚕𝚒𝚗𝚝𝚎𝚛𝚕𝚊𝚗𝚍𝚜?
𝙲𝚘𝚗𝚜𝚒𝚍𝚎𝚛 𝚞𝚜𝚒𝚗𝚐 𝚖𝚢 𝚛𝚎𝚏𝚎𝚛𝚛𝚊𝚕 𝚊𝚗𝚍 𝙸 𝚠𝚒𝚕𝚕 𝚜𝚎𝚗𝚍 𝚢𝚘𝚞 𝚊 𝚏𝚛𝚎𝚎 𝚌𝚊𝚛d.😊
𝚑𝚝𝚝𝚙𝚜://𝚜𝚙𝚕𝚒𝚗𝚝𝚎𝚛𝚕𝚊𝚗𝚍𝚜.𝚌𝚘𝚖?𝚛𝚎𝚏=𝚖𝚊𝚐𝚐𝚘𝚝𝚖𝚒𝚕𝚔
---
---