LeoFinance Weekly Dev Update #5 | Mobile App Rollout, HP Leasing, $125k CUB Burned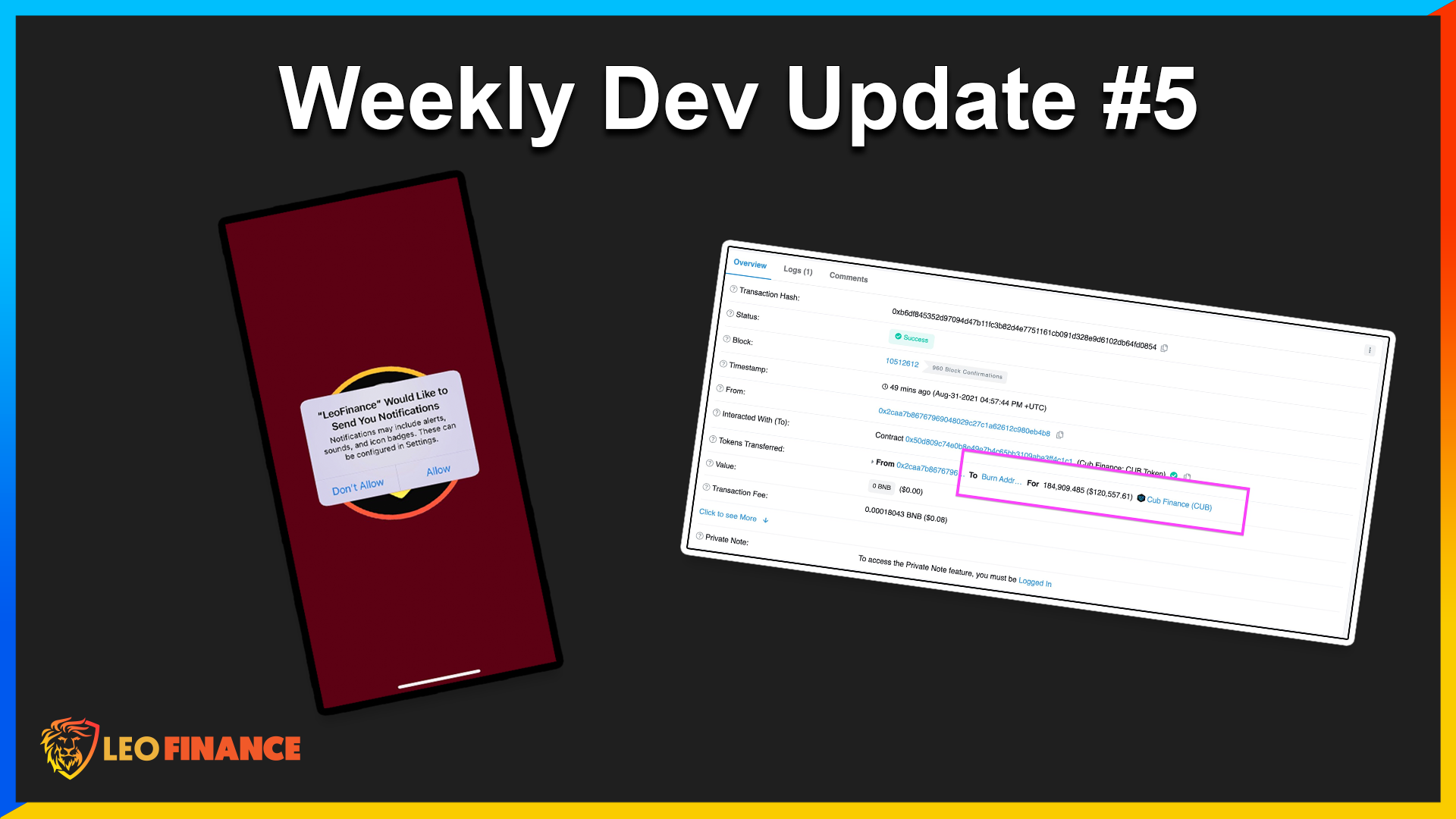 In This Week's Update:
LeoFinance
LeoFinance Mobile App Rollout
Mobile App Features for Hive Ops
Mobile LeoLightning & LeoInfra Integration Plans
HIVE POWER Leasing (LeoFi App)
Return of the LeoFinance Podcast!?
The Daily LEO Showing Massive Potential
CubFinance
$125,000 CUB Burned!
CUB IDO Infrastructure Technology
Recuperation
General IDO Improvements For the Future
General
---
LeoFinance
LeoFinance Mobile App Rollout
We've been teasing some early-stage looks at the new LeoFinance native mobile app that we've been working on for some time now.
We're now in very early-stage testing and in the final weeks of building the MVP of our mobile app.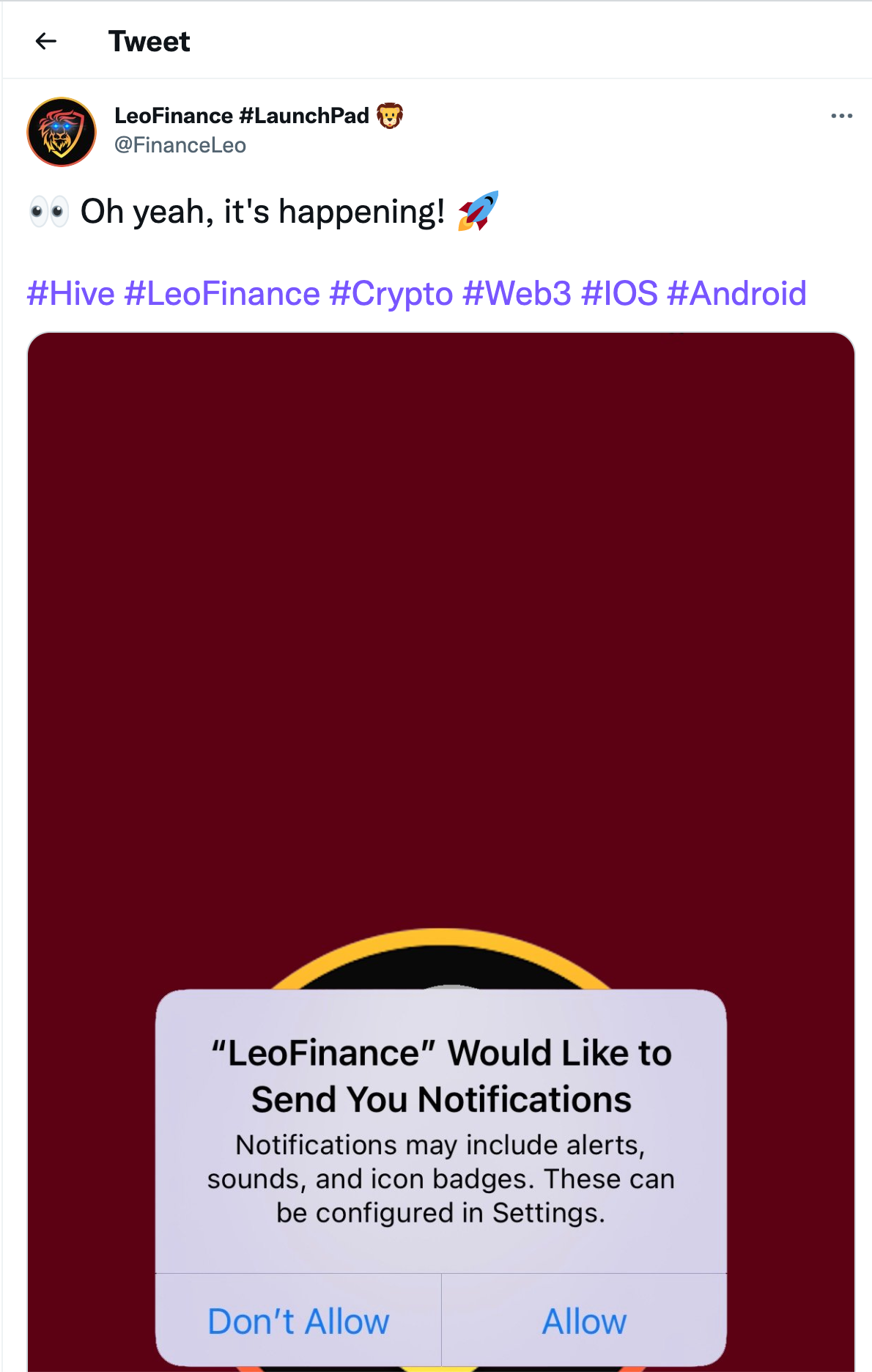 This mobile app is extremely important for the long-term vision of LeoFinance which is to position ourselves at the forefront of users who want to learn, explore and engage with the world of crypto.
LeoFinance has been a lot of things to many of us over the years but I think the number 1 thing it's done for all of us is bring us knowledge through community engagement. We've all learned about valuable technologies, cryptocurrencies and new ways to learn & earn through the platform.
The mobile app lays the groundwork for us to onboard the masses through a native, easy to use and beautiful experience that brings learning & earning crypto right to the palm of your hands.
The app will be available on both IOS and Android. Shortly after the mobile release, we'll also be replacing the leofinance.io web application with the new framework which will lead to a much more responsive UX and incredibly powerful UI.
We'll be releasing a more in-depth post about the mobile app and our rollout plans. For the purposes of this post, here's a quick preview of our timeline for delivery on the Minimum Viable Product (MVP).
Major tasks left to complete before MVP rollout:
Connect to LeoLightning to get posts
Integrate Curated post feeds
LEO-based action integration
Hide muted posts (noleo4u)
General UI styling tweaks (themes)
Open Beta Release Expected: October 1st, 2021.
HIVE POWER Leasing (LeoFi App)
In last week's AMA, there was a question about the roadmap for LeoFi - our latest application that created a decentralized leasing market for LEO POWER delegations.
We initially planned to integrate other Hive-Engine tokens and create leasing markets for the most popular HE tokens currently on the sidechain.
Over the past week, we decided to change gears and do HIVE POWER leasing first. The rollout of both HP and HE leasing should be relatively quick, but HP clearly has more demand right now.
The key development for LEO is that a 10% leasing fee is taken on all leases - whether LEO POWER, HIVE POWER or HE Token POWER. That 10% fee is used to buy & burn LEO autonomously.
Integrating these different leasing markets creates a powerful new use case for LEO, HIVE and HE tokens while creating a new sink for LEO all across the board.
Return of the LeoFinance Podcast!?
We recently brought on a new member to the team who's helping with some high level administrative tasks.
To start, he's been tasked with researching and creating a list of potential podcast guests. Ranging from small audience to large audience in the crypto space. All sorts of guests who might be project founders, lead developers, crypto influencers, etc.
As this list is continuously gathered, researched and put together, he's also reaching out to the people on it to ask if they'd like to come on the LeoFinance podcast for an interview with Khal about their project, influencer niche, developments, etc.
The LeoFinance podcast is a very long-term marketing plan to grow our community far and beyond where we're at today. We can all agree that in order for LeoFinance to reach it's full potential - both in terms of the LEO/CUB tokens and in terms of users and growth of KPIs - we need to continuously attract new users. The best way to do this in the long-run is to become a media company: creating valuable content for the crypto space and continuously feeding back into the Leo community and our applications.
Stay tuned for some big updates on the podcasting/YouTube front!
The Daily LEO Showing Massive Potential
Taskmaster4450 was recently brought on to help with The Daily Leo. He's put out several newsletters now (consistently releasing 2x per week) and the performance has been amazing!
We have an extremely engaged list of newsletter subscribers and our list grows by more than 5-10 subscribers per day.
This is another long-term marketing strategy in the notch of building out a Media Company within the LeoFinance brand.
Check out some of the results of the newsletter so far: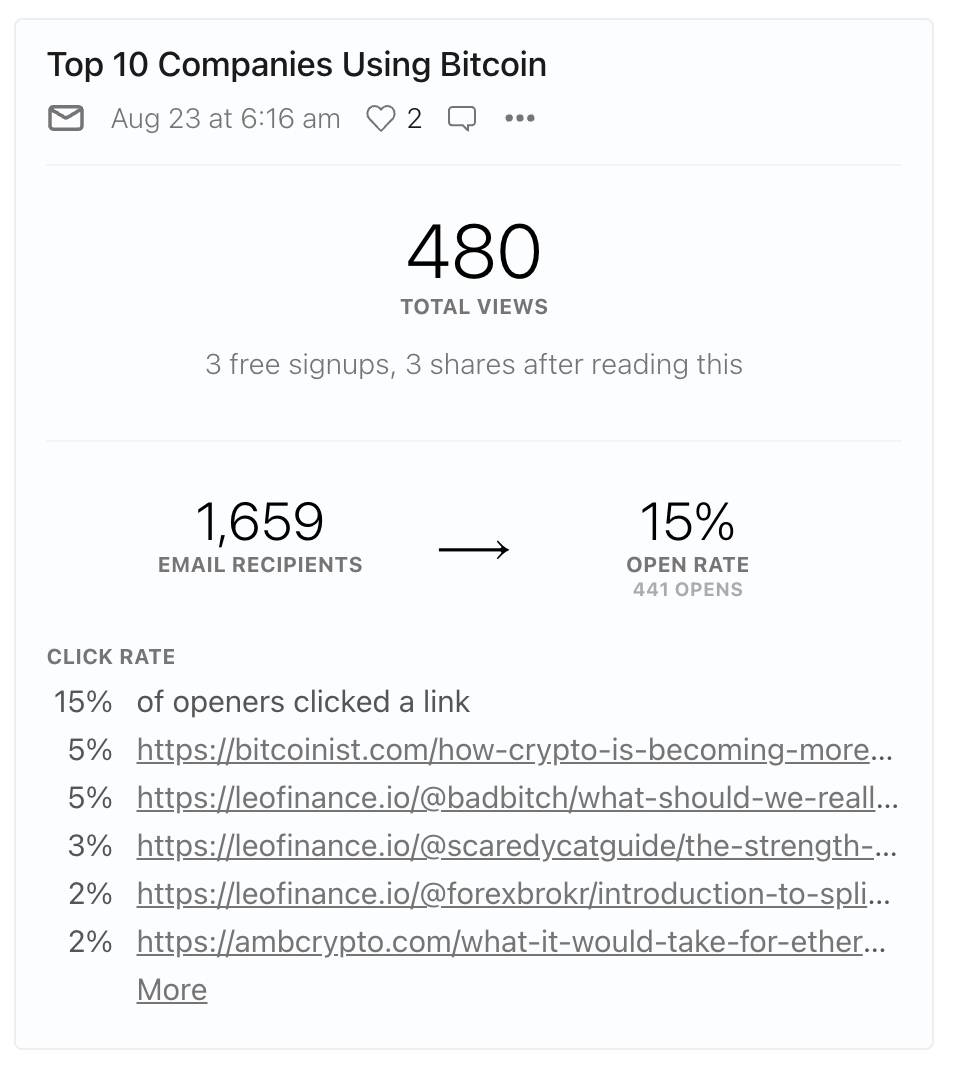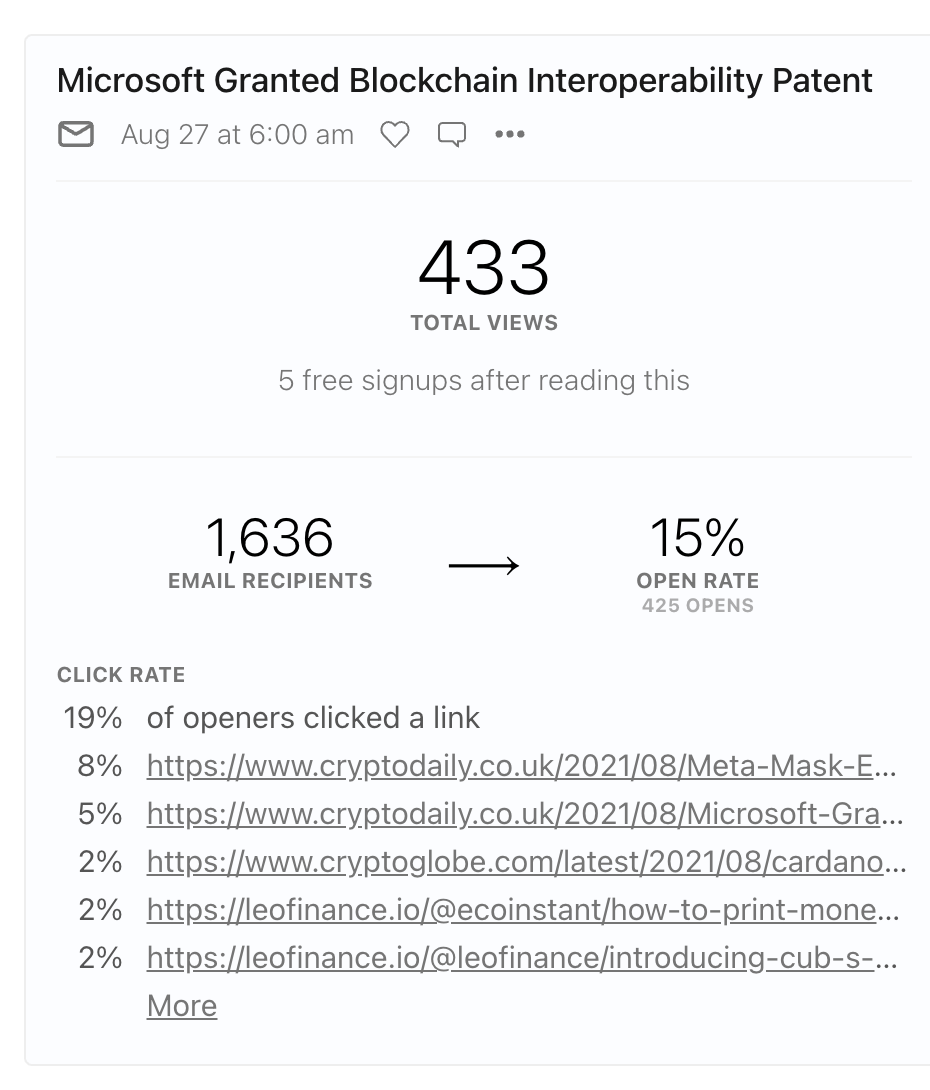 As our list continues to grow each and every day, we're going to see a continuous flow of traffic back to LeoFinance.io as this becomes a powerful tool for bringing people back to LeoFinance to engage with, read and share crypto content.
CubFinance
It's been a big and impactful week for CubFinance. We've spent a lot of time building out the IDO Infrastructure and we saw the first IDO go live.
While the first target IDO project turned out a bit lackluster, we did have a flawless debut of the CUB IDO Architecture - no bugs or delays on our end in terms of releasing our new IDO Contract, allowing users to deposit CUB-BUSD, etc.
$125,000 CUB Burned!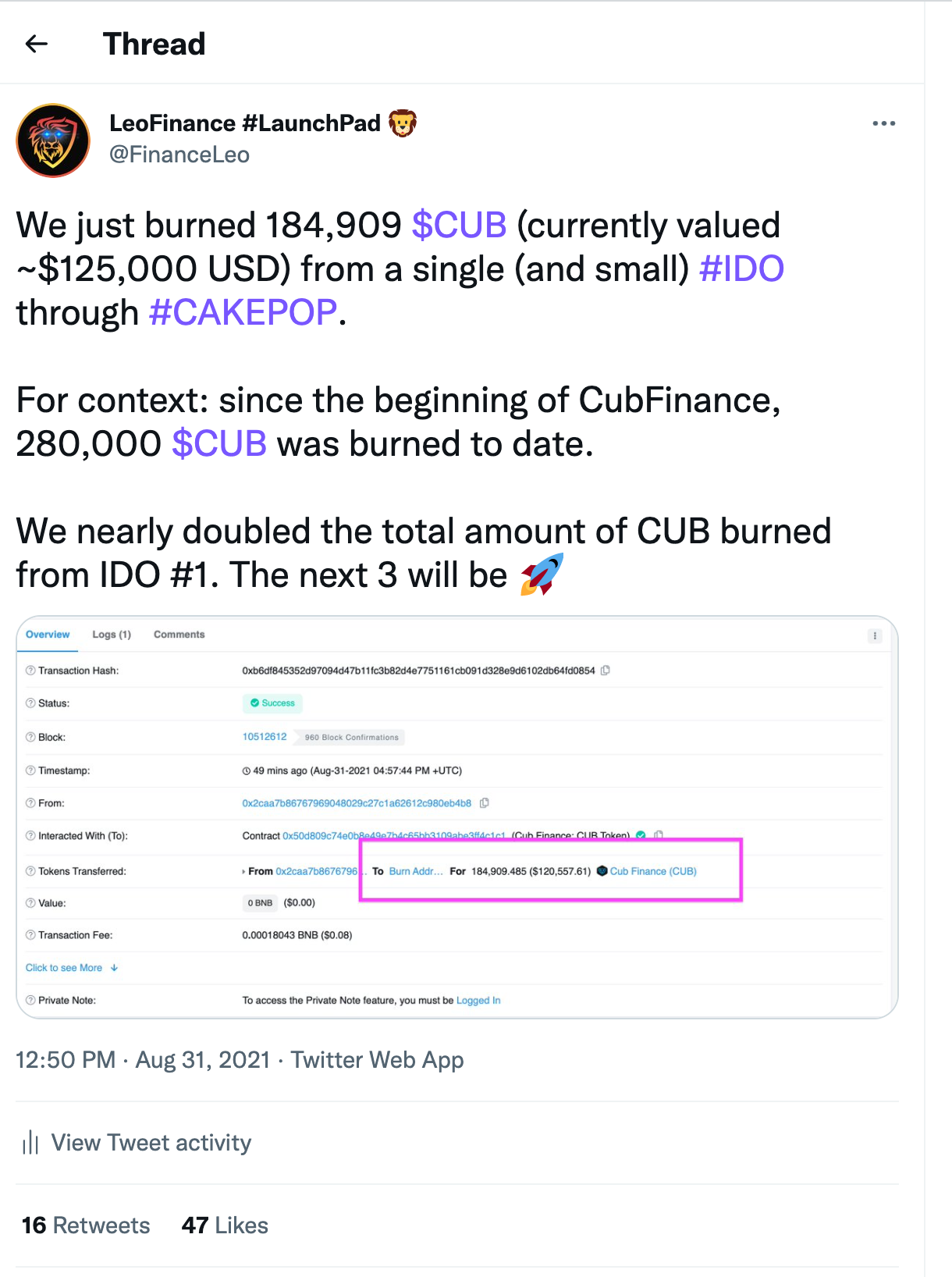 The idea behind IDOs is giving new projects a launchpad on CubFinance. Tap into the CUB audience and the potential of gaining initital liquidity.
In exchange, the CubFinance platform takes a fee in the form of 50% of the raise as CUB. This CUB is burned permanently from the supply.
In the above screenshot, you can see the CUB getting burned from IDO #1. What's truly amazing about it is that we nearly doubled the amount of CUB that has ever been burned since the beginning of the platform 6 months ago.
IDOs are a massive sink and the impact of burning CUB is similar to Bitcoin Halvenings - the impact does not happen overnight. Rather, it's a slow burn.
The true impact of burning the supply at such a high rate through IDOs will be felt over time as the supply dwindles and those CUB tokens can't hit the exchange and be sold.
Short-term is more of an unknown - as we saw in this last IDO. The long-term effect is much more profound. There is less CUB out there earning CUB APY (both in the CUB pools and CUB Kingdom) that means remaining CUB hodlers are earning higher APYs and it also means that 185,000 CUB can no longer hit the exchange and be sold off in the future.
IDO #2 will be slightly different (actually, a lot different) than #1. It will be a 100% CUB raise since the launch is Polygon CUB.
Polygon CUB will feature a 100% CUB Raise since it will just be a straight up burn CUB to get Polycub tokens. This will allow us to distribute Polygon Cub to CUB hodlers while also dwindling the remaining supply of CUB.
We expect over 1M CUB to be burned in the Polygon CUB launch. The impact of this will likely be a lot more instantaneous than IDO #1 since there are no LPs (just CUB and no BUSD).
With all of this said, all of the IDOs (there are now 4 scheduled - for a total of 5 IDOs on the books) will burn the CUB supply down to exponentially lower levels than we see today.
Just like the Bitcoin Halvenings every 4 years, we expect the impact to be extremely profound but not overnight. We're building CUB for the long-haul, not for short-term gains and pump&dump cycles.
IDO Infrastructure Technology
Just to touch on the infrastructure behind IDOs for a minute: our IDO Contracts were designed to be a decentralized, agnostic platform.
Meaning: we intended for any and all projects to utilize CubFinance as a decentralized launchpad. Regardless of their tokenomics, founders, etc.
A truly decentralized launchpad means that the platform is agnostic and it's up to each user to decide what is and isn't worth funding.
After IDO #1, it's become clear that a vetting process is needed. In the long-run, we hope for this to become a CUB DAO activity: as in, stake CUB in the CUB Kingdom and get vCUB voting shares to vote on what can and can't go through an IDO.
For now, we'll do a modified version of this until we put in the time to build out a DAO contract and frontend for voting on future IDOs.
With all of this in mind, we're still extremely happy with how the IDO went on the CubFinance end of the spectrum. Our contracts and technology performed beautifully and as intended:
The CakePop IDO Vault Opened as Scheduled
CUB-BUSD was deposited successfully
The IDO ended as scheduled
CAKEPOP was distributed through claims on the IDO Vault contract
What happened after the IDO was lackluster. There could still be potential with Cakepop and we're working with them to create a CAKEPOP-BUSD farm on CubFinance so that some recuperations can be made to IDO participants.
With that, there should be a large increase in volume on the CAKEPOP token which will lead to higher dividends now and in the future for CAKEPOP. These dividends will help to recuperate IDO participants holding CAKEPOP.
Our users will also be able to deposit CAKEPOP-BUSD LP tokens on CubFinance and earn CUB for the forseeable future. This will allow some CUB to flow back into the hands of IDO participants and generally make the outcome of the IDO a good one rather than a negative.
We're excited that our technology performed as expected but we're also ready to migrate to a more "DAO-based" IDO infrastructure where some vetting and community voting can be done on what should and shouldn't be able to hit the CUB Launchpad.
Regardless, IDOs are extremely important for the future of CUB. The $250k successful raise was 101% funded and it made waves in the BSC space. We were contacted by a wide range of projects all looking for IDOs on CubFinance. The amount of CUB burned from now until the end of the year will be astronomical and that's entirely bullish for the CUB token.

LeoFinance is a blockchain-based social media community that builds innovative applications on the Hive, BSC and ETH blockchains. Our flagship application: LeoFinance.io allows users and creators to engage and share content on the blockchain while earning cryptocurrency rewards.
Earn a 16% APR on HIVE POWER and Support LeoInfra's Onboarding Efforts by Delegating HP to @leo.voter (Currently at 2M HP). We Use this to Claim Accounts and Delegate RCs to Newly Onboarded Users + Daily LEO Payouts to Delegators
Posted Using LeoFinance Beta
---
---