Do we still need to build models beyond the Standard Model of particle physics ?
At the end of this month, I will attend a public event called TimeWorld 2022 Paris, that is dedicated to discussions on challenging questions between industrial actors, scientific researchers and the general public. As can be seen on the conference website, it consists of about 100 conferences, some round tables and the event is also a place for artists to show up their art.
The topic of this year is about construction, and it is focused on a variety of topics including science (and in particular physics, of course!) as well as finance, cryptography, economics, literature, arts, etc. In fact, many topics that could be of some interests for Hive community members.
I have been invited to discuss the general context of my research during this event. Embedded in the theme of this year (i.e. construction), I plan to provide hints to build an answer to the question raised in the title of this blog: do we still need to build models beyond the Standard Model of particle physics?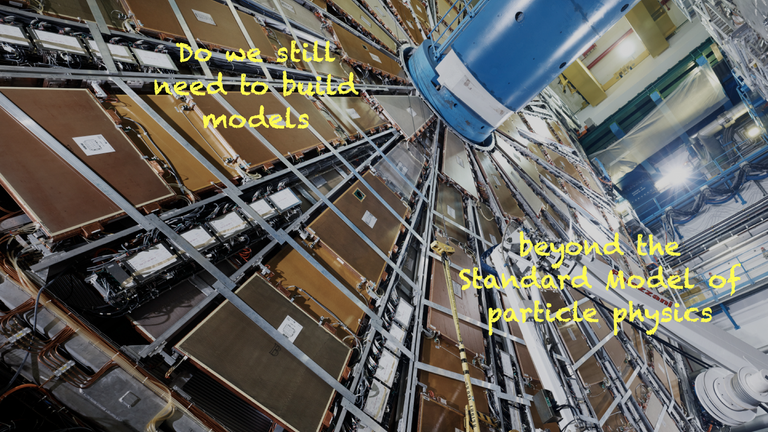 [Credits: Original image from ATLAS @ CERN]
Whereas I can tell you that the answer to that question is positive, this is something that could have been guessed by those reading me, week after week. It is clear that in the case of a negative answer, I would have stopped writing on this topic for quite a while already (and I would have probably changed job too)…
For the first time since I joined this chain almost 6 years ago (40 days are left before my Hive birthday ;) ), I decided to use my blog on Hive to provide an expanded summary/abstract of my talk at TimeWorld, and share it on Twitter (that is one of the media used by the organisers to advertise the event). Could this be a way to increase my audience off-chain, and attract new users on Hive? I don't know the answer to that question, but I would like to try it out. We will see!
To finish this short introduction, if you are by any chance in Paris on June 29 - July 1st, feel free to let me know and pass by the event! From now on, in the rest of this blog it is time for science!
---
The Standard Model of particle physics - the starting point
---
Before discussing whether it is needed to go beyond the Standard Model of particle physics, it is instructive to start with a summary on what the Standard Model of particle physics is. I wrote a few blogs about this topic a while ago (see here and there, for instance), so that in the following I really focus on a summary. I know that I am not good in writing in a compact way. Let's see how I can manage such an exercise…
So, what is the Standard Model of particle physics exactly? In one line, it consists of a theoretical framework describing how matter works at its most fundamental level. This includes details about the constituents of matter, and how they interact with each other. Moreover, the fact that the Standard Model is a theoretical framework means that it can be tested through predictions to compare with data.
In order to understand how the Standard Model has been built, we must go back to the end of the 19th century. This consists of the moment at which Lord Kelvin said that 'there was nothing new to be discovered in physics, and that all that remained was more and more precise measurement' (see also here). Luckily for us, he was very wrong on this, so that physics is by far not a boring field (at least for physicists)!
Almost 30 years later, physicists had discovered (among others) that all atoms were made of protons, neutrons and electrons, that the microscopic world was quantum, and that certain radioactive decays yielded the production of an invisible particle called a neutrino.
Four particles and … there was possibly nothing anymore to be discovered in physics again. There was no more Lord Kelvin at that time, but it is today clear that his quote was still very wrong…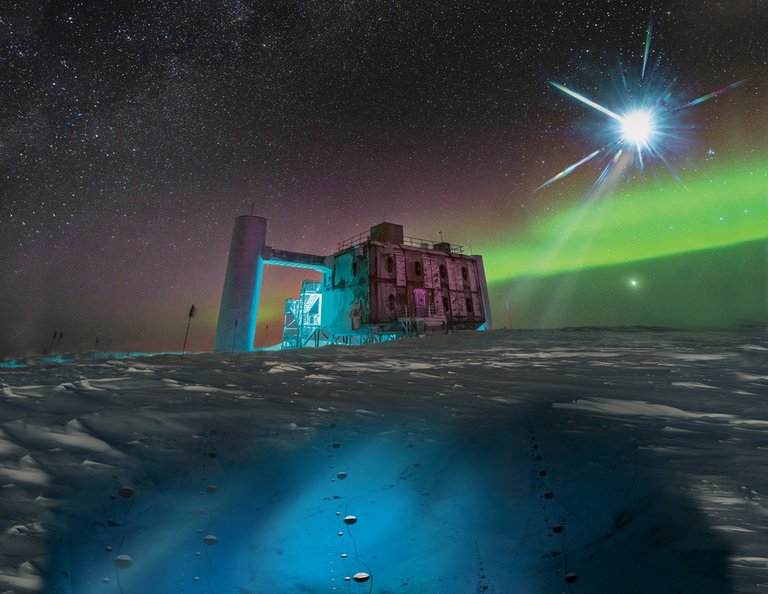 [Credits: IceCube (NSF)]
In the next 20 years, many challenging observations were made. In particular, weird particles were observed in cosmic rays (the detectors of that time were simple photographic plates), as well as in the outcome of the first particle collider experiments (like at CERN's Large Hadron Collider, but in a not so large and less energetic version).
Those weirdos made our understanding of nature very messy, and we ended with dozens of new subatomic particles mostly characterised by fancy Greek names: 𝜋's, K's (beware as this one is not Greek), 𝛺's, 𝜮's, 𝜩's, 𝜔's, 𝚫's, 𝜇, 𝜈e, 𝜈𝜇, etc.
Physicists needed to understand how to order this zoo. This is precisely how the Standard Model has been built in the 1960s-1970s.
---
Quarks, leptons and the fundamental interactions
---
It took a few dozens of extra years for physicists to replace all this zoo of particles by a table including only a few elementary particles.
The cornerstone of the approach is to say that all particles discovered in the first half of the 19th century were composite particles. These composite particles are thus made of a small number of elementary entities coined quarks, that can combine with each other thanks to one of the three fundamental interactions called the strong force.
Initially, the proposed model was made of 3 quarks, but we know today that nature includes 6 of them: the up quark, the down quark, the strange quark, the charm quark, the bottom quark and the top quark.
As a side note, the top quark is the heaviest of all known particles, so that whereas it has been proposed in the 1970s, we had to wait until 1995 for its discovery. Heavy stuff is hard to produce, and this stays very true those days.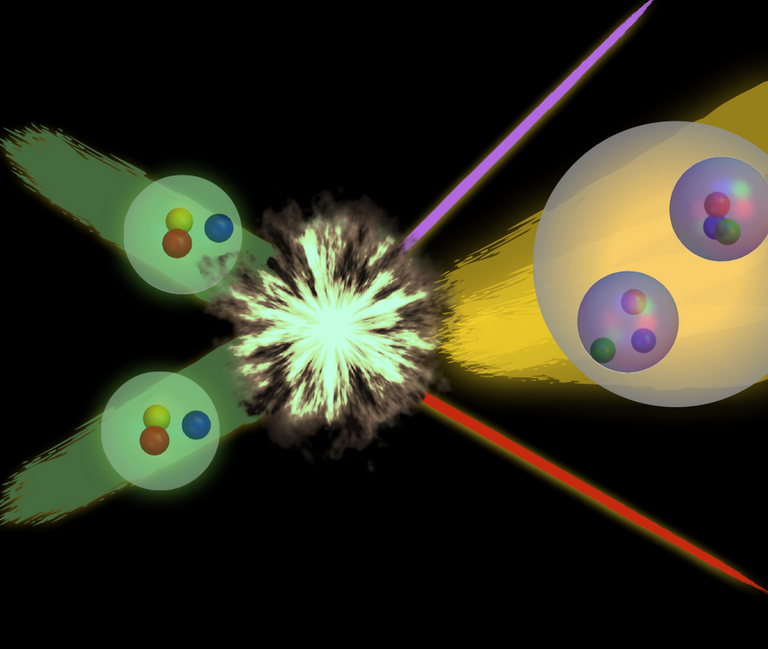 [Credits: OLCF (CC BY 2.0)]
On top of these 6 quarks, the Standard Model includes 6 elementary particles that are not sensitive to the strong force. These are named leptons.
Leptons include three electrically-charged beasts (the electron, the muon and the tau) and three electrically-neutral invisibles (the electron neutrino, the muon neutrino and the tau neutrino). All of these have been observed and discovered today, the last neutrino requiring a donut for its discovery (@riverflows: running jokes are never bad).
In addition to the strong force that we already mentioned, the Standard Model describes two others fundamental interactions: electromagnetism and weak interactions. The three interactions form the theory framework that dictates how elementary particles live, drink and dance.
Through the concept of gauge symmetries, interactions can be seen as exchanges of force carriers that include photons (electromagnetism), W-bosons and Z-bosons (weak interactions), and gluons (strong interactions). Such a principle underlying these gauge symmetries works extremely well, as demonstrated by hundred years of data.
However, there is a small issue. Whereas gauge symmetries are successful in describing how the world functions at its fundamental level, they require all matter and all force carriers to be massless. This of course contradicts experimental results.
---
One Higgs boson to rule them all!
---
As we don't want to use the bin for a theory that worked so well, physicists came up with a way to keep the concept of gauge symmetries whilst providing masses for all elementary particles. This is what we call the Brout-Englert-Higgs mechanism (that carries the name of those who proposed it in the 1960s).
To explain how it works, I like to use the image used in the Nobel prize press release: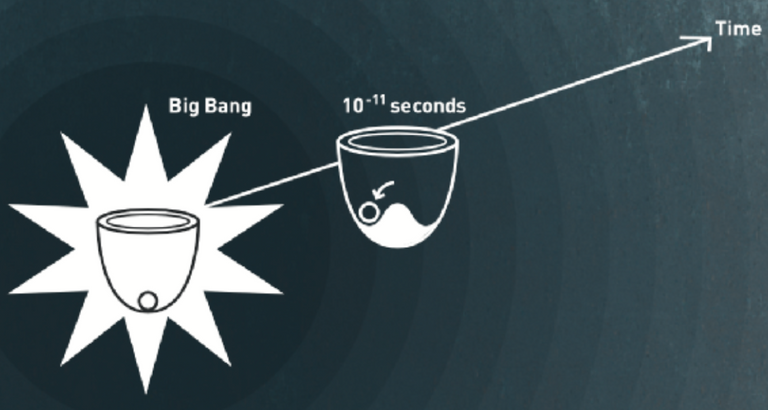 [Credits: Nobel Prize]
Let's travel back in time, when our universe was super young (i.e. that's right after the Big Bang). We can see ourselves as the ball in the bowl in the image above. The full picture is symmetric in the sense that it can rotate around the vertical axis without undergoing any change.
In other words, in the early universe nature is gauge-symmetric. If we push the ball a little bit away from the centre of the bowl, it goes back where it was. Gauge symmetries are there, stay there, life has no mass (and too bad for it!).
A tiny moment later (at 10-11 second after the Big Bang to be precise) something happened. A bump rose at the centre of the bowl, which corresponds to the so-called electroweak phase transition. The reason behind this motivates many present studies. Why did it happen? That's a problem that will hopefully be solved within my lifetime.
This bump makes a lot of differences. If I now push the ball away from the centre of the bowl, it falls and does not come back anymore to the centre. Whereas the symmetry is still there (we have a bumpy bowl that can rotate on itself and stay unchanged), the fact that the ball is away from the centre hides it. From the perspective of the bowl+ball system, the symmetry has been broken.
This is how particles get masses. Nature is gauge symmetric, but it has chosen a direction (i.e. a way to fall from the centre of the bowl) to hide this symmetry. The fundamental particles get massive in the process. Technically, we say that the gauge symmetries are spontaneously broken.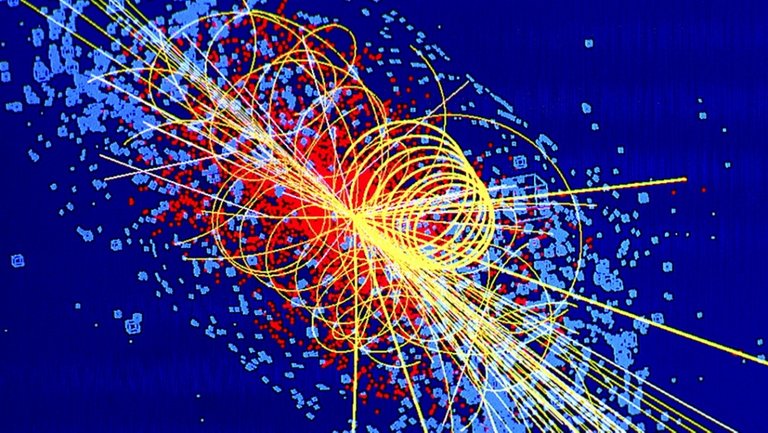 [Credits: CERN]
The price to pay for this mechanism to be realised lies in its remnant, one new particle called the Higgs boson, and that has been observed exactly 10 years ago (on July 4th 2012).
We have thus discovered all the fantastic beasts of the Standard Model. However, we still do not know today whether the Higgs boson has the right properties. We may need more than 100 years of future data to be able to answer that question.
Particle physics is thus not over, despite of Lord Kelvin (who is therefore still very wrong)…
---
Going beyond the Standard Model?
---
We are now ready to (finally) try to provide an answer to the question raised in the title of this blog.
Whereas the Standard Model itself is not complete (this word is used by many physicists, and I strongly disagree with anyone saying that the Standard Model is complete), there are very good other reasons to see it only as the tip of the iceberg.
The Standard Model is plagued by many conceptual issues and practical limitations. It is consequently clear to most of us that it must be embedded into a more fundamental theory yet to be discovered. But why are physicists certain about this?
First of all, in the Standard Model the three neutrinos have no mass. We however have observed that neutrinos change nature while they travel. For instance, an electron neutrino produced at a given place in the universe could be detected on Earth as an electron neutrino, a muon neutrino or a tau neutrino on Earth. All three options are possible (with different probabilities).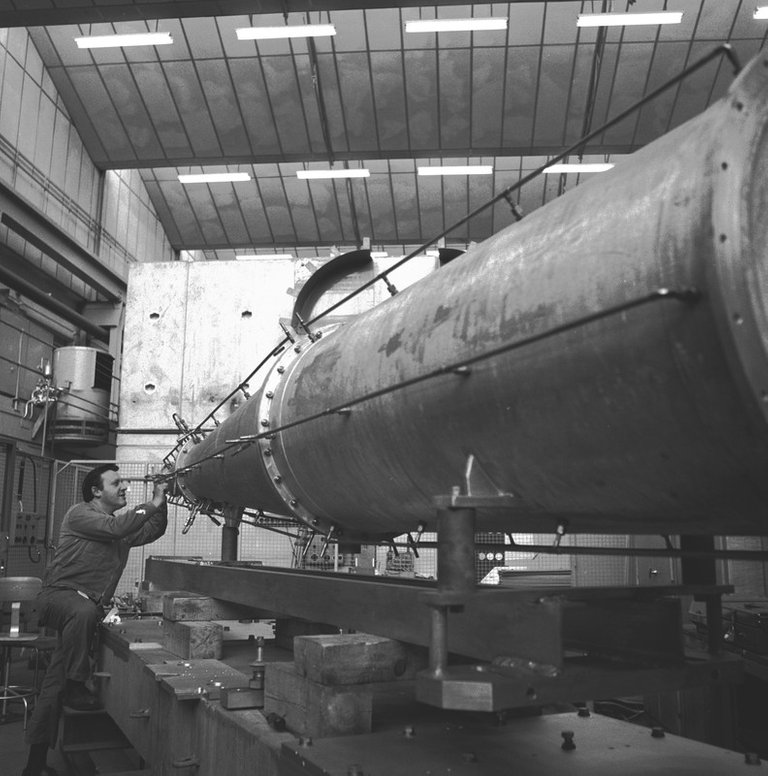 [Credits: CERN (CC BY-4.0)]
In order for this phenomenon to be possible, neutrinos must be massive. This requires to extend the Standard Model, and there are various ways to do it. Each possibility comes with some new particles and new (potentially) observable phenomena, as detailed a bit more in this blog.
In addition, if we consider the standard model of cosmology that provides the best fit to cosmological data, then the universe has to be full of dark matter. And by full, I actually mean: 'full'. 85% of all matter is indeed expected to be dark.
If we now make another assumption, and enforce that there is a dark matter particle, then we have a problem. There is no such a dark particle in the Standard Model, that must thus be extended. Doing so makes the theory full of new particles and phenomena. However, we do not know much about the nature of dark matter, so that hundreds of possibilities are available.
Here the (experimental) difficulty is clearly not to miss any, especially as any possibility offers several ways to search for dark matter. We therefore must be pragmatic, and (try to) explore all options. Not finding anything in spite of numerous searches is fine. Missing something because there are unexplored possibilities would be catastrophic.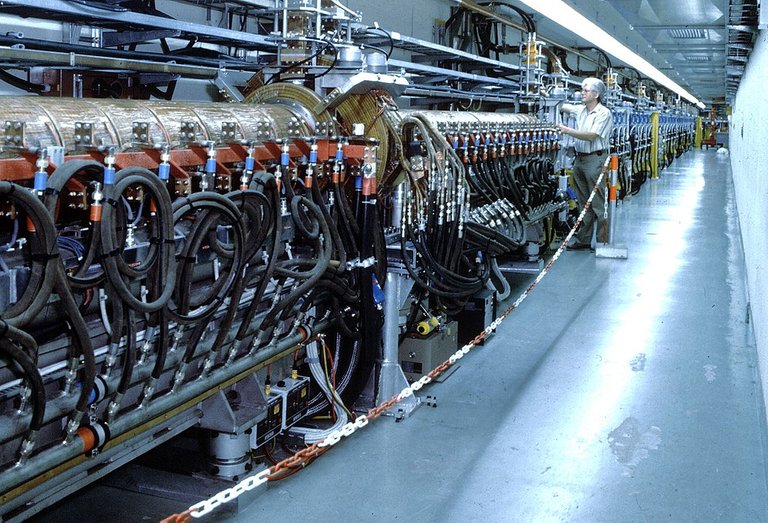 [Credits: CERN]
This is not all. On a more theoretical side, we solved the problem of the particle masses with the Brout-Englert-Higgs mechanism. Therefore, the Standard Model masses, and in particular those of the W and Z bosons, are related to the properties of the Higgs boson. Let's now see why this is a problem.
In the Standard Model, all parameters are interconnected through quantum effects (because the microscopic world is quantum). As a consequence, parameters of the theory have to be fixed up to their 30th digit to make sure the theory does not collapse.
In particular, we must guarantee that the W, the Z and the Higgs boson all have masses in agreement with data. This enforces us to make sure that the mass of the Higgs boson is not sent to 100,000,000,000,000,000 times its value. This is actually what we successfully achieve by fixing those 30-figure number.
This is highly non-elegant, and makes us thinking that there must be some stabilising mechanism hidden behind the scene. This triggered a lot of development of beyond the Standard Model theories, and each potential solution comes with a bunch of new particles and new observable phenomena.
Again, this shows us that Lord Kelvin is still wrong today… Physics is not done!
I could continue and ask many more questions. For instance, why does the Standard Model include (about) two dozens of free parameters. Could all known particles be organised so that they could be different facets of a single object? How could gravity be embedded in the Standard Model? Where is antimatter gone? And so on…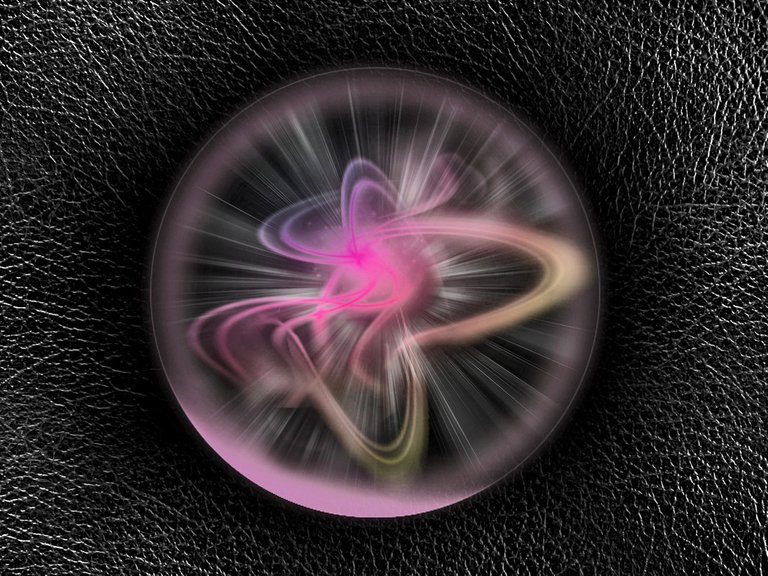 [Credits: ThomasWolter (Pixabay)]
---
To conclude: YES! We still need to build new models!
---
The Standard Model is the current paradigm explaining how fundamental particles play, dance, sing and get wild. Whereas this theory has been built following the discoveries of the last hundred years, physics is still far from being done (hi Lord Kelvin…). Every decade, new observations appear and challenge our understanding of how our universe works, which opens the door to new theoretical and experimental developments.
The Standard Model is thus only the tip of the iceberg. Whereas it works like a charm, many questions are still unanswered, and many puzzles still wait to be solved. For these reasons, physicists usually pick their favourite questions/issues and build (often varied) theories aiming at providing an explanation to them. Generally, this comes with a bunch of new phenomena and particles that could be observed in present and future data. Doing so will help us to sharpen our vision of the microscopic world.
So far, our searches for new phenomena have found nothing. However, this is not a big deal, because we explore how the universe could and could not function. There is no guarantee to find anything behind the corner (although we all agree that this would be amazing), and we may need to push our searches a little bit further. Isn't it precisely what is exciting: probing deeply the unknown?
I will stop writing for now. For more information, feel free to ask questions in the comments to this blog, or to join me at TimeWorld 2022 at the end of the month. I promise, my speech will include many (physicist's) jokes!
---
---