This Saturday, September 10: WORLD FIRST AID DAY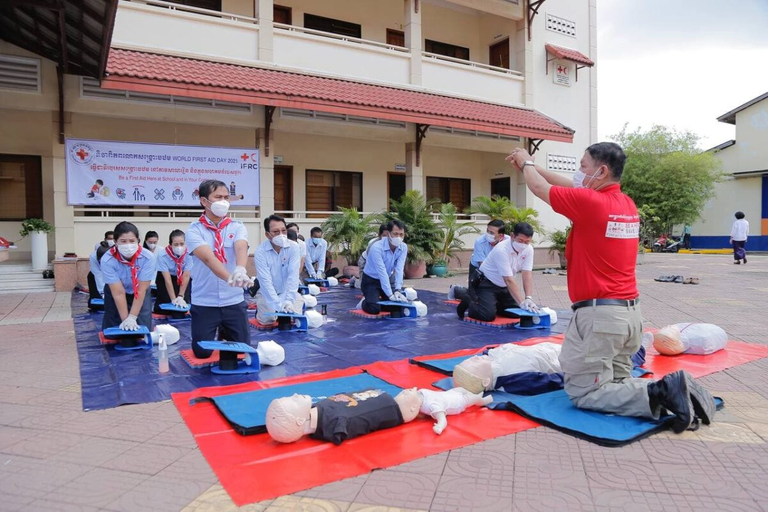 ---
---
As a member of the Medical Corps, I must make you aware of this day.
En tant que membre du Corps Médical, je ne pouvais manquer de vous faire part de cette journée.
---
---
This Saturday, September 10: WORLD FIRST AID DAY
Ce samedi 10 septembre 2022: JOURNÉE MONDIALE DES PREMIERS SECOURS
---
---
On the second Saturday in September, World First Aid Day raises awareness of how first aid can save lives. It's also a day to commit to learning first aid.
Le deuxième samedi de septembre, la Journée mondiale des premiers secours sensibilise à la manière dont les premiers secours peuvent sauver des vies. C'est aussi une journée pour s'engager à apprendre les premiers secours.
---
---
In each region there will be open-door events to raise awareness and train. For my participation, I would be one of the trainers of a group of young people from the international red crescent (Red Crescent Society (ARCS))
Dans chaque région, des événements portes ouvertes seront organisés pour sensibiliser et former. Pour ma participation, je serais l'un des formateurs d'un groupe de jeunes du croissant rouge international (Société du Croissant Rouge (ARCS))
---
---
Image source: https://www.globalfirstaidcentre.org/event/world-first-aid-day-2022-lifelong-first-aid/
---
---