HiQ №18 | Smart, Stylish & Sexy | LOLZ Raffle, HIQS Diesel Pool, LMAC Let's make a Collage, LOH - Ladies on Hive u.v.v.m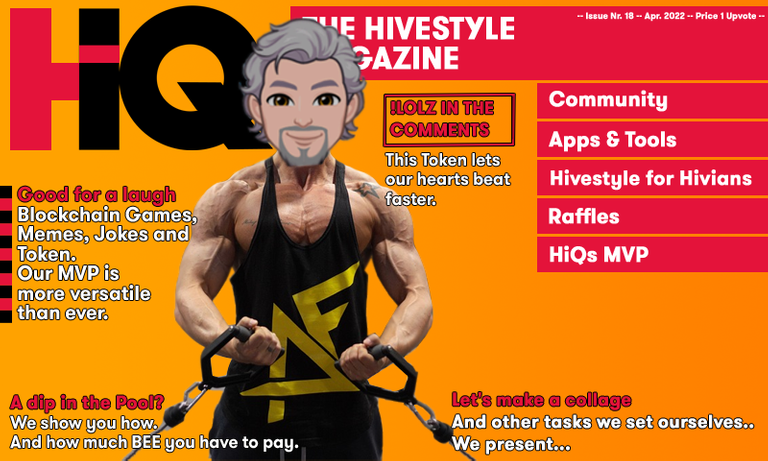 By: @mary-me
EDITORIAL  
Our fans can't wait for the new issue to come out. Now the time has come - you are redeemed. We present you the HiQ №18, only real with 42 shares. And this sentence is only here because we needed the third row.
In this end-crass issue, the 2nd part about our HIQS:BEE pool awaits you. Queker fomos into the details and makes the hearts of Diesel Poolians beat faster. He also explains once again what the ominous "Commentary Discount Sale" is all about.
Then we'll take a closer look at the LOLZ project and for the smartest Fomies among you there's also something to win. Read more about it below in the LOLZ article and fomo hard into the competition, it's worth it!
The column comes from @themyscira's pen, she highlights the dark side of the communities and laments that many good contributions unfortunately do not get as much attention as they deserve.
"All the single ladies, all the single ladies..." do you know LOH (Ladies of Hive)? @themyscira gives us an overview of this community. It doesn't seem to be very diverse, only women post there, and that's good.
Do you know LMAC? One or the other Hivian has already come across this abbreviation. "Lets Make A Collage" is a long-term project by @shaka. Our raging HiQ reporter @kvinna went into the art world for you and reports exclusively here and today in HiQ.
The salt in the №18 issue is provided by "Hivestyle for Hivians" with the short news and "Gossip" with gossip. As always, the issue is rounded off with letters to the editor. We would like to thank you for the numerous letters, which are growing every time <3 You are the smartest, stylishest and sexiest! ★

TABLE OF CONTENTS
  ➀ HiQs MVP - @captaincryptic
  ➁ Column - Community Marathon Part 2
COVER STORY
  ➂ Take notes 2.0 - About Diesel Pools, FOMO and how to create your OWN pool to fomo in
  ➃ Let's make a collage - Creativity gets rewarded. The contest for Hivians with an eye for details.
Apps & Tools
  ➄ A heart for LOLZ - We go to the comments for a laugh. !LOLZ is up for any kind of joke.
Raffle
  ➅ LOLZ Raffle
Community
  ➆ Ladies on Hive, assemble
Hivestyle
  ➇ Hivestyle for Hivians
  ➈ Gossip
  ➉ Readers' letters ★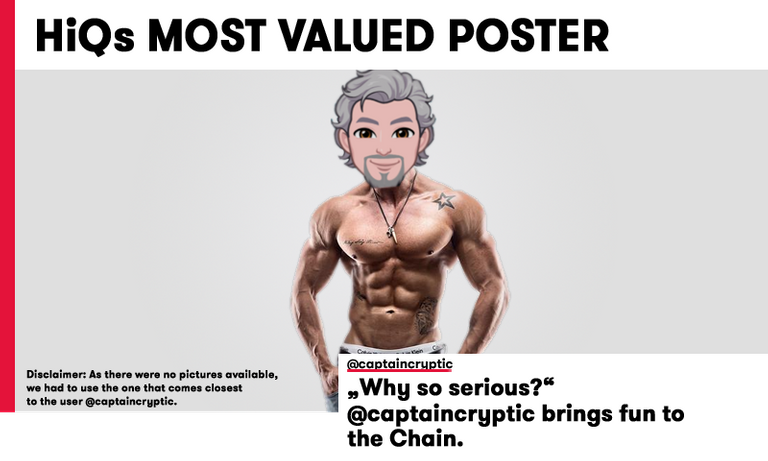 By: @smooms
➀ HiQs MVP  
We at HiQ are never too good for a laugh. So who would be surprised that we enjoy the LOLZ project so much? The creator of the project, a.k.a. @captaincryptic thus deserves the MVP.
One user, one legend, one token. @captaincryptic is a versatile player on the Hive Blockchain. With an interest in shenanigans and blockchain games, he always provides the Hive Blockchain with appropriate posts on said topics and also knows how to elicit a smile or two from readers.
He captivates the community with contests and gets them to interact. In a short-lived world like Hive, this is definitely a good attribute.
He is also the father of one of our favourite projects on Hive. The LOLZ token, which ensures that users can distribute this token to others by commenting on complex character strings (Editor's note: !LOL or !LOLZ.). In addition, they are then delighted by a snappy joke.
Actually, YOU would now get our trail slapped around your face for a month, but after consultation, you wanted to know that the LOLZ project would be promoted a bit through the trail. Therefore your project, which can be found under @lolzbot, gets one upvote per day for one month. (Editor's note: Or more if we forget to take you off the autovoter. LOOLZ)

Are you the next HiQ MVP and can call yourself the most stylish user of the month?
NEW: Send 10 HIQS & get 100% votes for 1 MONTH!
Every month we look for the most stylish Hivian of Hive. You can submit your photo too! Send 10 HIQS (+ possible bribe) to @hiq with the memo "HiQ MVP + link to your profile".
We will then publish your picture in one of the next issues. In addition, we will put you in our auto-voter for one month. That means: at least 28 days of 100% upvotes from the smart HiQ trail. ★
(only 1 Vote per day)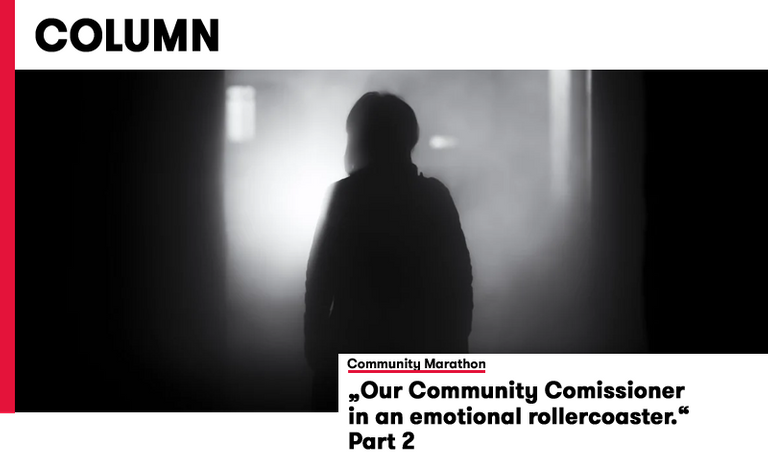 By: @themyscira
➁ COLUMN  
In the valley between light and shadow of the Community Marathon. As you know, every light casts a shadow, and this is what is illuminated in today's issue.
In the last smart issue of HiQ, the light sides of the communities were examined and in this issue we will take a look at the dark sides, because these are also part of blockchain life. Even if many ignore it, they may think the same thing, which is what is being discussed here.
It is clear to see that for some users the potential is not being promoted - but other users have the privilege of being in the constant voting loop. There is a lack of balance here to ensure the equilibrium of the blockchain and to promote new users.

Do you know that I have three learned professions, was self-employed in my marriage and afterwards, and was allowed to participate in the European antique trade? Why am I telling you this? The irony of it always makes me smile. All this is worthless without having taken the first, the second and the third dose plus a booster.
You see, this is an example of how skills are not appreciated, human qualities seem worthless and competence does not count at all. Do we want to make the same mistake here? Or do we want to do better?
Let's not fall into the usual behavioural patterns and optimise the diversity of the blockchain. I'm sure some users here on Hive will feel the same way, and together we can create something stylish, smart and sexy.
The blockchain lives from the individuality of its users and the power of their actions. But if our newcomers are not discovered, they lack motivation. When new users show their true talent and, above all, their brains, their efforts are often not appreciated.
Imagine you've been working for 8 hours and you get 30 cents for it - everyone's looking silly. Of course, all of our interests are different, but giving each other a push, even voting on other people's territory, would be an act of charity and a form of selflessness. In doing so, you also give others a chance to build something for themselves on Hive.
Here are a few examples where the effort went unnoticed: moonlight222, guelmi1958, alba-rosaced und joseluis91.
We all have the same sky, but not all have the same horizon. With this in mind, I will continue to try and break through the boundaries of blockchain and create new magic by staying true to myself. Have a great time and stay smart, stylish and sexy. ★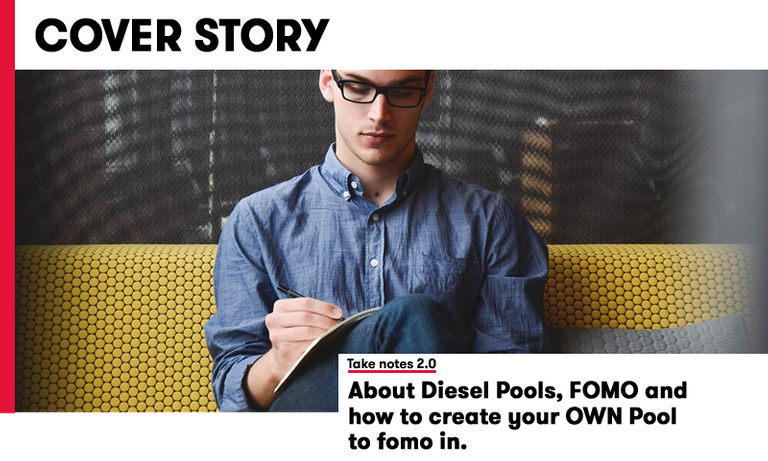 By: @quekery
➂ COVER STORY  
Fomological pool observer to fomogenized pool expert. We fomoed in, so you can learn all about the background of Diesel Pools like costs and reward distribution.
If you want to fathom the complex Diesel Pools, which can only be surpassed by their mysteriousness, the best way is to make a pool yourself (Editor's note: Learning by doing, lool.) or read the HiQ. (Editor's note: By Osiris and by Apis, read the HiQ! Concentrate hard on these lines! By Osiris and by Apis, you have turned into a fomovoltaic plant! By Osiris and by Apis, you have now turned into a fomovoltaic plant filled with enormous liquidity! So, my Fomo Sapien be fomental ready and shoo off into the HIQS:BEE pool).
In the last issue we told you how to get HIQS and fomo into the pool with them. This issue is more about the backround. How do you make a Diesel Pool? What does it cost? What are the rewards distribution options? And how do you add rewards?
"What, there are costs? The Diesel Poolians are crazy!"
Yes, it costs 1000 BEE to create a pool. At https://tribaldex.com, you can create a pool with a few clicks if you have the smallBEE to do so. (Editor's note: So you see, smallBEE also makes crap, lool).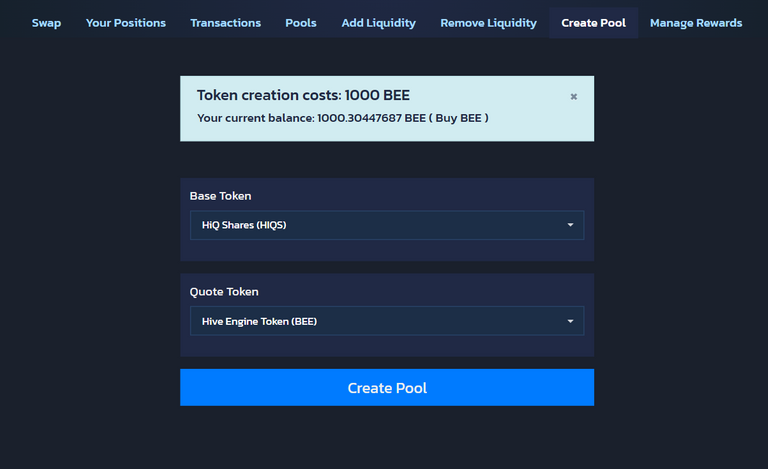 The Base token is on the left and the Quote token is on the right. How around you put the desired pool token pair doesn't really matter, but since we are minimally more stylish than BEE, we decided to use HIQS:BEE instead of BEE:HIQS. (Editor's note: Fomomental stable Hivestylers always name themselves first.)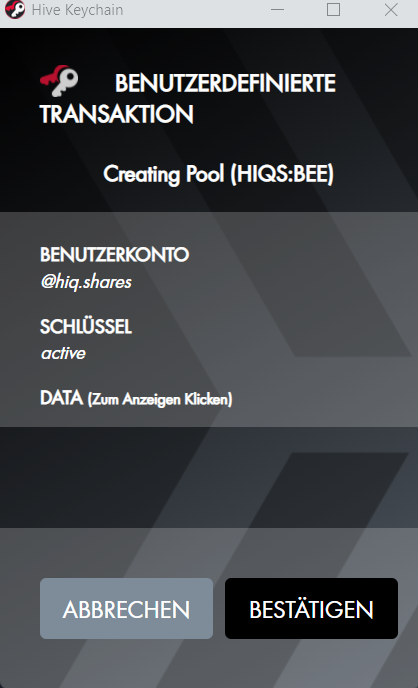 Now pay and confirm, and the pool fun can begin. If the Base Token, the Quote Token or even both are yours, you will of course have to create tokens. The creation of a token costs you 100 BEE. I.e. so far we have paid 1100 BEE.
In its current state, the pool has no rewards yet. That means, all liquidity providers (Note: Users who have fomoed into the pool.) do not get any rewards yet.
Sometimes we are asked why there are pools without rewards and what is the point of joining such pools. Every pool, with or without rewards, can contribute to price stabilization e.g. SWAP.HIVE:SWAP.BTC. Furthermore, in each pool all liquidity providers get a share of the fees caused by swapping (Editor's note: Which costs 0.25%.).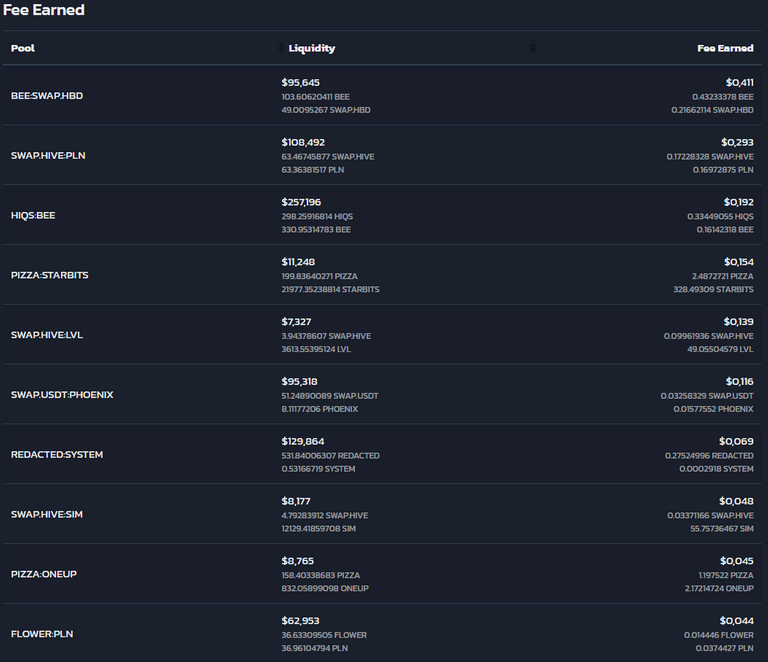 You can find this beautiful overview here. Keep in mind that these are absolute numbers. (Editor's note: No Lambo for @quekery after all).
"Get to the rewards! In the time you've been explaining, we could've fomoed into at least 10 pools!"
As you've probably noticed, there are also pools with rewards. The pool we just created, which cost us 1100 BEE, does not have any rewards yet. You can already fomo in and people can swap, but there is not much happening yet.

In order to add rewards, we first need a Contribution Contract. (Editor's note: What kind of Fomo Chinese is this again?) To create one, we search here for our Base Token to locate the rewardless pool. Theoretically every user could create a Contribution Contract at a rewardless pool. But the fun costs 100 BEE. If you want to change or extend the Contribution Contract later, this also costs 100 BEE.

We have some setting options when creating: How long should the rewards run? Do we want to blacklist accounts? Should there be bonus shares for loyal Fomoians? For our first attempt we chose 42 days. Since there are no instructions anywhere, we needed a test phase. For example, in our test phase the bonus shares did not work, even though we had entered them. Also, we could not blacklist the account that created the pool. Shortly before our test period ended, we extended the period by updating the Contribution Contract, which of course cost 100 BEE again. In the screenshot you can see our current settings.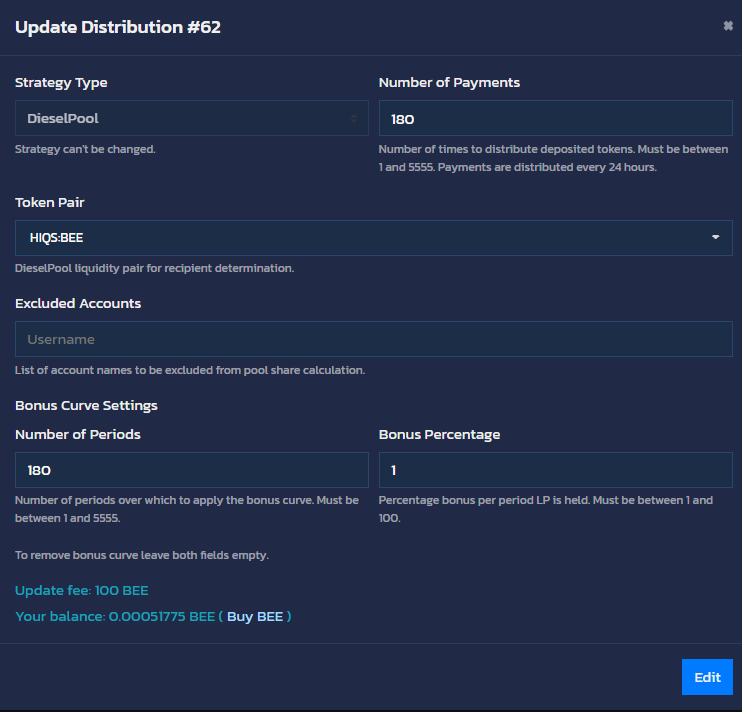 Once a Contribution Contract is created, any Hivian can add rewards to the pool. Once this is done, the rewards are distributed to the liquidity providers on a daily basis. The distribution always adjusts to the settings of the respective Contribution Contract, such as remaining days of distribution and bonus share settings.
"I can give away tokens and Fomoians get them dropped based on the Contribution Contract settings? "
You read that right. Hold on to your fomosoms. Adding rewards doesn't cost BEE for a change. Of course, though, the tokens you add are subsequently in the pool rewards and no longer in your HE wallet.
So, calmly and without fomoventilating, find the Pool that you want to fill with rewards. Then click on Deposit and enter the desired tokens.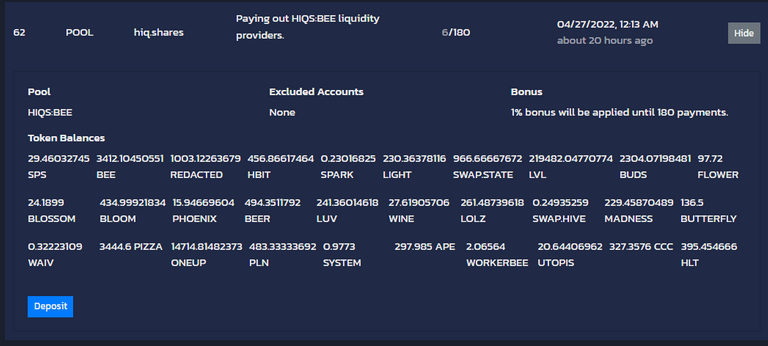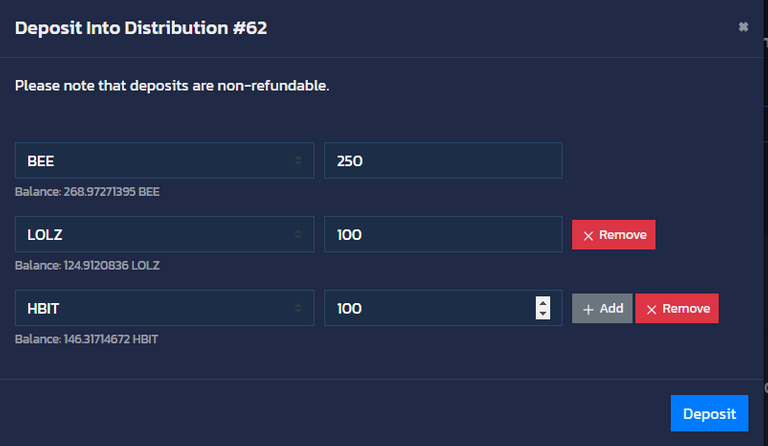 Then, if you've done everything right, it should look like this: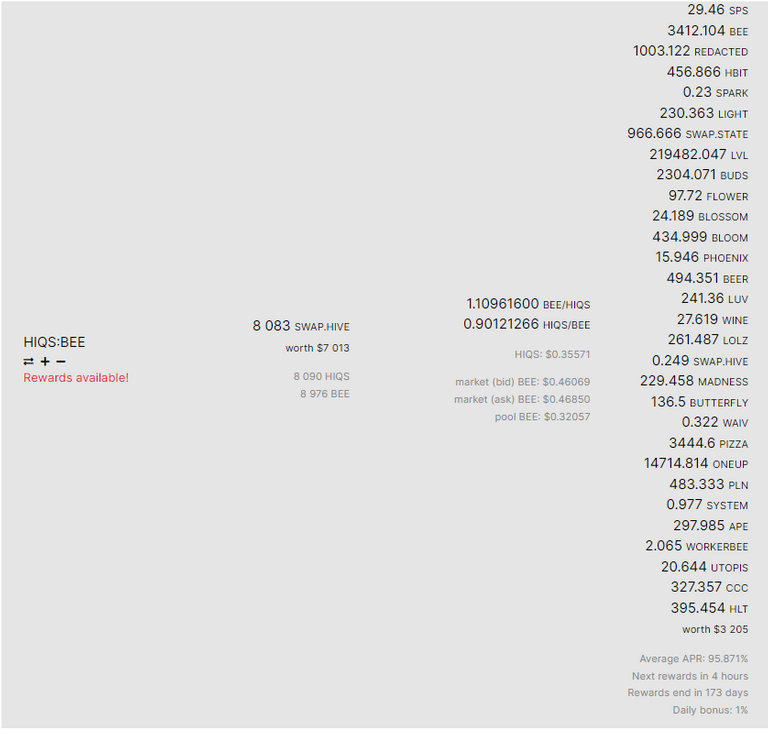 Should you not have done it properly because you have a fomosome anomaly, it looks like this: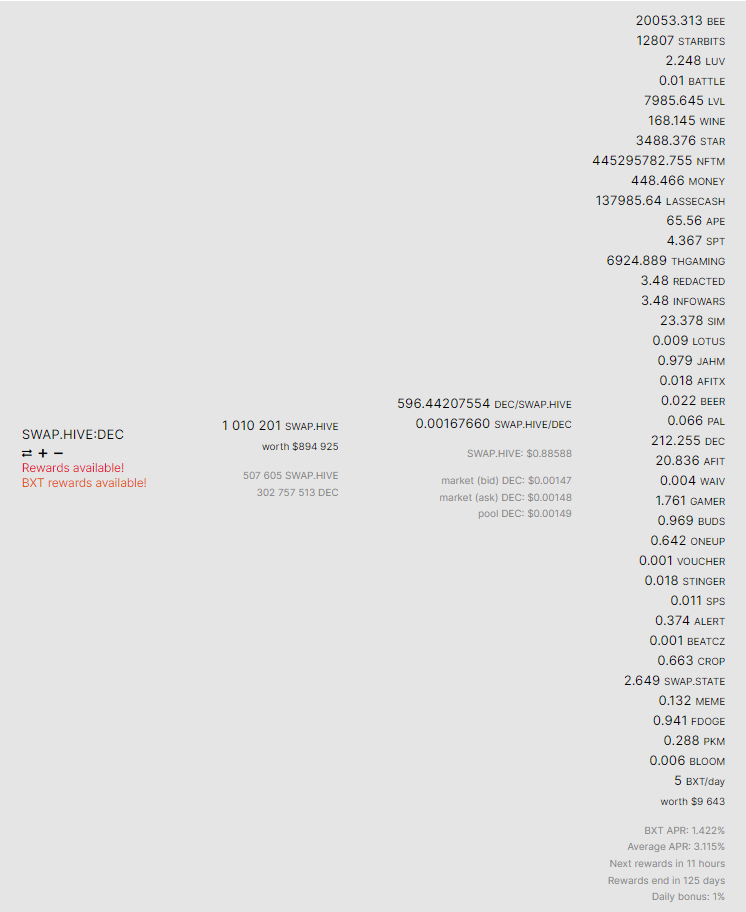 The first person who can tell us the mistake here will get 5 HIQS.
"Now I want HIQS too!"
Then this issue is the perfect opportunity for you. Write
!HIQS HereYourWantedAmount
in the comments. All users who do so in the first 48 hours after this issue is published can purchase up to 900 HIQS at the price of 0.3 SWAP.HIVE per HIQS. After the deadline, we will make a post at @hiq.shares where the Commentary Discount Sale (1/4) will be finalized. If more than 900 HIQS are ordered, a fair distribution will be calculated using the smooms'sche algorithm by the HiQ Smart Bot. We reserve the right to exclude users from the purchase in case of abuse.
Questions, wishes, orders and suggestions are welcome in the comments. We'll see you at part 3! ★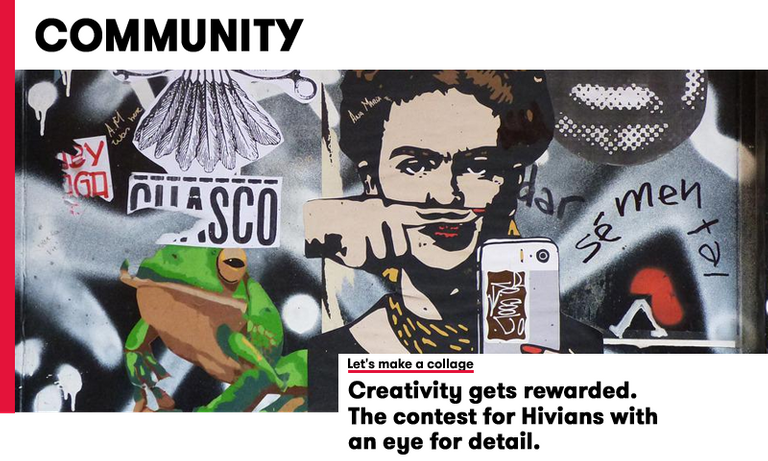 By: @kvinna
➃ COVER STORY  
Do you know the Phantasialand of the Blockchain? Have you ever surfed through the creative collage exhibition? Have you discovered the largest image gallery on Hive? No? Then by all means read on.
This time, the reporter was able to meet the experienced Hivian @shaka on her field mission, who also shared his extensive Hivechain knowledge with her. The passionate photographer came to Steem back in July 2016 and delighted the community with his pictures and travel reports.
It all started with a picture puzzle where you had to click to guess where the photo was taken. So @shaka came up with the idea of starting a competition to make collages and launched the Let's Make A Collage (LMAC) project in 2018. Shortly after this was technically possible on Hive, the associated Community was founded in February 2020.
The noble thought was that everyone can be an artist and should have the chance to develop themselves and their skills. The learning process is supported by team member @quantumg, who offers extensive tutorials on all aspects of image editing as part of the LMAC-School. Of course, professionals are also welcome to take part in the contest, but this format is mainly aimed at regular hive users.


@panksero shows what can be created from the original image.
In the meantime, the project has grown so big that @shaka has brought other loyal supporters to his side. The core team consists of @quantumg, the developer who, for example, creates scripts to be able to weed out entries from the competition that do not comply with the rules. The US writer A.G. Moore is an invaluable moderator in English and Hive blogger Mariangel is devotedly looking after the Spanish-speaking participants in order to remove this hurdle for those who have problems with English. And finally, there is little Lily, who was brought to life by @quantumg. Lily's circuits work tirelessly every day in maintaining the LMAC household.
The 4 core team members and a guest judge who changes every week nominate 3 finalists each. Each week, the collages of 15 participants are put to the vote. The community and each Hivian can then decide with their votes who wins. The final winner is not decided by the number of votes received, but by the weight of the votes in HP. This is to avoid mousing through second and multiple accounts. Bad experiences have led to this change.
There is a clear set of rules which is published with each new competition round. Above all, copyrights must not be violated. Ideally, pictures should be taken from the LIL, the in-house LMAC Image Library. With over 7500 images and graphics, this has grown to be by far the largest image gallery on Hive. If you use images from the LIL, you are asked to set up 2 % beneficiaries to the respective author of the image and thus support other Hivians. Own photos are also very welcome or alternatively pictures from sources that have found their way into the official whitelist of the LMAC School.
A new competition round starts every week on Thursday. Among other things, there are impressive prizes of 180 to 200 HIVE per week. This impressive sum is made possible by the community itself, by using the @lmac account with 20 % beneficiaries in all contributions. 100 % of the revenue generated in this way goes into the prize pool for the following week. Since the fork from Steem to Hive, there has been an enormous increase in the creative community, which has caused the prize pool to grow steadily.
The LMAC community also offers a number of beautiful badges. Those who make 5 contributions in 3 months receive the community award through the colourful LMAC Contributor Badge. Here it is important to let the team know via a comment that you have reached the goal, because this is not always obvious to the hard-working moderators. Furthermore, there are sparkling glossy badges for delegations for loyal supporters. These are divided into: Bronze, Silver, Gold and Diamond. Those who want them only need to delegate the corresponding amount of HP to @lmac.
The LMAC team lives the open source idea and is therefore happy to make its tools available to all interested parties on its own GitHub Repository and on its Discord server. Those who would like to support LMAC have the opportunity, in addition to votes or delegations, to join the LMAC-Trail. The curators take great care to ensure that votes are cast within the first 24 hours of a post appearing, in order to maximise the curation rewards of the trail participants.
A nice story on the side is that @siphon holds a GmbH-Meme-Contest once a month in his GmbH. According to @shaka, he came across the LIL gallery by chance and gets the respective pictures from it, which serve as the basis for the memes of the competition. This has formed a collaboration between @siphon and the LMAC. It's just nice to see what fantastic things can come out of collaboration.
If you have now read these lines and still don't want to wield the virtual paintbrush to become a collage artist, you should still not miss surfing through the LMAC Winners Gallery to enjoy the amazing works and inspirations of the art-talented Hivians. Perhaps the LIL Library would also be a resource for you to spruce up your own posts. With the 2 % Beneficiaries you support other Hivians and have images you shouldn't get copyright problems with. So follow @lmac and his team and get inspired. ★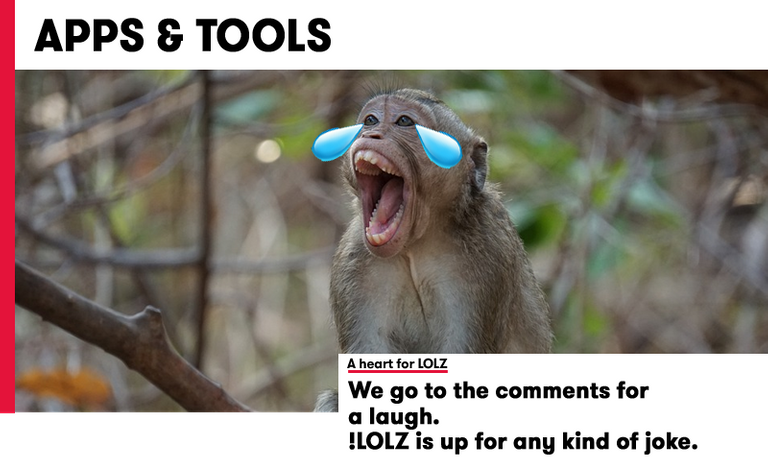 By: @thatgermandude
➄ APPS & TOOLS  
DeFi for the top holders, delegation rewards, curation trails and a continously enriched database of jokes are some of the aspects that the LOLZ Token brings to the table
@captaincryptic is an engineer who was inspired by BEER, LUV and PIZZA to make his own engagement token. The main spin he wanted to give the whole thing: bring value through laughter. With that in mind he launched the LOLZ Token in November 2021. Now everytime someone types "!LOLZ" or "!LOL" there will be a LOLZ Token sent to the one the comment was in reply to and a little joke to make you chuckle
The English community immediatly jumped on the bandwaggon of the token that even has his own website. But jokes can't be translated one to one, so @captaincryptic reached out to communities based on other language to create respective joke databases.
The HiQ has the honorable quest to find jokes for the German database, that is why we want you to fomo hard into our contest in this issue. And don't worry we are looking for new English jokes as well!
As a little Schmankerl (Editors note: Austrian for something neat) the LOLZ curation trails will also randomly upvote users of the command, 40% of the non-hive curation rewards for those trails are distributed among all Headliners, which are LOLZ Holders with more than 512 LOLZ.
To get your hands on some sweet LOLZ you can delegate any of the tokens seen here to respective LOLZ bot. You will get 110% of the dollar value of the curation rewards earned with your delegation in LOLZ Token.
If you find the LOLZ project as stylish as we do, then support the project! Currently LOLZ needs 1000 BEE to activate the staking function. One way to support LOLZ is to upvote the daily posts of @lolzbot. (Editor's note: SMOOMS, update our autovotes! The LOLZ dudes still need votes! Also, @captaincryptic is deserved MVP!) ★



Ad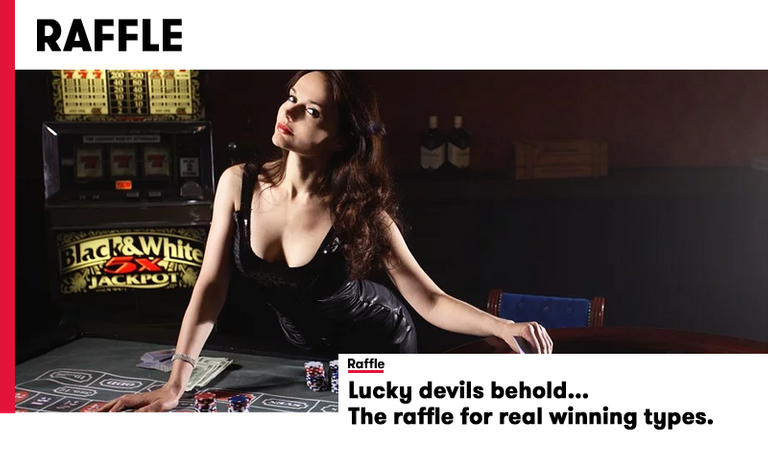 ➅ RAFFLE  
Because we are mysterious and generous, we have made it our mission to support other projects. And because we are also smart, we make a contest out of it.
It looks like @lolzbot needs some German jokes. Even though Germans are said to be unfunny because there is only work for them in life, we know that this is completely wrong. So now we need YOU as a reader to provide jokes for LOLZ. If you are not a German speaker, don't worry, under this issue we are looking for English jokes. But if you are capable of providing a joke in German language please leave your Witz here.
How you can win:
LOLZ is looking for jokes and you ARE funny. Write your best joke (Editor's note: Or multiple comments with one joke each.) as a reply under the solution submission comment below this issue. If you want to support the @lolzbot project, please add your vote to the comment. 100% of the rewards of the main comment will go to @lolzbot.
Our smart readers can then vote for their favorites among all the entries by voting for the joke comments. However, we reserve the right to select any winners, because he who LOLZ last LOLZ best. LOOL
This is what you can win:
82 HIQS will be rewarded.
These precious tokens will be distributed as follows:
The top 3 joke writers will each receive a whopping 15 HIQS.
and
the next best 7 will each get 5 HIQS.
Place 11 and 12 get one consolationHIQS.

So you see, all you have to do is be funny. If your jokes are good enough, they will be transferred to the LOLZ Bot database.
So hit the keys and have fun. End of fun is the 04.05.2022. (Editor's note: non-retarded date format in a time zone of your choice.) And who knows, maybe it will also rain some upvotes and LOLZ.
PS: Among the commentators and rebloggers we also raffle pseudo-randomized 18 HIQS. Each winner got 3 HIQS. Among the rebloggers @zyzymena, @laritheghost and @augustbrown won and among the commentators @gamergeek56, @sandymeyer and @radames got lucky. Have fun with the HIQS! ★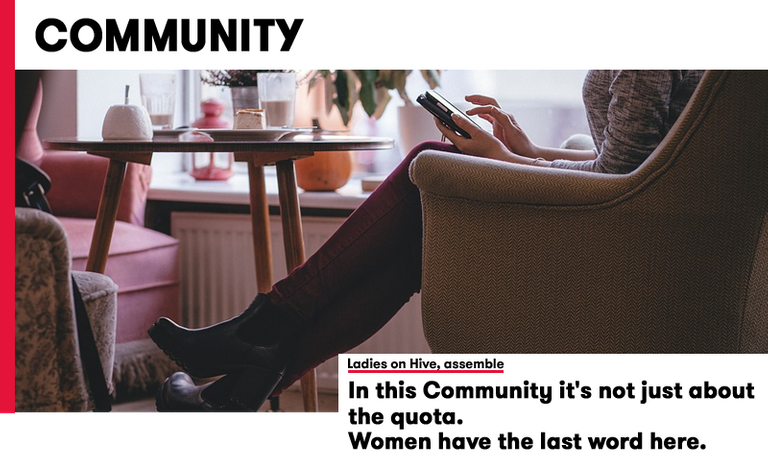 By: @themyscira
➆ COMMUNITY  
What kind of ladies would we be at HiQ if we didn't give a wave to the Ladies of Hive? How good that we also have female flair in the HiQ Team to be able to report about this community.
In sensual femininity, thoughts and experiences of spirituality, faith and family are shared here, or the ladies post their killer needlework skills to show how smart, stylish and sexy they are. (Editor's note: Definitely worthy HiQ subscribers).
The motto here is and that doesn't just sound lady like: Cohesion among hive ladies. However, many of the ladies are sitting on the fence with their contributions, so it's okay to offer a prosecco or BEER.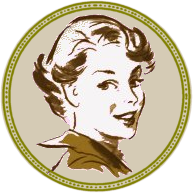 In addition, contests are organised in which the ladies can participate - with the diversity of topics in this community, there will certainly be a suitable topic for everyone. The admins are also extremely exemplary in dealing with newbees and respond to contributions. At this point you can take a look at the Ladies of Hive Token (LOH), which you can get here. This token is awarded as an incentive for contributions to the community and is brought to the ladies by @silversaver888.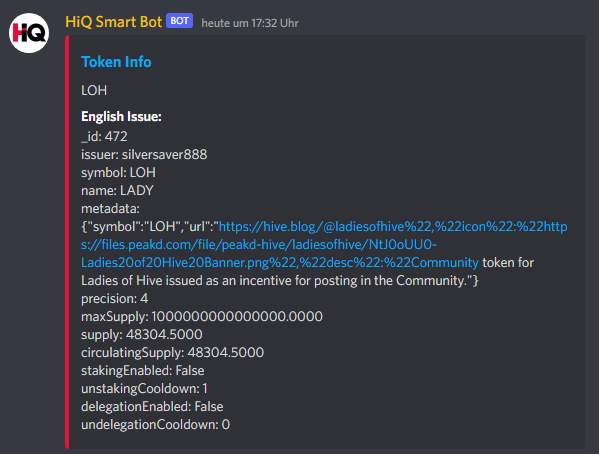 (remarkably stable, that's all I can say.)
All that's missing now are the Power HIVE Girls in abundance. (Editor's note: Mens of Hive, here you can really squander your voting power, it wouldn't be nearly as expensive as in real life. lool)
Ladies of Hive unite and reach out to your sisters so we can all be kick-ass Hivians. ★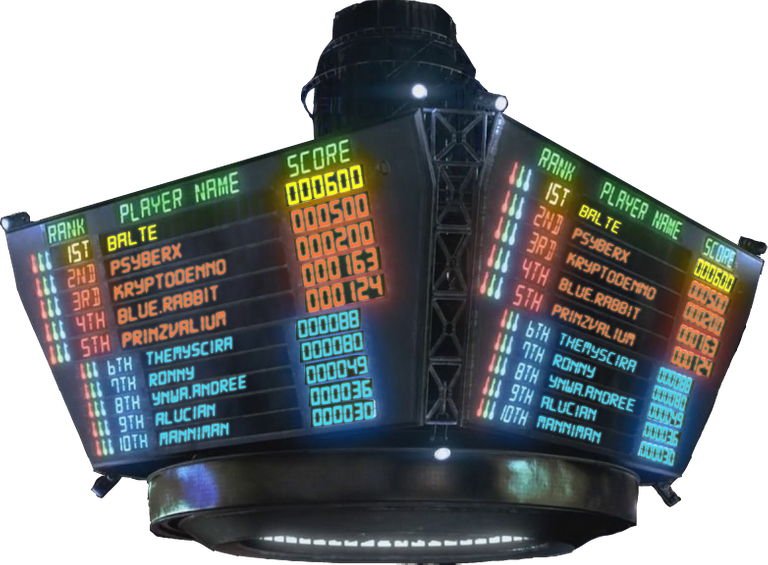 Ad
Do you also want to fomo into the competetive leaderboard of HiQ - The Hivestyle Magazine? Then stake HIQS like there is no tomorrow! The 10 highest stakers are determined anew in each issue via snapshot and then immortalised here. If you also want advertising space in the HiQ, then stake yourself in the top 3 and send us a banner in the format 728x90. You can send us the banner via Discord or by mail to [email protected]. ★



Ad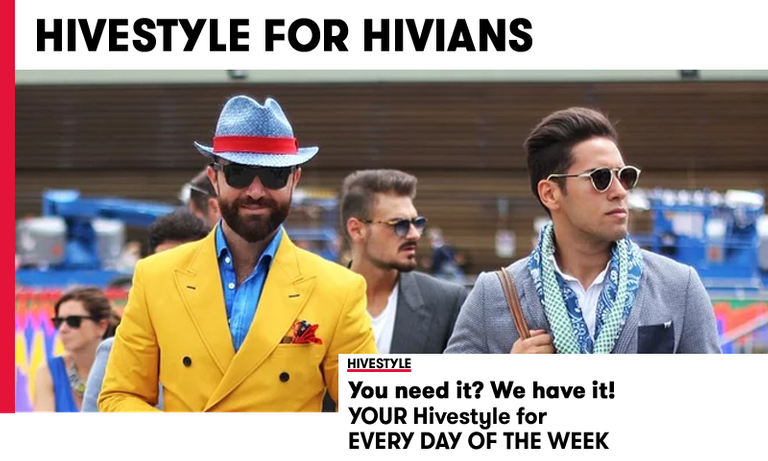 ➇ HIVESTYLE  
We have collected, researched, tested and let the fomo run wild to bring you the smartest information and present Hivestyle at the highest level. And this sentence is only here because we needed a third row.
MEME:LOLZ go together
They form the team in the MEME:LOLZ pool. Each share in this pool is like a ticket for the hourly lottery. Or maybe it's a LOLZtery? Every hour 500 new MEME tokens are minted and sent to the winner of that round. Here you can find more information about it. So if you don't want to send jokes, you can just fomo into the pool. (Note: Or you are especially fomogenous and have enough LOLZ for both).


Da Real Fomo Price
Do you follow the Ethereum chart every day? Then guess the Ethereum price you expect for Sunday in this sweepstakes by @no-advice in the comments. Real chart Schwurbler can put their fomogenic Fibonacci retracement skills to the test every week here and also win some HIQS.

Going short on writing but long on fomo?.
@theinkwell is the account of a community where you can post Short Stories. Additionally there is a weekly challenge. In this challenge you have to expect special rules. So hit the keys and get in on the rewards and winnings.

Claim while it still in stocks.
Luckily it's still April - so grab your keys and claim the DUAT airdrop from Ragnarok. To claim it, simply log in here and click claim. (Note: A coin given as a gift, we don't want to regret or something like that, lool.) More info can be found here.


Now 20% APR on all stables on Hive (except pet food).
You read that right, 20% APR is what you get now when you put HBD in Savings. Ok, we only have one stablecoin. But our beloved HBD needs a bit of clickbait. The goal of this high APR is to increase the amount of HBD. Are we in for a USDT or BUSD competitor? Or do the Top-20-Witnesse play with FIRE?

HIVEPUD
Remember, May 1 is once again the day to power up, so everyone save your HIVE already. (Editor's note: HIVEPower to the people!).

Fred's Wheel of Fortune
Every Saturday @fredfettmeister turns the wheel for you to draw the winners. There is a wide variety of prizes to be won. It's very easy, you just have to trust him and if you don't want to miss anything, write ABO in the comments (editor's note: I wonder if Meister stole this idea from us, MEISTER, MEISTER?) and he will set the alarm for you. You can find more information here.

A beautiful Chain
We never tire of mentioning what a smart, sexy and stylish Chain we have. So that we don't have to feel like Fomoson Cruso any longer, we need core developers who work on the hivecode and have knowledge on hive. @howo has renewed his Proposal, which is meant for exactly that. Fomo into a vote and make the hivestyle still possible.

Comedy Hivestyle
Do you like to write funny or even satirical articles? Then use the tag #ComedyOpenMic (Editor's note: Hm, then we can't use the tag at all, because otherwise we'd snatch everyone's prizes away.) and maybe you too will win in the Showcase HIQS.

Hot tip not only for poolfomoists.
If you use the #hive-engine for your posts, you accumulate BEE by the way. Especially many when a Beetrail rolls over it. Half staked and half liquid you will then suddenly find them in your hive engine wallet. BEE is the main token of the Hive Engine and what else is it important for? Well? Well? Of course to fomo into the fancy HIQS:BEE pool. (Editor's note: And to vote our proposal, lool.)

Psybercrates
If you haven't fomoed enough yet, then fomo into Psybercrates. If you have at least 200k LVL liquid in your wallet, then you can even fomo with 30% discount as soon as the Marketplace goes online. (Editor's note: May 13.) There is much more to tell about @psyberx and different fomotunities. But you'd best read that for yourself here. (Editor's note: Should you actually fomo out of the LVL pool to have enough LVL liquid? Tough question. But you decide for yourselves).

On to the next collage.
You can find a detailed article about the @lmac in this issue, but because it is such a stylish project and now the new contest starts, we write it extra for you hivestylers. Here you can get to the current contest. So get out the lasso and use many layers to make this art gallery even bigger with your works. Hivestyle for Hivians is awesome, but if you only read this section, you missed a lot, including the in-depth article on @shaka's LMAC. ★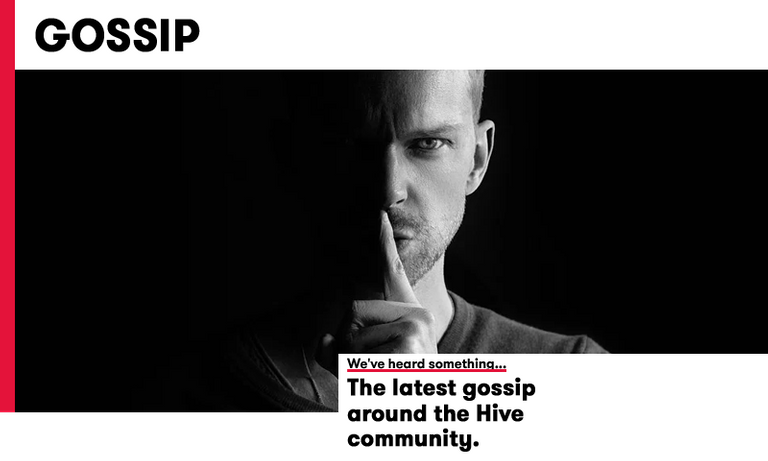 By: @quekery
➇ HIVESTYLE  
Can YOU tell the difference between Gossip and Facts? To find out you must enter a world of both: fomo and desception. A world that is beyond the flag.
Beyond the Flag: Fomo or Fiction
We post on a chain where upvote and downvote are not far apart. On which facts can be flagged as Schwurbelei. Can YOU tell upvote from flag? To do so, you must go beyond posting and open your upvote mana to the unflaggable. Beyond the Flag: Fomo or Fiction, presented by HiQ Frakes.
Some of the accounts associated with Nectar-Queen are flagged by @themarkymark. For a long time, fans of the Pollen Loop Network puzzled over what the reasons could be. Trolling on Discord? Displeasure about pools? That @thegrandistine spent thousands of dollars on GoD?
No, it's the accusation of commentfarming. Ok, Nectar-Queen votes some of his own comments. But we're talking cents here.
This mystery has been overshadowed by an army of troll accounts. Have you also been flagged by any of the following accounts? Can YOU tell upvote from flag and account from account?
@xbuildawhale
@xecency
@xocdb
@xxeldal
@xaltleft
@xsteemmonsters
@xthemarkymark
@xcurangel
@xtipu
@xsmooth
@zer0hedge
@xsteempty
@xliketu
@xalpha
@xtheycallmedan
The list is not complete. There are a lot of accounts that have suspiciously similar names to major hivians or projects.
Some of these accounts do X-Reverse-Trailing. If for example @buildawhale votes up a post, a flag trail follows. X-Reverse-Trailing is sometimes also called X-Mirror-Trailing by some users. Apparently @newsflash also joined an X-Reverse-Trail and thereby also flagged @themarkymark and that even to 0 HTU.
Subsequently, it was suspected that the X-Mirror-Trail accounts were given birth by @newsflash. Can YOU distinguish upvote from flag and account from account and open your upvote mana to the Unflagable?
Are we in for a W-W (Editor's note: whale war) here, or did HiQ Frakes just make up this convoluted story?

XSwaptor - The unswappable
Can YOU tell bot sales from human trades? For that you have to go beyond the CHAOS. And open your chartknowledge to fomostasis. Presented by Fomathan Frakes.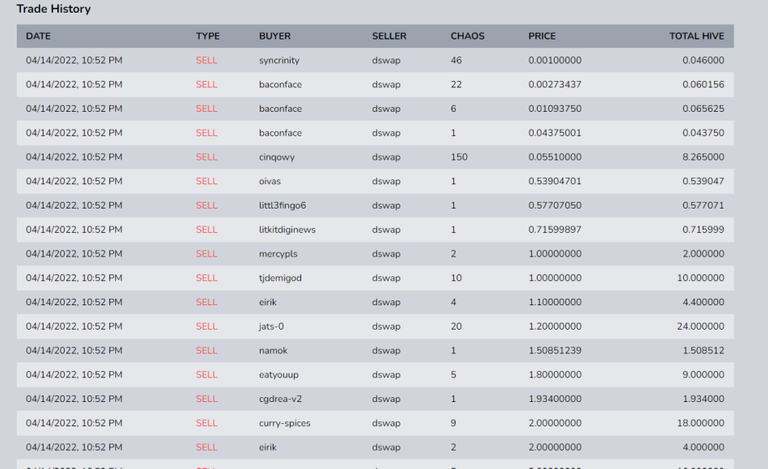 Who has "given away" CHAOS? Apparently DSWAP has escalated a bit here. Whether human error, a black swan or a bug in DSWAP, is currently still unclear.
Or did Fomathan Frakes just make up this story? ★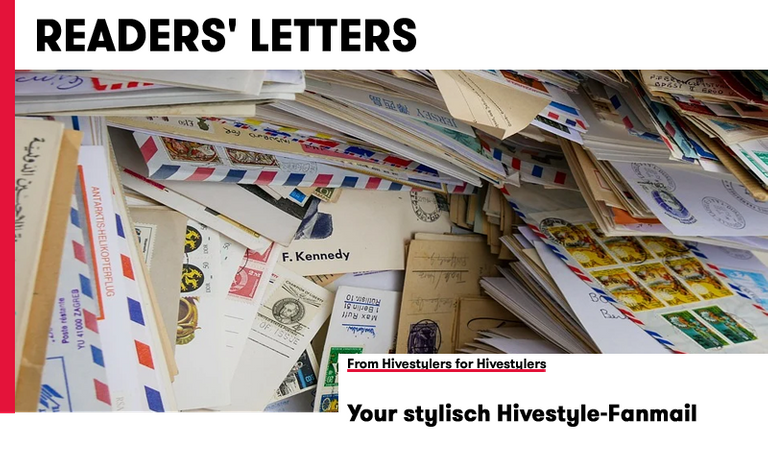 ➉ HIVESTYLE  
This month, too, we received a massive selection of readers' letters. We answer them expertly here - whether the authors like it or not. LOOL. This line is only written so that the sciber has 3 rows. LOOLZ
@captaincryptic got fomophobia:
Your pool was the first I have entered, and now you have sucked me into the nectar-queen blossom-bloom paper-scissors crazyness. !LOLZ
This vortex has sucked you into a world to a whole new fomosekai. We laugh and cry with you.

@laritheghost gets his infos at the right place:
This is the only magazine I read, that is why I've been fomoing over HiQ HARD lately! Contributing to the liquidity pool everyday, that APR is nice too 😎
We are out of competition. So you have done everything right. 3.5 % share shows how fomogenous you are. Make sure to give us fomition from your earnings. ;)

@gamergeek56 said in a gratefull voice:
Awesome read! Thanks for including my interview! When I started on Hive back in december I had no clue I'd be doing as good as I am today and I have the amazing community to thank for this!
Same. Sometimes your only possibility is to get things done. Maybe it ignites. Maybe it does not. Luckily it did for all of us. ;)

@bobthebuilder2 is in a fomophylic mood:
Hey... lol at that, I was caught being a fomo-sapien swimming in the pool!
You are a true HiQ Fomie now.
I enjoyed reading about the queen and find it a fun game.
Our PLN comissioner, @thatgermandude is super hyped about this whole Nectar Stuff. And including a game with only Engine Tokens is a brilliant idea too. Never seen before. No fancy graphics. Only guys being dudes. (Editor's note: And FOMO. LOOL)

@augustbrown is now hooked and needs the hard stuff:
You ended a discussion on PsyberX discord over NECTAR:QUEEN pools, got me some Larynx I would not have found. And got me coming back for the next issue.
Our next goal: Make you Fomo for our pool harder. LOOL
Very neat and informative. Was like flipping through the newspaper/
EXCEPT I cared what it said.
That makes us proud. You should consider buying cheap HIQS at our Comment Discount Sale to show your grattitude and be able to Fomo for us harder.

@zyzymena is sure that...
A lot of work has really gone into this.
At least 100 moons have passed until we were where we are now. And you appreciating that (Editor's note: We are shure you do appreciate that. LOOL) is great success. ★

Donors: @monkaydee293 550 YKWTIM & @oliverschmid bzw. @nextcolony 300 YKWTIM, 200 HIVE, 75 USD & @balte 395 YKWTIM, 1330 HIVE, 35 HBD & @platuro 15 YKWTIM, 100 ENG, 1 Boosterpack, 9.99 YKWTBDIM & @greece-lover 110 YKWTIM, 3 YKWTBDIM and temporary delegations & @jeenger 10 YKWTIM, 29.9 HIVE & @schlees 10 € & @quekery 20 YKWTIM, 2 YKWTBDIM & @powerpaul 0.101 YKWTIM, 2.152 YKWTBDIM & @chappertron 2 DWSWTBD & @remotehorst23 1 DWSWTBD & @meins0815 0.35 YKWTBDIM, 0.179 YKWTBDIM & @louis88 10 Hive, 5 SBI, 5 BEER & @detlev 24 BEER & @commentcoin 100CC & @muelli 3 HIVE & @condeas 498 SWAP.DOGE, 40 HIVE & @satren 132.87 HIVE & @fw206 10 HIVE & @lauch3d 5 HIVE, 6 HBD & @who-knows 0.22 BNB & @manncpt 10 HBD & @altonos 10 HIVE, 17 HBD & @miketr 3 HIVE
Delegators: @balte 15,000 HP & @photobook 100 HP & @carmate 5 HP
Immeasurable thanks go to all the donors, delegators, upvoters, rebloggers and subscribers!
Thanks also to the authors and content creators, which are @quekery, @smooms, @mary-me, @thatgermandude, @themyscira & @kvinna.
Not to list, but still worth mentioning are of course all the little touches, ideas and tips from the community. Thanks for that! You guys are great!
---
Disclaimer

The opinion of individual authors does not necessarily reflect the opinion of the editorial staff or the publisher. If an article is published under an alias, the true (profile) name of the author is known. We reserve the right not to print submitted text contributions if the content contained therein is questionable or massively violates the boundaries of morality and order. Image material or raw image material is, unless otherwise stated, from pixabay.com or is screenshoted.
Editorial Core Team/Publisher: @quekery, @smooms & @mary-me
HiQ - The Hivestyle Magazine is a project of the HiQuarters 2.0 team.

---
If you're stylish and smart, you're subscribed to us: @alucian @andy-plays @atra-aranea @balte @bananofarmer @bitandi @blue.rabbit @btcsam @carolinmatthie @chaosmagic23 @chappertron @cloudlynx @chrislybear @cultus-forex @dauerossi @ditsch @dieradikalemitte @failingforwards @flamo @florian-glechner @flows @fredfettmeister @hatoto @ischmieregal @jeenger @kadna @kaeptn-iglo @kheldar1982 @klausklaus @konstice @kryptodenno @kvinna @lammbock @lauchmelder @leosoph @louis88 @mario89 @markus.light @mary-me @miketr @misan @mryoung1979 @mwfiae @nessos @platuro @powerpaul @pundito @quekery @querdenker @quelled @reiseamateur @remotehorst23 @r0nny @satren @sebescen81 @shakkei @schmidi @simsibee @smooms @solarwarrior @syalla @tibfox @tribemieregal @twinner @vasupi @vugel @ynwa.andree @yoshi-and-family @zockerpeine
---
---