[Esp-Eng] Mini motocicleta Harley Davidson de envases de aluminio / Harley Davidson mini motorcycle from aluminum packaging.
Saludos a todos los amigos y amigas de esta @hivediy y deseando que todos estén bien de salud y que Dios me los cuide, esta es la primera publicacion en esta comunidad, ya que siempre publico @hivegarden, en esta ocasión que se me brinda, le explicare como construir una mini motocicleta de envases de aluminio de los que vienen con refresco, jugos y cerveza.
Greetings to all the friends of this @hivediy and wishing that everyone is in good health and that God takes care of me, this is the first publication in this community, since I always publish @hivegarden, on this occasion that is given to me, I will explain how to build a mini motorcycle from aluminum containers that come with soda, juice and beer.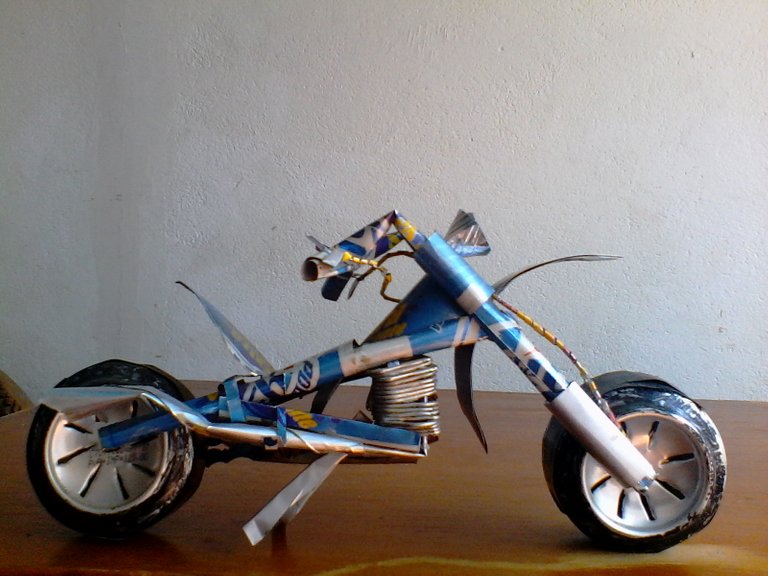 Primero les daré una breve reseña de las motocicletas Harley-Devidson.
Sus orígenes se remonta a 1903 cuando un joven de Milwaukee, Willian S. Harley, su amigo Arthor Davidson y su hermano Walter Devidson.
Utilizando sus propios diseños y usaron el patio trasero de la familia Devidson como taller, construyeron su primer modelo de competición, que hizo su primera aparición en septiembre de 1904.
I will first give you a brief overview of Harley-Davidson motorcycles.
The origins date back to 1903 when a young man from ** Milwaukee, Willian S. Harley, his friend Arthor Davidson and his brother Walter Davidson.
Using their own designs and using the Davidson family's backyard as a workshop, they built their first racing model, which made its first appearance in **September 1904.
Poco a poco fueron aumentando su producción y al año siguiente ya tenían más de una docena de motocicletas en el improvisado taller, en 1907 la cifra ascenderia a 150 unidades de Harley Davidson, ya con su propia factoría.
Con la entrada de Estado Unidos en la primera guerra mundial, en1917 Harley Devidson se convertiría en el proveedor oficial de su ejército, al que suministro decenas de miles de vehículos.
Little by little they increased their production and the following year they already had more than a dozen motorcycles in the improvised workshop, in 1907 the figure would rise to 150 units of Harley Davidson, already with its own factory.
With the entry of the United States into the First World War, in 1917 Harley Davidson would become the official supplier of its army, supplying tens of thousands of vehicles.
Harley Davidson volvió a lograr un contrato con el ejército Norteamericano, en esta ocasión para suministrar motocicletas durante la Segunda Guerra Mundial.
Harley Davidson again won a contract with the US Army, this time to supply motorcycles during World War II.
Ahora bien, en lo que respecta a la construcción de esta mini motocicleta hay que tener en cuenta la precaución, ya que los envases con que vamos a trabajar son de un material muy delgado y maleable, es por eso que recomiendo usar guantes para protegernos.
Lo primero que tenemos que hacer es tener un lugar donde trabajar tranquilamente y tener a la mano los siguientes materiales:
4 Envases de aluminio
Tijera
Pinza
Guantes
Teipe o cinta plástica
Pegamento
Now, when it comes to the construction of this mini motorcycle, caution must be taken into account, since the containers we are going to work with are made of a very thin and malleable material, that is why I recommend wearing gloves to protect ourselves.
The first thing we have to do is have a place to work quietly and have the following materials at hand,
4 aluminum containers
Scissor
Gripper
Gloves
Teipe or plastic tape
Glue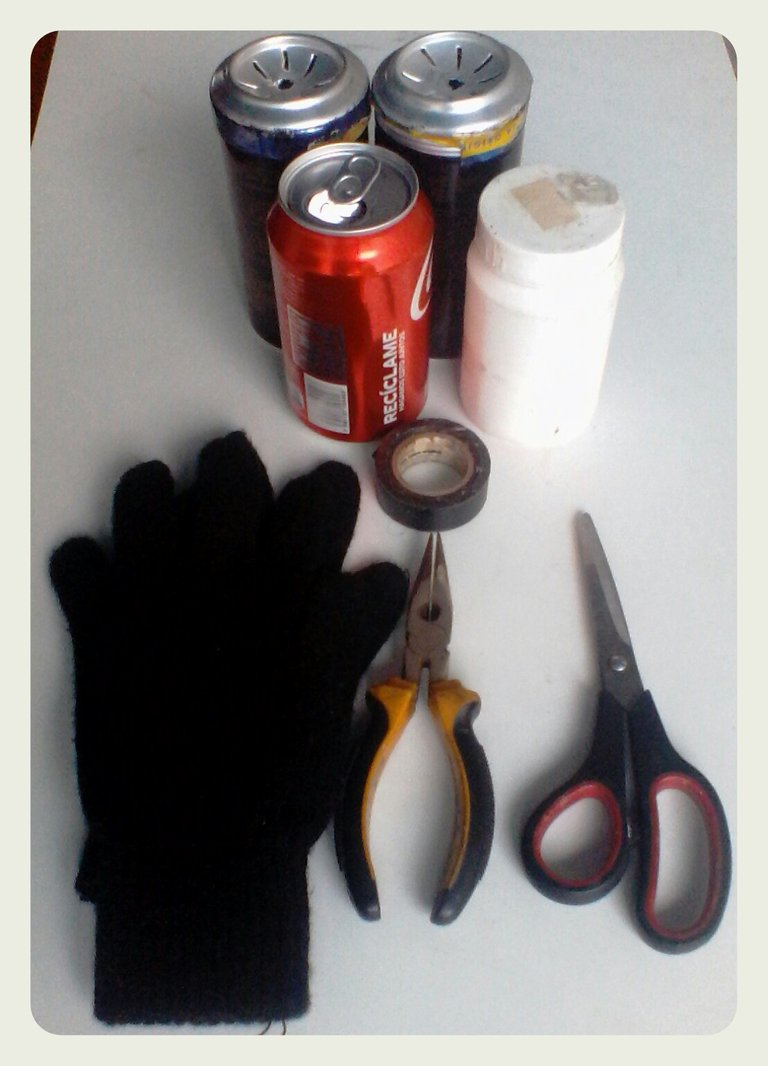 1 Corte el fondo de 2 embases dejándole un borde, y en el centro hagale un pequeño agujero con 8 ranuras a su alrededor, como lo muestra la foto.
1 Cut the bottom of 2 base plates leaving an edge, and in the center make a small hole with 8 grooves around it, as shown in the photo.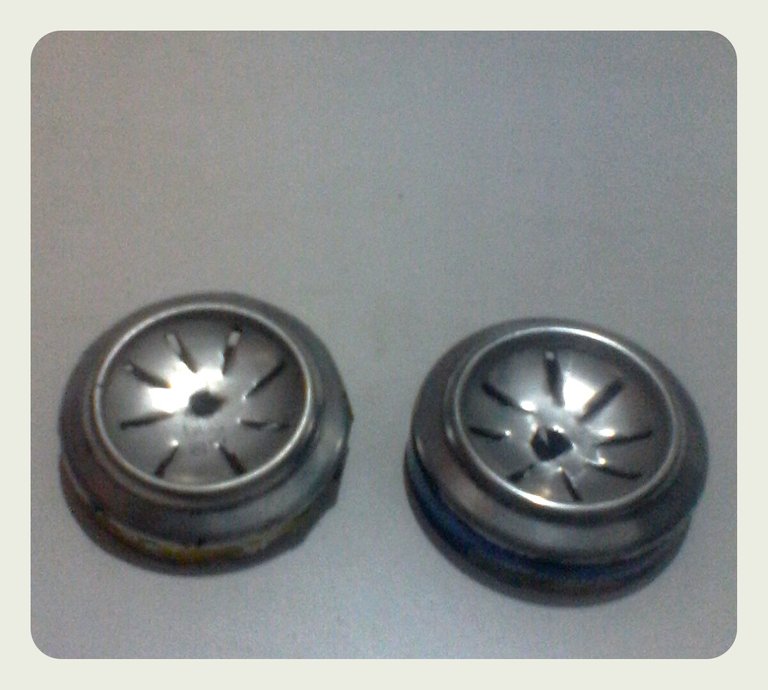 2 Junte los 2 fondos con sus agujero a nivel y atraviese un tubo como eje, coloquele teipe o cinta negra a su alrededor para que se vea como un caucho, haga el mismo procedimiento con los otros 2 fondo del embase y ya tenemos las 2 ruedas, como se ve en la foto.
2 Join the 2 bottoms with their level holes and pass through a tube as the axis, put teipe or black tape around it so that it looks like a rubber, do the same procedure with the other 2 bottoms of the base and we already have the 2 wheels, as seen in the photo.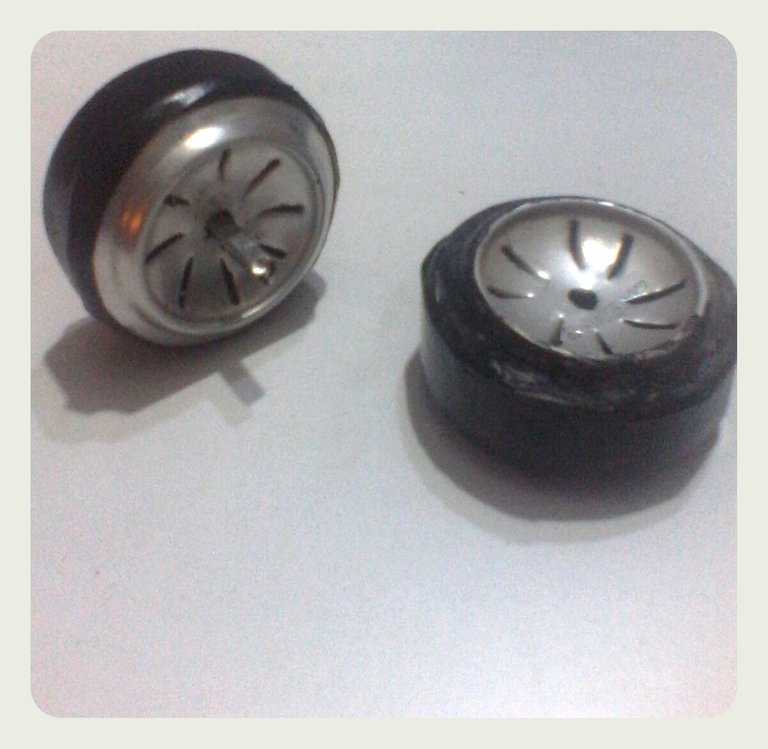 3 La parte de arriba del embase donde va el anillo no se utiliza solamente el anillo, y se tendrá que recolectar mas anillos para hacer el motor, como se ve en la foto.
3 The upper part of the container where the ring goes is not used only the ring, and more rings will have to be collected to make the motor, as seen in the photo.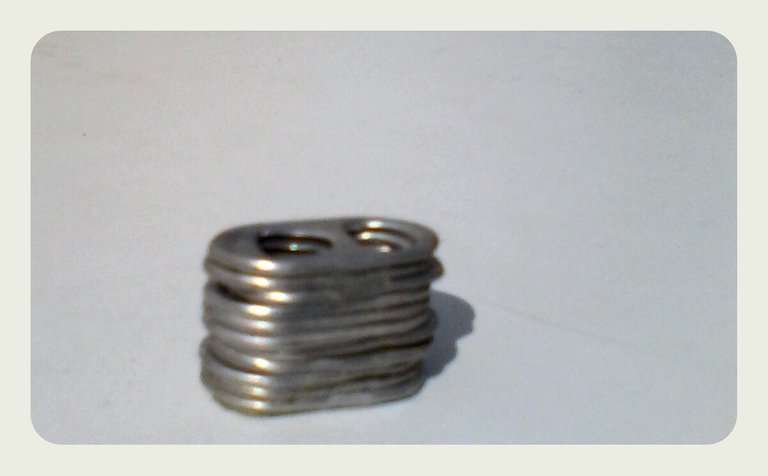 4 Con los cuerpo de los embases o lo que queda de ellos, se corta y se moldea para formar: asiento, guarda fango, frontal, foco, tanque, y la base donde va el motor, ver foto.
4 With the body of the containers or what is left of them, it is cut and molded to form: seat, fender, front, headlight, tank, and the base where the engine goes, see photo..!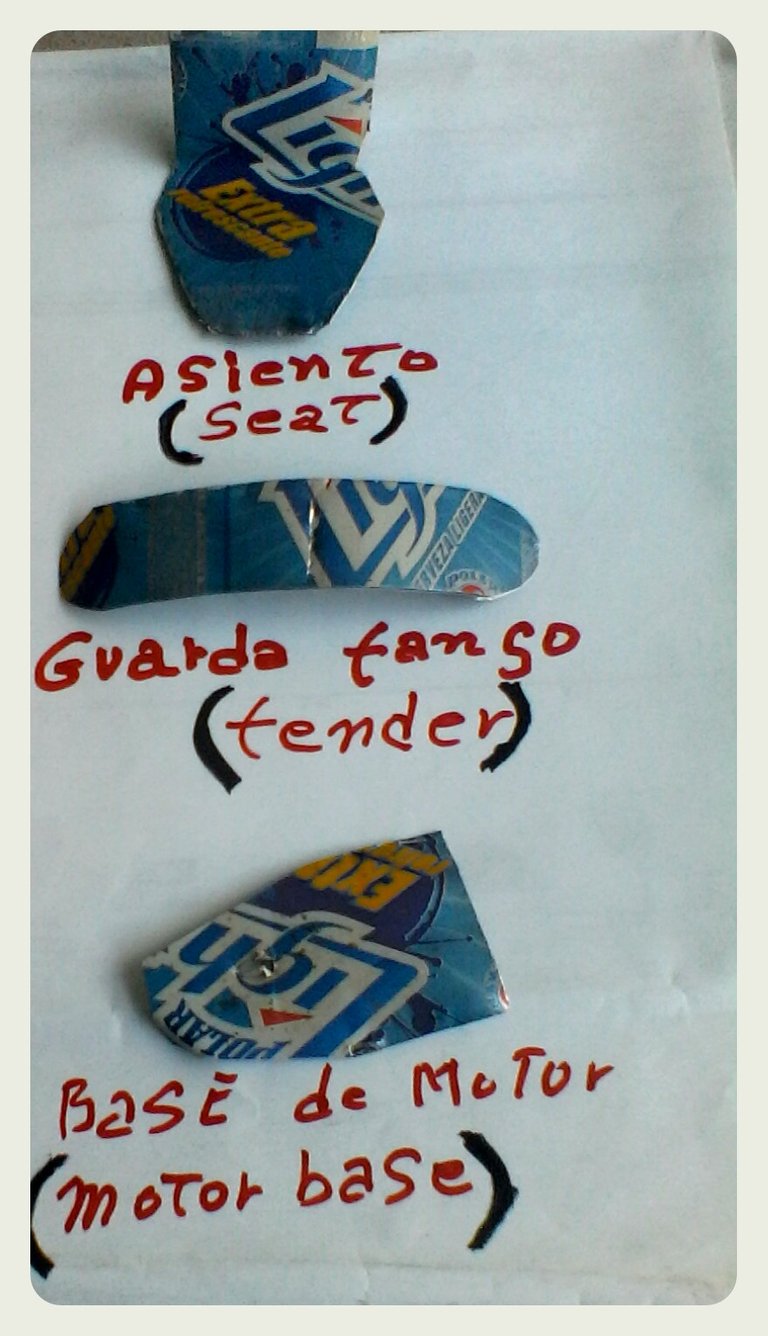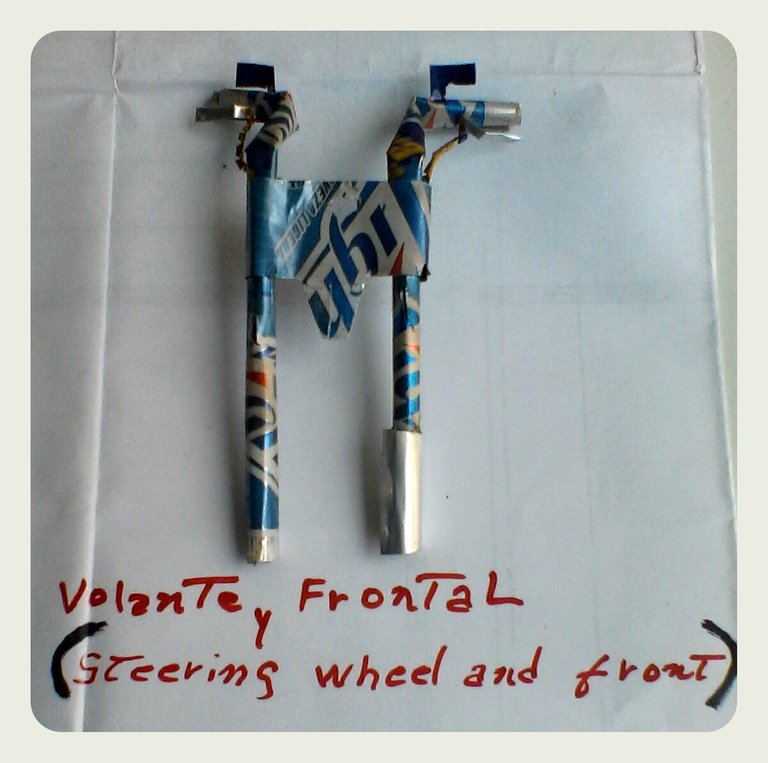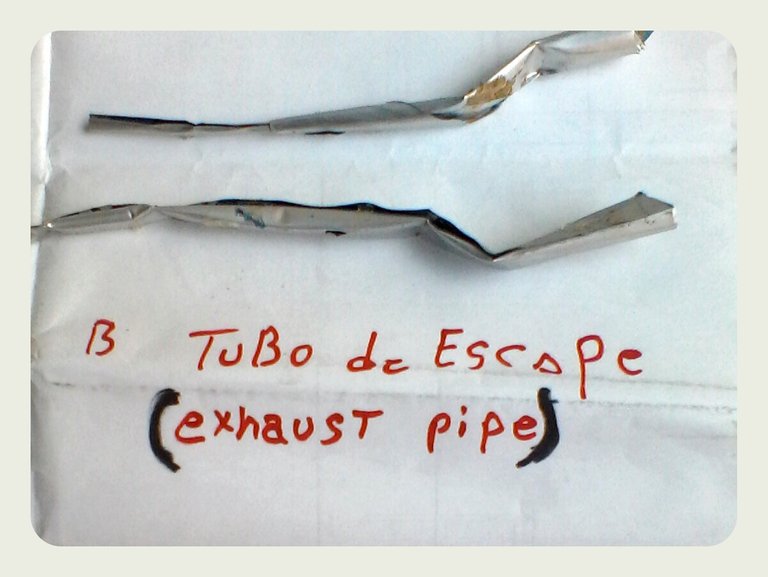 5 Con el resto del material se hacen tubos para el cuadro y los tubos de escape.
En caso de no querer utilizar las tiras para empalmar o unir piezas, utilice la pega es mas fácil y menos complicado.
5 With the rest of the material tubes are made for the frame and the exhaust pipes.
If you don't want to use the strips to splice or join pieces, use the glue is easier and less complicated.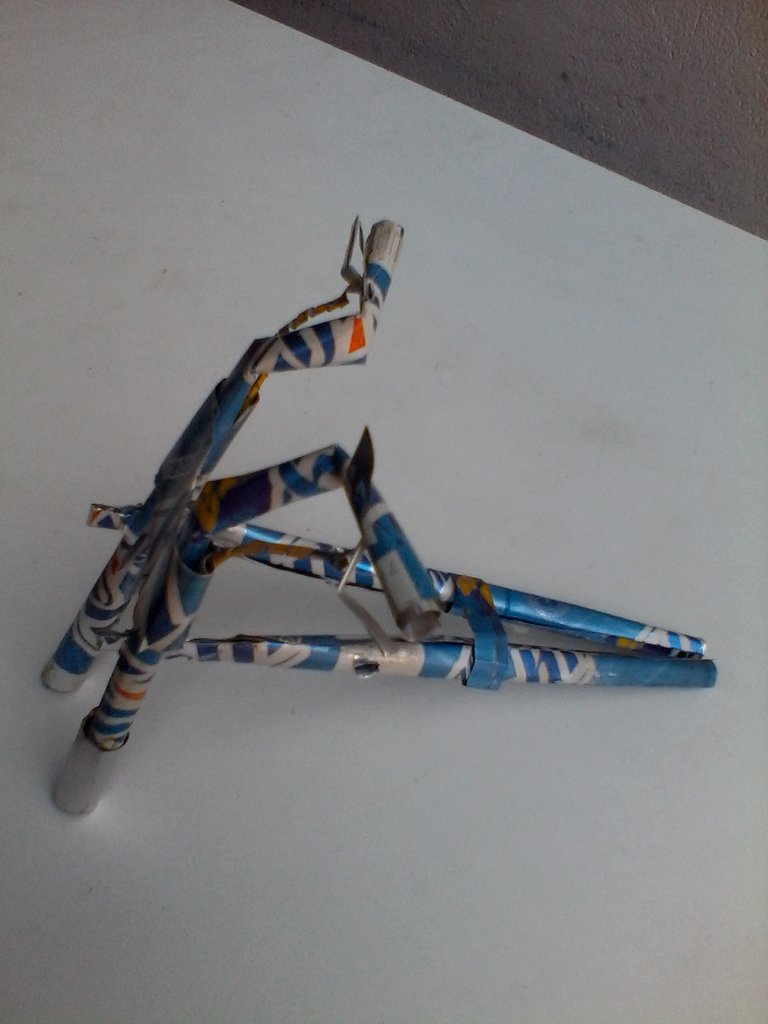 Bueno amigos ahora teniendo todo el material transformado en las piezas, comience a armar su motocicleta, empezando por la base, motor o como usted lo desee.
Well folks, now having all the material transformed into parts, start assembling your motorcycle, starting with the base, engine, or whatever you want.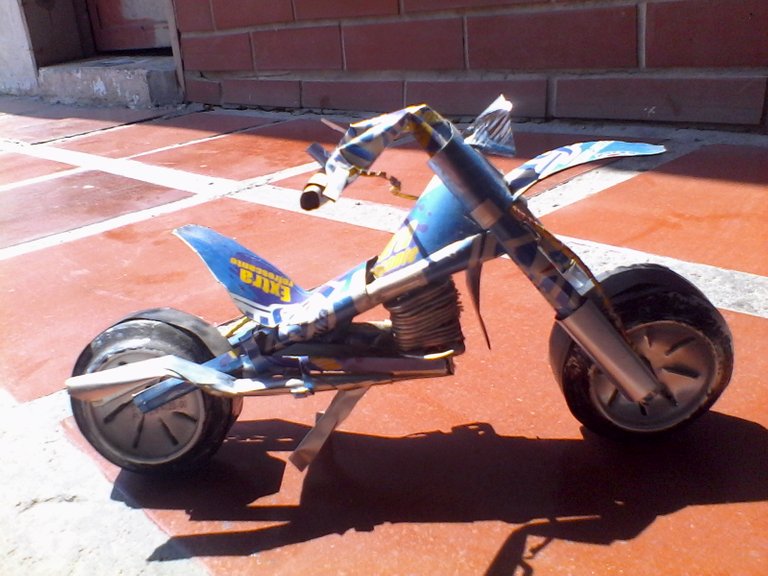 Me despido de ustedes hasta una nueva publicación, saludos, abrazos y por favor dejen su comentario, gracias.
I say goodbye to you until a new publication, greetings, hugs and please leave your comment.
Reseña tomada de la enciclopedia Wikipedia, traductor de Google y foto de mi Auyantepuy+221 @guelmi1958
Review taken from the Wikipedia encyclopedia, Google translator and photo of my Auyantepuy+221 @guelmi1958
---
---